Tough Mudder and 20 Awesome Underground Sports
What do BMX, skateboarding, and street hockey have in common?
They're all sports that worked their way from the underground to the mainstream. The X-Games became a showcase for alternative sports that have their roots in backyards and abandoned lots, but there are constantly new sports evolving.
If there's a way to make something faster, harder, or more dangerous, people will find a way to do it...and then they'll turn it into a competition.
There are several sports in the world that have been emerging on the underground scene for a while now, and it's about time they got their due.
Here are 20 awesome underground sports.
Begin Slideshow

»
Cliff jumping is basically exactly what it sounds like. With no equipment, you start at the top of a cliff and leap into a body of water below.
Extreme cliff jumpers sometimes leap from as high as 100 feet, and the more adventurous like to throw in flips and other maneuvers.
Most people stick to a max of about 100 feet, but apparently that doesn't apply to canines.
You may be thinking to yourself, "yeah I know what bodyboarding is...I see kids doing it at the beach all the time."
Not like this.
Like I said in the intro, extreme sports are all about going bigger, faster, and more dangerous, and that's exactly what extreme bodyboarders have done.
Pro bodyboarding hasn't reached the level of surfing yet, but the International Bodyboarding Association has a world tour, so make sure you check it out when they come to an area near you.
Anybody amazed by the opening scene of Casino Royale is a fan of free running, or parkour as it is also known.
Basically ridiculous athletes run around the city performing stunts on walls, sidewalks, stairs...whatever they can find.
The man credited with creating free running is Sébastien Foucan, who says that it is a form of self-expression. I wish I could express myself by running up walls and doing flips off of buildings.
Hang gliding has been around for a long time, but people have taken it to new heights (pun intended) in recent years.
Hang gliders are jumping from higher altitudes and engaging in something called swooping, which is where you glide from a mountain down to a body of water and skim across the top of the water for as long as possible (see video).
I assume hang gliding is best performed to the music of Blink 182.
I love extreme sports junkies.
In order for someone to start ice climbing they had to look at a frozen mountain and say, "Hey you know what would be fun? Climbing that mountain with ice picks!"
Ice climbing is basically like regular mountain climbing only with somewhat different equipment (picks, boots), and it's much, much colder.
I had never heard of kitesurfing, so please allow Wikipedia to do the explaining for me:
"Kitesurfing or Kiteboarding is an adventure surface water sport that has been described as combining wakeboarding, windsurfing, surfing, paragliding and gymnastics into one extreme sport. Kitesurfing harnesses the power of the wind to propel a rider across the water on a small surfboard or a kiteboard (similar to a wakeboard)."
Any time you can describe a sport as "harnessing the power of the wind," you can count me in.
I was having a pleasant breakfast at a mountaintop restaurant with my family on vacation on the Big Island of Hawaii last summer.
I happened to glance out the window between bites of my waffle and noticed a person floating through the air about 500 feet above the ground.
Thus I was introduced to paragliding, where participants jump off of mountains with giant parachute called a wing or canopy. Once he's falling, the glider can steer in different directions, but people mostly do it to take in the scenery.
What do you do if you love snowboarding but you live nowhere near a mountain? What about sandboarding?
Sandboarding is normally done at sand dunes, which are a lot easier to find than snow for inhabitants of coastal areas or deserts.
Namibia is one of the most popular places to sandboard, and the sport is popular enough to have its own magazine.
*NOTE: the guys in this video should really be wearing helmets.
You've probably cursed at a little kid riding past you on his Razor scooter before, but something tells me you wouldn't be as angry if he did one of these tricks afterwards.
Just as pioneers transformed the way skateboards were ridden in the 1970s, people have taken scootering to the "extreme."
This sport is extremely dangerous, so it's had a hard time making it to the mainstream. And I'm sure the participants like it that way.
Basically it's like skydiving, only instead of jumping out of a plane you're jumping off of a cliff. The "thrill" (I guess) comes from releasing your parachute at the latest moment possible to maximize your free fall.
B.A.S.E. is actually an acronym that stands for buildings, antennae, spans (bridges) and earth (cliffs)-- basically all the things that a person can jump off of.
A more advanced form of BASE jumping has evolved in what are called wingsuits, which basically turn you into a flying squirrel to provide increased speed and control as you fall.
This isn't the canoeing you did at camp where you're in the boat with a kid who hasn't showered in a week and you're going about 2 miles per hour down a placid river.
Extreme canoeing (aka whitewater canoeing) takes place in the fiercest rapids in the world, and the goal is not only to win, but also to survive.
Most races in the U.S. take place in rivers in the Southeast such as the Nantahala and Pigeon in North Carolina and the Ocoee in Tennessee.
I bet the only time you've seen a person on a unicycle it was a circus performer or a someone performing tricks on the street for cash.
Guys like Dan Heaton (in the video) have taken unicycling to the streets and turned it into an emerging underground sport.
This sport is not only underground, but it's also under water.
It's kind of a stretch calling it "hockey." The only similarity I really see is that there is a puck and you try to score goals, but there are no sticks and there doesn't appear to be any checking (which would inevitably result in drowning).
You have to love a sport where you might have to abandon a fast break because you're about to run out of air.
I don't know if this is a sport since I can't really find any other videos of people doing it, but these lunatics call this "sport" wave jumping.
Watch this video and marvel in disbelief. I can't see this one catching on, as it looks extremely dangerous, but I guess that's the appeal.
When you think of motorcycle sports you probably think about motocross racing or vert events, but trials are kind of like what the street course is to skateboarding.
You're not going for speed or height, necessarily, but you're trying to perform crazy stunts that you would never think a person could do on a motorcycle.
Trial bikes are much more lightweight and lack seating, which allows the rider to manipulate them into crazy and unimaginable positions.
The sport is mostly popular overseas, but it's slowly making its way to the U.S.
We all saw the movie, Fight Club, and immediately asked ourselves, "do things like this really exist?"
Turns out that they do, all over the world, but for obvious reasons they don't exactly publicize in the Yellow Pages.
When done properly the fight clubs can be a civil and beneficial way for people to get exercise and release excess anger, but too often the clubs are started by teens with no concern for safety precautions. That's when we start to see bad things happen.
If you're a consenting adult and you and your buddy decide to beat the crap out of each other for fun, by all means go for it.
Urban golf is exactly what it sounds like. You take the regular game of golf, but instead of playing it on an expensive, immaculately kept grass course, you play it in the middle of the city.
Organizations exist all over the world, but each uses its own set of rules. Some use actual golf clubs and golf balls when there is a low risk of damage in the area, but others use tennis balls, squash balls, and various types of clubs to decrease the chance of disaster.
Holes are set up in different locations throughout the area and, just like in regular golf, the player with the lowest score wins.
Even a game enjoyed by Victorian Era ladies-in-waiting sounds awesome when you put the word "extreme" in front of it.
Not to be confused with extreme croquette (where you see how many fried ham treats you can stuff in your mouth in a given period of time), extreme croquet takes the original game and flips it upside down.
They play at unexpected locations and have a set of complex rules that make use of terms such as "first poison," "post assassination," and "stupidity kill."
You can read more about the rules here, but it definitely seems like a sport worth getting into.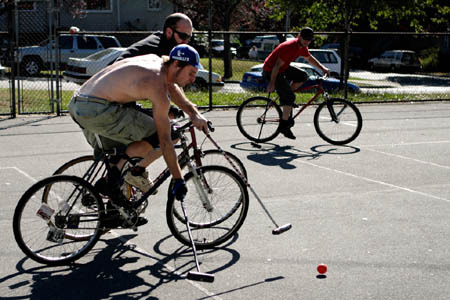 Bicycle polo started as an offshoot of the traditional game of polo-- played on grass with bicycles substituted for horses.
In the last 20 years, however, the sport has shifted to the streets. The new version of the game known as Hardcourt Bike Polo is faster and more aggressive, and it is played on tennis courts or any hard court surface that accommodate six bicycles.
Tournaments are currently being held all over the globe, and bike polo is one of the fastest growing sports out there.
If you'd like to learn more about the sport, some loser spent way too much time researching it and put together a piece on the origins of bicycle polo for your perusal.
It may sound like a Dolemite film from the 1970s, but Tough Mudder is actually one of the most rigorous athletic competitions in the world.
The video on its website says that it was "designed by British special forces...to test all round toughness, strength, stamina, camaraderie, and mental grit."
Then again, it also bills itself as "Ironman meets Burning Man" and features participants dressed like this, so it's not all grunts and puke...although there is plenty of that.
The competition features a 10-12 mile obstacle course, which the website says only 78% of participants actually finish. The experience is rewarding, however, as the website claims the sport has already raised over one million dollars for the Wounded Warrior Project.