WWE: The 10 Craziest Theme Songs in Pro Wrestling History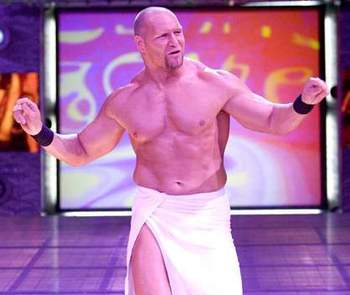 Throughout pro wrestling history, there has been some strange entrance theme songs over the years.
Some might have made you turn away, and other might have leave you laughing at what you just saw.
Here is my list of the top 10 craziest entrance theme songs that have ever been played in pro wrestling.
Enjoy.
Too Cool: "Turn It Up"
This tune became the most well-known theme song that the now defunct wrestling group "Too Cool" used.
If you don't think it's crazy, just listen to the lyrics of it.
Fun Fact: It was the second and final theme song used by the group.
The Oddities: "The Greatest Show"
The Oddities were sure a strange group of wrestlers, but they had an even stranger theme song to top it off.
Fun Fact: The Oddities song was performed by Detroit hip-hop group Insane Clown Posse.
Billy Gunn: "Ass Man"
All right, we all know what his nickname was during the time of this theme song, but they seriously had to use this song?
Take a listen, and you will know what i mean.
Fun Fact: "Ass Man" was one of 10 different songs that Billy Gunn used to enter the ring during his pro wrestling career.
Val Venis: "Hello Ladies"
Former WWE wrestler Val Venis was known as a ladies' man.
It's probably a good thing that he didn't use this theme song to get women in real life, or he would be in trouble.
Fun Fact: "Hello Ladies" was one of many songs composed by legendary WWE composer Jim Johnston.
Three Count: "One, Two, Three"
Former WCW group Three Count didn't last very long, but they did stay around long enough to produce one of the craziest theme songs of all time.
Any theme song that references Britney Spears in it, has to make this list in my opinion.
Fun Fact: Three Count recorded all of their theme songs as themselves.
Mark Henry: "Sexual Chocolate"
I think the title of this song says it all, or maybe it's all the sex-crazed lyrics instead.
Fun Fact: Mark Henry actually used to go by the character name "Sexual Chocolate" as well.
Disco Inferno: "Disco Fever"
"Disco Fever" might be the strangest wrestling theme song that I have ever heard in my life.
It's a shame that hardly anyone else bought into the Disco hype.
Fun Fact: This was the only theme song that Disco used while in WCW.
Elix Skipper: "Primetime"
In one of the most annoying wrestling theme songs of all-time, former WCW and TNA wrestler Elix Skipper takes the cake.
Fun Fact: Elix Skipper acquired the name "Primetime" shortly after his pro wrestling debut in 1999.
Dude Love: "Dude Love"
Dude Love was one of the many wrestling characters that was performed by WWE legend Mick Foley
After hearing it, the Bee Gees should be proud of the theme song that he used.
Fun Fact: This was Dude Love's one and only theme song.
Doink the Clown: "Heel Theme"
Not many things are crazier than a clown that wrestles.
Well, unless you don't count this theme song that he used.
Fun Fact: Doink the Clown's real name was Matt Osborne.
Keep Reading