The Worst Misses in Sports History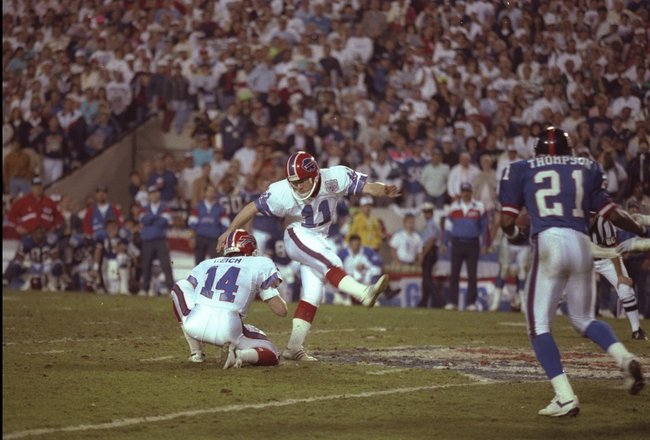 Rick Stewart/Getty Images
Wide right. Wide left. Too short.
Failing under pressure in sports is as common as succeeding. There are those who have ice in their veins, and can rise above the moment to achieve greatness, while others wither away. In American sports culture, it is those who are defined as clutch, who end up being the most revered.
The game is not only about the first three quarters of a game, but the final few minutes, seconds, moments, where the game is won and lost.
Here are the people that let the pressure, the moment, and the iron, get in their way. These are the 15 most memorable and worst missed shots and opportunities in sports history…
15. Diego Forlan's Miss
When you play for Manchester United, the score is never too high and the margin is never wide enough. So when one of the best players in the world misses a wide opened goal, there is going to be a significant amount of backlash.
Forlan has since moved on to Atletico Madrid, where he does not miss any open opportunities.
14. Steve Johnson Drops Game Winning TD
Steve Johnson dropped perhaps the biggest ball of his young career. As the Pittsburgh Steelers rolled into town, the Bills pushed them to overtime, when Ryan Fitzpatrick threw a beautiful game-winning pass to Johnson.
He dropped the ball, blamed God, and provided us with a heartfelt press conference where he oddly referred to himself as someone not even in the room.
13. Nate Thompson Misses an Empty Net
Being an Islanders fan is bad enough, but to watch them miss open nets is the lowest of the flow. Already down 3-0, you would think they would take a goal in any way possible. Apparently, that is too much to ask.
Nate Thompson miffed on a wide open net that further proves that the Islanders will never be relevant ever again.
12. UConn's Roscoe Smith Shoots...and Misses
There may not be a more embarrassing miss out there because of his lack of concentration and presence of mind. Making a shot from that distance is extremely difficult and nearly impossible. But, he never had to take it.
There was enough time left on the clock to dribble the length of the floor and still have time to make a few moves. This will go down as one of the most boneheaded plays of all time and certainly on of the worst misses.
11. Ales Hemsky Goal vs Dallas After Patrick Stefan Misses Empty Net
There is nothing more beautiful in hockey than an empty net. Nothing comes easier for a player who usually has to get the puck behind a guy that is more athletic than anyone on the ice, and wears pads that cover 80% of the goal.
But, whatever you do, do not miss the empty net. This rule, no, law, must be followed like it is punishable by death…just ask Patrick Stefan.
His empty net miss leads to the last second game-tying goal which is the worst feeling in hockey.
10. Luis Castillo Drops the Ball
The Subway Series means more than just a few games during interleague play. It is about pride, and which team is better in NY. So when the Mets, who are known for their shaky play, botch an easy pop up that nets the Yankees a victory, it hurts a little bit more.
Vilified second baseman Luis Castillo dropped one of the most routine plays in the game, turning a surefire win into an embarrassing loss. This was not a moment to remember.
9. Andrei Kirilenko Misses Wide Open Last Second Lay Up
With the game in hand, everyone is usually telling their team to call the dogs off so they could all go home.
Devin Harris hits a three pointer, and then everyone of course thinks, ok great, so we lose by two and not 5…great.
Then, in classic Kenyon Martin style, he casually hands the inbounds pass to AK47, who gets the ball, turns, and misses the most unlikely shot he was never supposed to have the chance to take.
Moral of the story, don't ever walk away before the final buzzer.
8. Boise State vs. Nevada; Kyle Brotzman Missed Field Goal
When you are a mid major team, that needs to win every game to be considered for national championship contention, missing a big kick to end the game is not taken lightly. Kyle Brotzman, the Boise State senior kicker found that out in the worst way possible.
He missed two field goals from fewer than 30 yards. The first miss came as the game clock expired. The second clinched the defeat. He is the all-time leading scorer in school history. A couple of bad misses will quickly erase that from everyone's memory.
7. Patrick Ewing, 1995 Eastern Conference Semifinals
Go to 4:00.
Patrick Ewing would have done anything to beat the Indiana Pacers. He was on the cusp of doing so and getting back to the NBA finals, before missing one of the easiest shots of his career.
As the seventh game of a long, hard-fought Eastern Conference semifinals came down to the wire, Patrick Ewing got the ball at the top of the key, turned and attempted a shot that was halfway between a layup and a dunk. The outcome was disastrous, and the Knicks would go on to lose.
6. John Terry Misses Penalty Kick in 2008 Champions League 2008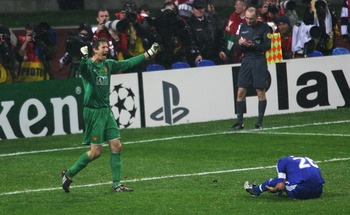 Christof Koepsel/Getty Images
After regulation ended in a 1-1 tie, captain John Terry had a chance to seal the victory and the championship for Chelsea.
It was a cool, slippery night, and as Terry approached the ball, he slipped and slammed the ball off the post, giving Manchester United new life.
The ball had soared way right, becoming one of the most misses in soccer history.
5. Gary Anderson's 1998 Miss
Gary Anderson had not missed a field goal all year. He was in doors, at home, with no pressure to win the game. His job was simply to shut the door, and make the lead insurmountable.
1998 was the Vikings' year, until the fateful kick went wide left, sneaking outside the crossbar, as if it was being remote controlled. The Vikings went on to lose the game, crushing the city and the fans forever.
4. 2011 Women NCAA Tournament Xavier vs Stanford
With a trip to the Final Four on the line, Xavier forward Dee Dee Jernigan missed not one, but two wide open layups with under 17 seconds remaining in the game.
With the game tied, she was unable to do what she had done in her driveway hundreds and thousands of times. To add insult to injury, Stanford marched down the length of the court and scored in 4.0 seconds flat by way of none other than, you guessed it, a layup.
3. 2010 Asian Games Quarter Final: Uzbekistan vs Qatar
THERE WAS NOBODY WITHIN 20 FEET OF HIM! 18-year-old Khalfan Fahad capitalized on Uzbekistan goalkeeper Timur Juraev's mishap, took the ball within three feet of the goal, and banged a shot right off the post.
This would have amounted to the game winner, but instead lead to an Uzbekistani goal scored 18 minutes into extra time. It was a shameful display that unfortunately happened to a mere kid.
2. John Carney Missed Extra Point
The final play of the New Orleans Saints-Jacksonville Jaguars thriller was a combination of the Cal-Stanford lateral play that should have ended with an Al Michaels, 1980 Olympic call.
The unforgivable John Carney extra-point miss, then spoiled this incredible finish. If you asked him to kick that same kick a hundred times, he would most probably never miss. Just listen to the radio call and you can then understand the anguish that goes along with this play.
1. Scott Norwood, Wide Right
It is unfortunate when one man's legacy is reduced down to one play, but the name Scott Norwood will forever be synonymous with "Wide right!".
The Buffalo Bills never took the champaign off ice during their four consecutive trips to the Super Bowl. Scott Norwood gave them their best chance to finally win a title, before missing a 47-yard field goal attempt as time expired.
Keep Reading