UFC 131 Results: Coverage and Reactions to Dos Santos vs. Carwin in Vancouver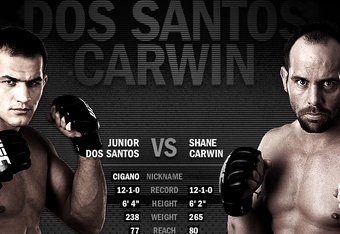 Join Bleacher Report cageside for live UFC 131 results, analysis and commentary.
UFC 131: Dos Santos vs. Carwin might not have been the original plan, but it's a dandy backup.
Junior "Cigano" dos Santos and Shane Carwin, arguably the top two contenders at 265 pounds, will set off their unique brand of fireworks on Saturday night at the Rogers Arena in Vancouver, and the mixed martial arts world cannot wait.
Sure, we were supposed to be treated to a different, even more apocalyptic clash between JDS and Brock Lesnar.
Unfortunately, the Vanilla Gorilla's ongoing struggle with diverticulitis scrapped what was supposed to be the capstone to The Ultimate Fighter: Team Lesnar vs. Team dos Santos. Consequently, the UFC had to break the glass on its emergency plan and the pairing that materialized didn't disappoint a soul (unless you happen to be more WWE than MMA, but those wayward masses don't count in my book).
That's because the collision between Dos Santos and Carwin—both of whom possess nuclear warheads in each hand—could actually be better than the highly anticipated one between Cigano and Brock.
There are voices in the sport who will tell you Lesnar is still wildly overrated and that, despite his submission of Carwin at UFC 116, Brock is less equipped to deal with Junior's often-overwhelming standup arsenal than the Denver native he choked out.
If Carwin has improved his conditioning since gassing against Lesnar, those voices might just be right.
But we'll have to wait to find out.
So join Bleacher Report at cageside in the Great White North and get up-to-the-minute results for each fight listed below:
Main Card Bouts on Pay-Per-View
Junior dos Santos vs. Shane Carwin—Dos Santos defeats Carwin by unanimous decision (30-27, 30-27, 30-26).
Jon Olav Einemo vs. Dave Herman—Herman defeats Einemo by TKO (punches) at 3:19 of second round.
Vagner Rocha vs. Donald Cerrone—Cerrone defeats Rocha by unanimous decision (30-27, 30-27, 30-26).
Demian Maia vs. Mark Munoz—Munoz defeats Maia by unanimous decision (29-28, 29-28, 30-27).
Kenny Florian vs. Diego Nunes—Florian defeats Nunes by unanimous decision (29-28, 29-28, 30-27).
Preliminary Card Bouts on Spike TV
Sam Stout vs. Yves Edwards—Stout defeats Edwards by KO (left hook) at 3:52 of the first round.
Jesse Bongfeldt vs. Chris Weidman—Weidman defeats Bongfeldt by submission (standing guillotine) at 4:54 of the first round.
Preliminary Card Bouts on Facebook/YouTube
Krzystof Soszynski vs. Mike Massenzio—Soszynski defeats Massenzio by unanimous decision (30-27, 30-26, 30-27).
Nick Ring vs. James Head—Ring defeats Head by submission (rear-naked choke) at 3:33 of the third round.
Dustin Poirier vs. Jason Young—Poirier defeats Young by unanimous decision (30-27, 30-27, 29-28).
Joey Beltran vs. Aaron Rosa—Beltran defeats Rosa by TKO (punches) at 1:26 of the third round.
Darren Elkins vs. Michihiro Omigawa—Elkins defeats Omigawa by unanimous decision (29-28, 29-28, 30-27).
UFC 131 Results: Shane Carwin vs. Junior dos Santos
Bleacher Report's Trent Reinsmith
On Saturday Junior dos Santos battered Shane Carwin for three rounds, earning himself a shot at the UFC heavyweight title that is currently held by Cain Velasquez.
Many wondered if the pure striking power of Carwin would negate the skill and speed of dos Santos. Any thoughts that Carwin would have an advantage were quickly put to rest.
In the first round dos Santos repeatedly drove surprisingly fast jabs through the guard of Carwin. The fast shots were clearly doing damage, leaving welts on Carwin's face as they made impact.
Dos Santos dropped Carwin later in the first round. He then committed to trying to finish Carwin, landing numerous, barely-defended strikes to the increasingly bloodied face of Carwin. The fight appeared very close to being stopped, however, referee Herb Dean must have saw something that most others watching the fight were unable to discern as he allowed the fight to continue.
Carwin weathered the storm, but he was badly damaged. To borrow a phrase from the professional wrestling announcers of my youth, dos Santos had left Carwin's face a crimson mask.
Carwin was never in the fight. As the three-round battle continued it was clear that without the ability to deliver a knockout punch or secure a takedown, Carwin had very little to offer. According to CompuStrike, Carwin landed a total of 13 strikes during the course of the 15-minute bout, while dos Santos landed 94, 76 of which were deemed power strikes.
The judges scores (30-27, 30-27,30-26) were a foregone conclusion, giving the fight to dos Santos, who showed no ill effects after the completed main event fight.
The win earned dos Santos a shot at Velasquez, while the loss earned Carwin a trip to the emergency room. Carwin, according to Ingrained Media, sustained three deep cuts, a broken nose and was in need of a CT. A tweet later updated Carwin's status, saying that he "has a broken nose and possibly a fractured check bone. CT scan was fine."
No date has been set for the bout between Velasquez and dos Santos.
UFC 131 Results: Kenny Florian vs Diego Nunes
Bleacher Report's Blake Dreisbach:

UFC 130 featured a featherweight attraction between former UFC lightweight title challenger Kenny "Ken Flo" Florian (14-5) and Black-House member Diego Nunes (16-1). Florian defeated Nunes by unanimous decision with the scores 30-27, 29-28 and 29-28.

The first round featured both fighters feeling out each other with various kicks and strikes, including many head kicks being thrown by both. Florian achieved a takedown but got dropped late in the round and was rocked momentarily.

The second round took a lot out of Nunes as he tried to outwrestle and outgrapple Florian. Florian got the takedown easily in the middle of the round and wore Nunes down with punches and elbows. Nunes started to bleed bad in the second round from an elbow thrown by Florian.

Florian's cardio payed off in his questionable weight cut as he controlled Nunes in the third round with top position after he got a takedown early in the round. It sealed the deal for Florian, and he won a unanimous decision.

Next up for Florian should be current WEC Featherweight Champion Jose Aldo.
UFC 131 Results: Demian Maia vs Mark Munoz
Bleacher Report's Blake Dreisbach:
UFC 131 featured a middleweight contender bout between top fighters Mark Munoz and Demian Maia.

Munoz (11-2) defeated the Brazilian Jiu Jitsu Black-Belt by unanimous decision with the scores 29-28, 29-28 and 30-27.

The close and competitive bout was a good scrap with many exchanges on the feet and on the ground. Munoz' power played a big factor in the outcome of the fight, and he displayed it in the second round with brutal punches to the legs of Maia (14-2).

With this victory, Munoz improves to 11-2 with a UFC record of 6-2. His only loss in the 185 lb. weight division was against Yushin Okami, who is set to challenge current UFC Middlweight Champion Anderson Silva.

Munoz, who is a NCAA Division I wrestler, would like his shot at "The Spider," and he moved one step closer to a title shot with the biggest victory of his career.
UFC 131 Results: Jon Olav Einemo vs. Dave Herman
Bleacher Report's Blake Dreisbach:

UFC 131 from Vancouver, British Columbia featured a heavyweight bout between top prospect Dave "Pee Wee" Herman and Jon Olav Einemo.

It was unusual for two fighters to make their UFC debut against each other on the main card, but the two really put on a good show for the MMA fans. It was a back-and-forth brawl for the majority of the first and second rounds before both really started putting their combinations together.

Herman came back from being nearly finished in the second round to pull off a come from behind knockout over his opponent who hasn't fought since 2006. He delivered brutal knees and left hands to put Einemo down and out against the cage.

Herman improves to 21-2 with the victory, and he still has only been to decision once in his career. He now has 15 knockout victories in 21 wins.

Einemo loses his first bout in the UFC, but he may still get another shot for his solid effort showcased today.
UFC 131 Results: Donald Cerrone vs. Vagner Rocha
Bleacher Report's Blake Dreisbach:
UFC 131 from Vancouver, British Columbia kicked off with an intriguing lightweight bout featuring former WEC title challenger Donald "Cowboy" Cerrone (14-3) and Brazilian Jiu-Jitsu Black-Belt Vagner Rocha (6-1).

Cerrone had no trouble out-pointing his overmatched opponent over three rounds, winning a unanimous decision to pick up his second victory in the UFC. He improves his record to 15-3.

Cerrone, who trains at Greg Jackson's camp in Albuquerque, New Mexico used his stand-up skills to keep Rocha at bay for the entire first round. Rocha had his moments, getting Cerrone down early in the first but with no follow-up. Cerrone punished his leg for the majority of the opening round, making any chance of getting a takedown less and less as the fight went on.

The second was almost a complete mirror of the first with Cerrone controlling the pace of the fight with his superior stand up. He used his takedown defense and right leg kick to punish the thighs of Rocha for the entire round. Rocha looked to land the right hand, but that was his only weapon standing up.
UFC 131 Results: Sam Stout Defeats Yves Edwards

This should be a battle between Sam "Hands of Stone" Stout and Yves "Thugjitsu Master" Edwards. Stout is a high-energy guy fighting in front of a home crowd (or at least fellow Canadians) while Edwards is a grizzled veteran of the sport who is still evolving, according to some observers.
So far, neither man is sticking his neck too far out in the early going. Yves does score an early takedown and spends a few seconds in top control, but he can't turn it into anything of note. Once back on the feet, things suddenly go sideways for the Thugjitsu Master.
Hands of Stone goes to the body and connects just as Edwards hits him with a short right hook, but Stout was already in mid-throw of his own left hook so the Yves' hook didn't bother him one bit.
The left hook, on the other hand?
Yikes.
It was thrown with hellacious intent and it found its mark on Edwards jaw without losing one iota of force. The American goes down like a ton of bricks and still isn't moving as Stout celebrates the knockout.
You know it lands flush when the winner doesn't feel the need to follow the terminal blow with more insult to injury.
Sam Stout defeats Yves Edwards by KO (left hook) at 3:52 of the first round.
UFC 131 Fight Card Predictions: Picking the Main Card—Junior dos Santos over Shane Carwin
Call me crazy, but in a contest between two of the best strikers the UFC has to offer, I'll take the better striker.
And that's Junior "Cigano" dos Santos.
With all due respect to Shane Carwin, who might actually be the more powerful of the two beasts, JDS has demonstrated a more fluid and technically sound brand of boxing (although I'm trusting the experts on that latter point since I'm not a striking expert, myself). As anyone will tell you, if Carwin puts hands on you, you are in dire straits.
But the same can be said of Dos Santos and those nuclear bombs he throws.
Just ask Fabricio "Vai Cavalo" Werdum, Stefan "Skyscraper" Struve, Mirko "Cro Cop" Filipovic, Gilbert "The Hurricane" Yvel, Gabriel "Napao" Gonzaga and even Roy "Big Country" Nelson, though he was able to survive them to the final horn.
On paper, Cigano is the more battle-tested and dangerous fighter. The eye test reveals a closer comparison, but I'm still taking the Brazilian, who is supposed to have an A+ grappling game as well.
I just wonder if we'll ever see it.
UFC 131 Fight Card Predictions: Picking the Main Card—Kenny Florian over Diego Nunes
The smaller Kenny "KenFlo" Florian gets, the better he becomes. He struggled at middleweight against the bigger and more natural 185-pounders so a move to welterweight and its 170-pound limit quickly came. After winning one bout there, he continued his move down the weight ladders as he debuted against Sam "Hands of Stone" Stout in the lightweight division.
KenFlo has oodles and oodles of success at 155 pounds, but eventually ran up against the division's most elite practitioners and hit a wall. Actually, he hit two of them by the names of B.J. "The Prodigy" Penn and Gray "The Bully" Maynard.
Once it became clear he'd topped out during his run at lightweight, Florian decided to drop another 10 pounds and scrap at the featherweight limit of 145 pounds and that's where we find him tonight.
The one worry was that the weight cut would take too much out of KenFlo, but he looked good at the weigh-ins. Toss all of that in a pot, add a dash of the recent struggles by WEC transplants and I don't see this ending well for Diego "The Gun" Nunes.
UFC 131 Results: Chris Weidman defeats Jesse Bongfeldt
We're live on Spike TV for the last of preliminaries and we're not wasting any time as Chris "All-American" Weidman and Jesse "Water" Bongfeldt are already breaking a sweat in the cage.
Weidman comes out with guns blazing and Bongfeldt is on the immediate defensive. The Canadian gets wobbled by a striking exchange early in the bout and Weidman, a wrestler, follows him right to the ground where he almost gets reversed.
Luckily for him, his wrestling background serves him well and he's able to maintain top control before eventually moving to the north-south position. Bongfeldt's in serious trouble for a moment, but struggles to get his opponent back into half guard.
Of course, Weidman pops his leg out, swings back into side control and now we're back in the north-south. This isn't going well for Water Bongfeldt.
Weird, huh?
The Canadian musters a flurry at the end of the round and uses it to get off his back, but that might've been his mistake. With less than 10 seconds left in the round, the All-American latches on to a standing guillotine and Bongfeldt taps with literally a few seconds to go in the round.
Pretty brutal performance from Jesse in front of his countrymen.
Chris Weidman defeats Jesse Bongfledt by submission (standing guillotine) at 4:54 of the first round.
UFC 131 Results: Krzysztof Soszynski Defeats Nick Massenzio
Unless something drastic and highly unlikely happens, this one is gonna go to Krzysztof Soszynski and I can't wait because typing that name is a bear.
Anyway, the first couple minutes are spent with the Polish Experiment trying to lock in his favorite submission move, the kimura, while Massenzio is holding on to Krzysztof's wrist for all he's worth. The smaller man is now getting pummeled by knees to the body, but give the Master of Disaster credit, he's not quitting.
He might be collecting hematoma and broken ribs while stuck playing all-time defense, but he's got his eye on that clock and seems intent on making that final horn. Krzysztof grabs Nick's neck, but the Master of Disaster averts another one by thrashing out of danger.
He's gonna make the final horn despite being undersized (he's a natural 185-pounder) and on short notice, but he lost all three of those rounds.
Krzysztof Soszynski defeats Nick Massenzio by unanimous decision (30-27, 30-26, 30-27).
UFC 131 Results: Krzysztof Soszynski vs. Nick Massenzio, Rd. 2
The second round starts with an early takedown from Krzyzstof; well, really a standing guillotine that forced Massenzio to his knees, but close enough, right? From there, the action stagnates as Soszynski seems a bit slower and more passive than normal. Joe Rogan and Mike Goldberg were talking about the Polish Experiment filming a Kevin James movie and maybe that's what's got him off his usual game.
It doesn't look like the lack of normal gusto will cost Krzyzstof the bout because he's beginning to exert total control over the scrap, but he certainly looks off.
Rogan and Goldberg have resorted to discussing Krzyzstof's record as there's not much to call happening inside the cage. Call it another 10-9 for Soszynski as he begins to pull away.
The Master of Disaster is game, but he's simply giving up too much weight and power to his opponent. Doesn't look like his return to the UFC will end happily.
UFC 131 Results: Krzysztof Soszynski vs. Nick Massenzio, Rd. 1
I'm gonna go ahead and apologize if the rest of this take a bitter edge to it, but I'm f***ing frustrated—didn't need to fly all the way to Vancouver to watch this on television. I could be doing this from my couch and we could've saved the money for a flight/hotel room.
Argh.
Anyway, the hardest name to spell in MMA (possibly the world) is in the cage now as Krzysztof "The Polish Experiment" Soszynski squares off with "The Master of Disaster" Nick Massenzio. The Master of Disaster started off well with a couple of takedowns, but he couldn't turn those maneuvers into advantages before the Soszynski found his legs.
From there, Krzysztof began to exert himself, catching his opponent with a series of strikes and then finishing the round off on top of his opponent.
Call it 10-9 for the Polish Experiment.
UFC 131 Results: Nick Ring Defeats James Head
Well, I jinxed it.
Now, the backstage Internet is misbehaving so we'll just make due with whatever shred of connectivity we can get. Head did, indeed, punch him out in the first as he was a shadow of that fighter in the second and Nick Ring took full advantage.
The Promise scored an early takedown in the second and then landed a vicious elbow that cut the Head WIDE open. Referee Herb Dean eventually had to stop the action to make sure Head wanted to continue despite the blood pouring into his right eye.
Head persevered, but from there, it was just a formality.
Ring took the second round by an easy 10-9 and then pressed the advantage in the third round. He didn't exhibit too much striking prowess, but his grappling utterly dominated the American. He scored the takedown in the third round and eventually ended the bout with the rear-naked choke to remain undefeated.
Nick Ring defeats James Head by submission (rear-naked choke) at 3:33 of the third round.
UFC 131 Results: Nick Ring vs. James Head, Rd. 1
Alright, we're back in real-time as Nick "The Promise" Ring takes on James "The" Head and the American Head is currently decimating his Canadian counterpart. It was a back-and-forth affair until James caught Ring with a nice straight right hand to the temple that crumpled the latter to the canvas.
Head followed him to the ground and teed off with more punches and elbows, but he wasn't able to finish the job as the Promise Ring survived the onslaught and the round. Nick even managed to retake his feet, but the round didn't go all that better once standing as another few savage elbows found their mark.
And that might sway the fight in his favor because the Head is currently in his corner taking some BIG breaths to try to refill his reservoirs.
Give the round, 10-9, to Head, but keep an eye on how well he recovers to start the second.
UFC 131 Resuls: Dustin Poirier Defeats Jason Young
Sorry folks, searching around the catacombs of the Rogers Arena in search of a working Internet connection cost me most of the bout between Dustin "The Diamond" Poirier and Jason Young. Both men were making their Octagon debuts and the American Diamond did so triumphantly, winning what looked to be a hard-fought battle based on the highlights.
The Brit Young seemed to run out of gas in the third; the only stanza of the bout I did catch in any sort of living color, and Poirier exploited the window to take control of a close tussle.
Dustin Poirier defeats Jason Young by unanimous decision (30-27, 30-27, 29-28).
The one silver lining to the non-working cageside Internet cloud is that I'm back in the media area with UFC Heavyweight Champion Cain Velasquez. Well, it's not just him and me, but you get the idea.
I'm am stunned to see how small the champ is; I've got to have at least three or four inches of height on the king of the 265-pounders. That's shocking considering I'd be terrified to fight Brock Lesnar in a video game.
And this dude beat him in real life.
Crazy.
UFC 131 Results: Joey Beltran Defeats Aaron Rosa
Both the leather and the flab was flying in this battle between too heavy heavyweights—both Joey "The Mexicutioner" and UFC newcomer Aaron "Big Red" Rosa came into their scrap a tad on the soft side. Physically.
Mentally and as far as their hearts were concerned, soft never entered the picture.
You couldn't really call it a technical display from either man as several Don Frye-Yoshihiro Takayama dirty boxing exchanges broke out. But, damn, did the crowd love the exhibition—once again proving that pleasing the crowd isn't necessarily the best strategy to win or survive a bout.
The big fellas also traded BRUTAL low blows; I'm talking knees straight to the groins of both warriors.
So, no, it wasn't the cleanest display of mixed martial arts.
Rosa was game against the hardened veteran in Beltran, but he eventually ran out of gas after getting beaten on for a couple rounds.
Joey Beltran defeats Aaron Rosa by TKO (punches) at 1:26 of the third round.
UFC 131 Results: Darren Elkins defeats Michihiro Omigawa
Apologies, but the cageside Internet has basically quit, which happens far too frequently at UFC events. I'm not sure how hard it is to provide a reliable connection, but it sure doesn't seem like it should an issue as often as it is.
You know, because this is 2011.
Anyway, Omigawa poured it on during the final stanza and won the final stanza, 10-9, on my card. He was more aggressive in the standup and secured his first takedown of the evening. Elkins' visage got bloodier and gorier as the round wore on and that probably affected his output as well as his approach.
Regardless, he survived the five-minute thrashing and walked away with the unanimous decision for his troubles.
Darren Elkins defeats Michihiro Omigawa by unanimous decision (29-28, 29-28, 30-27).
Not sure who gave that last stanza to the Damage, but dear me. I know I say it almost every card, but how many horrendous scoring decisions are we gonna have to endure before the sport gets the overhaul it needs? There's just no WAY Darren Elkins won that final round.
Zero.
UFC 131 Results: Michihiro Omigawa vs. Darren Elkins, Rd. 2
Striking seems to be the order of the day, at least from Elkins' camp, and Omigawa has only been too happy to oblige thus far. I'm not sure that's wise, however, since the Damage has been getting off quicker and with more success while on the feet.
Meanwhile, he looked supremely panicked the one time he found himself on the canvas despite being on top of his Japanese dance partner.
More exchanges produce more points for the American so Michihiro begins to try to find a way to the ground, but Elkins stuffs his attempts and keeps the action standing where he continues to pick apart his antagonist.
Hold the phone—Darren's bleeding from near his right eye and that's giving Omigawa confidence (whether it's well-placed or not is a matter for the judges). He's playing swagger games with his hands, leaving them low or pinwheeling them I guess to show he's unconcerned with the bevy of strikes that have been landing.
Elkins certainly looks the worse for wear, but I don't have it that way on my scorecard.
Another 10-9 round for Elkins in my book.
UFC 131 Results: Michihiro Omigawa vs. Darren Elkins, Rd. 1
I guess it shouldn't surprise me, but there's an apparently large Asian community in Vancouver so Michihiro Omigawa is the early crowd favorite in his contest against Darren "The Damage" Elkins. Though neither man gets my vote because the entry music left something to be desired—Omigawa's choice of Nine Inch Nails almost swayed me, but it was techno-esque remix of "The Perfect Drug" so I award him no points.
So far, the early going is all striking and the Damage is getting the better of it despite absorbing some counterpunching from his opponent. Elkins is the aggressor and the quicker of the fighters and uses his advantage to score a haphazard takedown, then almost gets caught in a heel hook before scrambling to his feet.
More striking exchanges yield no advantage for either fighter as we head to the final minute.
Elkins left jab seems to be giving the Japanese star fits, but maybe Michihiro just needs to find his rhythm because his right-left combos are coming more fluidly now. The Damage puts an end to them with a semi-knockdown seconds before the final horn ends a 10-9 round for the American.
UFC 131 Fight Card Predictions: Picking the Main Card—Mark Munoz over Demian Maia
Ah, this one stings.
Demian Maia is one of my favorite cagefighters in the game, but his deficiency in the standup should be fatal in this bout. Maia's Brazilian jiu-jitsu is unparalleled at 185 pounds and possibly across all weight classes, but his striking is almost as weak as his ground game is strong. That should be an enormous problem against Mark "The Filipino Wrecking Machine" Munoz.
Not only is Munoz a holy terror on his feet, but he's also got a granite chin. If not for a crushing head kick from Mark "The Hammer" Hamill, Mark would still be awaiting his first knockout in the UFC. That's bad news for Maia because he doesn't possess nearly that kind of power.
Though the reach department is basically a draw between the two gladiators, Maia should have a hard time closing the distance given the dynamite in each of the Filipino Wrecking Machine's hands.
And if he can't get this scrap to the ground, game over.
As much as I adore Maia, I don't see Munoz letting him get close enough to succumb to his ground game.
UFC 131 Fight Card Predictions: Picking the Main Card—Jon Olav Einemo over Dave Herman
For the second (and last) time, I'll be submitting another ignorant plea on the main card events.
Neither Dave "Pee-Wee" Herman nor Jon "The Viking" Olav Einemo rate very highly on my knowledge meter, though I did watch as the Viking dropped a unanimous decision to Fabricio "Vai Cavalo" Werdum over in Pride.
On the other hand, Pee-Wee Herman—along with boasting an unfortunate nickname—is a total mystery. He'd have one hell of a resume if it were from about 10-15 years ago since it boasts victories over Don "The Predator" Frye, Kerry "Meat Truck" Schall, and Ron Waterman. Alas, not one of those W's came prior to 2008 so each of the pseudo-legends was in steep decline by the time Herman chewed through them.
Of course, Einemo's track record isn't blowing up anyone's skirt aside from the victory over Roger Gracie in the Abu Dhabi Combat Club tournament, but he was originally slated to face Shane Carwin.
You gotta figure the UFC powers-that-be weren't cruelly walking the Viking into an ambush in his initial trip to the Octagon.
And if he was deemed good enough to challenge Carwin, I'll take my chances with Einemo in this one.
UFC 131 Fight Card Predictions: Picking the Main Card—Donald Cerrone over Vagner Rocha
I'm gonna cop to almost complete ignorance when it comes to Vagner. I've never seen him fight and the only opponent of his I've ever heard of is Igor Gracie, whom he beat, but that's not exactly setting my pulse aflutter.
Meanwhile, I've seen Donald "Cowboy" Cerrone scrap several times and he's looked stellar in his last three bouts (all victories) since dropping an unanimous decision to Ben "Smooth" Henderson. The former pro bull rider has good-enough power in his hands, a solid chin and a slick ground game that was on display in his latest victory over Paul "Tellys" Kelly, when he submitted the Brit via rear-naked choke.
Cowboy usually puts on a good show if his adversary is up for it and tonight figures to be no different so long as the Brazilian debutee's nerves don't get in the way.
In a battle between the familiar and the unfamiliar, I'll stick with the horse I know and call Cerrone's number.
And if my track record is any indicator, I'll owe Cerrone an apology after the card.
UFC 131: Dos Santos vs. Carwin Is Just a Sidekick This Weekend in Vancouver
When people say that Canadians love their hockey, what they really mean is Canadians LOVE their hockey. Like any confused reader out there, I had no idea what the difference was until my plane touched down in Vancouver and I got through customs. As the masses went from out-of-towners to locals, the crowd took on a decidedly blue hue as more and more Canuck jerseys started popping up.
Then I got on the train that would take me (close) to my hotel—dear GOD.
Blue, blue and more blue with a few old-school black and gold Canuck sweaters breaking the monotony.
And this was several hours ago; the puck drops at 8 PM ET/5 PM PT.
So, no, the UFC isn't the biggest show in town this weekend, which must be a bit of an unfamiliar role for UFC President Dana White and company. Despite a trio of Canadian fighters set to share the Octagon tomorrow—lightweight Sam "Hands of Stone" Stout, and middleweights Jesse "Water" Bongfeldt and Nick "The Promise" Ring—plus a battle for the right to be called the heavyweight division's No. 1 contender, it's a no contest against Game 5 of the Stanley Cup Finals.
Not that there's any shame in that fact.
After all, Canadians LOVE their hockey...
UFC 131 Fight Card: Weigh-ins Go Off Smoothly
UFC 131: Dos Santos vs. Carwin is officially locked and loaded after all fighters made weight today in Vancouver.
Junior dos Santos and Shane Carwin looked like they were all about the business at hand as neither gladiator cracked his stony facade. Not even Cigano's easy smile could break through once JDS turned his attention to his American counterpart. Carwin's much-ballyhooed weight loss allowed him to breeze under the 265-pound weight limit, tipping the scales at 254 pounds while the smaller Dos Santos checked in at 239 pounds.
The only other detail of note came courtesy of Kenny "KenFlo" Florian, a Bostonian, and the man he's set to fight at featherweight, Diego "The Gun" Nunes. Both fighters caught the hockey fever that's sweeping Vancouver at the moment with the Stanley Cup Finals also in town.
KenFlo donned a Boston Bruins uniform while the Brazilian Nunes countered with a Vancouver Canucks sweater. Guess who was the crowd favorite and who will be again tomorrow night?
UFC 131 Live Streaming Online: UFC Adds YouTube To Its Cyber-Lineup
One major advantage the UFC has over organizations like the NBA, NFL and MLB is Dana White.
Love or hate the blunt, bald head of the Ultimate Fighting Championship because that is your choice, but no reasonable person would argue he is bad at his job. I'll take him over David Stern, Roger Goodell and definitely Bud Selig any day of the week—he's a savvy promoter and he seems to treat people with the respect they deserve (there are obviously exceptions).
Take for instance, the UFC's Twitter drive that has each fighter hyping his buddies in the fight game. The organization's Twitter base has grown exponentially since it was launched.
Now, DW and company are adding YouTube to its live online presence on Fight Day. The earliest preliminary bouts have been streamed on Facebook for some time now, but if a little free exposure is good, then more is better.
This article is
What is the duplicate article?
Why is this article offensive?
Where is this article plagiarized from?
Why is this article poorly edited?