Zydrunas Ilgauskas Announces Retirement: Was Signing with Miami Heat a Mistake?
October 1, 2011
Gregory Shamus/Getty Images
On Friday, Zydrunas Ilgauskas officially announced his retirement from the NBA, ending a career that spanned nearly a decade and a half.
After being drafted by the Cleveland Cavaliers in 1996, Big Z spent 12 seasons in Cleveland before signing with the Miami Heat for one last shot at a championship.  Z was also a part of the Wizards organization following a 2010 trade from the Cavs but was released and re-signed without ever playing a game.
It is likely Z will take a position in the Cavaliers front office if one is offered, as he will likely see his jersey number retired as he stands as the franchise all-time leader in games, rebounds and blocked shots.
Some will say his legacy in Cleveland and the NBA in general has been somewhat tarnished after going ring chasing with the leagues most hated team, but is that really the case?
Looking back, was it worth a shot at a title at the risk of alienating a fanbase that had grown to admire him for 15 years?
Certainly diehard Cavaliers fans will have varying opinions, but was Z wrong for what he did?
I say no.
Although it would have been nice to see Z spend his entire career in Cleveland, you can't blame a man for trying to win a championship when he's in the twilight of his career.  Especially a career where he's given so much to the team who drafted him.
Think about this.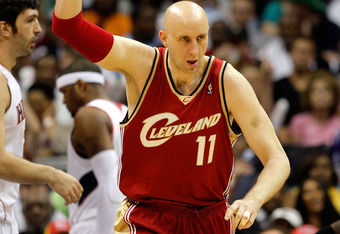 Andy Lyons/Getty Images
In 1999 despite missing most of the previous four seasons, Z kept working hard to come back from multiple surgeries and eventually was named a two-time All-Star.
In 2005, Z was playing some of his best basketball and could have signed with a lot of teams in need of a 7'3" center, but he instead chose to re-up with the Cavs.
In 2010 he could have signed with anybody after being released from the Wizards, but he instead chose to wait 30 days just so he could re-sign with Cleveland; the team that had just traded him away.
This kind of loyalty is extremely rare in professional sports.
Was it initially disappointing to hear him sign with Miami?  Sure, but in the end, did it diminish anything he accomplished during his time in Cleveland?
Absolutely not.
Despite his stint in Miami, Z will always be a Cavalier through and through.
Happy retirement Z, we hope to see No. 11 hanging in the rafters very soon.