Tiger Woods, U.S. Open: What U.S. Open Withdrawal Means for Tiger
June 7, 2011
Streeter Lecka/Getty Images
It's official. Tiger is out. 
Using media giant Twitter, Tiger announced, "Not playing in US Open. Very disappointed. Short-term frustration for long-term gain."
The injuries that have plagued Tiger since the Masters have, according to the golf star, not improved as well as he had hoped. As a result, he will be watching the 2011 U.S. Open from his couch. 
While this news is a blow to Tiger fans, it should not come as a total shock. Just last week, Tiger pulled out of Jack Nicklaus' Memorial Tournament. 
So the big question that remains is, what does all of this mean for Tiger?
It means a couple of things. 
First, it shows Tiger is fully committed to breaking Nicklaus' major record. If Tiger were to play in the U.S. Open, he would be risking further injury that may prevent him from playing even more tournaments down the road. 
By foregoing this Open, Tiger is doing what is best in the long run. 
Secondly, this withdrawal shows that Tiger has matured. In 2008, Tiger played in the U.S. Open against the advice of his doctors. While Tiger did win the tournament that year, it unnecessarily risked his career.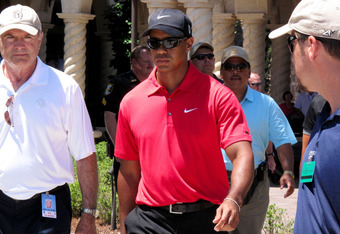 Scott Halleran/Getty Images
Three years later, Tiger decided his doctors may actually have his best interests in mind. Thus, he is sitting this U.S. Open out. 
Would he be as injured now if he sat in 2008? Would he even be injured if he had not weakened his knee so much then? No one knows. 
The last thing we want Tiger to do right now is come back too early. He did it at The Players Championship, where Tiger carded a 42 on his first nine holes and withdrew. 
This time around Tiger is letting his brain lead his heart. I know Tiger wants to play in the U.S. Open. He loves to compete. It may nearly kill him to watch from his home. 
In the end, Tiger is doing what is best for Tiger. So watch out, because it will only make him stronger in the future.