MMA History: The 5 Quickest and Most Amusing Knockouts to Date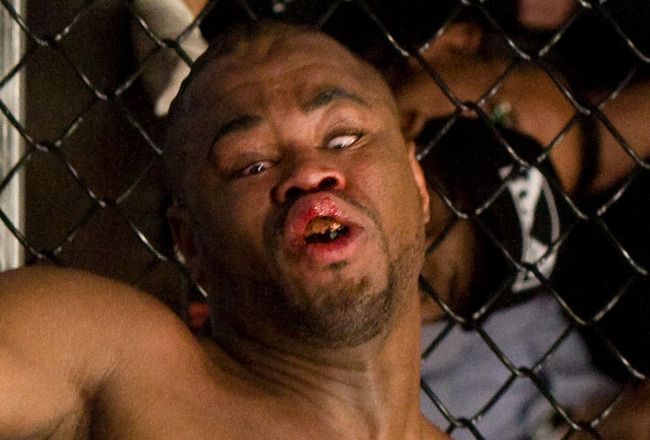 Good night Vienna (or Vie-mma). Apologies, I'm a sucker for wordplay
There is something eminently enchanting about the Knockout. It is a wonder to behold, a sight to savour. It carries with it an undisputable finality which a decision win, TKO and submission do not.
With a decision, fighters and fans alike are left to subjectively determine whether the bout has been adjudicated accurately and consequently whether the correct combatant has prevailed.
With a TKO, a fighter may fervently contend that the referee had prematurely intervened, that he was still sufficiently compos mentis to continue.
With a submission, the fighter is invariably (unless the casualty has been rendered unconscious via choke, or a victim's limb has been snapped) capable of regaining his feet unaided.
However, when a mixed martial artist has disconnected a fellow fighter from consciousness, there remain very few questions that need to be addressed. It is indeed the most conclusive conclusion to an octagon battle, with the unfortunate fighter ordinarily necessitating a period of time to sufficiently regain his faculties and wits. One piece of counsel for the casualty; "Just lie back and think of England".
If MMA were depicted in a cartoon, at this point, little flies would be circulating around the loser's forehead. The ecstasy provided by a KO is why some wrestlers turned boxers (Rashad Evans) prefer to stand-and-bang, seduced by the lure of a potential highlight reel finish. Similarly, some BJJ practitioners evidently thrive on their newfound stand-up ability (Jose Aldo) rather than employing their primary skill in order to reign victorious.
Briefer on the eye than they are on the mind, a rapid KO can be extremely memorable, leaving an indelible mark on the minds of the fans, as well as on the brains of the victim
And not just in the minds of fighters and fight fans, but the notion of the KO is also embedded within popular culture; LLCoolJ once proudly bellowed "I'm gonna knock you out", yet from my recollection there has never been a song composed by a seminal hip-hop artiste entitled "I'm gonna tap you out", or "I'm gonna grind out a decision" (though maybe John Fitch and GSP should consider this collaboration as a spoof).
As unappreciative as this may sound, the quick KO may leave the fans a little underwhelmed with its anti-climactic nature. After all, we are also paying customers who in exchange expect entertainment, ideally more than 10 seconds worth. It's riveting to witness the octagon dance partners doing the waltz for a few minutes or so, working each other out, engaging each other and exchanging strikes before the definitive blow is landed. It would be hard not to feel a little short-changed by an improbably quick KO (especially in a main or co-main event), particularly given the degree of hype that precedes such contests.
In the blink of an eye, and before Goldie can even utter "it is all over", it is actually all over. Mauro Ranallo perfectly encapsulates the situation "this one is over before it even begins"
And some fighters may even lament their lack of cage time, especially newcomers like Duffee, or those having returned from a prolonged injury layoff, having essentially trained intensively between 8-12 weeks for a transient moment lasting literally a number of seconds. In fact, milliseconds are actually required to distinguish between some of the top ten KOs of all-time. In no other sport (aside from other combat sports including boxing) may a victor be determined so quickly.
So enjoy the slideshow, don't dare blink, and knock yourself out (don't take me literally of course).
Follow me on Twitter @jonathanshrager
5. Seth Petruzelli vs Kimbo Slice
"This is what MMA is all about…if you have a dream…you can be anything you want."
I know, I know...this was not officially a KO—nor was it one of the fastest recorded in the sport—but rather a 14-second TKO victory for late replacement Seth Petruzelli over internet brawler Kimbo Slice.
However, this case proves fascinating in light of the mixed martial artist (I employ the term very loosely) that it showcases. No, not Petruzelli, though his cross-dressing is also interesting if you're into that sort of thing.
Kimbo is essentially a backstreet brawler who unsuccessfully sought to morph into a fully-fledged MMA fighter, but in reality he only ever managed to develop into a pseudo-mixed martial "artiste" (as they say in France).
Kimbo's fight with Petruzelli marked his fourth professional appearance—"professional", synonymous in this instance with "not taking place in a car park".
Hitherto in his career, Kimbo had blasted through three opponents, two inside of 45 seconds including fellow glorified pub-brawler/street-scrapper Tank Abbott.
His devastating defeat to Seth probably served as a reminder to Slice that MMA is not tantamount to car-park fisticuffs.
Aside from witnessing Slice get dealt with by "The Silverback"—or "The Kimbo Killer" as he has subsequently been dubbed— and the sight of Kimbo shooting on the referee in a state of punch-induced bewilderment, the most entertaining part of the clip is the preposterous hyperbole uttered by the delusional commentator, including "Rocky, Rocky is here", "Seth Petruzelli shocks the world", "the most incredible victory in the history of mixed martial arts".
Now, hang on a second, let's put this into perspective; Petruzelli was a bona fide MMA fighter, having amassed a respectable 9-4 record heading into this farce, whereas Kimbo, as already alluded to, was better-equipped for an altercation in a Costco parking lot.
The commentators, in unison, then proceed to elaborate on the Rocky theme, delivering some inspirational rhetoric which would just about convince me to jog to the fridge for a Sprite.
"It can happen…Believe", "this is what MMA is all about…if you have a dream…you can be anything you want". Sounds more like a sound bite from a Tony Robbins convention.
Commentators like this genuinely make me appreciate that bastion of knowledge known to the hardcores as "The Oracle", aka Mike Goldberg.
4. Todd Duffee vs Tim Hague
"Dang, that's the last time I go to fetch me a Fanta before the fight."
MMA is a fickle game, in a state of continual transition with respect to both the fan favourites and the official rankings. Hague himself was once a respectable prospect having accrued a 10-1 record, and his resume boasting its own inordinately fast KO when he disposed of Jared Kilkenny in a mere nine seconds in "King of the Ring Canada". At the very least this should have rendered Hague more cautious during the early stages of the fight.
Then, subsequently following his seven second massacre of Hague, Duffee suffered a similar fate when he was finished by Overeem in just 19 seconds. Herein lies an interesting observation. Does this mean that quick KO-Karma applies to MMA? Following the trend, does this signify that Overeem is due to be finished quickly in his imminent future?
Duffee was hailed as the next best contender to emerge within the UFC Heavyweight division prior to Zuffa's purchase of Strikeforce, at that time arguably the most lacking of all the weight categories. However, he went from highly-touted prospect to overrated no-hoper within the short space of a year. The quick KO also adversely affected Hague, who has not secured a "W" in the UFC since this inauspicious "thrashing" at the hands—literally—of Duffee.
It seems somewhat unjust that Duffee wasn't awarded with the KO of the night bonus for his unprecedented effort—still the fastest KO in Ultimate Fighting Championship—but unluckily for Todd, Nate Marquardt had also KO'd Demian Maia in spectacular fashion in a comparatively lengthy 21 seconds.
The bout seemed like an eternity having already seen Duffee land Hague on his duff in a third of time during the prelims.
3. Tyler Bryan vs Shawn Parker
Two of them? At the same time? After eight seconds? Get the hell out of here
A knockout is spectacular. A fast knockout is exhilarating. A double knockout is breath-taking. A fast double-knockout is frankly unbelievable. But that's precisely what transpired when Bryan and Parker encountered each other in 2008.
Characteristically excitable duo Bas Rutten and Kenny Rice really revelled in this one. I conjecture that this may be the fastest double KO in the annals of MMA, with Tyler and Shawn knocking each other out simultaneously after just eight seconds of the bout, which averages out at four seconds per knockout—I didn't even require a calculator for that one.
As Bas outlines, had one of the combatants managed to regain their senses and stand up within the allotted 10 seconds, they would have been announced the victor. As it stood, both fighters were incapable of doing so, instead compelled by their comatosity to remain at one with the mat.
It was eventually ruled a no-contest. It is verisimilar that neither fighter was fully cognizant of what had ensued until watching back the tape.
In his subsequent fight, under two months later, Bryan demonstrated that he had in fact regressed since his ill-fated professional MMA debut—he was probably still confused as to who officially won his debut—when he was knocked out in a miserly 41 seconds, but this time he mindlessly failed to connect with the chin of his opponent at the same time.
What on earth was he thinking?
2. "KID" Yamamoto vs Kazuyuki Miyata
"No seriously, I need to get me one of those mini-fridges for the TV-room"
As a teenager, I recall partaking in more protracted sexual encounters than the entire duration of this bout—though admittedly not much longer. This KO was officially recorded at four seconds into the first round, but on closer inspection, the only way in which four seconds could have elapsed by the time Kid's knee connects with Kazuyuki's face is if the clock began during Yamamoto's ring entrance.
One thing for certain is that he definitely expended more energy during his walkout to the ring.
In actuality, KID appears to require only a second—maybe between one and two seconds though decimals are needed to be specific—to annihilate, and probably humiliate his adversary who hadn't been knocked out hitherto during the incipient stages of his MMA career.
Miyata should have been well-aware and prepared for Yamamoto's explosive starts, his CV already boasting two KO'd opponents in under 40 seconds.
The reaction of the spectators underscores that Japanese MMA fans can be highly excitable, despite the general perception that they are relatively reserved compared to their US counterparts. Peruse "Hofstede's Cultural Dimensions" if you want to delve further into this complex realm.
I would have been slightly perturbed had if I had forked out $50 for a card whose main event lasted less time than it takes me to think unsavoury thoughts upon viewing Arianny Celeste in a bikini. However, the "Tokyo-ko" are rightfully upstanding and in awe of what they have just witnessed.
Miyata successfully rebounded by defeating his subsequent opponent within 49 seconds, meaning that cumulatively during his two 2006 fights he had clocked up an impressive 53 seconds, probably leading to inadvertent case of ring rust.
1. Heath Herring vs Yoshihiro Nakao
The Kiss of Death
This infamous MMA moment wasn't the first occasion on which firebrand Nakao had proactively endeavoured to rile his adversary during the pre-fight staredown, engaging Don Frye in an exchange of pre-fight head-butts in May 2004, ultimately leading to a cut stoppage no-contest before the bout had even initiated, a precursor to the above inauspicious smooch-gate a year and a half later.
The fight was always destined to conclude early, with Herring a specialist at seeking and securing submissions during the embryonic stages of a fight, leading to several successful submission stoppages within the space of a minute—arguably a more impressive act than a quick KO, given the length of time it can take to engineer a submission. However, I dare surmise that the crowd were at least expecting a little more action than they received.
Herring clearly took umbrage at having his lip caressed by his adversary. Maybe Herring has very sensitive lips? Maybe Nakao hadn't applied his lypsyl that morning? Who knows? Technically this constitutes the quickest KO ever since the bell hadn't even rang to signal the beginning of the contest, and hence following logic, that KO actually transpired at -15 secs of the scheduled bout and so could be classified as the fastest in MMA history. This clip has become a YouTube sensation, with upwards of 10million views.
The incident has also been dubbed the "New Year's Eve Kiss". We can only presume that Nakao was adhering to that time-honoured NYE tradition of sharing a passionate embrace under the mistletoe (which the referee must have been holding behind his back as he reiterated the fight etiquette), but evidently Herring never received the memo, and like the self-proclaimed volatile "Crazy Texas Horse" that he is, Heath lashed out at his opponent.
Let me transcribe Herring's ensuing justification; "dude tried to kiss me on the lips like a homosexual, I'm not gay, I'm not gay". In the decidedly virile milieu of MMA, a passionate embrace could be misconstrued by one's ring partner, intent on upholding an air of bravado and machismo. In the aftermath of the no-contest (in retrospect, the judges perceived both the lip smacker, and the pre-fight fist smack to be illegal manoeuvres), a melee ensued between both sets of cornermen.
And Nakao evidently has a wicked sense of humour, because shortly following the fiasco he altered his nickname to "Kiss", almost paying homage to his lip-tennis (did he fall for Herring during their brief lustful exchange?), and also allegedly to antagonise the very reporters that had lambasted him for this puerile act of insolence.
Reports suggest that all parties involved kissed and made up afterwards.
Keep Reading