Marty Turco, Kevin Weekes Provide Insight into Unique Roles in Stanley Cup Final
June 3, 2011
Ronald Martinez/Getty Images
The city is anxious to hold a Stanley Cup parade for their beloved champions. On the night of a game, 18,000 eyes are on the home team as they enter the ice to a darkened arena and loud music. Fans recount disappointments of Stanley Cup Finals past and how they don't want to go through another letdown.
If you think it's hard to be a Boston Bruins or a Vancouver Canucks fan right now, try being one of the guys on the roster.
On Friday afternoon, I had a unique opportunity to sit in on a conference call with Kevin Weekes, a former NHL goaltender turned analyst, and Marty Turco, a veteran netminder who spent most of his career with the Dallas Stars and played with the Chicago Blackhawks this past season. With the Blackhawks eliminated in the first round, Turco has joined Weekes on NHL.com and NHL Network as an analyst.
The purpose of this call was to discuss the Stanley Cup Finals from the perspective of a player, and Weekes and Turco provided interesting information that I otherwise would not have known about, or even considered. 
Turco started off by detailing the excitement surrounding the city of Vancouver, as he has been there with Weekes and other NHL Network staffers as the Finals got underway this week.
"The people in Vancouver have done a great job getting the city ready," Turco said. "Plus the weather has been beautiful today."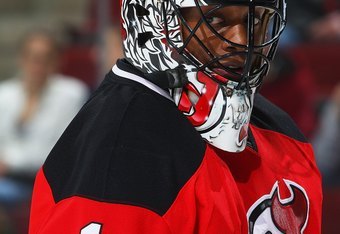 Mike Stobe/Getty Images
Turco discussed Game 1, saying that while he was surprised about how physical the game was, he was not surprised about the great goaltending.
Weekes agreed.
"Both teams play to an entertaining style, and the Finals got off to a great start.
"These are two franchises starved for a Stanley Cup. Vancouver is in their 40th anniversary season and have been to the Finals three times. People here would love to see their Canucks win a Cup.
"Also, Boston has not been to the Finals since 1990, so they are in a drought themselves."
One of the other bloggers on the call brought up the much debated topic about Roberto Luongo's playoff failures and whether or not he has finally shed his choker label. Furthermore, the writer wanted to know if the critics would leave Luongo alone if he won the Cup.
Turco, who has also dealt with postseason failures, said that "we're all human" and of course Luongo is going to make mistakes. He said that although Luongo cares about winning the Cup, it should not be a reflection on himself as a person if Vancouver cannot capture the championship.
Weekes added, "As people, you want to feel good about yourselves, regardless of what kind of work you do."
The topic changed to what the players are doing long before they reach the NHL to achieve their dreams of winning the Stanley Cup.
"It's a long ride to be in the NHL, and the players have sacrificed a lot to be here." Weekes said.
He described the example of a high school hockey player having to miss a school dance because he is attending a hockey tournament the same weekend. He said that although the player's friends may think the player is a "loser" and wonder what's wrong, he says it is part of the sacrifice to make it to the big leagues.
Also, many players have families of their own, and they must deal with the difficulty of being away from their families for long periods of time. However, Weekes feels it's worth it.
"Everything makes sense when you get to this level."
Since Weekes was a career backup netminder and Turco backed up Corey Crawford for much of this season, many may try to undervalue the role of a backup goaltender. All eyes may be on Luongo and Tim Thomas, but that doesn't mean Tuukka Rask and Cory Schneider are unimportant. For example, Rask played 30 games in the regular season, while Schneider relieved Luongo in Game 5 of this year's quarterfinals and started Game 6 of the same round. 
"Your main job is to be ready to play and be the ultimate team guy," Turco said of being a backup. "Your sole goal is to make your teammates be as good as they can be.
"When you're on the bench, you're listening to the coach and watching the guys' body language. You can be a sounding board for your teammates anywhere, whether it be on the bus or in the hotel, and you can let them know you're behind them. You always have a great pulse that no one else can appreciate."
"It's all about doing more things behind the scenes and not frowning on your role," Weekes pointed out. "You're one of 60 guys in the world that do this for a living. If you're one of those 60 in your role, you're pretty special."
Finally, one of the writers put Weekes and Turco in the analyst hot seat. He was curious about Dan Hamhuis' injury and if Keith Ballard would get a chance in the lineup.
"Ballard would be the first option here. He has been a top four defenseman his whole career, but he has a bad season." Turco said.
He added that Ballard plays a style similar to Kevin Bieksa and that he feels neither defenseman gets enough credit. Should Ballard be used, he feels the two can be on a top defensive pair together.
Weekes said that despite injuries to the Canucks' defensemen, he still likes how Vancouver is successful even when working with different lineups.
"They have not broken their stride. They have used 13 different defensemen this season, and they're playing with different partners and embracing it."
As you already knew, only a certain group of players gets lucky enough to play for the Stanley Cup each year.
However, what you may not have realized is that even the players who are on the bench all game or in the press box are as valuable to the finalists' run as those that are out on the ice blocking shots and trying to score goals.
I came away from this call not only fascinated by what I learned from these two veteran goaltenders, but also with a greater appreciation for every guy on the Canucks and Bruins, regardless of how many minutes they play or don't play.