Jim Tressel and the 20 Worst Coaching Exits Ever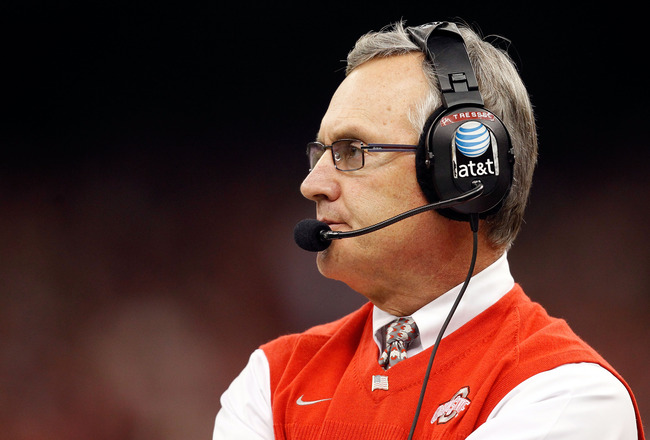 Matthew Stockman/Getty Images
Jim Tressel is amongst many superb coaches that have gotten caught up in scandal, disputes, and actions that go against their better judgment.
These are the men that are supposed to be molding and helping their players develop and become better men, though their actions say otherwise. Change is an inevitable part of life and moving from one job to another is part of the world of sports.
But, changing jobs does not always have to come with the excitement of scandal, feature stories, and controversy.
Here are the 20 worst and craziest coaching exists…
20. Barry Melrose Doesn't Last with the Lighting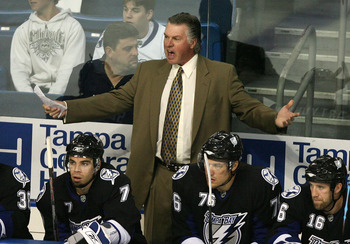 Doug Benc/Getty Images
Everyone knows about his wonderful mullet and his unilateral hockey commentary on ESPN, but he is also a former player and coach. He was the coach for the L.A. King from 1992-1995, where he was fired midway through the 1995 season.
After delving into commentary, he was hired to man the bench again in 2008 for the Tampa Bay Lighting. Talk about buyer's remorse. Melrose was fired after 16 games and never went back to coaching again.
19. Yogi Berra Fired After 16 Games
After a rough 1985 season, George Steinbrenner promised manager Yogi Berra, who was not sure if he wanted to come back, that his job would be safe in 1986. Well, 16 games into the season, this changed.
Front office advisor Clyde King, and not Steinbrenner himself fired Berra. This was embarrassing for Berra and hurt their relationship for years.
18. Billy Martin Fired over and over Again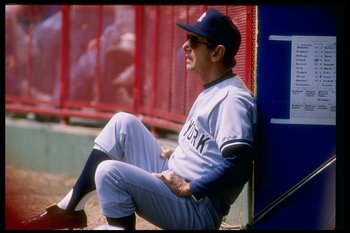 Jonathan Daniel/Getty Images
Billy Martin was the manager of the New York Yankees five different times. No, you did not read that incorrectly.
He notoriously battled with owner George Steinbrenner throughout his managerial days over everything and anything, but their relationship was always about one thing: winning.
Some of the more interesting stories associated with Martin's firings include getting into a fight with a marshmallow salesman, fighting with Reggie Jackson in the Yankees' dugout, and the "Pine Tar Incident" involving George Brett.
17. Isiah Thomas Forced out After Years of Ineptitude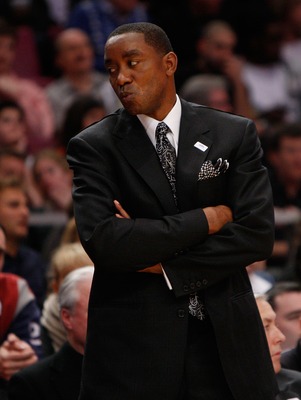 Nick Laham/Getty Images
How does one sum up Isaih Thomas' tenure as the Knicks executive and coach?
Failure? Demise? Joke?
All of these words work well, because this was not just a case of a coach losing his job after a couple of bad seasons. Instead, this was a culmination of terrible decision making, poor on the court performance, encouraging a hard foul that lead to a brawl against the Nuggets, and a sexual harassment case that cost MSG millions of dollars.
Besides that, this was just a run of the mill coaching change.
16. Brian Kelly Leaves Cincinnati for Notre Dame Before the BCS Bowl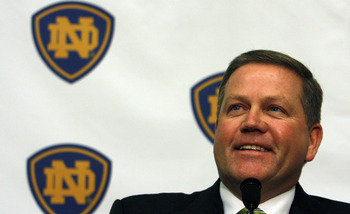 Frank Polich/Getty Images
Coach Brian Kelly took the University of Cincinnati from relative obscurity to the number three-ranked team in the nation. They were awarded a chance to play the University of Florida in the Sugar Bowl.
But, instead of being on the sidelines for the most important game in team history, Kelly bolted to the University of Notre Dame, where he currently coaches. Cincinnati got pummeled and has yet to recover.
15. Joe Girardi Fired After NL Manager of the Year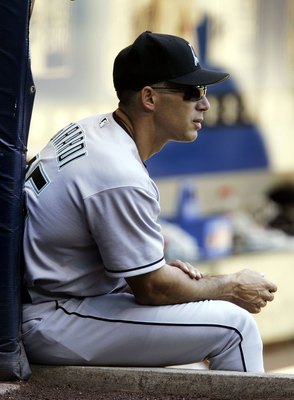 Jonathan Daniel/Getty Images
He won 78 games with a team that had a $14 million payroll. That number is less than many major league baseball players make in a season.
But, despite winning NL Manager of the Year, owner Jeffrey Loria, due to constant disputes and off the field issues, fired him.
It was one of the most mysterious firings in baseball history and has continued to be a scar on Loria's reputation.
14. Dennis Franchione and the Newsletter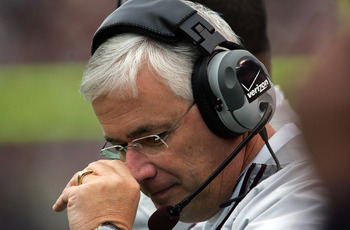 Ronald Martinez/Getty Images
Dennis Franchione is not a household name and he will probably never be. But, in 2007, Franchione did something that was both morally wrong and would eventually lead to his resignation.
Franchione thought it would be a good idea to give some of the financially relevant boosters a private newsletter that included information about player injuries, coaching firings, and recruitment information. None of this was supposed to go public.
Of course, Franchione was outed and the university condemned his actions. He would resign at the end of another lackluster season, but not before receiving a nice $4.4 million buyout.
13. Bobby Gould Leaves Peterborough at Half Time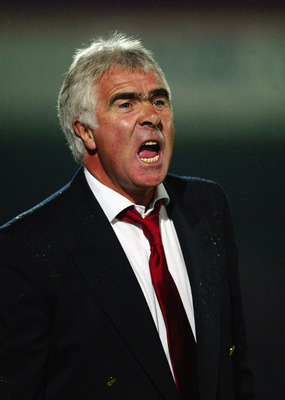 Pete Norton/Getty Images
Gould has been around the block for some time now and is no stranger to the game of soccer. So, when he got into an argument with Peterborough United owner Barry Fry over player use, he felt it was better to walk away than to continue fighting.
The only issue is, Gould decided to end this discussion, and his tenure for the club, during halftime of a game that he was managing.
12. Urban Meyer Should I Stay or Should I Go?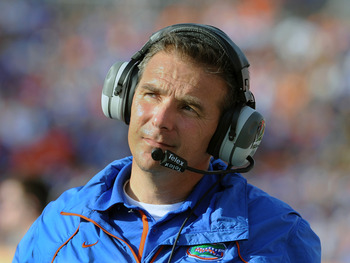 Al Messerschmidt/Getty Images
There is no shame in admitting that you need to take a break from your job, especially if it is for medical purposes. But, taking a leave of absence, and then coming back, and then doing the same thing all over again is reminiscent of Brett Favre indecisiveness.
After the 2009 season, he was not feeling well and took some time off. After going 8-5 with the Gators in 2010, he realized there is no better time than now to get out while the going was tough.
It remains to be seen whether he will coach again, but he seems to be enjoying his cushy analyst job.
11. Phil Garner Axed After 6 Games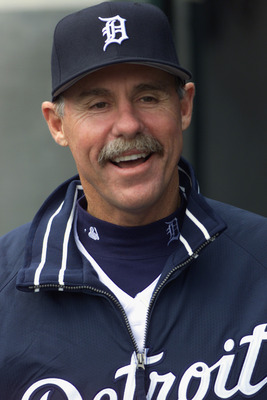 Tom Pidgeon/Getty Images
Baseball is all about patience right…
The 162-game season is long, so how can you possibly know what your team is going to look like after one week of baseball.
Tiger's president Dave Dombrowski apparently saw enough to fire both Garner and GM Randy Smith 6 GAMES INTO THE SEASON!
So much for patience is a virtue.
10. Rich Rodriguez Promises to Stay and Bolts for Ann Arbor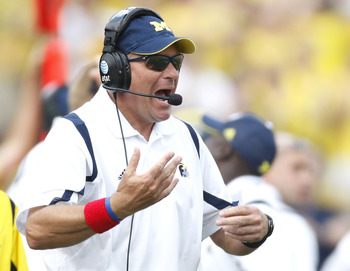 Gregory Shamus/Getty Images
Apparently your word means nothing these days. Rich Rodriguez affirmed his commitment to the University of West Virginia verbally and via a contract extension in 2007.
After a loss to the Pittsburgh Panthers, eliminating WVU for national title contention, Rodriguez submitted his letter of resignation, effective at midnight that night.
He did not coach the team in the Fiesta Bowl, and after several lawsuits, he was forced to pay back his buyout money.
So much for loyalty.
9. Jerry Sloan Quits Mid Season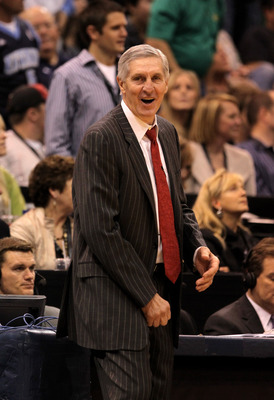 Ezra Shaw/Getty Images
When a living legend decides to quit in the middle of the season, red flags go up immediately.
When the same legend signs a one-year extension and then decides to quit three days later, there is a whole different story.
Jerry Sloan's resignation from the Utah Jazz bench was marred by rumors that he and point guard Deron Williams got into a fight that pushed Sloan over the edge and resulted in his abrupt end to his coaching career.
These rumors were dispelled by both, but nonetheless, changed the face of the Utah Jazz franchise forever.
8. Lane Kiffin Leaves Tennessee with Recruits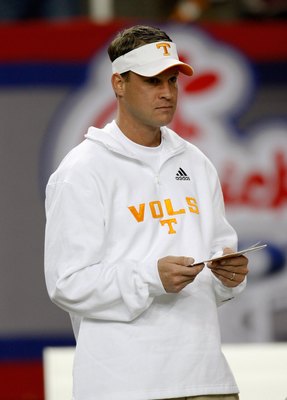 Mike Zarrilli/Getty Images
First, the Raiders fired Kiffin after a contentious war of words with owner Al Davis. Then, after one year at the University of Tennessee, Kiffin again jumped ship to take on the USC coaching vacancy (which we will get to later).
What makes Kiffin's departure bad is that it took place at the height of recruiting season. The coach took many of the players that had already committed to him back to Southern California, leaving UT holding the bag.
It was a classless act that now seems to be becoming a standard for the young coach.
7. Billy Donovan Coaches the Magic for a Day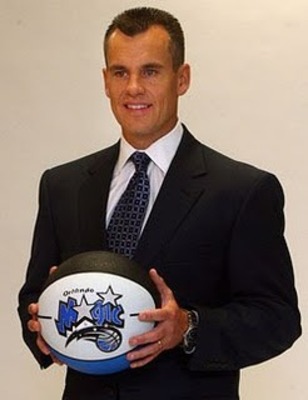 For many coaches, the ultimate goal is to get to the NBA and coach at the highest level. Florida head basketball coach Billy Donovan thought he wanted the same thing, but he got cold feet before he could even meet his new players.
He signed the contract on June 1, 2007, and by June 6, he was released from his contract under the condition that he would not coach in the NBA for five seasons. He returned back to the University of Florida where he has coached since.
6. George O'Leary Lies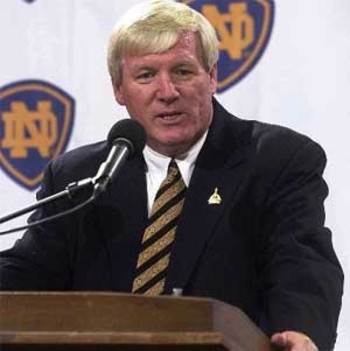 In 2001, the University of Notre Dame hired George O'Leary. In 2001, the University of Notre Dame fired George O'Leary.
He lied on his resume, making up some very creative and interesting fibs, which makes me wonder. Who was it at ND that thought there was a college called NYU-Stony Brook University? Shouldn't there have been some red flags immediately?
He was caught red handed and was forced to resign with the badge of shame that comes along with lying to the whole university.
Lesson learned: If your going to lie on your resume, don't make up entirely new educational institutions. We have Google people.
5. Jim Tressel Bounced from OSU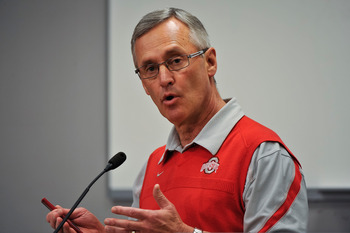 Jamie Sabau/Getty Images
He is the latest coach to get caught up in a scandal that was much bigger than he thought he was. Tressel's indiscretion regarding cautionary emails and the controversy surrounding the sale of OSU memorabilia by players was too much for Tressel to handle when it came time to deal with the consequences.
What began as a two game suspension, would eventually lead to the coach's resignation on March 8, 2011.
The program must now deal with the fallout from this departure and move forward without a coach that went 9-1 against Michigan during his tenure.
4. BIll Belichick Coaches the Jets for a Day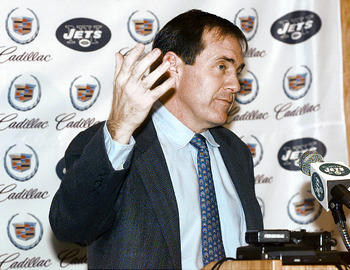 After serving as the New York Jets' defensive coordinator from 1997-1999, Bill Parcells appointed him as his successor. Instead of taking the job, he used his introductory press conference to instead tell the media that he had in fact resigned his post.
Before taking the podium, he had "formally" resigned with a note that said, "I resign as HC of the NYJ".
This seems more like a cryptic code than a legal document. As we know, the rest is history.
3. When the Going Gets Tough, Pete Carroll Gets Going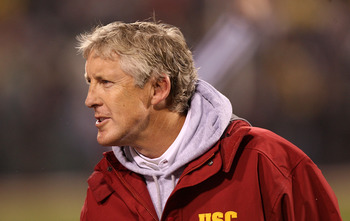 Jed Jacobsohn/Getty Images
It is hard to find any true sports fan that believes Pete Carroll's jump from USC to the Seattle Seahawks had nothing to do with the heavy sanctions inflicted on the university by the NCAA.
Carroll stands by his word that his decision to leave for the NFL was not motivated by the severe penalties, though ask any USC fan and they might give you a slightly different opinion.
2. Bobby Petrino Leaves Falcons with Notes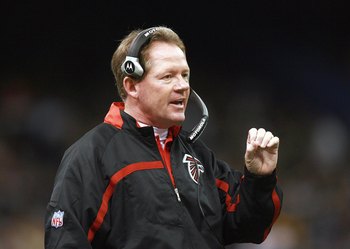 Doug Benc/Getty Images
What would you have to do for your defensive coordinator to call you a coward and a gutless bastard?
Well, how about quitting on a professional football team 13 games into the season and letting your players know through a note you post in the locker room. That will do it.
Petrino committed the cardinal sin in professional football: quitting.
There is no reason to believe he will ever coach in the professional ranks again after that awful stunt.
1. Woody Hayes Punches His Way out of Town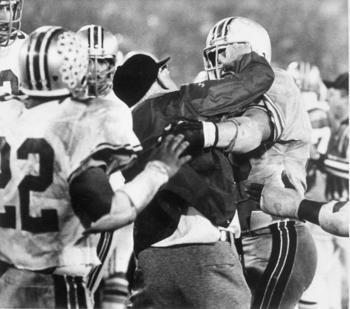 Nobody denies that anger gets the best of us from time to time, but punching a player on the opposing team is as unacceptable as when ABC made us watch a show called "Cavemen".
Hayes was an Ohio State icon that was fired over one of the most vicious attacks on a player in recent memory. He apologized for his actions, though people remember him more for his attack then his legendary coaching career.
Keep Reading