Armando Galarraga, One Year Later: Reflections on the Imperfect Game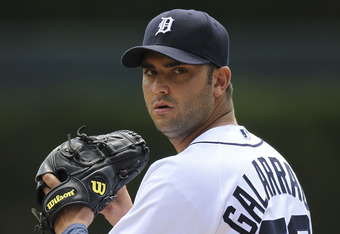 Leon Halip/Getty Images
One year ago today, a journeyman pitcher named Armando Galarraga was pitching the game of his life.
Galarraga, who was making his regular turn in the Detroit rotation, had retired the first 26 Cleveland batters on the evening, and he had done so while throwing a mere 80 pitches – a startlingly low number for any pitcher. Galarraga was one out away from throwing the third perfect game of the MLB season and the second within a four-day period.
What happened next has gone down in MLB infamy: the Indians' Jason Donald hit a soft grounder toward first base that pulled Miguel Cabrera away from the bag. Galarraga rushed over to cover the bag, but umpire Jim Joyce thought that he was too late and called Donald safe, prompting outrage from Detroit players and fans.
They were further enraged when the replay showed that Galarraga had beaten Donald to the base by about a half-step. Galarraga, although clearly disappointed by the call, shrugged it off with a smile and calmly retired the final hitter of the game.
The media firestorm over the next few days was unlike anything I have ever seen: fans and writers of all teams voiced their displeasure at the call and demanded commissioner Bud Selig overturn the call to give Galarraga his rightful place in history. But Selig, concerned about the precedent that it would set, stood firm and chose to let things stand as they were.
It was the right call then, and it is still the right call now.
More than one person called Selig shallow and corrupt for not overturning the call, but in fact the opposite was true: Selig's decision to let things stand was a principled one that reflected the views of his constituents. The players themselves, who are skeptical about the idea of instant replay as it is, were very much against the idea of a bad call being overturned by the commissioner.
Players are certainly in favor of umpires getting the right call (and incidentally, that same survey lists Jim Joyce among the top three umpires in the game), but they are almost universal in their agreement that any changes should be made from the field, not from the commissioner's office.
As for the fans' outrage that Galarraga has been denied his place in history: if anything, the opposite is true. Galarraga's performance has become the most memorable game from the entire 2010 season—heck, I would go as far as saying that it is the most memorable midseason contest since Kerry Wood's 20-strikeout game back in 1998.
The controversy surrounding the ending is actually what makes that performance all the more memorable; after all, had Joyce called Donald out, Galarraga would have simply been one of three pitchers to throw perfect games that season.
Equally important was the reaction of both Galarraga and Joyce. Galarraga calmly got the final out and the complete-game win, while Joyce—upon realizing he made a mistake after the game —personally apologized for blowing the call (something I have never, ever seen in my 25+ years of watching Major League Baseball). Galarraga, stating that "nobody's perfect", graciously accepted. It was a much-needed lesson in sportsmanship that all of sports could appreciate.
(And for what it's worth, Galarraga did get a new corvette as a consolation prize, as well as a "Medal of Reasonableness" at last year's Rally to Restore Sanity and/or Fear)
It's important to remember that a game does not have to be perfect to be memorable. Harvey Haddix's 12 perfect innings in 1959 is widely considered the greatest pitching performance in MLB history, even though he eventually cracked in the 13th inning and got the loss. Pedro Martinez threw nine perfect innings in 1995 before allowing a hit in the bottom of the 10th. Even Kerry Wood's performance in 1998 contained a single infield hit that bounced off a fielder's glove.
Galarraga's performance certainly qualifies for this category: he may not have been "perfect", but he was certainly memorable.
This article is
What is the duplicate article?
Why is this article offensive?
Where is this article plagiarized from?
Why is this article poorly edited?

Detroit Tigers: Like this team?