The Ultimate Fighter 13 Finale: Power Ranking Anthony Pettis' 5 WEC Wins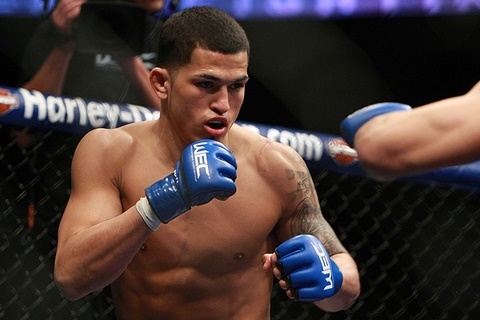 Making his Ultimate Fighting Championships (UFC) debut at The Ultimate Fighter 13 Finale, Anthony Pettis has already become a lightweight contender through his success in World Extreme Cagefighting (WEC).
In his final fight with the WEC, which also happened to be the final fight in WEC history, Pettis earned a unanimous decision victory over Ben Henderson to become the final WEC Lightweight Champion.
In the final round, Pettis jumped off of the fence to land an unprecedented head kick that knocked Henderson down and sealed the victory. Named after Pettis' nickname, the kick became known as the Showtime kick.
After the win, Pettis was promised a title shot against the winner of a UFC lightweight title fight between Frankie Edgar and Gray Maynard. However, that fight resulted in a draw, which prompted an immediate rematch and forced Pettis to take another fight.
That fight, Pettis' first in the world's largest mixed martial arts (MMA) organization, will come against fellow lightweight contender Clay Guida. With a win, Pettis could finally earn his shot at the UFC Lightweight Championship against the winner of the rematch between Edgar and Maynard.
Before Pettis fights for the first time in the UFC, let's take a look back at some of the fights that have helped Pettis get to this point in his career.
Begin Slideshow

»
Making his WEC debut at WEC 41, Anthony Pettis met Mike Campbell, who was coming off of a loss to Danillo Villefort in his first WEC fight.
After Campbell caught his head kick and shot in for a double leg, Pettis transitioned from submission attempt to submission attempt before finally forcing Campbell to tap due to a triangle choke less than two minutes into the first round.
The win showcased Pettis' ground game and extended his undefeated professional record to 9-0.
At WEC 48, Anthony Pettis met WEC and UFC veteran Alex Karalexis in a fight that was televised live on Spike TV.
After showing off his striking game with a flashy switch kick early on in the first round, Pettis finished Karalexis with his ground game via a triangle choke in the second round.
The win earned Pettis a step up in competition and a chance at becoming the top lightweight contender in the WEC.
After suffering the first and only loss of his career to Bart Palaszewski, Anthony Pettis looked to rebound against Danny Castillo at WEC 47.
Shortly after taking a knee to the groin, Pettis unleashed his anger on Catillo with a brutal head kick that finished the fight at slightly more than two minutes into the first round.
The knockout earned Pettis Knockout of the Night honors and put him back ono track to becoming one of the best lightweights in the sport.
After his win over Alex Karalexis, Anthony Pettis eanred a fight to become the No. 1 contender against Shane Roller, who had won eight of his last nine fights heading into the bout.
In a fast-paced matchup, Pettis showed that he could take down an All-American wrestler and once again displayed a high level of unorthodox striking.
In the final minute of the fight, Pettis was forced to fight off a guillotine choke and then finished Roller with a slick triangle choke with under 10 seconds remaining in the fight.
With his win over Shane Roller, Anthony Pettis earned a shot at WEC Lightweight Champion Ben Henderson. Pettis title shot came at WEC 53, the final event in before the organization would be merged into the UFC.
In a closely contested bout between two of the best lightweights in the world, Pettis showed that he could compete with an elite lightweight on his feet and on the ground.
In the end, it was Pettis' unorthodox striking that sealed the win for him, as he landed the kick that he will be remembered for throughout his career.
The Ultimate Fighter 13 Finale: Fight Card, News, Predictions, Results, and More!