Yushin Okami, Takanori Gomi and the 10 Best Japanese Fighters of All Time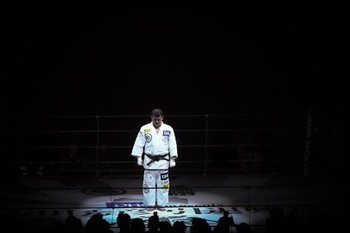 Japanese mixed martial arts has recently fallen on a bit of hard times and as a result, so has the development of the fighters who live and train there.
It is a far cry from the glory days of MMA in Japan during the 1990's and early to mid 2000's, where the land of the rising sun held epic fight cards regularly under such promotions as "Shooto" Vale Tudo, Pancrase, and of course, Pride FC.
During those glory years, Japanese MMA stood on it's own with many Japanese fighters becoming local heroes for their blood-and-guts performances against countrymen.
In addition, some became national heroes for waving the Japanese flag in fights against the biggest and baddest fighters from the rest of the world.
It is with great honour that I present to you, The 10 Best Japanese Fighters of All Time.
10. Norifumi "Kid" Yamamoto (18-4)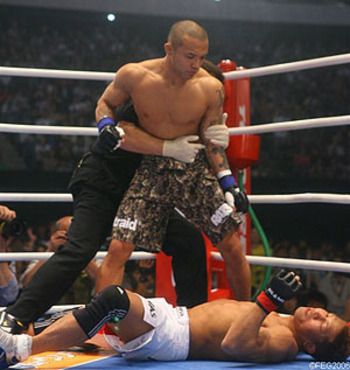 Norifumi "Kid" Yamamoto is one of the few Japanese fighters on this list who is young enough to still be active and effective in MMA against the sport's elite.
From 2001 to 2007, "Kid" compiled an impressive record in Japan fighting in Shooto, HERO and Pride, and in 2006 he made history by knocking out Kazuyuki Miyata in four seconds, claiming the fastest fight in HERO history and the fastest knockout in any major mixed martial arts promotion.
He joined the DREAM promotion in 2008, but DREAM has struggled and Yamamoto was consequently signed by the UFC. He made his debut in February vs. Demetrius Johnson and lost a unanimous decision.
Yamamoto is famous in Japan for his history of run-ins with the Yakuza over the years, and the fact that veteran fighter Enson Inoue is largely responsible for guiding any success "Kid" has had.
Notable wins: Jeff Curran, Royler Gracie, Caol Uno, Genki Sudo, Bibiano Fernandes
9. Yuki Kondo (52-26-8)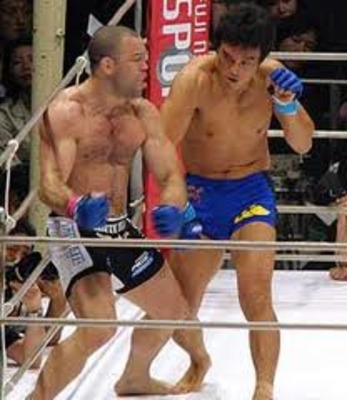 Yuki Kondo is one of Japan's most popular and best fighters of all time based on his 86 fight and 52 win record. He has fought everywhere and everyone in Japan, and he has some very notable fights and victories on his resume.
A 2nd dan in Shorinji Kempo, he fought over 60 times in the Pancrase organization, and is the former King of Pancrase middleweight champion. He was one of the first fighters to make the journey over and compete in the UFC against the best fighters in the world.
Over his 15-year career, Kondo has fought many big names in the sport such as Dan Henderson, Wanderlei Silva, Guy Mezger, Josh Barnett, Tito Ortiz, Frank Shamrock and Semmy Schilt, whom he defeated three times.
8. Tatsuya Kawajiri (27-7-2)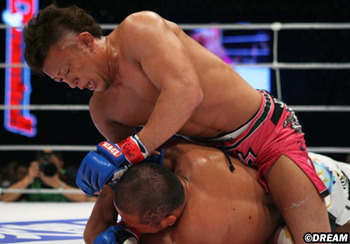 Tatsuya Kawajiri is nicknamed "The Crusher" for his strength in the clinch and his brutal ground and pound game. He built his career in Shooto, where he held the welterweight championship.
Kawajiri holds notable wins over Yves Edwards, Josh Thompson, Luiz Azeredo, Gesias Calvacante and Vitor Ribeiro.
In 2005, he was widely considered the No. 1 ranked lightweight in the world, and his battle with Takanori Gomi in Pride Bushido event was voted as Pride Fighting Championships Fight Of The Year.
He is currently known as a top ten ranked lightweight in the world but is coming off a first-round TKO loss to Strikeforce champion Gilbert Melendez.
7. Akihiro Gono (32-16-7)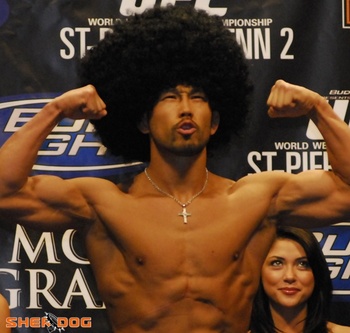 Akihiro Gono is best known for his clever and deceiving fighting style, as well as his flashy ring entrances, but make no mistake, Gono could and did hang with the best in the world during the prime of his career.
Gono began fighting in 1994 in the Lumax Cup of Japan, and went on to make a name for himself in the Shooto, Pancrase and Pride organizations before coming over to fight in the UFC in 2007.
Gono has won fights that he seemingly had no shot of winning and he holds wins against notables Gerard Mousasi, Hector Lombard, Yuki Kondo, Ivan Salaverry and Hayato Sakurai.
He also has losses vs. top-notch fighters like Mauricio Rua, Matt Hughes and Dan Henderson.
6. Hayato Sakurai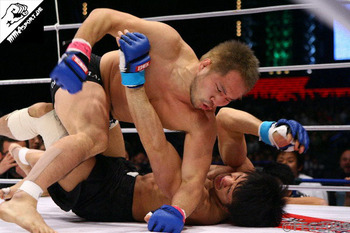 Hayato "Mach" Sakurai made his mixed martial arts debut in 1996 by submitting well known fighter Caol Uno and then went the next five consecutive years fighting without a loss. He was widely regarded as the best pound for pound fighter in the world during that time.
Sakurai was finally defeated in August 2001 by none other than up and comer Anderson Silva. After that loss and recovering from a car accident, Sakurai travelled to America for a much anticipated match up with then UFC welterweight champion Matt Hughes where he lost via TKO in the fourth round.
Sakurai had a difficult time being motivated following the accident and losses, but he made a much anticipated come back to the sport entering into Pride's Lightweight Grand Prix event, where he made his legendary status complete by beating Jens Pulver and Joachim Hansen before losing a tough final to Takanori Gomi.
Sakurai holds notable wins over Shinya Aoki (twice), Pulver, Hansen and Mac Danzig.
5. Shinya Aoki (27-5)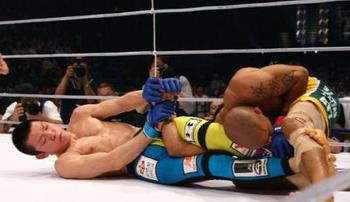 Shinya Aoki is the best Japanese submission artist of all time. He is also one of the best submission artists in the entire world.
In Japan, Aoki is known as "Tobikan Judan" meaning "grandmaster of the flying submission" as he is famous for being able to put a submission on his opponents out of nowhere in his fights.
Aoki does have critics because he has been so one-dimensional in his game, but in 32 fights he has only been KO'd three times so his defense is very underrated.
He is the current lightweight champion of the DREAM promotion and holds his most notable wins over Akira Kikuchi twice, George Sotiropoulos, Joachim Hansen, Gesias Calvacante and Kawajiri.
4. Takanori Gomi (32-7)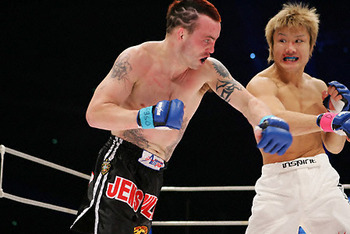 "The Fireball Kid" Takanori Gomi is known by many as the best Japanese fighter the world has ever seen.
The last and only Pride Lightweight champion, Gomi was 14-2 before he even signed with Pride, with one of the two defeats at the hands of BJ.Penn in 2003 at Rumble at the Rock 4.
Gomi's run in Pride is what puts him here at No. 4, with an incredible 13-1-1 record between 2004 and 2007 with his only defeat being a two-round split decision to Marcus Aurelio.
He also had a tough fight in a loss to Nick Diaz that was since overturned to a no-contest due to Diaz testing positive for marijuana.
Gomi signed with the UFC in 2010 and has gone a tough 1-2, wasting no time in facing top fighters in the promotion, losing to both Kenny Florian and Clay Guida.
Gomi defeated Tyson Griffin in his one win in the UFC and was awarded Knockout of the Night for his stoppage of Griffin.
3. Masakatsu Funaki (39-13-1)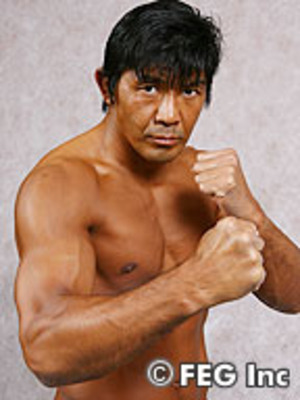 Masakatsu Funaki is the greatest pioneer of Japanese mixed martial arts as he co-founded the Pancrase fighting organization in Japan four years before the creation of The Ultimate Fighting Championship in America.
He was revered by his peers world wide in the "beginning" stages of this sport and was the first real Japanese star of Pancrase. He was regarded as hands down the smartest and most well-rounded fighter of Pancrase with the exception of Ken Shamrock.
He holds 39 wins and has beaten such notables as Ken Shamrock, Frank Shamrock, Guy Mezger, Yuki Kondo and Bas Rutten.
He is the only man in mixed martial arts with the distinction of beating both the Shamrock brothers and Rutten.
Other Japanese fighters may be better skilled now as the sport has evolved and improved since Funaki's heyday, but he is the Japanese Royce Gracie, a pioneer and the best in his time.
2. Kazushi Sakuraba (26-15-1)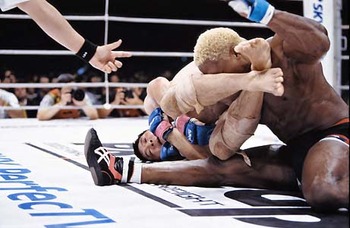 Kazushi Sakuraba is to Japanese mixed martial arts what Randy Couture is to American mixed martial arts, a real life hero. Sakuraba's record may not be as dominant as other Japanese fighters on this list, but it is who he beat and how he did it that makes "Saku" the best of all time.
Fans love a war and Japanese fans love an underdog, and Sakuraba made a legend of himself by defeating four different members of the famed Gracie jiu jitsu family.
He is widely known in MMA circles as "The Gracie Hunter" and his first bout with Royce is forever remembered as the longest fight in mixed martial arts history.
Sakuraba won that battle after 90 minutes as Royce's corner threw in the towel because Royce had taken so many punishing leg kicks.
Sakuraba has overcome size disadvantages against some of the top fighters in the history of mixed martial arts such as Wanderlei Silva, Quinton Jackson, Kevin Randleman, Ken Shamrock and Mirko Cro Cop Filipovic.
He was also the winner of one of the most anticipated matches in Japanese mixed martial arts history when he submitted fellow legend Funaki in 2007.
All material referenced in this article was sourced at www.wikipedia.com
Dwight Wakabayashi is a Correspondent for Bleacher Report. (Also a Correspondent for MMACanada.net.)
Catch me on Twitter @wakafighter
1. Yushin Okami (26-5)
Yushin Okami is #1 on this list based on the fact that he has accomplished many of his most notable victories against western mixed martial artists who are widely considered stronger and better than the Japanese fighters the other men on this list have faced.
While Okami built up an impressive 16-3 record in Japan before making his way to the UFC, he is one of the few if not the only Japanese fighter to continue that degree of success in North America.
Okami is a powerful wrestler and judo practitioner and holds notable wins vs. Alan Belcher, Mike Swick, Jason MacDonald, Mark Munoz and Nate Marquardt.
Of course, he is also known as the last man to defeat best pound-for-pound fighter in the world Anderson Silva although via disqualification.
Okami is currently the No. 3 ranked middleweight in the world and in my opinion, by far the best Japanese fighter in the world right now.
Keep Reading