Top 10 Underrated Managers: Jose Mourinho and 9 Others Who Deserve Better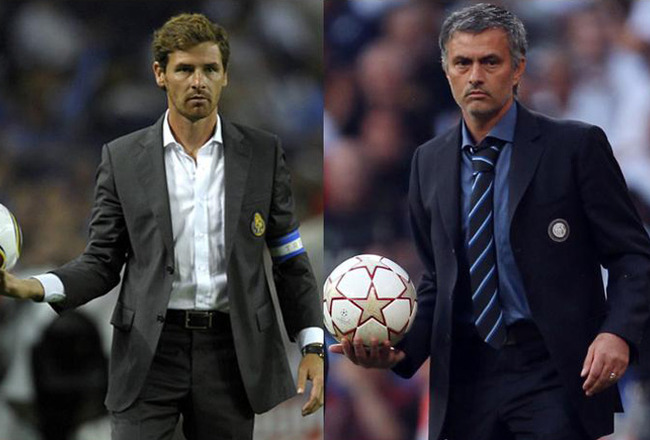 Could The Special One Possibly Be Under-Rated?

Sometimes soccer fans are pleasantly surprised when their team outperforms their wildest expectations. However, such events seem to occur all too few and far between. More commonly, the world sees a football team build up their fans' expectations to epic levels before imploding with all the drama of Arsenal in mid-March.
Nowhere has this phenomenon been encapsulated better than on Merseyside in recent times. Everton fans are annually buoyed by the Toffees' stellar run late in the season, only to come crashing back to Earth when they find themselves in a relegation dogfight early next season.
Unwilling to be outdone by their blue rivals even in this dubious honour, Liverpool turned in a glorious nomination in the 2009-10 PFA (Pretty Fake Awards) category of "Outstanding Ridiculous Meltdown." In fact, so dramatic was their implosion that the club considered replacing the liver bird on their crest with the RMS Titanic.
Liverpool jokes (and no, we do not mean Maxi) aside, the first person to feel the wrath of irate fans is usually the manager. It happened (well-deservedly, in our opinion) to Rafa Benitez at Liverpool, it happened to Rafa Benitez at Inter Milan, and in eight months time, it would have happened to Rafa Benitez wherever he goes next.
But what of those managers who receive more than just taunts and jeers (by which we mean the sack) just because they failed to win the Premier League twice in a row? What of those who deserve a managerial role at Real Madrid but are instead forced to rescue relegation fodder like Bolton and Blackburn time and time again?
Join us as we list those managers who—in our humble opinion—are currently punching far below their weight. So friends, Roman, countrymen: lend me your ears...
1. A Special Club for the Special One: Jose Mourinho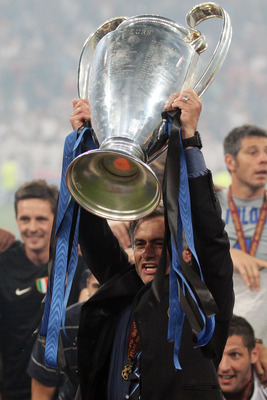 Alex Livesey/Getty Images
Let us get the most controversial name on this list out of the way right in the beginning. Our justification for including him on this list is quite simply that nobody deserves the sheer pressure, taunts and frustration that goes hand-in-hand with managing the Madrid circus Real Madrid CF.
There are many faults that Barcelona fans, the media and—after the farcical Clasicos—the world in general can find with Jose Mourinho. However, the man has won the Champions League with two different clubs and (given another couple of years) will almost certainly win it with a third.
I have nothing but respect for Jose. He was a refreshing breath of candor when he took over Chelsea in 2004. He is also a fighter who will bite, claw and gouge every inch, making Mike Tyson seem positively friendly. And it is that willingness to do his utmost for his club and team that earns him the respect and adoration of his staff and players.
Unfortunately, he has occupied the hottest seat in football where results are expected yesterday and expectations are as unrealistic as when Obama became President.
So maybe Jose cannot turn water into wine. And no, he cannot come back from the dead. And he cannot predict the Barcelona starting 11....err, bad example.
The point is that Jose is, by far, the best manager that Real Madrid have had since Vicente del Bosque almost a decade ago. Tactically, he is a genius. As a man-manager, he is unrivaled: just ask the absolutely unlovable Marco Materazzi. Nowhere is this more evident than at Chelsea: look at what Avram Grant (a beacon of managerial mediocrity) achieved with the team assembled by Mourinho.
But the amount of criticism leveled at him by everyone—including his own fans—is ridiculous. How can anyone be expected to compete within a year against a Barcelona team that has been assembled and perfected over the past decade?
No matter how much we hate someone, there is a short list of things we would never wish upon them. Until recently this included the plague, attendance at a George Bush book reading and free tickets to a Spice Girls concert. And now, we can add the job of Real Madrid manager to that list.
It is about time the Santiago Bernabeu faithful learned that trophies by the boatload are not a birthright. It is time they gave their manager the time and space to build something special in the capital. Otherwise, they may find themselves back in that all-too-familiar vicious circle of a trophy drought and managerial pass-the-parcel.
2. A Special-er One: André Villas-Boas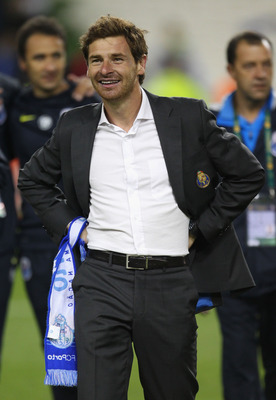 Alex Livesey/Getty Images
Staying with the Portuguese theme, we turn our attention to Luis André de Pina Cabral e Villas-Boas who, at the tender age of 33, already boasts a list of managerial honors almost as long as his name. And if there is any sort of karmic balance between talent, good looks and "endowment," the young Portuguese manager is destined never to satisfy a woman.
Just as the Barcelona academy seems to be the Mecca of footballing talent, the list of Sir Bobby Robson protégés seems to produce the cream of the managerial crop. Following in the footsteps of his "Special" mentor, Villas-Boas completed his first season at FC Porto in stellar fashion.
And just so you understand how little exaggeration is involved in that statement, consider the fact that Villas-Boas achieved an 85 percent win rate! With Porto! That includes winning the Portuguese league and the Europa League! And on the evidence of his first season, it is only a matter of time before he is snapped up by one of Europe's heavyweights.
Now, we have nothing against FC Porto, who have proven to be quite a club. But Villas-Boas seems like just the suave, confident charmer who can achieve that elusive balance between the suicidal demands of a Russian billionaire and the tactical nous required to win the Champions League.
And with Carlo Ancelotti unable to continue his duties at Stamford Bridge after a mysterious encounter with a shadowy stranger known in the Moscow underworld only as Vladimir, the more attentive listeners may just hear the chopping sounds of a helicopter landing at the Estadio do Dragao.
3. A Hero in Unlikely Places: Guus Hiddink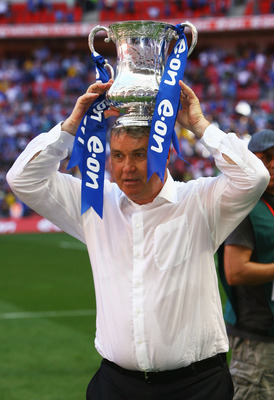 Alex Livesey/Getty Images
Guus Hiddink is an undisputed hero in South Korea, Australia, Turkey and—since that short spell at a post-Scolari Chelsea—the star of Roman Abramovich's naughtier dreams.
The Dutchman has performed miraculous feats by leading minnows like South Korea and Australia to the knockout rounds of successive World Cups. And, as if to prove that he could cut the mustard at any level, he stepped in at Stamford Bridge to salvage the Blues' season in the aftermath of Luiz Felipe Scolari's ill-fated reign.
During his four-month spell in charge, Chelsea only lost one match in the Premier League and won the FA Cup. They also seemed to be heading for the Champions League final before that semi-final which Didier Drogba described, ever so eloquently, as "a f***ing disgrace!"
So it is no wonder that almost every soccer fan asks, as soon as they wake up each morning, why Hiddink continues to accept assignments in the footballing wilderness. And while that claim may be a shameless exaggeration to prove a point, the statement that Hiddink is the odds-on favourite to resume his post at Chelsea most certainly is not.
4. Blessed with the Luck O' the Irish...During the Potato Famine: Martin O'Neill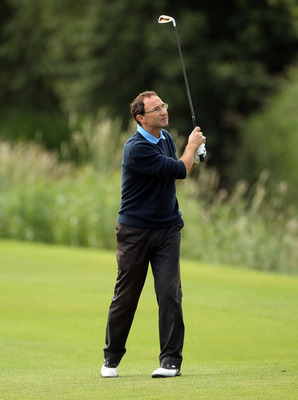 Andrew Redington/Getty Images
O'Neill is one of those managers that never stirs enough of a fuss to get noticed. He quietly goes about his job until, one day, his club find themselves two divisions up the ladder and in a Cup final. However, he does have a wretched track record in the karma department.
It only takes a quick glance at his managerial achievements to appreciate the depth of O'Neill. The Irishman saw Wycombe Wanderers through a meteoric two promotions in four years, won two League Cups with Leicester City and revamped Aston Villa from regular relegation-fodder to Champions League contenders.
But his finest moments were probably spent prowling the touchline at Celtic Park. In 2000, when Rangers were the more dominant of the Old Firm rivals, O'Neill began a fruitful spell at Celtic. His first season brought a domestic treble, while his remaining three years yielded four additional trophies.
Unfortunately for him, he was forced to depart in order to care for his wife who was diagnosed with lymphoma in 2005. Upon her recovery, he returned to management, beginning a four-year spell at Aston Villa. But even there, just as he seemed on the cusp of leading the team into the Champions League, owner Randy Lerner refused to supply him adequate transfer funds, forcing them to "part ways amicably."
O'Neill comes across as a brilliant manager who, through a miserable cocktail of circumstances, has been prevented from completing the impressive projects he began at Celtic and Villa Parks.
With rumours rife that O'Neill is the replacement at Manchester United after Sir Alex Ferguson throws in the towel (though, to be fair, everyone, including Rafa Benitez, has been linked to that job), the Irishman would definitely deserve the opportunity to weave his magic at a top club. God knows he has earned that right.
5. Scaling the German Fußball Ladder to Manage...Switzerland?: Ottmar Hitzfeld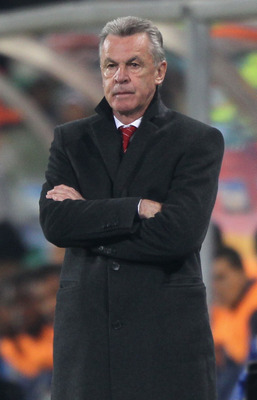 Christof Koepsel/Getty Images
Next, we turn to a man who won it all with Borussia Dortmund and all over again with German giants Bayern Munich, before deciding to shun the glamour of Munich for a job whose description might just be as austere as Hitzfeld's hairdo. We refer, of course, to his current post as manager of the Swiss National Team.
After his impressive spells in Dortmund and Munich, it seemed only a matter of time before he got the call up to the national job. However, when it finally came in 2004, the German schemer inexplicably chose to turn it down in favour of a break from the sport. Neither is it known exactly when Hitzfeld accepted his part-time position as a Sith Lord.
Upon his return, he briefly managed Bayern Munich again before being approached by the Swiss Football Association. Nobody knows what volume of LSD was consumed for him to sign that contract to manage Switzerland; it remains an unsolved mystery—much like the existence of aliens, the chupacabra and a fiery guy with a tail, horns and a pitchfork (none of which would look out of place on jolly old Ottmar, incidentally) waiting to collect your soul after death.
Many an astute observer will tell you that Hitzfeld deserves to be managing far better than the Swiss team. And for that reason, we tip our hat and include him on this list.
6. First in Line for to Be Statued at Ibrox: Walter Smith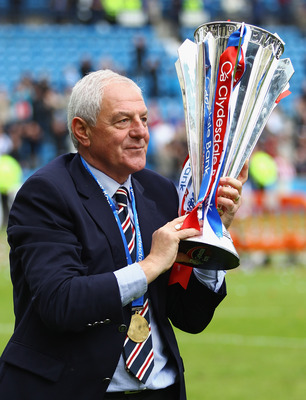 An All-Too-Familiar Sight
Jeff J Mitchell/Getty Images
That's Walter Smith, OBE, to you.
With a Rangers track record almost as long as his list of winners' medals, Walter Smith is probably the first on anybody's list of potential statues to be unveiled at Ibrox. Of the 11 seasons he has spent as Rangers manager, he has won the Scottish League trophy in all but one. Not to mention five Scottish FA Cups and six League Cups!
Having been a defender himself, it is no surprise that Smith's teams don't exactly dazzle crowds. But the Scot has implemented such an efficient system at Ibrox that even English giants Manchester United failed to break them down when the sides met in the Champions League this season. And then there is his charming interview manner...
It remains uncertain whether his success in the Scottish League and National sides is transferable to a higher profile team. But there is only one way to find out for certain, and as the current West Ham team would have to consciously try to underwhelm any more, it might be a match made in heaven.
But considering that the Rangers boss just resigned his post in style with a domestic Double and that his list of achievements includes leading Rangers to a Champions League semifinal and UEFA Cup final, it is quite likely that Smith will relish this chance to permanently retire from management on his terms. And really, who can grudge him that?
7. The Reason the 2006 World Cup Went to Mordor: Marcello Lippi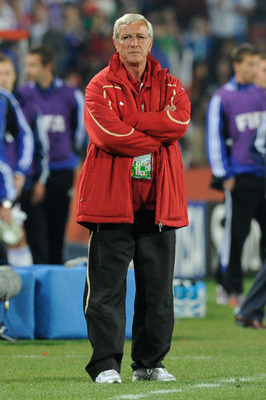 Claudio Villa/Getty Images
One reason that few outside Italy rate Lippi may be that he has only ever managed within his country. Having achieved everything possible at Juventus—including five Scudetti, one Champions League and numerous domestic Cups—Lippi will forever be remembered as the man who made Italy the World Champions in 2006.
He firmly believes in the importance of team spirit and unity and concepts such as playing for each other and selecting formations to maximize each player's potential. As a result, Lippi's teams tend to be cohesive, tight-knit units that function like a healthy family.
He may look about as threatening as a grand-father sans dentures, but then one might believe the same of Sir Alex Ferguson before hearing about his notorious "hairdryer" temperament. It should also be noted that Lippi led Juventus to three more Champions League finals, unfortunately (or fortunately, depending on perspective) losing out on every occasion.
Now if he would only choose to manage a team devoid of a dirt-bag infestation...
8. "I Would Love It If We Beat Them—Love It" : Kevin Keegan
This may come as quite a surprise to some (including yours truly, who never witnessed his first spell on Tyneside), but many people do rate Keegan pretty highly as a manager. Apart from "that rant" which set the gold standard against which all subsequent managerial meltdowns are measured, Keegan showed an impressive aptitude for bringing teams from any depths to near the summit of the Premier League.
King Kevin began his managerial career at Newcastle, propelling them from Division Two despair to Premier League title hopefuls within three seasons. After two more seasons challenging for silverware, Keegan completed a short spell at Fulham, leading them to promotion at the first attempt.
After an ill-fated England reign where he never gained an adequate foothold because he was unable to recruit his choice of support staff, Keegan took charge of newly-relegated Manchester City. He guided them to promotion in his first season, followed by a ninth place finish in the Premier League and UEFA Cup qualification in the next.
Like Martin O'Neill, it is fair to say that Keegan could have had each of these teams competing for silverware given another couple of seasons in charge. Unfortunately, exhaustion due to management (spending three seasons at Manchester City would do that to anyone) and subsequently exhaustion due to Mike Ashley (at Newcastle) have prevented Keegan from realizing his ambitions.
9. At Least One Person Believes He Should Manage Real: "Big Sam" Allardyce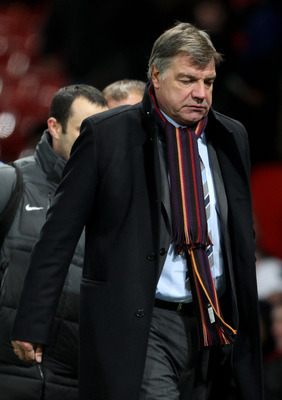 Alex Livesey/Getty Images
Relax, relax. Every article needs a bit of comic relief, doesn't it? Although to be honest, judging by the current turnover, it can only be a matter of time before Real Madrid exhaust every manager in the world—twice—and are forced to consider Allardyce.
If ever there comes a time when Real Madrid are struggling against relegation, the comically inclined amongst us hope the Madrid board would offer Allardyce the job as a giant one-fingered salute to the game of football.
10. He Got WHAT Out Of Maxi? : King Kenny Dalglish
Bryn Lennon/Getty Images
Being a United fan(-atic), my fingers spontaneously began to bleed a few seconds ago. However, credit must be given where credit is due. Dalglish took over a mediocre team this January, made two astute transfers and produced the best points total of any team at the business end of the season.
Then, a couple of weeks ago, he managed the impossible. It was ironic that the end of the world had been predicted to occur the very next week, because surely Maxi Rodriguez scoring two hat tricks in three games was one of the harbingers of the Apocalypse?
Add to that his past record (both at Liverpool and Blackburn) and for the first time in two decades, Reds fans have a real reason to look forward to next season.
United fans just hope that Sir Alex has picked up a trick or two in the decade King Kenny has been away. And just as this perch was starting to get rather lonely. Hmm...
In Conclusion...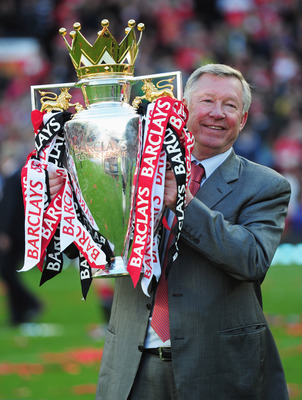 Shaun Botterill/Getty Images
An effort has been made to avoid the usual cliches such as naming Sir Alex Ferguson as under-appreciated (because the true extent of his legacy will only be appreciated after his departure), etc. It must also be pointed out that two or three deserving managers might have escaped attention purely due to the author's inability to see straight after typing madly away for four hours.
The author also pleads blissful ignorance about some of the lesser European leagues such as the Russian league, where a man named Leonid Slutsky is attracting attention for reasons other than just his name.
With that in mind, feel free to comment below agreeing, disagreeing or letting us know that you don't give a rodent's scrotum about our choice of underrated managers.
Disclaimer: Bleacher Report knows nothing of any encounter between Carlo Ancelotti and a shadowy stranger from Moscow. And certainly not anyone named Vladimir that rides horses topless and is a karate black belt. We also take this opportunity to establish that the official reason for Ancelotti's departure is his unfortunate slip and fall on a...perogie. Bleacher Report also wishes to counteract any false rumours about Ottmar Hitzfeld being a Sith Lord. If he really was a Dark Lord, would he not make it slightly... *splutter*... difficult for... *cough*... us to ... *gasp*... breathe? *splutter* Wait a second...Hey! *CHOKE*

Keep Reading

Manchester United: Like this team?