Florida Football: The Candidates to Be the Gators' Top Receiver
May 22, 2011
Sam Greenwood/Getty Images
Carlos Alvarez. Nat Moore. Ike Hilliard. Reidel Anthony. Percy Harvin.
Those are just a few of the players to be the go-to receiver for the Florida Gators. Shoot, during a period of embarrassing riches at wide out, UF had both Hilliard and Anthony to go along with standouts like Chris Doering, Travis McGriff and Aubrey Hill.
To say 2010 wasn't exactly a banner year for Gator pass-catchers would be an understatement. After all, Deonte Thompson led the team with 38 receptions for 570 yards and one touchdown in 13 games.
But 2011 brings a new offense (Charlie Weis has installed a pro-style system to replace Urban Meyer's spread) and new hope. Here is a look at the top candidates to be John Brantley's go-to guy (and who knows, maybe someone not listed like Robert Clark, Solomon Patton or Stephen Alli will rise up and take the spot):
Deonte Thompson, Sr. WR
As Meyer pointed out last year, Thompson hasn't lived up to being ranked as one of the nation's best prep receivers when he came out of Florida high school powerhouse Belle Glade Glades Central five years ago.
He has battled drops and with those, confidence problems. But there is little doubt he has talent, and if he is ever going to shine, the time is now.
Thompson and quarterback John Brantley have a familiarity with one another that goes all the way back to four seasons ago when they worked with one another on the scout team.
Call Thompson, who enters his senior year with 80 career catches, the favorite to lead UF in receptions once again next year.
Chris Rainey, Sr. WR/RB
A versatile and speedy talent, Rainey averaged more than three catches a game last year.
He will line up in the backfield, in the slot and at times out wide, provided he is able to pick up the complexities of Weis's offense.
Saying that happens, look for Rainey to be a major part of all of what the Gators do when they have the ball. The guess here is the fifth-year standout from national powerhouse Lakeland (Fla.) High School will finish second on the team in rushing (to Jeff Demps) and second in receiving (to Thompson).
Trey Burton, Soph. RB
Burton was second to Thompson last year with 32 receptions, proving to be a veritable Transformer, as he played quarterback, running back, fullback, receiver and tight end.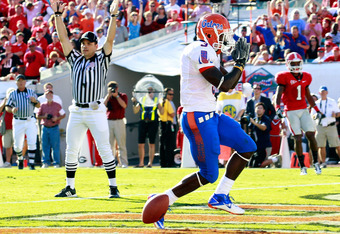 Sam Greenwood/Getty Images
At 6'2", 222 pounds, Burton is easily the biggest back on the roster, but just as Meyer didn't, don't look for Weis to limit Burton's role.
There will be offensive plays designed to get the ball in Burton's hands, but he also remains the ultimate fall-back for Brantley should his primary targets be covered.
The guess here is Burton ties classmate Quinton Dunbar for third on the team in receptions.
Quinton Dunbar, Soph. WR
One of the big surprises of the spring, Dunbar's work was praised by new head coach Will Muschamp throughout practices.
Still, Dunbar's next catch will be the first of his career, so there is reason to second guess this choice. That said, when Weis came in, the receivers all started in the same place, and Dunbar was the one to make himself most noticed in limited time.
The prediction is Dunbar and Burton each catch 35 passes, edging Andre Debose (who will have more yards than both) by three receptions.
Andre Debose, Soph. WR
Unfairly labeled as "the next Percy Harvin" when he signed with the Gators three years ago, Debose only has 10 career receptions for 96 yards (all last year).
However, he was a special teams standout in 2010, taking back two kickoffs for touchdowns, including one for 99 yards that was about UF's only highlight in an ugly home loss to eventual SEC East champion South Carolina.
Debose has dealt with injuries throughout his college career, but he and Florida coaches hope those days are behind him.
There could be ups and downs with Debose, but look for him to lead the team in catches of 20 or more yards and expect at least one game where he busts out with around seven receptions for 145 yards and two touchdowns.
Omarius Hines, Jr. WR
Hines has shown steady improvement the last two seasons, catching 14 passes for 172 yards and a touchdown in 2009 and then catching 20 balls for 281 yards and a score last year.
At 6'2", 211 pounds, Hines has a strong build (he spent some time at tight end as a sophomore) and also has been a part of the running game (he had six carries for 58 yards in a loss to Mississippi State in 2010).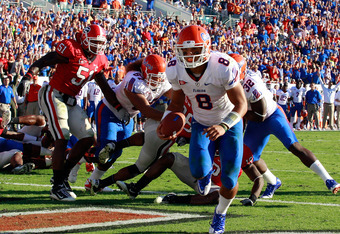 Sam Greenwood/Getty Images
Hines may not bust long plays like Debose, but he is among the steadiest receivers on Muschamp's roster.
Frankie Hammond, Jr., Jr. WR
After catching just four passes in 2009, Hammond made a big leap last season, grabbing 22 passes for 276 yards and a pair of touchdowns.
An SEC Academic Honor Roll member, Hammond finished the 2010 season strong, catching 16 balls for 241 yards in the final six games.
Look for him to pull down about 25 passes next season.
Jeff Demps, Sr. RB
Yes, this is the third running back on this list so far, but UF would be foolish not to get the ball in the hands of playmakers like Rainey, Burton and Demps as often as possible.
In addition to being Florida's No. 1 threat when taking handoffs or pitches, Demps also will be on the receiving end of 15-to-20 passes—some by design, most as a safety valve for Brantley.
Jordan Reed, Soph. TE
Reed bounced around between tight end and quarterback last season, so the fact he has just six receptions for 79 yards and one touchdown in his career is no indicator of what kind of pass-catcher he can be.
At 6'3", 237 pounds, Reed has good size and speed. And if his snaps at quarterback are limited in 2011, look for Reed to be a major part of the Gators' intermediate passing game.
Remember, Weis did wonders last season with rookie tight end Tony Moeaki of the Kansas City Chiefs. A third-round pick out of Iowa, Moeaki finished his first NFL campaign with 47 receptions for 556 yards and three touchdowns.