Red Sox Jon Lester Spoils Chicago Cubs 1st Visit to Fenway Park in 93 Years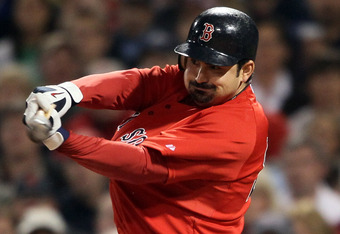 Gonzalez has helped a lot
Elsa/Getty Images
OK, Red Sox Nation, let's take a breath here. As any card-carrying member of this mythical fan organization will tell you, there's nothing like a little enthusiasm and swagger to start the team on an extended losing streak.
Expectations ran high at the start of the season with more than just a few members of the sports media predicting that they'd go all the way, and sure enough, they started out 0-6, and ultimately, before someone put the brakes on (or hit the gas pedal, as the case may be), they were 2-10.
Since that time, they've lost the same number of games, but won 10 times as many, for a record of 24-20 that moves them (here's where that breath comes in) ahead of the New York Yankees in the AL East.
As you're inhaling that extra load of oxygen, you should bear in mind that Jon Lester gave up a career-high 12 hits, in allowing the Cubs to score five runs on Friday night. On any given night, if the Sox bats are asleep on the shoulders of all but Youkilis, because of the way he holds the bat, five runs would be enough to win a ball game.
They may be one-half game out of first place in the American League, but record-wise, they're still sixth overall in Major League Baseball behind Cleveland, Philly, the Marlins, the Cardinals and the Cincinnati Reds.
They're in fifth place with the bats at .263, trailing, among others, the very same Chicago Cubs they pummeled on Friday night, who are in second place with a team batting average of .279. The Cardinals are on top of that category, batting .283.
The Sox are six steps away from being the worst pitching team in baseball, with a team ERA of 4.22. They are the only team among the bottom six with an overall winning record (as of this writing, the Tigers, just below them, are even at 22-22). They have yet to have a single pitcher record a complete game, although to be fair, neither have six other teams, including the New York Yankees.
Along with the Blue Jays and the Dodgers, they've given up 43 home runs, which, of course, is one shy of at least one every game at this point.
They're not all that bad in the field, but it should be noted that the percentage differential between the best fielding team (the Phillies) and the worst (the Astros) is only 13 points (.990 to .977).
The Sox are tied with the Dodgers, Brewers and Mets at .987. They're sort of in the middle of the 38 to 16 range in errors with 22. Their issues behind the plate with the tandem of Jarrod Saltalamacchia and Jason Varitek are evident in their MLB-leading statistic of allowing 52 stolen bases.
They're letting at least one guy per game swipe a bag, sometimes two guys, and if this raw statistic's importance doesn't resonate right away, I have two words for you—Dave Roberts.
Let us not dally too long in the depths of despair, however. They have managed to string together seven straight victories, which, if they'd all been played in a single evening would have registered a score of 46-24.
Of course, a third of those runs-for came in a single game, which certainly had the Cubs thinking that maybe they should wait another hundred years before coming back to Fenway. I say we give them the benefit of the doubt, and upon conclusion of this series with the Cubs (far from over, of course) send them on their merry, seven-game road trip way to battle the top two teams in the AL Central (Cleveland and Detroit) with a mild pat on the back for a recent series of jobs well done.
Anything more enthusiastic is likely to send them into a tailspin they won't emerge from until late June, or later, so...ahem..."Keep up the good work, boys."
This article is
What is the duplicate article?
Why is this article offensive?
Where is this article plagiarized from?
Why is this article poorly edited?

Boston Red Sox: Like this team?