Mumbai Indians, Sachin Tendulkar Face Possible Relegation from IPL Playoffs
May 21, 2011
Tom Shaw/Getty Images
The
Mumbai Indians crashed to their third defeat in a row. Shane Warne had the last laugh in the clash of titans.
Surprising how the side that looked so consistent and formidable at the start of the tournament is suddenly found wanting on slower pitches. The first three seasons witnessed the team heavily dependent on the genius of Sachin Tendulkar and to a lesser extent, Sanath Jayasuriya. Kieron Pollard's bludgeoning club added heft.
Just when MI fans felt that it would be a different story this time around, the results in the last three games belied their hopes. With qualification for the playoffs on the line in the final game against Kolkatta Knight Riders at Eden Gardens, Tendulkar will be under immense pressure to perform..
Kings XI Punjab need a resounding win against Deccan Chargers, today, 21 May 2011 and must hope for one of the four other teams in the fray to falter just a bit.
That side could be the mighty Mumbai Indians. Sachin Tendulkar has struggled of late (anything less than 50 is a disaster for his fans). It has not helped that the opening combination has been a juggler's delight. Kings XI enjoy a better net run-rate than MI.
It's time to take a gamble and play Kieron Pollard right at the top. Give him a chance to play 20 overs and he could bat the opposition out of the game. Something on the lines of Adam Gilchrist against Royal Challengers Bangalore the other day.
Mumbai Indians, KKR, Royal Challengers Bangalore and Chennai Super Kings are in the running for the top two spots. RCB versus CSK is the other crucial game before the playoffs.
The re-formatting of the knockout rounds has been a master-stroke. It has succeeded in retaining interest in the tournament til the end (for the competing teams),preventing coaches from resting key players and trying out new combinations.
KKR have not missed Saurav Ganguly much. His return to the IPL, despite the hype and fanfare, has been a damp squib.
Chris Gayle and Lasith Malinga are the superstars of the tournament. One a free agent, the other a retired Test star.
The business end of the tournament begins.
---
Be nice to people on your way up because you'll meet 'em on your way down.
---Wilson Milzner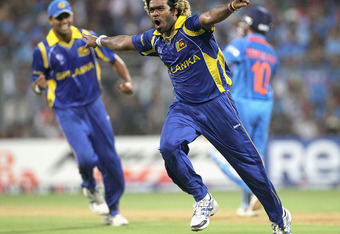 Hamish Blair/Getty Images