The Greatest MLB Lineup of All Time
Jim McIsaac/Getty Images
There are many debates and arguments among baseball fans on who are the greatest players to ever step on a baseball field. Obviously, Babe Ruth and Hank Aaron are up there, due to their amazing career achievements, while Barry Bonds and Alex Rodriguez in modern times can no longer be a part of that list because of their involvement with performance enhancing drugs. Still, supposedly "clean" superstars such as Albert Pujols are worthy of a spot in the conversation. With that in mind, I have assembled the greatest starting lineup of all time, position by position. Here it is...
1. Ty Cobb (Outfielder)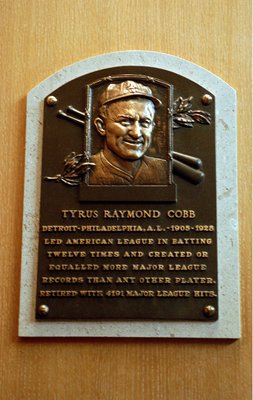 Ezra Shaw/Getty Images
Although Ty Cobb was not a great person, he was an amazing baseball player. In 24 seasons in the MLB, he won the batting title 11 times, led the league in triples four times, stolen bases six times, doubles three times, hits seven times and runs five times. He compiled a career AVG. of .366, the highest of all time. Ty Cobb would be the perfect leadoff man for the greatest lineup of all time.
2. Rogers Hornsby (Second Baseman)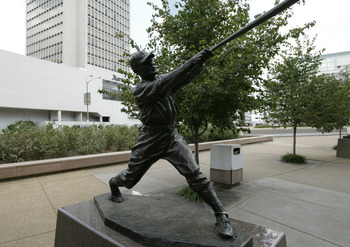 Dilip Vishwanat/Getty Images
Rogers Hornsby is the greatest second baseman to ever step on an MLB field. He could do everything on the baseball field. He won the batting title seven times, led the league in home runs twice, RBIs four times, doubles four times, triples twice, walks five times, runs five times and hits four times. His career AVG sits at a ridiculous .358, and he won the MVP twice during his career. Rogers Hornsby would make the perfect No. 2 hole man because of his amazing five-tool skills.
3. Willie Mays (Outfield)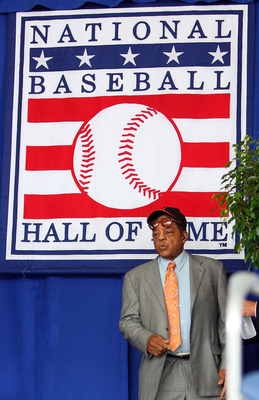 Jim McIsaac/Getty Images
The "Say Hey Kid" was a ridiculously good baseball player. He went to 18 straight All-Star games and won 11 Gold Gloves in a row. He won the Rookie of the Year, two MVPs and led the league in home runs three times. His career AVG was over .300 and he hit 660 home runs in his career. Willie Mays is arguably the best all-around player in the history of baseball.
4. Babe Ruth (Outfielder)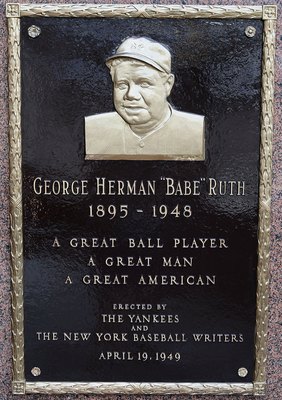 Jim McIsaac/Getty Images
"The Sultan of Swat." "The Great Bambino." "The Colossus of Clout." Babe Ruth is the most recognizable name in baseball history. No stats can describe exactly what the The Babe did. He won numerous championships with the Yankees and finished off his career with a ridiculous 714 home runs, while also batting .342. Babe Ruth is the greatest hitter of all time.
5. Lou Gehrig (1st Baseman)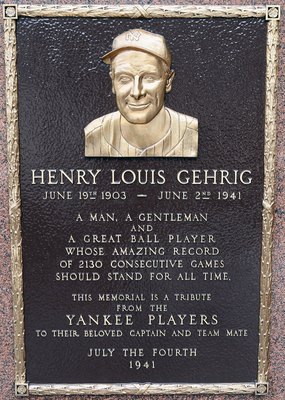 Jim McIsaac/Getty Images
Lou Gehrig, a member of the Yankees infamous "Murderer's Row" along with Ruth, was the greatest run producer in the history of the MLB. In his career, his average season saw him hitting .340 with 37 home runs and 149 RBI. If illness didn't end his career at 36, Gehrig could of been the greatest hitter in the history of baseball.
6. Hank Aaron (Designated Hitter)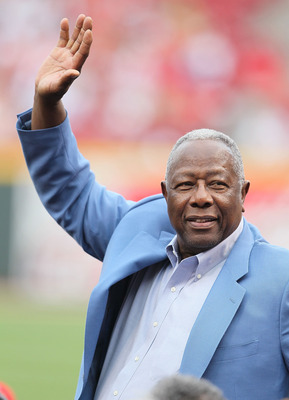 Andy Lyons/Getty Images
Hank Aaron is known as the greatest home run hitter in the history of baseball. In my mind, he still holds the record for most home runs in a career, due to Bonds' tarnished stats. Consistency was the model of Aaron's game, as he constantly put up All-Star numbers season after season. He finished his career with the most home runs and RBI in the history of baseball. He still holds one of those records.
7. Honus Wagner (Shortstop)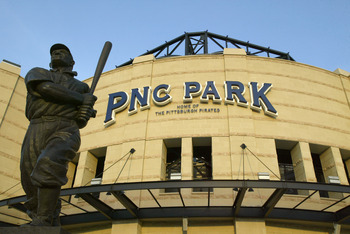 Rick Stewart/Getty Images
Honus Wagner was so good that a piece of paper with his name on it is worth millions of dollars. An outstanding hitter, fielder and baserunner, "The Flying Dutchman" is one of the best all-around players in the history of baseball, as well as the greatest shortstop of all time. His career AVG. sat at .328, and he finished with over 1,700 career RBI and 700 career stolen bases.
8. Mike Schmidt (3rd Baseman)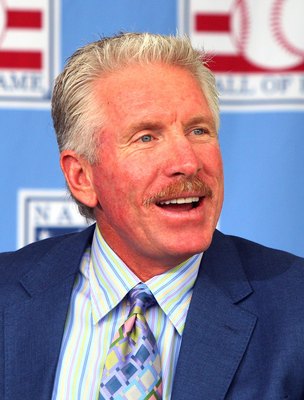 Jim McIsaac/Getty Images
Mike Schmidt is the greatest third baseman of all time. He hit a ridiculous 583 home runs, while also winning the MVP three times and leading the league in basically every category multiple times. Perhaps the most amazing thing about Schmidt's accomplishments is that he is the most recent player on this list to have played the game.
9. Johnny Bench (Catcher)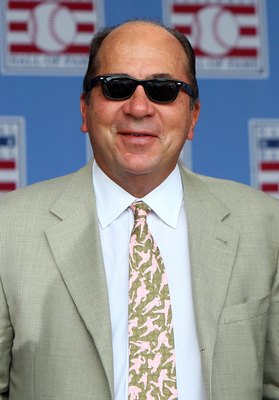 Jim McIsaac/Getty Images
Johnny Bench is the greatest catcher of all time. He possessed amazing offensive and defensive skills, something that is very rare among catchers. He won two MVPs and the Rookie of the Year, while also winning nine Gold Gloves. Bench is the perfect ending to the greatest possible lineup in the history of baseball.
Keep Reading