The 50 Closest and Sometimes Controversial Decisions in Boxing: Volume 3
It's one of the more controversial aspects of boxing, but it is also one of the most intriguing. Everyone loves a close and competitive fight, but when the winner is finally announced, it can be the cause of much debate that can continue days, months and sometimes years later.
The third volume of boxing's closest and sometimes controversial decisions is finally done, and it features some of the most famous bouts from boxers like Oscar De La Hoya, Larry Holmes, Bernard Hopkins, Alexis Arguello and Joe Frazier.
In no particular order, it will list 50 of the most disputed and debatable decisions in boxing.
All of them are worth taking a second look at. I will post a short overview of the bout, but all the in-depth discussion will be done below.
Feel free to discuss any of the matches presented in the comments section. If you want to know how I scored each fight round-by-round, comment below, and I will post it. Also, if you have a match you'd like featured in a future slideshow, let me know.
Volume 1: Boxing's 50 Closest and Sometimes Controversial Decisions
Volume 2: Boxing's 50 Closest and Sometimes Controversial Decisions
Begin Slideshow

»
Heavyweight Tony Tubbs out-boxed an undefeated a young Riddick Bowe this night, but the judges saw it the other way, giving Bowe a unanimous decision after 10 rounds.
Many fans disagreed with the decision and let their boos be heard after the it was announced. Bowe's power punching won him many of the rounds, but more of the punches missed than landed.
Official Decision: 96-94, 96- 94 and 97-94 all for Riddick Bowe
My scorecard: 95-95 Draw
Chris Eubank's last opponent was Carl Thompson, and this was the first of their two fights before he retired after losing in the rematch.
This first one didn't go well for him either, and he lost a unanimous decision after 12 rounds. He did find success in the bout and even managed to drop Thompson in the fourth round. It was a close and exciting fight and one that could have went his way.
Official Decision: 114-113, 114-113 and 116-113 all for Thompson.
My scorecard: 114-113 Thompson
Undefeated and hungry for the top contenders, Joan Guzman took on the tough and relentless fighter named Jorge Barrios.
Barrios appeared more than overmatched early on, but he got stronger as the fight went on, and Guzman didn't. The rounds remained close, and Barrios lost a critical point for low blows in the sixth.
It would be the determining factor in Barrios losing a split-decision by one-point.
Official Decision: 114-113 Guzman, 114-113 Barrios and 115-112 Guzman
My scorecard: 114-113 Guzman
All-time great heavyweight boxer Larry Holmes fought well throughout the 12 round distance against Oliver McCall, who was coming off of his upset victory over Lennox Lewis, but the moments of odd interactions between the two fighters created close rounds and confusing reflections on who was exactly winning the fight.
McCall would get hit then turn away to the crowd or look at his corner. Holmes would sit in the corner and hold onto the rope while waving McCall on.
It was a very close fight, and the right person got the decision, even if it wasn't that impressive.
Official Decision: 115-114, 115-112 and 114-113 all for McCall.
My scorecard: 115-114 McCall
Tommy Hearns, who was one year off his loss to Sugar Ray Leonard, fought Puerto Rico's Wilfredo Benitez and put on a good fight in this 15-rounder.
Hearns lost two points for pushing Benitez's head down after several warnings but out-boxed him for the majority of the bout. The extra points helped give Benitez an edge in one judge's eyes, and they scored the bout a draw.
The other two had it correctly scored for Hearns, and he won the majority decision.
Official Decision: 146-137, 144-139 and 142-142.
My scorecard: 143-140 Hearns
"Smokin" Joe Frazier hadn't fought since losing to George Foreman for the second time in 1976. He made a comeback five years later to take on Jumbo Cummings.
Frazier didn't look good, and the layoff showed its wear on the former heavyweight champion. He was out of shape, lethargic and wild with his left hooks but did get one or two in occasionally, making some of the rounds close.
Cummings had Frazier hurt several times and should've been awarded the decision but only got a draw against the all-time great heavyweight.
Official Decision: 47-47, 46-46 and 46-45 Cummings
My scorecard: 98-92 Cummings
In one of Vargas' toughest fights while still undefeated, he took on Ike Quartey as all great prospects did in the last decade and a half. The boxer from Ghana is a crafty veteran and one that gave a tough fight against Oscar De La Hoya in the bout before.
Vargas' work rate and pressure won him this fight, just as it did for so many others. It was one of the best qualities of the Mexican boxer, and this fight shows what made him stand out from the rest.
Vargas was penalized one point for low blows in the fourth round.
Punch stats: Vargas 389/909 for 43 percent; Quartey 242/645 for 42 percent.
Official Decision: 116-111, 114-113 and 116-111 all for Vargas.
My scorecard: 115-112 Vargas
Their first fight was "The Fight of the Century," and for good reason. Joe Frazier upset the greatest sportsman of the 20th century.
Three years later, they were set to do it again.
The rematch was memorable but only for being the bout that caused the third and final meeting between the two.
Muhammad Ali deserved the win, and he got it by unanimous decision. Still, it was a very competitive bout and could have possibly gone to Frazier.
Official Decision: 6-5, 7-4 and 8-4 for Ali.
My scorecard: 7-5 Ali
Timothy Bradley had his toughest fight to date against Kendall Holt in 2008. He took on Holt in a 12-rounder on the main event of a Showtime boxing card.
Bradley was dropped by a vicious left hook early on. It was the type of blow that usually puts people down and mirrored the one Tommy Morrison landed on Donovan Ruddock.
Because of his incredibly work ethic, his condition to recover was quick, and he got up fast. He continued to out-box Holt for the majority of the bout, but was dropped again in the last round, making the scoring interesting.
Official Decision: 115-111, 114-112 and 115-111 all for Bradley.
My scorecard: 115-112 Bradley
It was all Harris early on, as Lazcano stayed inactive and was out-worked by the craftier boxer.
Lazcano picked up the pace in the middle rounds and began to make a mid-fight comeback. He took many of the middle rounds and appeared to have done enough to steal at least five of them.
Harris opened up the last round with a knockdown and got a much needed 10-8 round and the victory.
Official Decision: 115-112, 115-112 and 114-113 all for Harris
My scorecard: 114-113 Harris
Glen Johnson thought he won his fight with the undefeated middleweight prospect Tavoris Cloud, and that's enough for it to get put on here. "The Road Warrior" knows what it's like to lose close decisions.
Johnson didn't win the fight, but it would not have been surprising if he had been given it. It was an entertaining back-and-forth fight with some solid exchanges from both fighters.
With the victory, Cloud moved up the middleweight rankings and remained undefeated.
Punch stats: Cloud 246/682; Johnson 254/883.
Official Decision: 116-112 (x3) for Cloud.
My scorecard: 115-113 Cloud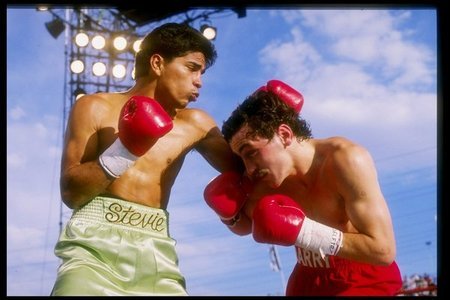 In Ring Magazine's fight of the year in 1986, featherweight champion Barry McGuigan was looking to defend his WBA world featherweight title against Steve Cruz. He came up short in defending the title but did not in delivering action.
For most of the first 14 rounds, McGuigan had gained a one or two-point lead before Cruz knocked him down twice in the last round, which ended up being the determining result of Cruz winning a unanimous decision.
Official Decision: 143-142, 143-139 and 142-141 all for Steve Cruz
My scorecard: 142-139 Cruz
Scottish boxer Jim Watt made his final appearance in the ring against Alexis Arguello in 1981.
He put his WBC world lightweight title on the line, and Arguello won it after a 15-round unanimous decision.
It was a competitive bout for the first half before Arguello dropped Watt in the seventh round. From that point on, it was mostly Arguello, but it could have been scored for the champ depending on what you like more.
You can see Watt, who is now 62, make appearances at various Skybox boxing events.
Official Decision: 147-143 (x3) for Arguello
My scorecard: 142-142 Draw
Zab 'Super" Judah took on the son of former heavyweight champion Leon Spinks in a championship bout for the WBC/WBA super welterweight title.
Judah only had one loss on his record to Kosta Tszyu, and after giving the early portion of his fight against Corey Spinks away, needed to play catch up to get back into the fight.
He did, knocking down Spinks in the final round, but that came after he was also knocked down himself in the eleventh.
Official Decision: 114-112, 114-112 and 116-111 all for Spinks.
My scorecard: 114-112 Spinks
This entertaining fight fought between Mexican flyweight Edgar Sosa and Hawaiian Brial Viloria could have gone either way at the end of 12 rounds.
It was for the vacant WBO light flyweight title after Omar Nino Romero was stripped of it for failing a post-fight drug test. Viloria was coming off a two fights back-to-back against Romero, losing both.
Official Decision: 114-114, 115-113 Sosa and 115-113 Sosa
My scorecard: 115-113 Sosa
"Might Mike" Mike Arnaoutis from Greece took on Ricardo Torres for the vacant WBO light welterweight title on tne undercard of Pacquiao vs Morales three.
It wasn't the only thing he wanted. He also wanted to keep his undefeated record.
After 12 rounds of close boxing, including a knockdown suffered by Torres in the seventh, Arnaoutis lost a split-decision.
Official Decision: 116-111 Torres, 114-113 Arnaoutis and 114-113 Torres
My scorecard: 115-112 Arnaoutis
Fernando Montiel was given another chance to get his name into the public's eye when he took on Jhonny Gonzalez on an HBO Boxing After Dark card.
Gonzalez got an early lead on the scorecards, but Montiel made a late-fight comeback and secured some late rounds to get back into the fight.
The split-decision went in favor of Gonzalez but could have gone to either fighter. Both fought well throughout the bout, but Gonzalez did more to secure most of the rounds in the judges' eyes.
Official Decision: 115-113 Montiel, 118-111 Gonzalez and 116-112 Gonzalez
My scorecard: 114-114 Draw
If anyone knows what it's like to lose a close decision, it's Emmanuel Augustus. His 38-34 record includes 29 defeats by decision.
His undercard fight on the Roy Jones Jr vs. Joe Calzaghe PPV was another close one against Francisco Figueroa.
Augustus displayed his drunken boxing once again, and this has caused him to be a victim of judges who think it's a tactic he displays when he is frustrated or thinks he is losing. That wasn't the case here, and he clearly should have been given the decision.
Official Decision: 77-75 Augustus, 77-75 Figueroa and 77-75 Figueroa
My scorecard: 77-75 Augustus
There was nobody in the world that thought Jason Litzau had a chance at one of the most dominant fighters in the bantamweight division in Celestine Caballero. Caballero moved up to 130 to challenge "The American Boy."
Celestine underestimated his opponent and got a loss because of it. It was a close and competitive bout, but it was one that Litzau won. One judge had it for Caballero.
Punch stats: Caballero 197/466; Litzau 130/514.
Official Decision: 97-93 Litzau, 96-94 Caballero and 96-94 Litzau
My scorecard: 97-93 Litzau
"The Galaxy Warrior" Nate Campbell took on one of the best up-and-comers in the division in Ali Funeka, a lanky, tall orthodox boxer who had just knocked out Zahir Raheem.
Campbell started off well and knocked Funeka down in the second round to earn a 10-8 round. He also dropped him again in the eleventh round.
The question was, who did the middle rounds go to? Funeka had done very well in every round except the ones he was knocked down in, so it was more than enough to earn him a victory, but it wasn't. Campbell won a split-decision, giving Funeka his first defeat.
Punch Stats: Campbell 250/636; Funeka 227/938
Official Decision: 114-112 Campbell, 113-113 and 115-111 Campbell
My scorecard: 114-113 Funeka
Even at 47, Larry Holmes was still taking on the young guns of the division. He wasn't doing it to prove he could. He was doing it for the money.
He took on Maurice Harris in this bout and won a split-decision over 10 rounds. More important than the win, he earned $225,000.
Harris still competes and is scheduled to fight former heavyweight contender Tony Thompson later this month.
Official Decision: 96-95 Holmes, 96-94 Harris and 96-94 Holmes
My scorecard: 97-94 Harris
If you want to see what it's like for a fighter to have a sparring partner mentality, watch this fight.
Cisse Salif tried to outbox David Tua, and it seemed he didn't know what it was like to actually commit to a shot. Every shot he threw looked like he was just using it to keep Tua busy defending while not actually putting his power into the shot.
Both boxers fought in a phone-booth type of fight, and it made some of the rounds tough to score.
The bout surprisingly went to a decision even though Salif was way overmatched against the stronger "Tuaman."
Official Decision: 96-94 Salif, 96-94 Tua and 98-92 Tua
My scorecard: 97-93 Tua
Welterweights Victor Ortiz and Lamont Peterson were underrated and slightly overlooked as being the next big contenders for the top welterweights.
They both proved in this bout that they were worthy enough of a title shot. Ortiz dropped Peterson twice in the second round and was close to getting him out of there but couldn't do it.
Thinking he was ahead on the scorecards, Ortiz stopped attacking and let Peterson outbox him for the better part of the remaining eight rounds. He only landed two jabs the entire fight.
The controversial result was a draw, and if it weren't for the knockdowns, Ortiz would have lost.
Punch stats: Ortiz 95/457; Peterson 111/333
Official Decision: 95-93 Peterson, 94-94 and 94-94
My scorecard: 95-93 Peterson
This event was named "David vs. Goliath" for obvious reasons.
David Haye wanted his shot at a heavyweight championship, and he got it in the form of 7-foot Russian Giant Nikolai Valuev.
Haye used his size and movement to keep the giant one step behind for the majority of the bout. Valuev did get him against the ropes several times and landed some effective blows of his own, but the one-punch attack of Haye made up for it.
In the end, the Russian lost his title in his hometown, and it was one that could have gone either way.
Official Decision: 116-112 Haye, 114-114 and 116-112 Haye
My scorecard: 114-114 Draw
Legendary fighter Thomas Hearns met James Kinchen for a chance at his title.
Hearns was awarded a split-decision, but he was knocked down in the fourth round and also lost a point for holding. If it hadn't been for his constant holding, he would've probably gotten knocked out.
Kinchen controlled the pace of the fight, but Hearns' fast combinations looked good in the judges' eyes.
Official Decision: 115-112 Hearns, 114-114 and 114-112 Hearns
My scorecard: 114-113 Kinchen
As one-sided as this fight was, the scorecards didn't represent it.
At the end of the rematch between pound-for-pound stars Winky Wright and Shane Mosley, one judge had the fight scored 114-114. The other two had it 115-113 for Winky Wright.
It was a lot more one-sided than that and shouldn't have been that difficult of a fight to score. Wright counter-punched effectively and used his excellent defense and jab to keep Mosley from landing anything significant.
The only real success Mosley had was in round five when Wright dropped his hands for a couple seconds and getting smashed with a left hand from the former middleweight champion.
Judges Scorecards: 115-113 Wright, 114-114 and 115-113 Wright
My scorecard: 118-110 Wright
Many ringside observers had thought "Sugar Ray" Ishe Smith had done enough to edge out a close decision victory over Sechew Powell.
Powell was coming off his first professional defeat to Kassim Ouma the previous year and wanted to get back on the winning track.
The two fought competitively for 10 rounds of boxing, and the wide unanimous-decision went to Powell.
Official Decision: 97-92 (x3) all for Sechew Powell
My scorecard: 96-93 Smith
Many boxing fans were surprised when the split-decision was announced for Michael Katsidis. They weren't surprised at who won the fight but at the one judge who scored it for Escobedo.
The lightweight bout was part of the Floyd Mayweather Jr vs. Juan Manuel Marquez PPV event.
It wasn't a one-sided bout, but it was pretty clear Katsidis had won it. He out-worked his opponent for most of the bout but did find himself in some tough spots when Escobedo opened up.
Official Decision: 118-110 Katsidis, 116-112 Escobedo and 115-113 Katsidis
My scorecard: 115-113 Katsidis
Filipino boxer Nonito Donaire was expected to easily defeat Rafael Concepcion in their 2008 bout, but it turned out to be a very close and competitive fight with both fighters getting rocked throughout.
Concepcion landed counter rights that knocked Donaire's head back several times throughout the bout, but Donaire's power and resilience kept him competitive and made him get an advantage late in the fight.
The best question was how were the first six rounds scored?
Punch stats: Donaire 213/483; Concepcion 125/683
Official Decision: 117-111, 115-113 and 116-112 all for Donaire
My scorecard: 115-113 Donaire
Nobody expected the technical boxer from Brooklyn, New York, to defeat an all-time great like Alexis Arguello, but he did just that in this 10 round bout.
Fernandez used very good movement and counter punching to keep Arguello at bay. Many people use this fight as an example of what someone had to do to defeat the "Incredible Thin Man," and Fernandez put on the career-defining performance.
They had a rematch five years later. Arguello won a decisive unanimous decision.
Official decision: 5-5 Draw, 5-4 Fernandez and 6-4 Fernandez
My scorecard: 5-5 Draw
The flyweight matchup between veteran Mark "Too Sharp" Johnson and up-and-comer Fernando Montiel proved to be a lackluster matchup of two very technical boxers.
The first six rounds were uneventful with Johnson just doing enough to possibly swipe every round. There was also a knockdown suffered by Montiel in the fifth round.
Montiel made a comeback halfway through the bout and landed some hard shots of his own. It turned out to be too late of an attack, and Montiel lost a majority decision.
Punch stats: Johnson 113/439; Montiel 103/398
Official Decision: 115-112 Johnson, 117-111 Johnson and 114-114
My scorecard: 114-114 Draw
Middleweight champion Bernard Hopkins moved up to super-middleweight to challenge the pride of Wales, Joe Calzaghe.
Hopkins got off to a quick start, dropping the undefeated star in the very first round. A clinch-fest followed, and it was an ugly fight with fouls and little to no action for most of the fight, making some rounds very hard to score.
The end result got Calzaghe another win on his record, and he would go on to fight once more against Roy Jones Jr. before retiring with a 46-0 record.
Calzaghe also set a record for most punches landed on Hopkins in recorded CompuBox fights.
Punch stats: Calzaghe 232/707; Hopkins 127/468.
Judges scorecard: 114-113 Hopkins, 115-112 Calzaghe and 116-111 Calzaghe
My scorecard: 115-112 Calzaghe
"The President" Ike Ibeabuchi and David Tua put on a war of attrition in this 12 rounder that set the record for most punches thrown in a heavyweight bout at 1730. Ibeabuchi threw 975 of them.
What's more impressive is that these two knockout punchers couldn't knock each other down. Even with all their power, their iron chins withstood the pressure each presented.
After 12 rounds of nonstop brutality, Ibeabuchi won a unanimous decision.
Ibeabuchi's wild lifestyle would get the better of him outside the ring. He was arrested for attempted rape and sentenced for 10 to 30 years in prison.
Official Decision: 115-114, 116-113 and 117-111 all for Ibeabuchi
My scorecard: 116-113 Tua
Adrien Broner made his HBO debut in March 2011 against Ponce De Leon. It was a less than solid performance from the undefeated prospect. The majority of the bout consisted of Broner running across the ring and avoiding risks at all costs.
De Leon was the aggressor and the one providing most of the action, so a close decision like this one probably should have gone in his favor.
Official Decision: 96-94, 99-91 and 96-94 all for Broner
My scorecard: 96-94 Ponce De Leon
Their first match was ruled a controversial draw, so Joan Guzman and Ali Funeka signed to fight again the following year.
Funeka had been a victim of two close decisions he could have won against Nate Campbell and Guzman but came up short in both.
This fight was close, but not as one-sided as their first fight. Guzman came in overweight and forfeited part of his paycheck to Funeka.
A knockdown in the sixth round got Guzman an extra point, and he won a close split-decision.
Official Decision: 116-111 Guzman, 114-113 Funeka and 114-113 Guzman
Bernard Hopkins defended his IBF middleweight title against Segundo Mercardo, and it is arguably his most exciting fight.
An early knockdown scored by Hopkins was ruled a slip, and Mercardo came back to stun Hopkins in the fourth round and knock him down in the fifth round with a right hand.
Mercado got dropped against the rounds in the sixth round, but the referee ruled it another slip. Hopkins was knocked down in the final seconds of the seventh in a round he was winning.
Official Decision: 114-111 Hopkins, 116-114 Mercado and 113-113.
My scorecard: 114-111 Hopkins
The first big test of Andre Berto's career came against the battle-tested and tough Luis Collazo from New York.
Collazo stunned Berto early, but the 27-year-old came back to stun Collazo as well.
The action was nonstop as both fighters continued to exchange inside with Collazo getting the better of the volume of punches while Berto packed the power.
Berto was deducted a point in the fourth round for holding, but it didn't effect the outcome of the fight.
Judges Scorecards: 116-111 Berto, 114-113 Berto and 114-113 Berto.
My scorecard: 114-113 Berto
(Punch stats: Berto 266/682; Collazo 222/812)
1998's fight of the year was between Ivan Robinson and Arturo Gatti.
It was an all-out war from the start, with both fighters having success with every type of power punch.
Barkley used uppercuts and combinations to keep the action star at bay, but that didn't stop him from landing his on power shots. Gatti landed a big one to the top of Robinson's head in the fourth to drop him for a 10 count.
The fifth round proved to be the deciding factor in the fight. Many of the other rounds were clear, including the last where Gatti almost knocked his opponent out.
Punch stats: Robinson 400/795; Gatti 274/835
Official Decision: 98-93 Robinson, 96-94 Robinson and 96-93 Gatti
My scorecard: 95-94 Robinson
The 1999 fight of the year was this fight, the first meeting between Paulie Ayala and Johnny Tapia.
It was an intense 12 rounds of action and one that many felt Tapia had won. The inside fighting was nonstop, and this proved to be where Ayala had the most success.
Ayala won a narrow decision, but the fight was exciting and close enough that a rematch was warranted between the two.
They had it later that year, where Ayala won a clearer decision.
Official Decision: 116-113, 116-113 and 115-114 all for Ayala
My scorecard: 115-114 Ayala
Mexican boxer Juan Manuel Marquez declined a chance at Filipino superstar Manny Pacquiao so he could face the Indonesian champion Chris John.
It wasn't a good decision for Marquez, and he lost a unanimous decision in John's hometown.
Marquez' camp thought they had won the fight, and with two points deducted from Marquez for low blows, it would make the scores wider for John.
Official Decision: 116-110, 117-111 and 116-112 all for John
My scorecard: 114-112 Marquez
Mexican standout Jorge Arce fought Lorenzo Parra for a chance at WBO super-bantamweight champion Wilfredo Vazquez Jr.
Parra neglected to stand and trade with the action fighter and stood on the outside to try to outbox the former champion. He was successful at it, but you're asking for a controversial decision from the judges when you try to just outbox a fighter like Arce.
The ultimate decision was a draw, but Arce got his title shot against Vazquez and defeated the Puerto Rican fighter for the first time in his career.
Official Decision: 95-95, 98-93 Arce and 97-94 Parra
My scorecard: 96-93 Parra
The first fight between Indonesian boxer Chris John and Rocky Juarez was an entertaining fight on the undercard of the first fight between Juan Diaz and Juan Manuel Marquez.
The excitement that followed this fight overshadowed the controversial decision in Juarez's hometown. All three judges scored the bout 114-114, one of the only times all three judges scored it exactly the same score for a draw.
John out-landed Juarez, but Juarez's power punches were dangerous and hurt John on several occasions.
Both had a rematch later that year. John won a unanimous decision.
Punch stats: John 344/1190 for 29 percent; Juarez 206/787 for 26 percent.
Official Decision: 114-114 across the board.
My scorecard: 116-112 Chris John
Wilfredo Gomez was on his way out of the fight and the sport when Rocky Lockridge took it to him in the first half of this 15 round title fight.
Gomez had won two of the first nine rounds and needed a second wind to get back in the fight. He got it and came back to win five or all of the last six rounds.
Still, it didn't seem to be enough to catch up to Lockridge's early lead of six or seven points going into the championship rounds.
Official Decision: 145-143 Gomez, 144-144 and 145-144 Gomez
My scorecard: 143-142 Lockridge
If you want to know why the first fight between Diego Corrales and Joel Casamayor was stopped from a cut inside of Corrales' mouth, watch this fight.
The 1991 fight of the year was against Robert Quiroga and Akim Anifowoshe, two undefeated action fighters with a lot to prove and a lot to give fans.
The exciting back-and-forth brawl ended with Quiroga taking a unanimous decision, but that wasn't the final drama. Anifowoshe collapsed in his corner and had blood pouring out of his mouth. A blood clot was later found, and Anifowoshe continued to fight, eventually succumbing to the injuries he sustained in the ring this night.
Quiroga also tragically died after he was stabbed by a gang member in 2004.
Official Decision: 115-114, 116-112 and 116-112 all for Quiroga
My scorecard: 115-114 Quiroga
Larry Holmes defended his IBF heavyweight title for the crown against Carl "The Truth" Williams for the third time during his massive undefeated streak.
The two heavyweights had hurt each other on several occasions, and Williams had better success against the champion than most had thought he would.
The commentators thought Williams had done enough to win a decision, but it didn't matter. Holmes took the unanimous decision, including two clear seven-point leads on two of the cards.
Official Decision: 143-142, 146-139 and 146-139 all for Holmes
My scorecard: 143-142 Holmes
A young Tim Witherspoon got his first title shot, and it comes against an all-time great in Larry Holmes.
This could not have been a better fight if you love to watch two technical masters. The exchanges were so crisp, clean and even that it made every round tough to score. It's one of those fights where scoring it causes a zig-zag in momentum. Holmes wins one round then the next goes to Witherspoon, at least on my scorecard.
In the end, Holmes won a split-decision, leaving Witherspoon with a valuable lesson in just how hard it is to win a championship bout against an all-time great.
Official Decision: 115-113 Holmes, 118-111 Holmes and 115-114 Witherspoon
My scorecard: 115-113 Witherspoon
In this heavyweight slugfest, which perhaps could be the best heavyweight title fight in the last 30 years, Larry Holmes and Ken Norton fought 15 rounds at full-force. They really gave it everything they had in this fight.
Holmes' jab was amazing in this bout, and he used it relentlessly. Norton countered with power shots. The shifts of momentum were nonstop, making every round hard to score.
The 15th round was a nonstop three-minute display of power exchanges in what has to be one of the best rounds in heavyweight boxing history.
Official Decision: 143-142 Holmes, 143-142 Norton and 143-142 Holmes
My scorecard: 143-142 Holmes
Defensive wizard Pernell "Sweat Pea" Whitaker is no stranger to losing close decisions, and this was the case here against Oscar De La Hoya.
A young and motivated De La Hoya tried to do everything he could to find the elusive Whitaker early. He didn't land much but stole the early rounds at the end with combinations.
Whitaker was credited with a knockdown in the ninth round, and he also lost a point in the third round for headbutting.
Fan-favorite De La Hoya took the unanimous decision by surprisingly wide scores.
Official Decision: 115-111, 116-110 and 116-110 all for De La Hoya
My scorecard: 113-113 Draw
In a battle of unbeaten boxers, Oscar De La Hoya took on Ike Quartey from Ghana.
The battle of the jab was the main theme of the fight, and it was the determining factor that led to a very close split-decision loss for Quartey.
Dual knockdowns in the sixth round made the fight close, and it could have gone to either guy. De La Hoya also came back to knock Quartey down in the last round and almost finished him. Quartey fought through it but could not get the edge in a very close and entertaining fight overall.
Punch stats: DLH 205/551; Quartey 201/608
Official Decision: 116-112 De La Hoya, 114-114 and 116-113 De La Hoya
My scorecard: 114-114 Draw
In this monumental moment of two superstars' careers, Oscar De La Hoya and Felix Trinidad met up for one of the biggest matches of the decade.
The story of the fight is simple yet hard to explain. De La Hoya got off to a great start outboxing his opponent. Six of the first eight rounds appeared to be De La Hoya's rounds, giving him a big edge going into the championship rounds. In an odd turn of events, De La Hoya began to run away from Trinidad, which is not what people were use to seeing from him.
He gave away the final rounds and lost a very controversial majority decision.
Punch stats: De La Hoya 263/648; Trinidad 116/462
Official Decision: 114-114, 115-113 Trinidad and 115-114 Trinidad
My scorecard: 114-114 Draw
Volume 1: Boxing's 50 Closest and Sometimes Controversial Decisions
Volume 2: Boxing's 50 Closest and Sometimes Controversial Decisions