Regan Smith Scores an Unexpected, Yet Popular Victory at Darlington
May 8, 2011
Chris Graythen/Getty Images
The ending to Saturday night's Southern 500 would only seem fit for Hollywood. An unheralded driver, driving for a relatively underfunded one-car team, overcomes the odds and wins one of the season's crown jewel races, knocking off all of the biggest stars at the same time.
Prior to Saturday night's race, Regan Smith had just one top-10 finish in 104 career starts. And that came earlier this season, with his seventh place finish in the Daytona 500. Driving the No. 78 car for Furniture Row, he has shown a lot of potential, but I don't think anyone thought that what happened Saturday night was truly possible.
With 10 laps to go, Smith was solidly running in the top 10. Carl Edwards had victory all but locked up as he was making his way through lapped traffic, all while seeing his two-second lead over second-place Kasey Kahne continue to grow.
Then the caution flag waved as Jeff Burton's engine expired, and oil got onto the race surface. It was now decision time for the 20 drivers on the lead lap.
Edwards came down pit road, followed by most of his lead lap compadres. Two tire stops were the call for most of the teams, including Edwards, who was the first car off of pit road.
Three teams elected to have their drivers stay out on the track though. Smith, Brad Keselowski and Tony Stewart now occupied the top three positions as they all sacrificed new tires for prime track position.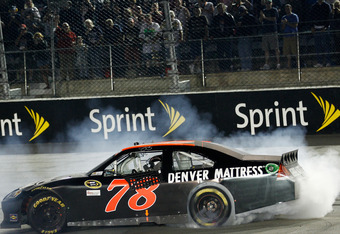 Chris Graythen/Getty Images
Smith had 30 laps on his tires, Keselowsk had 25 and Stewart had 20. When the green flag waved, Edwards lined up fourth, and most people assumed he would quickly get by the top three.
He made short work of Stewart and Keselowski, but Smith was able to get a great restart, and pulled away by a couple of car lengths. As Edwards closed, a big crash happened behind the leaders. This brought out the caution yet again and set up a green-white-checkered finish.
For the final restart, Edwards lined up directly to the outside of Smith. When the green flag waved for the final time, Smith again got a good restart. Thanks to a good push from Keselowski, who was now in third, Smith was able to just barely get clear of Edwards.
He took the white flag with Edwards right on his bumper. Smith was driving the car with everything he had. He was driving so hard that he even slid the car into the wall on the final lap. In the end, none of it mattered. He held off Edwards at the line and scored not only his first career win, but his first career top-five finish.
The win proved to be very popular among Smith's fellow competitors, and for Smith himself it takes away the sting of what could have been from three years ago. In the fall of 2008, Smith crossed the line first at Talladega, but was stripped of the win when NASCAR deemed that he had passed Tony Stewart below the yellow line, resulting in a penalty.
Saturday night, Smith wouldn't be denied.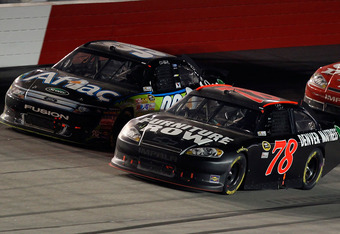 Geoff Burke/Getty Images
Every driver interviewed after the race made some sort of comment about how happy they were for Smith, and that if they couldn't have won the race, it was good to see the trophy going home with him instead.
The win for Smith will go down as one of the most unlikely wins in NASCAR history, and for as much of an upset as Trevor Bayne pulled off in Daytona, this one is was a bigger upset.
At Daytona, anything is possible and anyone can win. Darlington is a place where you expect only the stars have a chance to win, and that the little guys, like Smith and Furniture Row Racing, don't have a chance to do anything more than maybe get a top-10 finish.
There may have been no one who was more surprised than Smith himself. You could hear his disbelief and excitement on the team radio immediately after taking the checkers, as he thanked his team for all of their hard work.
In victory lane, Smith said, "Darlington is a place where legends win, we aren't supposed to win here."
Regan Smith may not yet be a NASCAR legend, and he may never become one, but for one Saturday night, at Darlington Raceway, he sure turned in one legendary performance. And he gave a whole lot of NASCAR fans and his fellow drivers a good reason to cheer.