Oregon Football: Seven Expectations for Chip Kelly in 2011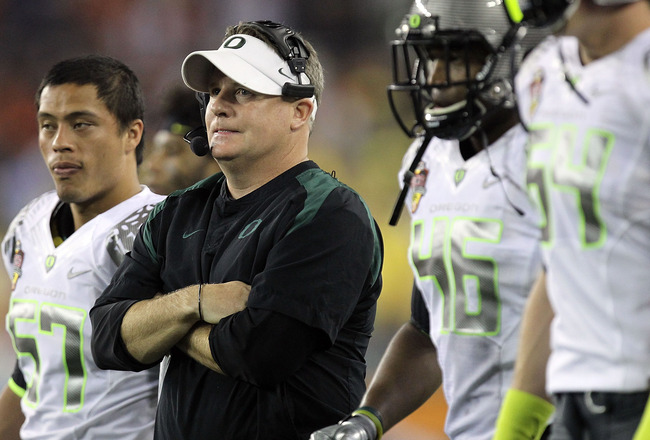 Ronald Martinez/Getty Images
Two years into his head coaching career at Oregon, Chip Kelly has gone above and beyond what anyone could have expected from him after taking over for Mike Bellotti.

In his first year, Kelly led the Ducks to a Pac-10 championship and a berth in the Rose Bowl. He followed that up by leading the Ducks to their first undefeated regular season and also the school's first National Championship appearance.

Coming into 2011, the bar has been raised by Kelly himself and he faces some lofty goals and expectations. Here is what Duck fans will be looking for free Coach Kelly.
Take the Offense to the Next Level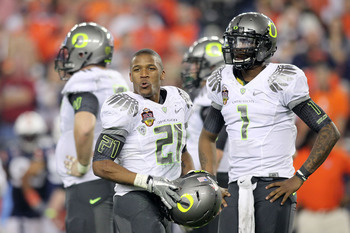 Jonathan Ferrey/Getty Images
While Kelly and the offense has put up some impressive numbers, fans and expectations for the 2011 offense will still be high.

Last year, Duck fans were treated to some high scoring games but also saw the offense sputter against some talented defenses. Kelly has done well at reinventing the offense and we will have to wait to see if he is able to take his offense to the next level in 2011.


His High Powered Offense Showing Up In Dallas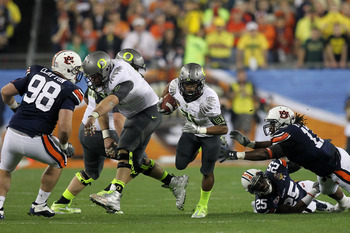 Jonathan Ferrey/Getty Images
First and foremost, Kelly will be looking to exercise some coaching daemons in the first week of the season. Since arriving at Oregon, Kelly has posted some impressive wins but has had his high powered offense stifled in BCS games.

When the season opens up in 2011, Kelly will be given an opportunity against LSU to prove that his offense can score on more than just Pac-10 opponents. This will be an early game that could make or break the Ducks season.
Get Players to Continue to Buy Into The Win the Day Motto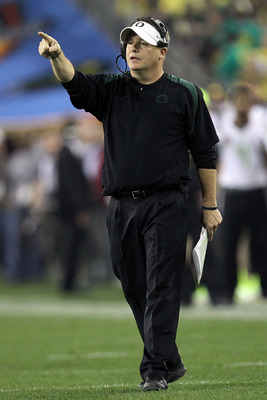 Ronald Martinez/Getty Images
Since taking over for Mike Bellotti in 2009, Kelly has preached to his teams the idea of Win the Day. This is a motto that challenges his players to focus on the here and now.

Kelly expects his players to focus no matter the situation. Regardless of it being during practice, lifting, conditioning or a game, Kelly pushes them to win the day.
Win the Civil War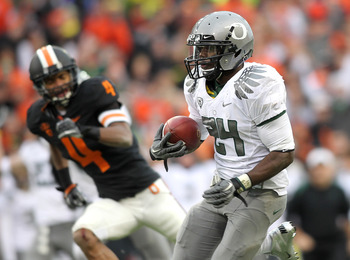 Jonathan Ferrey/Getty Images
One expectation that never goes away while being the head coach at Oregon is winning the end of the year Civil War. While becoming a part of the Oregon football program, Kelly is 3-1 in Civil War games and overall is 2-0 as head coach.

Coming into 2011, the Ducks will be riding a three game winning streak in the rivalry and will look to make it 4. In the new Pac-12 a victory in this game could land you in the conference championship, making a victory even more important.
Win at Stanford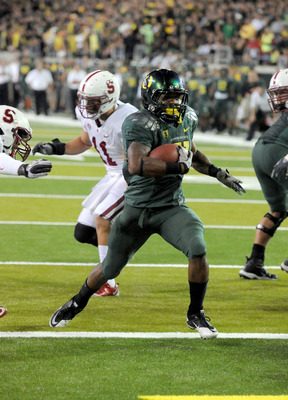 Steve Dykes/Getty Images
One of the most amazing accomplishments that Kelly has achieved is a record of 17-1 in conference games. The only in conference loss Kelly has suffered was on the road in 2009 at Stanford.

This year, the Ducks head back onto the road to face off with Stanford, who will be led by Heisman Hopeful, Andrew Luck. This trip to Stanford will be late in the year and could ultimately decide who wins the division.
Win the Newly Formed Pac-12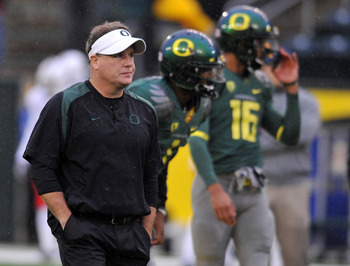 Steve Dykes/Getty Images
While only a stepping stone to an ultimate goal, Duck fans will be looking for Oregon to win their third conference title in a row. This year, the conference will expand and now play a conference championship game.

With only having lost one game in the conference, Kelly has an offense that is still extremely dangerous and defense that can fly to the ball. Their ticket to the conference championship game could ultimately come down to their game with Stanford.


Win the National Championship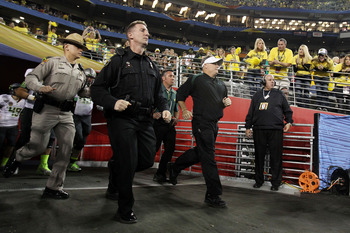 Christian Petersen/Getty Images
Last year played out like a dream to Oregon fans. The team had rolled through the regular season and posted the school's first 12-0 season. Kelly also helped the team earn a spot in the programs first national championship game.

This year, Duck players and fans will be hungry for the same goal, finish the job from last year. The Ducks played an outstanding title game but ultimately came up three points short, losing on a last second field goal.

If Kelly can lead Oregon to their second straight appearance and win the game, he will have met and exceeded all expectations fans had in 2009.
Keep Reading

Oregon Ducks Football: Like this team?