Manny Pacquaio vs Shane Mosley: 5 Bold Predictions for Their Championship Bout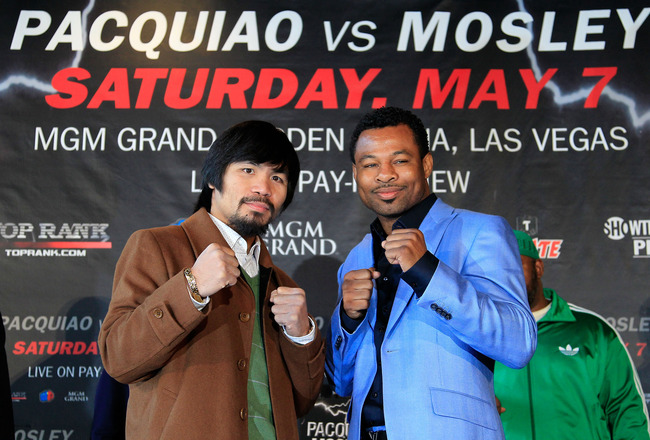 Chris Trotman/Getty Images
These aren't things that are a lock to happen during the fight. If you see something crazy on here, don't feel the need to blast me in the comments, because there is a chance that I don't truly believe it. These are bold predictions, and frankly, I am going to go bold with these.
I believe this fight has the potential to surprise fans more than once. Mosley is a Hall-of-Fame fighter and isn't a pushover by any means. He is near the end of the line, but he is still dangerous.
He is coming off two bad performances, and that may get people thinking he is done, but I disagree. Pacquiao comes to fight, and Mosley loves guys that come to fight. This is going to be a fight that surprises more then a few people.
(If you like this check out my website www.kissingthecanvas.com)
Follow me on twitter @kissingcanvas
Follow me on facebook at Kissing The Canvas
Manny Pacquiao Will Find Himself on the Canvas
This is one that I truly believe will happen. Mosley still packs a punch for a short time, and Pacquiao doesn't have the worlds greatest chin. It has been awhile since he went down, but there is always the possibility he will.
He leaves himself wide open at times, and he gets by because he has superior speed. He will still have the speed advantage against Mosley, but it won't be as glaring as usual. If Mosley can catch Pacquiao early, he is going to be him on the seat of his pants.
Manny Pacquiao Will Stop Shane Mosley
Mosley has been down two times in his whole career. It came in his second fight against Vernon Forrest in the second round. He went down really hard but got back up and finished the fight.
He has never been stopped, and if there was ever a moment for it to happen, it is in this fight. Pacquiao may not actually knock Mosley down, but he could beat him into a pulp.
If a stoppage does happen, it will come from Naazim Richardson or Kenny Bayless. Mosley is a warrior and will never take himself out of a fight.
Mosley Will Keep the Fight Close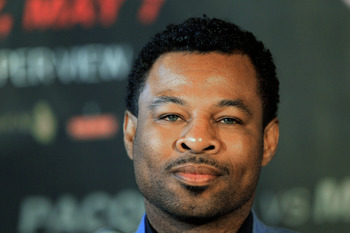 Chris Trotman/Getty Images
I know I just said that Mosley will get stopped, but you can keep a fight close while it lasts. Mosley is a Hall-of-Fame fighter and isn't a slouch. He gasses too fast nowadays, but if he doesn't, he can keep it tight.
He does well with fighters that come to him and fight, and that is what Pacquiao will do. If Mosley doesn't get destroyed by Pacquiao's speed, this fight could get interesting.
The last time we counted out Mosley, he came out and destroyed Margarito.
Mosley Will Hit Pacquiao, a Lot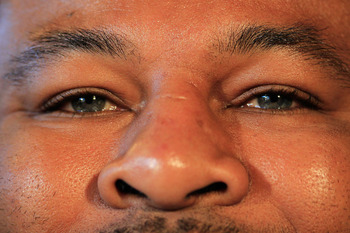 Chris Trotman/Getty Images
If you saw the Pacquiao-Margarito fight, then you noticed that Pacquiao got hit a lot. Mosley is going to be faster and is going to hit Pacquiao more.
This is something that I will believe will happen. Mosley isn't as fast, but he has speed and is going to have chances to hit Pacuiqao. He will hit him.
The Pay-Per-View Numbers Won't Be All That Great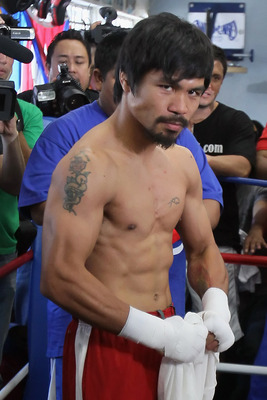 Jeff Gross/Getty Images
Pacquiao is the undisputed king of the pay-per-view right now but I don't think that it will do as well as expected. People love Pacquiao and want to watch him, but they also want to see him fight Floyd Mayweather Jr.
Pacquaio may pull in the casual fan but it gets to a point where they want to see Pacuqiao-Mayweather and don't care about Pacquaio-anyone else.
(If you like this check out my website www.kissingthecanvas.com)
Follow me on twitter @kissingcanvas
Follow me on facebook at Kissing The Canvas
Keep Reading