Santino Marella: Why Santino Should Have Won the Royal Rumble
April 30, 2011
So you've just read my title and now you're either thinking that I am completely brilliant or completely crazy. Brilliant because you think that the Santino Marella character is fantastic or crazy because you think that the character is a useless comedy act.
But what if I told you that I believe Santino could have gone on to Wrestlemania and won the WWE title from The Miz? What if I told you that this would've created a ratings and merchandise boom in the WWE that very few wrestlers could achieve? Could I really think that this glorified comedy act could turn into a world champion? The simple answer is yes.
Santino burst onto the scenes during one of the most memorable moments in the WWE over the last five years. The company was touring Europe at the time and had stopped in Milan, Italy for a Raw taping. At the time, Umaga was being pushed as this unstoppable force in the WWE and was the current Intercontinental Champion. Vince McMahon was in the ring with Umaga and his manager Armanda Alejandro Esssssssstra (I miss that), and the crowd could not have been hotter.
There is something about European cities and live events that just gets me going. The crowds are always popping and they act like their at a local soccer game with cheers and chants. With the crowd fully against him, McMahon would begin to berate them and preceded to give an open invitation to anyone in the audience to step in and challenge Umaga to a no holds barred match. Marella was planted in the audience and we would soon get one of the best moments of 2007 and dubbed the "Milan Miracle." (watch the Milan Miracle)
Just listen to the pop Marella received and with the help of Bobby Lashley he would defeat a monster like Umaga that ultimately made him an instant fan favourite for fans across the WWE. However, the next three months would lead to a bit of a lacklustre championship reign.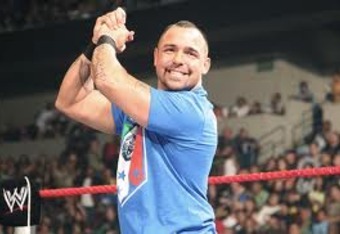 Santino's character did not have much development at this point. He was just a random Italian wrestler with broken English who barely got by in his matches. Marella started to show some charisma and the beginning of good mic skills and comedic timing when developing his jealous boyfriend role as Maria's significant other.
His jabs at Stone Cold Steve Austin and the movie "The Condemned" started getting him his first cheers and laughs as a heel. However, we would truly start to see the Santino that we know today when he was paired with another WWE Diva, the glamazon, Beth Phoenix. Sticking with the heel persona, the new couple would go by the name Glamarella and began to produce some of the funniest moments on television.
Along the way, he would capture the Intercontinental Championship for the second time and with that came his quest to break Honky Tonk Man's record of holding the belt for 62 consecutive weeks. Week after week fans were treated to a promo involving the Honk-A-Meter and some of the funniest promos on Raw. (a Honk-A-Meter special)

Image is everything for a wrestler and with this character came even more broken English, a unibrow, and ridiculous hair but it all worked. The fans were loving it and it was a matter of time before Santino would turn face. One of the most memorable moments during the beginning of his face turn was his interaction with guest host Freddie Prinze Jr. that brought what was arguably one of the funniest and most clever promos in years. (watch Santino's interraction with Freddie Prinze Jr.)
Santino's comedic timing had become absolute gold and his fan support was growing more and more every week. He was getting some of the biggest pops on Raw and his t-shirts were selling like hot cakes. He would later be teaming with Vladimir Kozlov and treat us to the 2010 version of the odd couple. The duo would go on to eventually win tag team gold, get paired up with Tamina (that's "girlfriend" number three now) and provide us with some more comedic moments. Who knew that milk could be so funny? (only Santino can make drinking tea funny)
Fast forward to the 2011 Royal Rumble and the WWE had the opportunity to shock the world with the winner of this match. Every year fans can basically narrow it down to 4-5 wrestlers who will come out victorious. This year was no different with Alberto Del Rio, John Cena, Randy Orton, CM Punk, and the rumoured return of HHH (that didn't happen) at the top of everyone's list.
We all know that Del Rio would come out victorious, but the question is why? Del Rio was already near the top of the main event and he surely didn't need the victory to get him there. He is a promoters dream with his look, charisma, talent, and with his Mexican ties you just tap into a very large wrestling market. Del Rio could've headlined Wrestlemania without the Rumble victory. But what about a guy like Santino? A wrestler who the fans have been backing for years.
Santino generally gets one of the top pops on television and the fans jump out of their seats as soon as his music plays. Not to mention that they cheer loudly for every ridiculous move of his. What's further amazing is that his fan base isn't limited to one demographic. People young and old support him, buy his clothing, and chant his name. For a comedic act, he has already won three major championships so why not the largest one?
If you watched the Royal Rumble, you will remember the loud pop Santino got when fans realized he was still in the match and the even louder pop he got after he hit Del Rio with the Cobra. (Santino at the Rumble)
For a split-second, we all had hope that the WWE pulled the biggest swerve in a long time and fooled everyone's prediction. Can you imagine the pop Santino would've received if he had won? A true underdog story would've been created.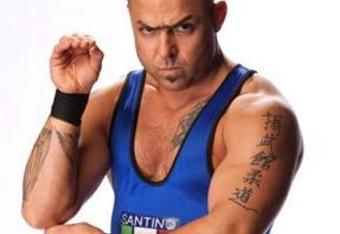 Better yet, can you imagine how entertaining a feud would have been between Santino and The Miz? The mic work would've been fantastic and let's not forget that Santino has proven that he can work a match when given the time. He also has a legitimate background in mixed martial arts and can provide more "serious" offence when needed. Now what if Santino would've been booked for the main event at Wrestlemania and won? The skeptical fans will say that Santino as a world championship would diminish the value of the title. But will it really?
The fans would love it, it would be fresh and new, nobody would have ever imagined it either. And if Santino kept his comedic timing and cleaned up his offence, you'd potentially have a great champion. Obviously he'd have to be booked a little stronger but he'd play that underdog image and everyone loves an underdog. Look at Rudy, the Miracle on Ice, or Seabiscuit, people love underdogs and love cheering for them.
He's already one of the most over wrestlers in the company. If anything, the "new more serious but equally as funny" Santino would provide new feuds with the likes of The Miz, CM Punk, and even John Cena. I'd pay to see those promos and Santino would draw because of how much people would want to see him win. Play him up as that ultimate underdog against the villains like The Miz and CM Punk or against WWE's Superman in John Cena. Fans would eat it up.
And if it doesn't work then at least you provided someone new with the opportunity to headline a few shows and you made things different. For once the WWE would be rewarding someone unexpected for getting over. Would it really hurt the WWE to back someone different and reward them for their hard work?
Will we ever see Santino as a world champion? Probably not. This is all wishful thinking and something that the WWE may never do. But how fun is it just imagining it? Like I said, you may not agree with me, but nobody can argue how entertaining Santino Marella has been over the years.
Agree? Disagree? Be sure to drop me a line in the comments section below. You can also follow me on twitter @georgef9