2011 MLB Draft: Ranking the 25 Best High School Prospects
Blake Swihart is the top high-school catcher, and could be a top-15 pick.
Last year's high-school draft crop was pretty good, but it doesn't hold a candle to this year's class, which is the best, and deepest, since at least 2009.
That class included Zack Wheeler (No. 6 pick), Jacob Turner (9), Tyler Matzek (11), Matt Purke (14-unsigned), Chad James (18), Shelby Miller (19), Mike Trout (25), Nick Franklin (27), Reymond Fuentes (28), Slade Heathcott (29) and Levon Washington (30-unsigned).
And that was just in the first-round.
In the later rounds, gems like Tyler Skaggs (40), Chris Owings (41), Mychal Givens (54), Tommy Joseph (55), Billy Hamilton (57), Nolan Arenado (59), J.R. Murphy (76), Wil Myers (91), and Robbie Erlin (93) were found.
Prospects available in this draft include multiple top-of-the-rotation pitchers such as Dylan Bundy, Archie Bradley and Taylor Guerrieri.
It also has several hitters worthy of middle-of-the-lineup placement, like Bubba Starling, Dante Bichette Jr. and Travis Harrison. It has Gold Glove caliber defenders like Francisco Lindor and Javier Baez, as well as a collection of potential five-tool talent that hasn't been seen since the 2005 draft.
It all adds up to an amazingly impressive crop, and one that could leave a lasting impact on the 2011 draft.
So, without further ado, let's get to know the top-25 draft prospects a little bit better, starting with...
Begin Slideshow

»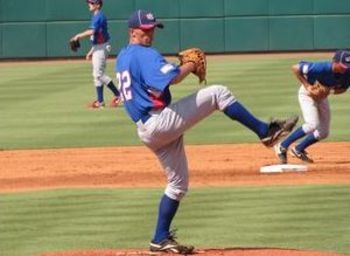 Farragut High School in Tennessee has one of the nation's best teams, thanks to their very talented battery that features left-hander Phil Pfeifer and catcher Nicky Delmonico. Together the two have teamed up to take Farragut as high as number eight in the nation this year.
It's going to be a challenge, however, for both players to win their fourth consecutive state title with Pfeifer on the shelf with elbow tendinitis that looks likely to keep him from taking the mound until at least the playoffs, and maybe not even then.
Before he went down with the injury, Pfeifer was well on his way to another banner season. He was 3-1 with a 0.60 ERA. His last victory broke the state record for wins by a pitcher, and as of right now he has a career mark of 43-4.
In 2010, Pfeifer was arguably the best pitcher in the country. He went 16-0 and posted a 1.23 ERA. He struck out an insane 165 batters in just 96.1 innings and walked only 26. In the state championship game, which coincidentally was won by Delmonico's walk-off three-run homer, the lefty was masterful, striking out 14 batters while allowing only one hit.
Like the next player on this list Tyler Beede, Pfeifer has a scholarship offer to Vanderbilt, an offer he accepted in hopes of joining a rotation that will experience the loss of Sonny Gray, Jack Armstrong Jr., and Grayson Garvin, and be looking for some young arms to fill that void.
Pfeifer, admittedly, doesn't have top-notch velocity, but he's shown an incredible ability to work deep into games, and has some solid secondary stuff, leading many to think he'll likely forgo college for what could be close to a $1 million signing bonus.
Beede is one of my top picks for the 2011 class, and I'm sure whichever team gets him will be getting a potential No. 2 starter.
Beede was too good for the first high-school he attended, posting a 7-1 record, a 0.88 ERA and racking up 114 strikeouts in just 56.1 innings. He led his school, Auburn HS, to a state championship...as a sophomore.
In order to challenge himself and prepare for college ball, while also keeping open the possibility of signing out of the draft, he transferred to a private school in Massachusetts. And while the step up in play has been more of a challenge, he's still thrived.
The six-foot-four, 200 pound right-hander went 6-1 with 87 strikeouts in 45.1 innings, posting a 1.08 ERA.
This season has featured more of the same from Beede, who in just 23 innings has struck out a ridiculous 44 batters, issuing only three walks, and allowing only two hits and one earned run as of April 22nd, according to ESPN Boston.
Beede features four pitches, each of which has at least average potential. His fastball sits in the low 90s, but he can dial it up to 94-96 mph. He also throws a circle-changeup which looks like it's going to be his best secondary pitch. He also throws a curveball, which with a little tightening could be a pretty decent pitch as well.
Beede has greatly benefited from the advice of his father, who pitched in the minor leagues after being drafted by the Cubs back in 1981.
He also has a scholarship to Vandy, which means he could be one of the toughest signs of the draft and a more likely pick for the Yankees, Red Sox or Royals, teams more than willing to go over-slot to sign what they perceive to be first-round talent.
Harrison has arguably the best power of any prep hitter in the 2011 draft class.
A Southern California commit, Harrison has already bashed nine homers in 22 games for Tustin HS and has driven in 26 runs. He's also rapped 11 doubles and has put together one of the best campaigns of any hitter in his district. His average currently sits at a robust .541 and he's scored 28 runs.
Harrison is on the verge of eclipsing, and has already topped some pretty lofty career-bests. With his most recent home run he set a new career-high, and he's also set new marks in RBI and walks. He's still way off the pace of his 17 steals, achieved back in his sophomore season, although he's inching towards the .556 average he recorded the same year.
While some scouts (many actually) have expressed some concern over the stiffness in Harrison's swing, it hasn't affected his ability to crush high-school pitching.
He might actually benefit from heading to college at a prestigious program like USC, but some team will inevitably take a chance, maybe in the supplemental first or second round on him due to his incredible raw power.
He's also showed some pretty sneaky speed so far this season, swiping 8 bags in 11 attempts. That shouldn't be a big part of his game as a pro, especially as he fills out and adds some more weight, but it could entice some teams that think they could keep him slim and hang on to some of that speed.
Another question mark for Harrison is his long-term position. He doesn't have great footwork at third, so he'll likely end up in the outfield.
Stephenson threw his name in the 2011 draft hat with a big splash, tossing back-to-back no-hitters to start the season, including a 20-strikeout performance in his second no-no. The 6'3" right-hander became only the 31st prep pitcher in California history to throw back-to-back no-hitters.
Stephenson also has 12- and 14- strikeout performances on the season, and although his official statistics can't be found anywhere on the Internet, he has racked up at least 46 strikeouts on the season in nearly half that number of innings.
Stephenson checked in at number-48 on Baseball America's Mid-Season Top-50 Prospects list for the 2011 MLB Draft, and currently projects as a late first-round or early second-round pick.
He doesn't feature the best velocity, but he does some of the best polish and command of any high-schooler available this year. He also boasts a bevy of off-speed pitches which have made him incredibly hard to hit. Just this year alone, he has thrown a four-seam fastball, a two-seam fastball, a changeup, slider, splitter, and cutter.
I know what you're thinking...no curveball?
Stephenson feels comfortable throwing all of his pitches at any given time, but it's likely he'll be forced to scrap a few upon joining the professional ranks.
For now, though, he's free to use them to aid his draft stock in any way possible.
It's hard to believe, but Illinois, home of two of the most storied baseball franchises in history, has produced only one position player who was drafted in the first-round since 1997.
The state has only had two players total selected there in the past 15 years, Jayson Werth and Mike Foltynewicz.
Charlie Tilson is looking to change that, and with his combination of tools, he seems like a great bet to join Werth in the Illinois state history books.
Tilson, all 6' and 175 pounds of him, hasn't had as much opportunity to shine at the summer showcase events as the rest of the guys on this list, but in one of his outings, the Area Code Games out in California, he put on one heck of a show, clubbing the only home run of the entire weekend, and stealing seven bases in only three games.
He further impressed at the Super 60 showcase this spring, and has put together a fantastic campaign for New Trier High School, hitting .500 with 22 runs and 19 steals in the same number of attempts. And he's accomplished all that in only 16 games. All stats are courtesy of the Chicago Tribune and as are current as April 28th.
In terms of tools, Tilson has a shed full of them.
As good as Bubba Starling's speed is, and as widely touted as Shawon Dunston Jr.'s is, Tilson might have them both beat. And in addition to his freakishly fast wheels, Tilson also offers some surprising pop in his bat. In addition, he's got a great arm, capable of hitting the mid 80s on the mound, and he is graceful and well-skilled in the outfield.
Tilson profiles long-term in center, where he could be a 10-15 HR, 50 SB kind of guy. That alone should make him worthy of a first-round selection.
Hedges exploded onto the scene back in 2009, his sophomore season, when he hit .383 with nine doubles, two homers and 16 RBI, winning League MVP honors.
He carried that momentum over into a tremendous junior campaign that saw him move back to his natural position, catcher, and he's caught almost every inning ever since for Juniper Serro High. Now a senior, Hedges has emerged as one of the top catching prospects from the high-school crop, running neck and neck with New Mexico's Blake Swihart.
Hedges has a great bat, but most of his value lies in his defensive ability, which might actually rank ahead of Swihart's. He is an incredible athlete who played second-base as a sophomore, and who moonlights for the football team during baseball's off-season.
He has great fundamentals behind the plate, learned from his coach Brett Kay, a former catcher for Cal State-Fullerton who reached the CWS twice and went on to become a day-one draft pick.
Kay has sharpened his skills, teaching him the proper exercised to maintain his flexibility behind the plate, while showing him the best form for throwing out runners and pick-offs to first base. The result has been the creation of a player who relishes more in a gunned-down runner than a grand-slam.
At the plate, Hedges is also no slouch. He's got some good pop in his bat, and could develop at least average power with time, and he's got enough baseball savvy to hit for a pretty decent average. Hedges could fit the mold of an A.J. Pierzynski type.
Hedges has a commitment to UCLA, so he too will be hard to pry away, meaning an over-slot bonus will likely be in the works whenever he gets drafted, most likely on the draft's first day.
Evans is just one of a number of talented shortstops from the high-school crop.
Possessing a powerful arm, quite possibly the best of any prep shortstop, Evans has put himself on the map, and justified his status as a potential first-rounder with a very strong senior season.
All you need to know about Evans starts with his arm. It's a bona-fide, legit rocket. Even if he isn't able to remain at shortstop, likely because of the footwork and arm accuracy issues, he'd be easy to slide over to third base where he'd still have more than enough arm.
In addition to the cannon-arm, Evans is also a pretty talented hitter. A very polished hitter from the right-side, Evans has a very easy swing with very few holes. He has very quick wrists and his fundamentals are as good as any high-school hitter available this June. He could be a .300 hitter as a pro.
In terms of power, Evans has a little, but not enough to be a major impact player with the bat at shortstop, and certainly not enough to be a prototypical third baseman if he indeed does have to move off short.
Evans speed is also pretty good, solid enough to swipe at least 20 bags per season, assuming he doesn't add too much more bulk to his 5'11", 180 pound frame.
Another positive about Evans, and you can mark this down in the intangible department, is he's a gamer. He can crank it up to an extra gear and he's as tough a competitor as they come. He was recent ejected from a game, which I know is never a good thing, for running over the catcher trying to score. The ejection triggered an automatic one-game suspension.
As good as Evans is, and he's plenty talented, with at least three slightly above-average tools (bat, speed, and arm strength), he still doesn't seem to fit the profile that most teams are looking for out of a first-round shortstop.
Still, the prospect of him developing into a 15-20 home run guy who offers decent play at shortstop will be enough to get him selected somewhere between the middle of the first-round and the end of the second.
It shouldn't take you longer than the end of his name to figure out what Bichette's game is all about.
Like his father, who hit 274 big-league homers over a 14-year career with the Angels, Rockies, Brewers, Reds, and Red Sox, "Junior" looks to be a top-notch power hitter, one with a more refined approach thanks to having the extra attention allotted the spawn of a former big-leaguer.
Having all that extra attention in Little League hasn't hurt his cause either.
That's right, Bichette Jr. got his first taste of the limelight in the 2005 Little League World Series, bashing home runs at an ungodly rate and establishing himself as a 12-year old cult hero.
Bichette is 18-years old now, but he's still just as good at cranking balls out of any park. He's a regular among the showcase home-run derbys, and almost a lock to go in the first 30 picks in this year's draft.
I mentioned that Bichette has benefited from being the son of a former big-leaguer, and here's how. His father built him a training and hitting facility, known as "the warehouse." The site is flush with exercise and training equipment, as well as batting cages, complete with pitching machines that simulate breaking pitches.
Along with his teammates, Bichette has used the extra help to get his Orangewood Christian team off to a 23-9 start this season.
Bichette himself is hitting .662 with nine home runs and 35 RBI. He's walked 16 times, struck out only six, and managed to swipe 15 bases in the same number of tries.
While he won't be a base-stealer as a pro, his athleticism is encouraging, especially for those who are already locking him into a corner outfield spot. He's also played a little bit of third base like his father did, and he could probably handle that position as well.
Bichette, along with fellow top prospect Nicky Delmonico, is a Georgia commit, who will likely command an over-slot bonus to sign.
Delmonico is not only one of the top hitters in the 2011 high-school crop.
He's also one of the most clutch. In last year's state championship game, it was Delmonico who ended things, with a three-run, walk-off home run that clinched Farragut High's third consecutive state title.
That's just a taste of what he's likely to offer as a pro.
Along with New Mexico's Blake Swihart and California's Austin Hedges, Delmonico is one of the top catchers in this class, although he's such a great athlete, it's likely he could handle a move to any number of positions.
He's played a little second base and has seen some time in the outfield. Some scouts think he's destined for third base, a la Pablo Sandoval.
Wherever he goes, the team that ends up with him will at least be confident that he'll hit.
Last season, the sweet-swinging lefty tore up Tennessee high-school pitching, hitting .485 with 18 homers and 75 RBI. This year, through 29 games, he's hitting more like a human being, and less like a video game, but the results are impressive still. A .400 batting average. Five home runs. Twenty-five RBI.
All in only 29 contests.
And while some have been concerned about Delmonico's lack of power compared to last year, keep in mind he's facing some pretty stiff competition in a state that is having it's best year in terms of producing prep talent.
Delmonico's battery-mate Phil Pfeifer is committed to Vanderbilt, while his state rival Daniel Norris, of Science Hill HS is ticketed for Clemson.
That's assuming both don't sign pro contracts.
And don't forget the fact that he's still raking.
I'm a firm believer in Delmonico's power, that it will show up in the pro ranks, and that it's for real
Behind the plate, Delmonico is an average defender with an incredible arm that has helped him greatly with the transition from the infield positions he's manned over the years.
If Delmonico isn't off the board by the supplemental first-round, it will be a shame, and a steal for whoever gets him.
Not many 8-year olds can stake their claim on a high-school rotation slot, but then again, most 8-year olds aren't weren't as talented as Dillon Maples, who's father was drafted back in 1979 out of the same Pinecrest High School that Dillon now attends.
He too, burst onto the 2011 draft scene with a very impressive 2010 season, in which he hit 94 mph on the radar gun and posted a 0.95 ERA, racking up 117 strikeouts in just 52.2 innings.
The next logical step was his invitation to all of the major summer showcases, where he more than held his own, and established himself as one of the top right-handers from the 2011 high-school class.
He was a recent profile of Baseball America, who posted a glowing subscriber-only review of his performance in his season debut. Maples displayed the same low-to-mid 90s heat that put him on the draft map last year and complimented his fastball with a above-average curveball and an improving changeup.
In an early season start, Maples tied his own school-record with 18 strikeouts in 6.1 innings. He had a no-hitter broken up with one out in the seventh and was removed from the game after throwing 110 pitches.
Other recent developments for Maples, who is a UNC commit, include rumors that the football team plans to have him walk-on at kicker, provided he gives up a multi-million dollar bonus to attend Chapel Hill to join the Tar Heels baseball squad. Maples reportedly kicked a 53-yarder last fall and has the leg to hit from 60.
Maples has top-15 potential, but due to the outstanding depth in this year's class, he could wind up looking at a late-first-round selection.
Getting comps to Hanley Ramirez is something that will get you noticed, but that's the territory that Baez has found himself in this spring.
And while he's a far cry from being the type of prospect that Ramirez was coming out of the Dominican Republic in 2000, Baez is plenty talented, enough to warrant looks from all 30 teams, including the 26 that have first-round selections.
As a player, Baez is a potential five-tool stud.
He started the season as Arlington Country Day's starting third baseman, but moved over to short near the mid-way point of the season in order to showcase his talents. He's performed well enough that whatever team drafts him is likely to try to keep him at short for as long as they can.
Baez is a bit stocky (6'1", 205 lbs) for shortstop, but he's such an incredible athlete that he has a legit shot to stick. If he can't third base is an option, as is second, or even catcher.
He's already very strong, and should only get stronger as he gets more experience.
He has good speed, not great, but good, but he makes up for it with great athleticism and excellent instincts.
His bat is as quick as any in the high-school class according to Baseball America's John Manuel who, in a three-man mock draft, tabbed Baez as the 25th overall pick in the draft, heading to San Diego, where Baez made a name for himself with a huge weekend at the 2010 Aflac All-American Game.
Baez has spent most of the season playing second-fiddle to Francisco Lindor, the top shortstop prospect from the loaded high-school crop, but as draft day draws nearer he could see a modest rise thanks to his advanced bat and his solid defensive ability.
Christian Lopes has been a key piece of Edison High's 20-2 start.
Of course, having one of the nation's top left-handed pitchers on the mound in front of him hasn't hurt. But for the most part, Lopes is the emotional leader of this squad. He's also one of the top middle-infielders available from the 2011 high-school class.
As the team's starting shortstop, Lopes has been the table-setter near the top of the lineup and has flourished. He helped guide the team to a 9-1 start and a No. 3 national ranking in Baseball America's high-school team rankings. They've since moved up to No. 2, behind Dylan Bundy's Owasso HS squad.
Lopes ran into some tough luck during the one of the team's early season games, suffering what was diagnosed as a concussion during an ugly collision in the sixth inning. The injury kept him sidelined for a few games while they determined how serious the injury was.
Once he returned he was as good as ever. He had one game in early April in which he slugged two home runs and drove in eight runs.
Lopes has all the skills to be a first-round pick. He has sure-hands at shortstop and is a very polished hitter. While he doesn't have the flash in the field of Francisco Lindor, or the raw power of Tyler Greene, Lopes could be the best all-around package SS available in June.
Scouts have been on Lopes for a long time, and compare him favorably to last year's No. 5 overall pick Christian Colon, but say that Lopes' ceiling is much higher. He also has a greater chance to stick at shortstop than Colon, who is slowly working his way over to second base with the Royals.
If he forgoes whatever bonus is waiting for him as a potential first-round pick, he has a offer waiting for him at USC.
Derek Fisher sure knows how to swing the lumber.
And he does it so destructively that ESPN dedicated a whole story to his destructive ways with the bat. Included among the destroyed: church windows, car windshields, and of course...baseballs.
Fisher has been so incredible that he's hearing his name more and more among the top high-school hitters. It's now very likely that he'll end up hearing his name called, like Sale did, in the first-round, possibly towards the middle of the deepest opening round in recent memory.
Last season, Fisher enhanced his lore, slugging .440 with nine home runs. This season, he's done enough damage to check in at No. 34 on Baseball America's list of the Top-50 draft prospects. He also garnered much first-round support in the site's mock draft that saw him slotting in at No. 26 to the Red Sox.
Let's get down to Fisher's tools before you spend any more time drooling over his superlatives.
For starters, he has as much power as any high-school hitter. This kid can launch balls out of any park, and does it in one of the more violent manners you'll ever see. In a way that makes you feel sorry for the ball.
In addition, he's got great speed, especially for a guy who currently checks in at 6'3" and 215 pounds. The combination of those two skills alone would be enough to make teams take a long, hard look at him this June, but he's also a solid outfielder, who has made an incredible transition from the infield.
He's also got a hunger that burns like no other. He wants to be the best and will let nothing stand in his way.
And if Fisher doesn't end up on a Major League team's payroll this June, then he'll most certainly be one of the most heralded freshman next season playing for Virginia.
While Nimmo is a talented prospect, there's still a ton of projection on him because he hails from Wyoming, a state that doesn't have high-school baseball due to the terrible spring weather (highs of 48 degrees) and the lack of funding.
Luckily for him, if there's anything that MLB scouts love more than production, it's projection.
But it's not like Nimmo hasn't done any kind of producing during his four years of high-school. He's just had to find different routes.
For the most part he has had to resort to playing with traveling teams, including American Legion ball-clubs and stocking up on showcases.
As his performance at the Under Armour All-American Game at Wrigley Field last year showed, he's already very talented. Nimmo earned MVP honors and finished with two hits, including a triple, two runs and two RBI.
The scouting report on the 6'2", 190 pound Nimmo doesn't look overly impressive (good bat, good runner, chance for above-average power, solid defense), but he's such a hard-worker, and he's very advanced for playing far fewer games than any other high-schooler.
Advanced enough to draw scouts to Wyoming by the truck-load, in the middle spring, in order to see him play in a few American Legion games.
And don't forget just how raw this kid is.
With a few years of experience, and the proper teaching, he could be a potential 30-30 guy (homers and steals) in state known more for 40-40 days (temperature and wind gusts).
Dillon Howard, a hard-throwing right-hander from Arkansas has had a pretty quiet season.
And by quiet, I don't mean he's been failing to produce.
Rather, the 6'3", 210 pound Howard has been great. During his most recent start he pitched 7.2 innings, allowing only two runs, one of which was unearned and cost him the victory. He struck out 11 batters and walked four.
His other starts have been very similar. Lots of strikeouts, a good amount of walks, and very few runs.
Howard throws in the mid-to-high 90s and was Baseball America's fourth-ranked high-school prospect heading into the 2011 draft season.
In a write-up they did on him before the season, Conor Glassey praised his performance in last summer's Connie Mack World Series, during which Howard's squad, Midland, swept through a very tough schedule to the Series Championship.
Howard was named CMWS MVP in a league that featured not only Oklahoma's top-two prospects Archie Bradley and Dylan Bundy, but also Daniel Norris.
Howard has been scouted as high as 98 mph, throwing both a two- and a four-seamer. His slider is very good, although it gets very slurvy at times. His changeup has above-average potential as well, and one of his coaches calls that pitch, and not his high 90s fastball, his best pitch.
Howard has good command of all of his pitches, and unlike most others, has no injury history to be concerned with. His delivery is easy and his mechanics appear to be pretty sound. Howard has front-of-the-rotation stuff if he can bring along his changeup.
If Howard hears his name called in the first-round, he'll be the first Arkansas prep player to be awarded such an honor since 1995.
And believe me, it's pretty likely.
Owens entered the season as the No. 2 left-hander out of the high-school crop, and his performance so far in 2011 hasn't changed his position as a top-20 pick.
In his first four starts, Owens was outstanding. He went seven innings in each start and racked up 16- and a 10-strikeout games in the first two weeks.
For the season, Owens has yet to see a "L" next to his name, winning ten games, while posting an 0.67 ERA. He's struck out 71 batters in 57.2 innings and has six complete-games.
He's been the ace and the star reliever, making three appearances out of the bullpen for Edison High as they've clawed their way to the No. 2 ranking in the nation, according to Baseball America.
Owens has been in the spotlight for a while now, thanks to sharing an infield with fellow potential first-round talent Christian Lopes. Since he enrolled at Edison, Owens has grown several inches, all the way to his current height of 6-foot-7.
Owens doesn't have the high 90s velocity you expect from a pitcher his size, but he makes do with a fastball that sits 90-95 mph. As he packs on more weight (he only weighs 180), he could possibly dial the pitch into the high 90s, but that's all projection right now.
The lefty also features a curveball that has above-average potential and also throws an average changeup. His control is much better than that of fellow high-schooler Daniel Norris, but his inability to match Norris in mph should cause him to slip, possibly out of the top-15.
Whichever team scoops him up will be getting a very-high ceiling talent who has gotten more than his fair share of Randy Johnson comparisons.
Baseball America's fifth-ranked high-school pitcher, Jose Fernandez, would also be a fantastic addition to any team looking for a high-upside, medium-risk pitcher.
Some view Fernandez, a former pitcher for the Cuban National Youth Team, as the top overall prep pitcher, thanks to his mid-90s heat, topping out at 98 mph this spring.
Some question the legitimacy of his age, while arguing that he's mostly a one-trick pony, with his above-average velocity being his only ticket to a first-round selection.
What you can't question is the results the right-hander has delivered so far this season. According to TampaBay.com, he's 8-1 with a 1.26 ERA and 91 strikeouts in 61 innings. He's also been a major force at the plate, packing plenty of power into his burly frame, hitting .394 with eight homers and 26 RBI.
Overall, the six-foot-five, 235 pound Fernandez is one of the best high-school arms, with arguably the best velocity. He complements his powerful heater with an impressive curveball that looks un-hittable at times. The pitch definitely has above-average potential as he progresses.
He also throws a changeup, but like his curveball, it too needs tons of refinement.
Simply put, Fernandez is more of a thrower and less of a pitcher. All three of his pitches lack the command and control he's going to need to survive as a pro.
Aside from his stuff, Fernandez is very reminiscent of Matt Hobgood and Jesse Biddle, in that he has a pro-looking body with very little physical development left.
His fastball is about as fast as it's going to get, so all he needs to do now is work on sharpening his command and developing his secondary pitches.
If he can do that, he could be the steal of this draft.
Getting a Cuban defector before he reaches his prime, or even the essential stages of his development is almost unheard of. Look at how good Aroldis Chapman, another Cuban defector, has been for the Reds.
Not to be confused with Baltimore's Josh Bell, nor the several other athletes spanning all the numerous sports (numbering in the 20s) sharing the same name, Texas high-schooler Josh Bell is one of the 2011 draft's fastest movers, as in moving up draft boards.
The 6'3", 205 pound, outfielder is arguably a five-tool talent depending on who you ask. Baseball America tends to agree, calling his offensive upside some of the best in this high-school class.
Bell is a switch-hitter with the chance for above-average power, but the exciting tools don't end there.
He has a short, powerful swing and combines it with excellent bat speed to crush pitches in the zone to all parts of the field.
In the field, he offers slightly above-average defensive ability. He has a cannon for an arm, but lacks the range to stick at center-field as a pro, his position so far in high school. Bell could play center in a pinch, and will likely begin his pro career there but he won't be long for a corner spot.
Neither spot will diminish the impact of his impressive arm strength, giving him yet another tool.
On the base-paths, he has pretty good speed. That should wane as he develops a bit more and adds some muscle, but his instincts and fundamentals are good enough that he could be a 15-20 steal guy as a pro.
When you're talking pure tools, only Bubba Starling has more than Bell, leaving the Texan in pretty good shape. He could be off the board by the time the Blue Jays pick at No. 21.
Swihart is arguably the top high-school catcher available this June. In fact, there's a good chance he good be the top catcher, regardless of class.
His blend of athleticism, ability behind the plate and hitting talent make him a likely first-round pick as well.
Earlier in the year, Swihart was named the MVP of the Sal Puentes Baseball Tournament after leading his team to the tourney title, going 5-for-8 with a homer and six RBI. Cleveland HS is one of the best teams in the state of New Mexico, and clearly the switch-hitting catcher is a big reason why.
Swihart is the most polished catcher in the high-school class and has the best chance to remain behind the plate thanks to his wiry frame, strong arm, and solid fundamentals. Like most catchers who sign out of high-school, he'll need a ton of experience to prove he can handle the job long-term. Right now, though, he looks like the the back-stop with the highest ceiling, both behind, and at the plate.
At the plate, he's a switch hitter with some decent power. He projects to have slightly above-average power and could hit 20-25 homers per season as a pro.
Due to the premium placed on offensive-minded catchers who can remain at the position, Swihart shouldn't get out of the first 20 picks without being selected.
If he isn't however, or he doesn't agree on a deal with whichever team signs him, he's covered his bases. He's got a full-ride to Texas, where he would be one of the team's top impact players as soon as he sets foot on campus.
Norris entered the year as the top high-school pitcher available, and while others have jumped into the race for that title (Archie Bradley, Dylan Bundy, Taylor Guerrieri), Norris is holding his own.
His season began on March 16th, and Norris was flawless during his first start, striking out 15 hitters in 6.2 innings in an 8-0 victory. He walked three batters and hit another, showing his characteristic control issues, but he failed to allow a hit. He threw exactly 100 pitches.
Apparently, Norris was firing on all cylinders. According to Tricities.com, his breaking stuff was as sharp as ever, and opposing hitters only made contact with five of his first 42 pitches. Four resulted in foul balls, and the other was a sac-bunt. His fastball was sitting 91-95 mph.
Norris' most compelling matchup of the season, however, came on April 30th, when Science Hill took on Farragut HS, home of a pair of day-one picks in Nicky Delmonico and Phil Pfeifer. The game was supposed to be one of the most hyped contests of the season, but Pfeifer was forced to miss the game with an injury, leaving the main battle between Delmonico and Norris, who was coming off of two consecutive no-hitters.
The game lived up to it's hype, with Norris pitching brilliantly (nine Ks in 6 IP), and with Delmonico coming up with two outs in the bottom of the seventh-inning and a chance to win the game. Sadly, the at-bat, which ended in a strikeout, didn't feature Norris on the mound. The lefty was forced off the mound by a cramp, and finished the game in center-field.
Like in his 2011 debut, Norris sat consistently in the low 90s, touching 93 before his velocity dipped due to the cramp in his leg.
Without a doubt, Norris is still the top lefty prep pitcher in the 2011 draft class, and a sure-fire bet to see his name called in the first-round.
Lindor has gained as much helium as any high-school position prospect over the past five months, rising from a second-to-third round talent to a potential top-five pick.
Some scouts even feel he could go No. 1 overall if the Pirates are looking to save some dough. The questionable seasons from Gerrit Cole and Anthony Rendon certainly would give them pause.
Scouts aren't paying too much attention to Lindor's stats since he plays for such a terrible team, but rather are focusing on his tools and how he parlays them into real-time action.
He features a rocket arm and solid defensive tools, although he sometimes gets too flashy with the leather at shortstop. He's one of the few shortstop prospects who scouts feel can stick at short long-term, so you know he's going to be a high-pick for that reason alone. With the right instruction and a few seasons worth of experience, Lindor could be a Gold Glove caliber shortstop.
Furthermore, Lindor is a switch-hitter with a chance for borderline above-average power. He won a home-run derby contest last summer, and while that was a good snap-shot of the kind of power he could have, it's not likely that he'll hit more than 15 as a pro.
Lindor hasn't done anything outrageous so far this year, like hit for the cycle or crush three homers in one game, but he has consistently wowed scouts and critics, such as ESPN.com's Jason Churchill and Keith Law, as well as all the experts over at Baseball America.
I personally, tend to get nervous about high-school shortstops who don't have a history of on-the-field production to go along with their numerous tools, but there's no denying Lindor's talent in the field, or hit potential at the plate.
Okey-dokey.
If you haven't heard the name Taylor Guerrieri, get ready for a crash lesson on one of the best high-school pitchers available this soon.
Also, don't feel bad if you haven't heard of him. He's exploded onto the scene over the past three months thanks to a fury of high 90s fastballs that have jumped him into top-three consideration.
But back to the details. Guerrieri is a 6'3", 195 pound right-hander hailing from Spring Valley High School in South Carolina. He garnered tons of attention after hitting 98 mph on the radar gun last summer during a few of the summer showcases.
Since then, teams and scouts alike have had their eyes on him, checking to make sure his velocity is for real. So far, it appears to be. He sat 94-95 for Keith Law in a mid-April start, although Law questioned his control over the pitch.
And he sat 93-96 mph for Baseball America guru Conor Glassey about a week later, showing improved control and striking out the first three batters he faced.
Another thing that's real is Guerrieri's freakishly good curveball. It's looked as good as any breaking pitch in this year's class, and should be a real plus-plus pitch in pro ball.
Thanks to his high velocity and his incredible curve, Guerrieri hasn't needed much else, although he has experimented with both a changeup, whose development will be imperative if he wishes to remain a starter, and a cutter, which has shown some promise during the course of his senior season.
Guerrieri could be a nice fit for the Diamondbacks with the third-overall pick, and shouldn't last past pick No. 15.
One of the top athletes in the 2011 draft class, Archie Bradley has the world at his feet.
Not only does he have a full-ride to play backup QB to Landry Jones at Oklahoma, but he is also a top 10 talent in this June's MLB Draft.
And so far, his performance this spring has him rising up the charts.
During an early season start, Bradley was clocked 90-95 mph and struck out 10 batters in a 10-2 victory. Bradley allowed only five hits, walked one and hit a batter, but needed only 83 pitches to get through seven innings.
Broken Arrow is now 29-2 and ranked eighth in the country, according to the most recent Baseball America National Rankings. Bradley has been the reason for the team's success, showing a bulldog mentality on the mound, and a fiery all-or-nothing attitude at the plate.
As the team's ace, Bradley is 9-1 with a 0.39 ERA. He has recorded 99 strikeouts in just 54.1 innings. According to the Broken Arrow Ledger, 36 of Bradley's strikeouts have gotten the batter looking, another sign of his sheer dominance.
If not for the remarkable campaign that fellow Oklahoman Dylan Bundy is having, Bradley would be the toast of the state. Instead, he'll have to share the honors of best pitcher in the state, at least for now.
Bradley's combination of his mid 90s fastball, his above-average curveball that could be the best of any high-schooler and his athleticism should make him a top-10 pick on draft day.
Then it will be up to the team that picks him to sway him away from his commitment to OU.
Less than a month after leading his basketball team to the sub-state championship game, Bubba Starling has finally laced up his cleats for baseball season.
And despite his status as a legit college prospect in basketball, and his scholarship to play QB at Nebraska, Starling is a projected top-five pick in June's baseball draft, and considering his brightest future could be ahead of him on the diamond, he'll likely forsake all other options and sign with an MLB team.
Starling missed a good chunk of the start of baseball season due to a hamstring injury which should be something to keep an eye on as the season progresses. It will no doubt affect his ability to run, which is something he does just about as good as anyone in this draft class.
The hamstring had no affect on his hitting ability, as Starling crushed two home runs in a double-header on April 28th, his first action since April 2nd. The ailment didn't hamper his running ability too much either, as Starling swiped two bases, according to ESPN.com.
On the diamond, Starling is a legit five-tool talent.
Not only does he have arguably the best speed in the entire draft, but he almost certainly has the best power stroke. There is no ballpark that can contain his monstrous home runs, and he's also an exceptional fielder to boot.
Starling, simply put, is a five-tool freak-show who could put Mike Trout to shame.
I think most scouts and experts who follow the draft and high-school baseball will disagree with the decision to rank Dylan Bundy ahead of Starling, but to me, Bundy is the best of the best that the 2011 high-school crop has to offer this June.
All you have to do is read Keith Law's glowing review of one of Bundy's most recent starts to get a good idea of how quickly the Oklahoma right-hander is starting to rise.
In case you're not an Insider, Law put Bundy's start, in which he struck out 18 of the 21 batters he faced, up there with the best that he's seen from a high-schooler over the past four years. Better than Tyler Matzek, better than Jameson Taillon and on par with 2007 first-rounder Rick Porcello.
During that start, Bundy's fastball was sitting 92-96 mph and his secondary pitches, a curveball and changeup were incredibly tough to hit. His control of all three pitches was spectacular. He allowed only one hit, a bunt single, and the runner was cut down by the catcher.
For the season, Bundy has allowed only 15 base hits and only five earned runs, three of which came during his most recent start, an outing where he tossed a complete-game with 14 strikeouts. For the season, Bundy has 125 strikeouts in only 55 innings. In that same span, he's only issued three walks. He's 9-0 with an 0.82 ERA.
Toss in the fact that he hit 100 mph on one scout's radar gun during his last start and Bundy's helium is soaring as we near closer to draft day.
Bundy and fellow Oklahoman Archie Bradley were supposed to go head-to-head for what could have been the greatest matchup amongst high-school pitchers in a very long time, but the game was postponed due to weather.
There is a chance, however, that the two teams (ranked No. 1 and No. 2 in the state) could meet in the state championship game.
Bundy is generating some serious momentum that could result in a top-five draft selection.