50 Most Brutal Knockouts in Sports History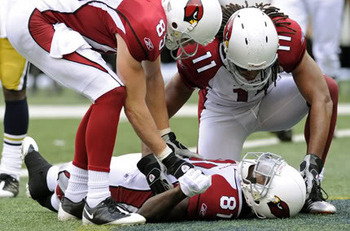 Something is wrong, very wrong with the human brain. The vast majority of human beings get some sick thrill out of seeing someone from their own species get jacked up out of their minds, literately.
If a dog gets messed up, PETA to the rescue. If a cat gets blasted, alright, there will still be laughter, but there will be just as many, "Aw, poor kitties."
If a player is knocked by a head-hunting fiend in any contest, it was a good day. If a fight finishes with someone lying face down, it was a success.
Again, something is wrong with the human brain. What should we do about it?
Fuel the fire.
Here are the 50 most brutal knockouts in sports history.
Honorable Mention: Dodgeball
A few honorable mentions to warm up; dodgeball turns into bowling real fast.
Sorry, but you probably won't laugh harder than this for the rest of the list.
Honorable Mention: Prank
Again, if dominoes can be considered a sport, than so can a prank; it gets your heart pounding.
Muhammad Ali would be proud of that haymaker.
50. Kimbo Slice
Fast Forward to 0:28.
Who better to start off the countdown than Kimbo Slice?
He may be horrible at mixed martial arts, but on the streets, he's a legend.
49. Street Fight
Fast Forward to 0:11.
Sticking with the street theme, I don't even know what to think of this video.
The two are talking gently with each other. Then all of a sudden, leather jacket embraces his inner Smokin' Joe.
48. Clothesline
Ever seen someone run or ride a bike into a clothesline and get flat-backed before?
Well, this is pretty much a simulation of that, with the addition of three rights to the face.
47. Fraser Filipic
Fast Forward to 0:16.
Fights are commonplace in hockey, but good, knockout fights are not.
Here is the only one in the countdown. One windup had to land eventually.
46. Mike Tyson
Would you rather get shot in the face or get punched by Mike Tyson in the face?
What kind of gun?
45. Hines Ward
Hines Ward ran a hitch 'n' go: chop down, fake the block and unload on the unready Ed Reed.
At least he was thoughtful enough to call for a medic.
44. Jordin Tootoo
Don't be deceived.
Yes, he's only 5'9", yes his name is Tootoo but he packs a monster punch.
43. Francimar Bodão
No fast forward needed here.
Our first of many kicks of the list catches the fighter by surprise right after the opening glove tap.
42. Sambo
Fast Forward at 0:26.
Don't let the spinning blue letters distract you.
First you kick him in the knee, and then you kick him in the neck.
41. Brendan Schaub
Fast Forward 0:35.
Not one of these blows to the head of the victim alone makes the KO worthy, but the three together do.
First the swing to the head, then the head bounce off the ground and finish up with a little motionless target practice.
40. David Tua
Fast Forward to 0:25.
David Tua is one big man.
John Ruiz's chances of winning were pretty much gone after Tua threw his 47th hook.
39. Muay Thai
Don't worry about the first knockdown, there's more to come.
Pause the clip at the very end to see the face of a dead man.
37. Dan Henderson
First the punch to put him to sleep, and then a punch to turn his dream into a nightmare.
You got to love the blood all over the mat.
36. Asadullo Boimuradov
Padded gloves, padded head gear, one-hit knockout: weak.
Just kidding, but seriously, were those flailing arms a punch attempt or just a collapse?
35. Alexander Frenkel
Fast Forward to 0:21.
Why wouldn't the boxer just stop the fight after the first knockdown?
Easy, his brain was too shaken to think straight.
34. Tony Danza
Fast Forward to 0:11.
"The opening round is usually the feel-out round, where they feel each other, they feel each other out."
Style point bonus for knocking him out of the ring.
33. Quinton Moore
Hey, there's that quarterback laying his receiver out to dry thing I was talking about earlier.
As Shawne Merriman would say, "Lights out!"
32. Hockey Check
"Can't get up...what kind of stupid, slippery shoes are these?!"
He missed the door, but I'm impressed he knew the right bench to go to.
31. Manny Pacquiao
So that's what Floyd Mayweather is afraid of.
Only Rocky's chin could've absorbed that blow.
30. David Tua 2
David Tua makes another appearance on the list, but that's not much of a surprise.
I counted eight punches that would cause the average human to need plastic surgery.
29. Mark Messier
Who doesn't love a good cheap shot every once in a while?
It's not like he meant to knock him unconscious; look at that concerned face.
28. Ryan Clark
Aw, poor Ryan Clark has a headache.
Anyone else get creeped out when the arms of the victim shrivel up?
27. Brian Campbell
Always keep your head up.
So that's the expression an awakened zombie would have...
26. Junior Rosegreen
He didn't hear the footsteps.
As Chris Berman would say, "He got...jacked up!"
25. Rugby Knockout
He should have wanted the ball more.
I'm just making an educated guess that a head-to-head hit hurts worse without a helmet.
24. Rampage Jackson
If you thought getting slammed on your back from six feet in the air was bad, Jackson could've just easily broken Arona's neck.
Here's the extended version of the knockout.
23. Nehemiah Warrick
I remember hearing this collision when it happened, and I didn't watch the game.
When the receiver lands on his head after a head-to-head hit, you know the defender had intent to kill.
22. James Peau
Fast Forward to 0:36.
Don't blink or you'll miss the knock out.
The poor boxer on the ground is thinking, "I'll take all of you at once!"
21. Ehsan Shafiq
Fast Forward to 0:50 (if you want to skip the whole fight to the KO).
You would think so much spinning would make you dizzy to the point of not being able to stand up.
Well, the fighter in the white can't stand up after that heel to the head.
20. Glass Hit
The face has to feel good after that hit.
A pie to the face doesn't have anything on shattered glass to the face.
19. Eric Smith
What's worse than getting hit head-to-head by one safety?
Getting hit head-to-head by two safeties. Anquan Boldin is a beast by the way.
18. Colby Armstrong
Letowski got spun on the ice like the second hand on a clock.
Armstrong pretty much threw all of his weight right at his head.
17. Zack Dumas
Zack Dumas knows how to lay the wood.
I'm sure if Stacy Danley could get up, he'd want to do the same thing to his quarterback.
16. Taekwondo Knockout
Fast Forward to 1:08.
Watch the fighter's glove that got knocked out.
He wanted to tap gloves again...you just tapped gloves before the fight Einstein.
15. Hockey Hit
I thought he was dead until he moved his hand.
Leveling a player without the puck, someone wanted revenge.
14. Dunta Robinson
The hit that started it all.
Ever since DeSean Jackson and Dunta Robinson's collision, the NFL has been fine happy toward overly aggressive defenders.
13. Daniel
I'm not sure if Daniel is the predator or the prey on this one.
Either way, that dude got cracked.
12. Zdeno Chara
Fast Forward to 0:41.
You can't convince me that Chara's hit was an accident.
Max Pacioretty got a concussion and fractured vertebrae from the collision, but thankfully he's alright now.
11. Football Hit
Yet another stupid quarterback makes the countdown.
If defenders kill a defenseless receiver like in this clip and get a penalty, there should be an offsetting penalty on the passer.
10. Ryan Clark 2
Ryan Clark is nothing without Troy Polamalu.
Polamalu masks his minimal coverage skills, so he can head hunt unsuspecting wide receivers like Wes Welker.
9. Troy Polamalu
Speaking of Troy Polamalu...
I'm starting a petition: Polamalu for the Pittsburgh Steelers' gunner.
8. Rugby Hit
How can you let yourself get massacred like that when you're that huge?
The doctor in me says he dislocated his shoulder.
7. Jeff Carter
No easy goals!
Anssi Salmela woke up and was like, "Who scored? I scored?"
6. Marcus Aurelio
Fast Forward to 0:19.
The one fighter probably was trying to hold back the laughter.
"Who does this guy think he is, Jackie Chan?" And then, SMACK.
5. Steve Horvath
Fast Forward to 0:12.
Special teams is home of the nastiest blindside hits in the world of football.
That kid did his first official back flip.
4. Quentin Coryatt
So that's why they call the Texas A&M defense the "Wrecking Crew."
That linebacker is literately twice the size of that pitiful receiver.
3. Gilbert Yvel
Yvel turned Pedro's Rizzo's head into a speed bag.
The referee was enjoying the beating so much, he forgot to stop the fight.
2. MMA Knockout
This one's fun to watch.
Who needs a masseuse when your spine can feel like that after a fight?
1. Taylor Mays
It may not be the hardest hit on the countdown or the most devastating, but Taylor Mays deserved extra credit for this hammer.
He knocked two guys out of the game with one shoulder; two birds with one stone!
David Daniels is an NFL Featured Columnist at Bleacher Report and a Syndicated Writer. Follow him and Bleacher Report Swagger on Twitter.
Keep Reading