Indiana Pacers: Recapping the 2010-2011 Season
April 28, 2011
Now that the season is officially over for the Pacers, we can reflect on what has been a quite a roller coaster ride.
When the season began, the Pacers were turning some heads, with surprising victories in Miami and in L.A. against the Lakers. Just when it looked like this team had turned the corner, things went south.
Once December arrived, the Pacers would endure multiple losing streaks. On two separate occasions, they had six-game losing streaks. They went 5-10 in December, and just 4-10 in January. Over that two-month span, no team had a worse record (9-20).
On January 30, head coach Jim O'brien was fired, and interim coach Frank Vogel took over. The Pacers won six of their first seven games under Vogel, the only loss was a five-point defeat in Miami. Vogel finished up the regular season with a 20-18 record, and the Pacers played extremely well in their playoff series against the Bulls.
The first four games of the series came down to the final seconds, and Indiana was able to win Game 4 to extend the series and send it back to Chicago. They went toe-to-toe with the best team in the NBA, and league MVP Derrick Rose.
The goal for this team in the preseason was to make the playoffs. They accomplished that goal, and got their young players some valuable postseason experience.
Indiana now faces a big offseason, and many questions must be answered in terms of the future of the franchise. Among those things are the five free agents they now have. Also, will Frank Vogel have the interim tag removed and be made the next coach of this team? On top of that, you also have to wait and see what Larry Bird wants to do. His contract is now up too, and it will be interesting to see if he wants to return.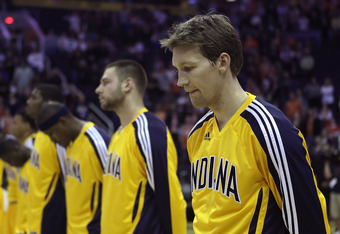 Christian Petersen/Getty Images
Of the five free agents the Pacers now have, the only two I would think that have a chance to return would be Mike Dunleavy and Josh McRoberts. If Dunleavy does come back, it will have to be at a cost of next to nothing. He may end up retiring, or jumping on a championship-contending team, but we could still use him for certain situations.
The other three free agents, I don't expect to see in a Pacers uniform again. I think Jeff Foster is finally going to hang it up after a solid career with the team. Solomon Jones will not be back, and the Pacers will finally be relieved to see T.J. Ford leave. Dahntay Jones and James Posey will be unrestricted free agents next year, so it is possible we could see them move in deals this summer.
Danny Granger still led the team in scoring through the regular season at 21 points per game, but his numbers this year were all career-lows for the six-year player from New Mexico. Darren Collison led the team in assists, while Roy Hibbert was the team's leading rebounder.
The Pacers' season was about what fans here in Indiana were expecting. They expected an improved team, that could make the playoffs, but not much more. We were all eager to see what this team would look like with the new additions of Darren Collison and Paul George. The hype and expectations of Collison may have been too high to begin with, but Paul George has certainly given fans optimism that he can become a great player for this franchise. Kevin C. Cox/Getty Images
We must remember that the Pacers had one of the youngest starting five in the NBA. Paul George was a rookie, and Darren Collison and Tyler Hansbrough only played in limited games last year. Basically, this was their rookie year as well. This was just Roy Hibbert's second year in the league. The veteran of the lineup, Danny Granger, just completed his fifth year.
The main goal for this core group is to continue to gain experience, and become smarter players on the floor. Hibbert needs to put on some muscle and work on his post moves, and Collison needs to continue working on taking care of the ball and leading the offense.
It will be interesting to see what moves will be made with the Pacers, as they have more money to spend this summer than any other team in the league. They have many needs, probably starting with the PF position. Hansbrough has proven to be a tough, scrappy player, but if they can get a more experienced big man to put along side Hibbert, it could really improve this team.
People have already begun to speculate trading Danny Granger. While I think it would be smart to hang on to him, I have heard of some scenarios that intrigue me. Moving an expiring contract and Granger for a guy like Tyson Chandler or David West would be nice. I think they have some flexibility to think about these moves because Paul George has already proven that he is talented enough to fill Granger's position in a couple of years.
The lockout that seems inevitable for the league may prevent the Pacers from doing some of the things they want. It's never easy to lure free agents to come to Indianapolis, but they may have opened some eyes during their Playoff performances against the Bulls. Indiana looks to be a team on the rise, but there are some big decisions that must be made before next season begins.
Once again we look ahead to the offseason, and the beginning of next year, but at least we can do it with our heads held high this time.