Real Madrid vs. Barcelona: How Ugly Did Jose's Beautiful Game Get?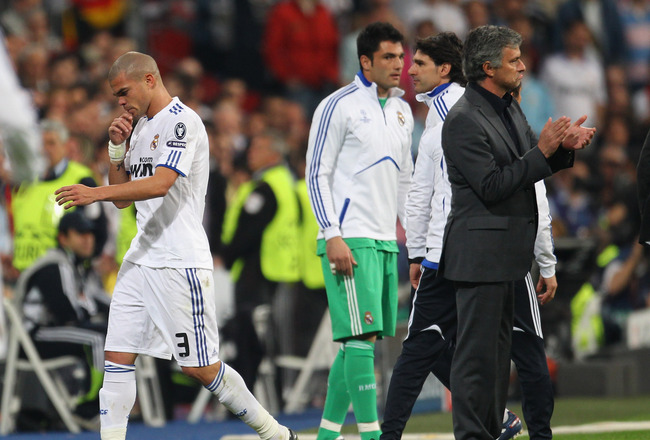 Pepe leaves the pitch, and brings Madrid's chances of advancing with him.
Alex Livesey/Getty Images
To call Jose Mourinho anything but a genius in the world of futbol would certainly be to sentence oneself a fool. Any future words that left one's lips or fingers would be taken with a smile in the corner of the mouth, with a grain of salt.
This is not an attempt to call Jose anything but, well, the Special One. What he did at FC Porto is the stuff that legends are made of. That, in and of itself, puts him on a pedestal as one of the game's greatest tactical and psychological minds to sit on a bench during a match. From that success, he's only had more success, but the heavy work was laid at Porto. After that, Mou could pick and choose what projects he wanted; he was in high demand, and rightfully so.
Chelsea, Inter Milan, Real Madrid. Three lineups that any manager would love to have the dilemma of choosing a Starting XI from. Again, he deserved it. Mourinho's knowledge of the game, his relationship with his players, and his mastery of the press, have put him in a position to succeed at every club that wants him. And every club wants him.
But Rome wasn't built in a day. And not every move the Special One makes won't go down in history as Special.
A hero to Inter fans after last season, there were times when both fans and media had enough of his arguing Serie A referees, well-respected coaches, and Italia's World Cup Champion captain, Fabio Cannavaro. It was obvious by midseason that Mourinho would not be returning. His first three signings with the team let him down: Muntari, Quaresma, and Mancini.
Ironically, he got the pieces he needed the next year, with the help of the teams on today's pitch—Barcelona and Real Madrid, Eto'o and Sneijder. These latter moves were crucial. Today's moves were critical as well, but in the negative sense.
The world's greatest futbol celebrates his 11th goal in 11 Champions League games
Alex Livesey/Getty Images
I wrote prior to today's kick-off that after employing an attacking style in his 5-0 loss to Barcelona earlier in the year, Mourinho had found success in a 1-1 draw by replacing offensive players with defenders in midfield. It did not make for a pretty game at all, but the game ended in a 1-1 draw as Messi and Ronaldo exchanged goals from the penalty spot.
There were plenty of harsh challenges by Real players, 10 of whom finished the game on the pitch. There were not too many chances for Ronaldo to wreak havoc on Barcelona's defense. Casillas was called into action numerous times to maintain the draw. But the result was a point.
Today's game had much of the same. Fouls and extra defenders in the midfield of Madrid. Less players with the ability to spring Ronaldo, who didn't make an impression on the game. 10 players finishing the match due to yet another red card. (Today's game even included a red card to Barcelona's reserve goalie for his actions on the way to the tunnel at the half.) It had everything the prior meeting had, including a lack of goals from the pitch...until the world's best player took matters into his own hands.
But Mourinho will want to talk about the officiating. I'll choose to ask a manager to control what he can control. By putting a fifth defender in front of his defenders, Mourinho also chose one not known for his Maldini-esque perfectly-timed slide tackles that rid defenders of the ball without a glance. Pepe has never been known as a calming player on the pitch. And today, that could've made enough space for Messi to work his magic.
Which move cost Mourinho most today?
Pepe's red card was just, as he went in with studs up, having lost control of the ball in a tight space, and into an area where Alves was, along with another Madrid player. Two things happened. Pepe, a defender with the first touch of a mule, lost the ball trying to dribble into space.
Had Mourinho used an actual midfielder, possession should not have been lost. Secondly, there was no need to raise a boot to play a ball that was nearing Alves. The ball wasn't easy to control, and with a Madrid player behind Alves at that point, a more cerebral defender could've simply first-defended, creating a 2-v-1 with the teammate behind the Barca player.
Mourinho wasn't going to try to beat Barcelona at their game of elegant passing & moving, creating off the dribble, using the dribble to set up the pass. The 5-0 loss earlier in the season proved he didn't have the horses for that game. But by resorting to what was more Catenaccio than Galacticos, Mourinho put himself in a corner.
He won't admit to this, but it wasn't Kaka, Benzema, or Higuain who was attacking Barcelona's wide fullback. As a matter of fact, Alves is not known as the best man-to-man defender in the league. He's a midfielder playing defense. And his ability to help the attack and still retreat to defend more than make up for any defensive weaknesses. But therein may lie the difference.
While Barcelona chooses to use a Brazilian midfielder along the back four, Mourinho tinkers with a Portuguese defender to play behind Ronaldo. And by the time Ronaldo's countryman had left the field, there was nothing left to stop Messi from putting on his show.
The first goal was brilliant. Finding space, Messi dribbled to the defense, as Alonso tried, unsuccessfully, to tackle him from behind. Getting neither the ball, nor enough of Lionel to knock him off the ball, he got to his feet as Messi passed the ball off. Alonso ran right to Messi, who was now set up at the top of the 18, center of the park. As the ball was played into the corner, Alonso held his arm out, feeling for Messi's presence like a defender off a corner kick. The second that Alonso looked at the ball, Messi lost him, sprinted into the area, and put the cross in the back of the net. As he celebrated, Alonso put hands to head, then slammed them to the ground.
The managers shake hands after a day that started with Pep ripping Jose, and will no doubt end with Jose digging into the ref.
Alex Livesey/Getty Images
The second goal was a touch of Maradona against England, complete with striker avoiding an obvious attempt to foul, as Messi cut the entire Madrid defense to pieces. The two-time Ballon d'Or winner now has 11 goals in 11 Champions League games. He settled any Messi vs Ronaldo debate over who is today's best player, once and for all. But something tells me tomorrow morning you'll be reading about Mourinho.
And while he can point the finger to the referee all he wants, coaches know to control what they can. He'll succeed at every level he wants to. It won't happen with his first moves, as he proved at Inter. He could move on before winning it all again, as he did at Chelsea. But Jose Mourinho will be questioning how else he could have beaten Barcelona. For now, he's out of answers.
This article is
What is the duplicate article?
Why is this article offensive?
Where is this article plagiarized from?
Why is this article poorly edited?

FC Barcelona: Like this team?