UFC History: What Happened to the WEC Titles After Mergers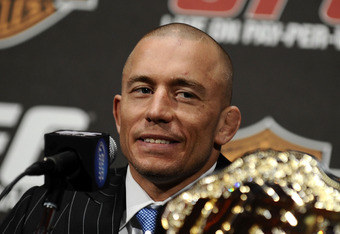 Jeff Zelevansky/Getty Images
This Saturday Jose Aldo will defend his UFC featherweight title for the first time since it was the WEC featherweight title.
While with the recent merger Aldo and bantamweight champion, Dominick Cruz, just transitioned from WEC champion to UFC champion, the other weight classes were not as simple and there were even mergers of weight classes before the final merger that led to the UFC completely absorbing the WEC.
First, is the WEC lightweight title which is still held by Anthony Pettis. Pettis was slated to unify the WEC and UFC titles in a match between the winner of Frankie Edgar and Gray Maynard. After, Edgar and Maynard fought to a draw a rematch was scheduled for those two and Pettis has decided to stay busy by fighting Clay Guida at The Ultimate Fighter Finale 13.
The winner of that fight will more than likely face the winner of Edgar/Maynard to unify the titles.
None of the other former WEC champions received automatic title shots, therefore, I will be looking at the linear title.
Next up is the welterweight title. Carlos Condit was the final WEC welterweight champion. In his first fight in the UFC, he dropped a split decision to Martin Kampmann. Kampmann's next fight saw him lose by first round TKO to Paul Daley. Daley went on to knockout Dustin Hazelett in the first round of his next fight.
Daley's following fight though saw him repeatedly taken down by Josh Koscheck and lose a decision. The winner of that fight was promised a shot at Georges St-Pierre's UFC welterweight title.
On December 12, Koscheck did face GSP to unify the titles. GSP won the fight by displaying a crisp jab that kept Koscheck at bay and fractured the challenger's orbital bone, to win a unanimous decision.
GSP will defend the unified title this Saturday at UFC 129.
For the middleweight division, what was slated to be the last fight for the middleweight title was changed to a non-title fight after champion Paulo Filho failed to make weight. Chael Sonnen did win the fight however and for this discussion will be considered the last WEC middleweight champion.
Sonnen first fight in the UFC was against submission ace Demian Maia. In that fight, Sonnen was forced to tap to a triangle choke in the first round. Maia's first fight after claiming the WEC middleweight title saw him fall victim to a viscous 21 second knockout at the hands of Nate Marquardt.
In Marquardt's next fight we saw him out wrestled and lose the WEC title to none other than Chael Sonnen. This win gave Sonnen a chance to unify the titles in a bout with Anderson Silva.
After continually taking Silva down and working him over on the ground for four and a half rounds, Sonnen was caught and forced to tap due to a triangle choke with less than two minutes remaining in the fight. Silva defended the unified title this past February with a first round knockout of Vitor Belfort and is scheduled to defend the title again at UFC:Rio against Yushin Okami.
The final WEC title to discuss is the light heavyweight title which was last held by Steve Cantwell.
Cantwell's first UFC fight was against Razak Al-Hassan, in which Cantwell won by technical submission due to breaking Al-Hassan's arm via armbar.
Cantwell's next defense of his WEC light heavyweight title was against Luiz Cane. This bout would see Cane claim the title by unanimous decision. Cane's next fight was against Antonio Rogerio Nogueira which saw Little Nog win by first round TKO.
Little Nog would defend the title by winning a controversial split decision over Jason Brilz. On his second attempt to defend the title, Little Nog dropped a unanimous decision to Ryan Bader.
Bader tried to defend the WEC title against Jon Jones this past February and lost by submission due to a guillotine choke in the second round.
After his victory, Jon Jones was given a chance to defend his new WEC light heavyweight title and claim the UFC light heavyweight title to unify the titles in a bout with Shogun Rua. Jones dominated the fight and won by TKO in Round 3 to unify the titles and be the first linear WEC champion to win their title fight.
To recap, all of the linear WEC titles are now held by the UFC champion except the lightweight title, but that could also be unified soon.
Of the linear title holders, Jon Jones was the only to win in his bid for the UFC title. Steve Cantwell was the only WEC champion to win his first fight in the UFC.
This Saturday at UFC 129, two UFC/WEC titles will be on the line when Champion Jose Aldo faces off with Mark Hominick for the featherweight title, and when Champion Georges St-Pierre takes on former Strikeforce middleweight champion, Jake Shields, for the welterweight title.
This article is
What is the duplicate article?
Why is this article offensive?
Where is this article plagiarized from?
Why is this article poorly edited?