WWE Extreme Rules 2011: Top 5 Matches in Extreme Rules History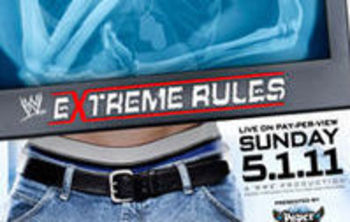 With Extreme Rules coming up this Sunday, I thought it would be the right time to go back and recap the top five matches in the history of the PPV.
Extreme Rules is a relatively new PPV, as it has only occurred since 2009 (some would argue that One Night Stand was also a part of the chronology, but it wasn't specifically named Extreme Rules).
Therefore, there are a limited amount of matches to choose from, but that doesn't mean that there weren't some great matches that stand the test of time.
As always, feel free to comment below and tell me what matches you liked, didn't like, thought should be on the list, or where you would rank them.
5. Jack Swagger (c) vs Randy Orton, World Heavyweight Championship (2010)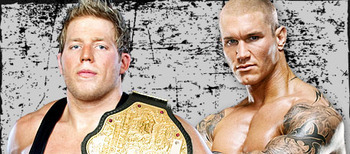 Using logic, many of us didn't expect Randy Orton to win because it was a similar situation to what we will see this Sunday: Only one of the heavyweight championship contenders was on SmackDown (only Swagger out of him, Orton, Cena, and Batista).
Therefore, Creative would not have had Orton win the title except if he was switching to SmackDown.
Furthermore, this was Jack Swagger's first title defense, and there was no way that they were going to waste his use of the Money in the Bank briefcase for a three-week title reign.
The most notable moment in this match was the ending, as Swagger defeated Orton clean (one of the only times in the past year that Orton has lost a match clean).
This obviously was to help build the credibility of Swagger, but he would then get RKOed after the match and would go on to lose the title a few short months later.
Nonetheless, this was a solid first title defense and attempted to add credibility to a new up-and-coming superstar in WWE, which you certainly can't fault (although he was derailed completely in the coming year, yet is seeing a resurgence now).
4. Edge vs. Chris Jericho Steel Cage Match (2010)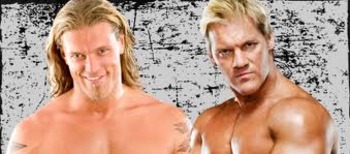 It's not very often you see two competitors fighting for the World Heavyweight title one PPV and then the following month, neither of them have the belt.
That was the case though after Chris Jericho defeated Edge at WrestleMania XXVI to retain the title, but lost the title to Jack Swagger days later.
Any time Edge and Jericho step in the ring, you are given a treat. It was the culmination to a feud that had built since Edge returned at the Royal Rumble and vowed to get revenge on Jericho.
The match had a number of great spots, and resulted in Edge winning by a spear that allowed him to escape the cage.
Probably the most notable result from the match was that both Edge and Jericho were drafted to Raw the following night, where Edge would begin his run as a heel costing Randy Orton a shot at the WWE championship.
Meanwhile, Jericho would begin teaming with the Miz, helping the Miz's meteoric rise to fame.
This also signaled the beginning of the end for Jericho, who would take a hiatus from WWE at the end of the summer.
(Isn't amazing that one year later neither of these men are in WWE? Crazy how this stuff plays out.)
3. Chris Jericho vs. Rey Mysterio (c) Intercontinental Title (2009)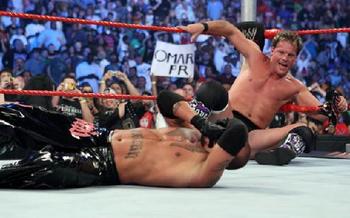 One of the best feuds of 2009 was between Chris Jericho and Rey Mysterio over the Intercontinental Title (remember when that actually had meaning?).
This was one of my favorite matches from 2009, as it was a great back and forth contest that led me to believe that either man could win.
The ending of the match was epic as Jericho countered the 619 and pulled Mysterio's mask off all in one motion.
As Mysterio went to cover his exposed face, Jericho rolled up Mysterio for the victory and the title.
This match furthered the rivalry between the two and proved why they have enjoyed the staying power in WWE that they have had for the better part of decade (despite Jericho leaving twice).
2. John Cena (c) vs Batista Last Man Standing Match for the WWE Title (2010)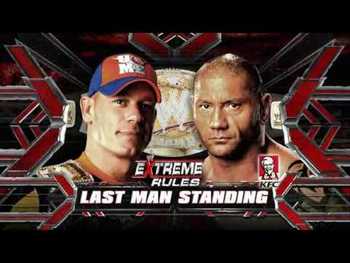 Last Man Standing matches are always amongst the most brutal in WWE, and this was no different.
I will admit, I thought it was awkward how the feud began between the two with Vince McMahon granting Batista a match against Cena for the WWE title after the Elimination Chamber had just ended.
This feud developed into one of the best of 2010 though with a great series of matches that ultimately resulted in Batista quitting WWE.
The match was grueling on both competitors and featured a unique finish with Cena duct taping Batista so that he could not stand to meet the 10 count.
While I don't foresee as unique an ending to the CM Punk-Randy Orton match this Sunday, it could shape up to be one of the most memorable on the card like this contest.
1. Jeff Hardy vs. Edge (c) Ladder Match for the World Heavyweight Title (2009)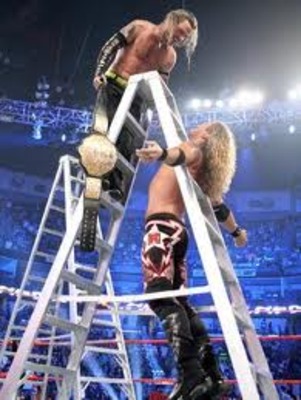 These two men made a name for themselves in tag team TLC/Ladder matches, and they furthered their legacy in a singles match for the World Heavyweight title.
I watched this match again over the weekend in preparation for Extreme Rules, and I must say that it was one of my favorite in recent memory.
These men took a number of death-defying risks that led me to believe that both men would have a hard time making it out of the match alive.
In the end, Jeff Hardy came out victorious by locking Edge in a crucifix position in the ladder while he grabbed the belt.
If the match alone wasn't great enough, the PPV closed with the surprise factor of CM Punk cashing in the Money in the Bank briefcase to win the title from Jeff Hardy minutes after he had just won the title.
This led to one of the best feuds WWE had created in years between Punk and Hardy, as it dipped into real-life habits (which always makes feuds better).
What Matches Will Be Added to the List This Sunday?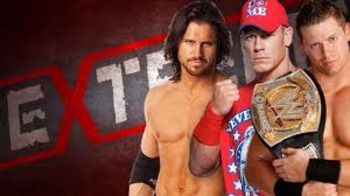 There are a number of matches on the card at this Sunday's Extreme Rules that have the potential to be added to this list including:
The Miz vs. John Cena vs. John Morrison Steel Cage Match for the WWE title
Alberto Del Rio vs. Christian Ladder Match for the World Heavyweight Title
Randy Orton vs. CM Punk Last Man Standing Match
Cody Rhodes vs. Rey Mysterio Falls Count Anywhere Match
All of these matches have the potential to be great and hopefully they follow through on their potential.
Follow me on Twitter @BFlow82 and be on the lookout for my website TheBoomSpot.com
Keep Reading