WWE Gone Wild: The 25 Wildest Wrestlers of All Time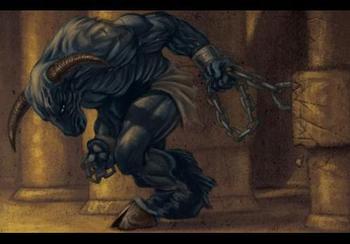 There is always everything for everyone in WWE. The fans love different kinds of wrestlers for various reasons and that is what makes wrestling great.
There are many types of personalities in the world of wrestling:
We can think about calm wrestlers who usually portray dark or vicious characters, such as The Undertaker or Randy Orton.
There are also the methodical grapplers who always keep their cool, like Bret Hart or Jake "The Snake" Roberts.
Then, we can mention the intense fighters who can get in some trance in the middle of the battle, but who can control themselves outside the ring, as John Cena or Edge.
And, finally, there are those beasts who are on a perpetual high, with pure adrenaline running in their veins; they are the wildest wrestlers of the WWE jungle and they are often out of control.
If we could use one word to describe the wrestlers featuring in the coming slideshow, it would be "INTENSITY."
So, let's run wild for a moment and let's see who are the 25 wildest men and women in WWE history.
25. Eugene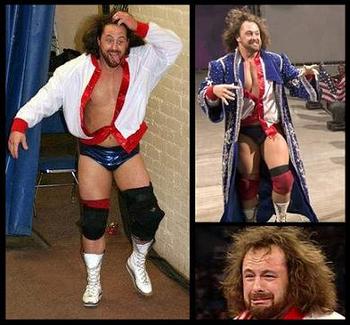 In Eugene's case, we could associate the word "wild" to the word "retarded" when we talk about the gimmick he had from 2004 to 2007.
But either way, he was wild enough, in and out of the ring to earn a spot on the list. He was not an out of control animal, but more someone who needed some guidance.
24. Randy "Macho Man" Savage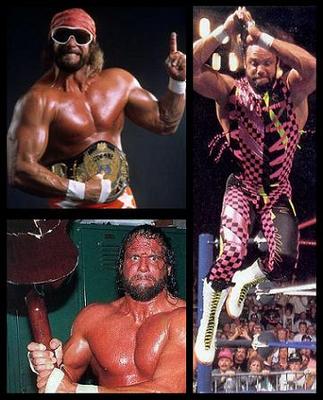 Savage was his last name, but also a reflection of his attitude. He was not as extreme as some others on the list, but he has his place.
He was vicious and brutal. He was at his best when the time came to hurt his opponents after a match or in non-wrestling segments.
He was always on high voltage when he was interviewed and the whole package was perfectly completed by his flamboyant outfit style.
23. The Berzerker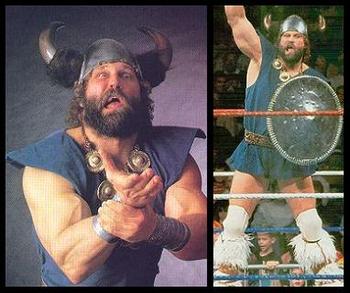 In 1991-92, at the beginning of the Heavy Gimmicks Era, The Berzerker became an unforgettable character.
Grumbling was his sole language and Mr. Fuji talked the talk for him. Anyway, with his Viking caveman look, I doubt he had anything interesting to say.
He also acted possessed and had a weird relation with his hand. To go with his viking attire, he had some hirsute curly hair on his head.
22. The Headshrinkers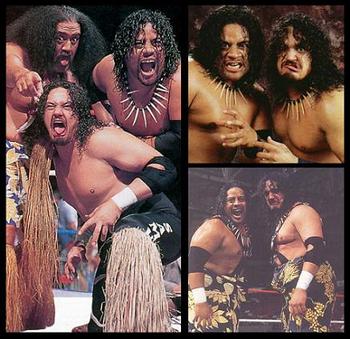 In the early '90s, a second generation of Samoan wildmen delivered countless headbutts to keep their rivals down and to win one Championship.
Fatu, also known as Rikishi, and Samu formed a duo called The Headshrinkers. They were managed by Afa, one of the original Wild Samoans. In some hilarious moments, Afa tried to civilize his protégés.
The Headshrinkers were not an exact copycat of their predecessors, but they had many similar mannerisms.
21. The Missing Link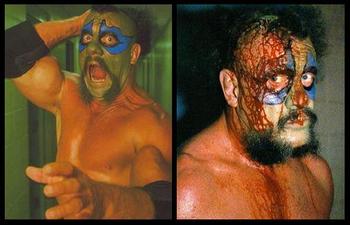 From May to October 1985, one of the weirdest wrestlers of all time competed in the WWF. The Missing Link was a prehistoric man from Parts Unknown, managed by Bobby Heenan.
In few months he mostly defeated jobbers and lost against top-card wrestlers such as Paul Orndorff. The Missing Link also faced "Mad Dog" Vachon and George Steele, two other beasts, in grueling encounters.
20. Al Snow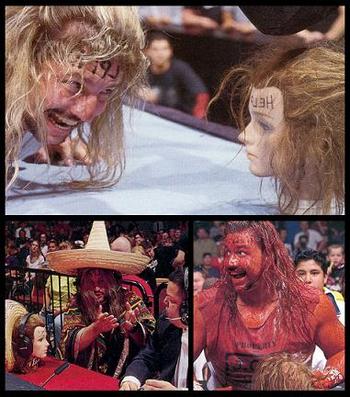 Al Snow and Head formed the oddest duo in WWE history.
Snow became an hardcore legend with his intense lunatic character. He is a one-time Tag Team and European Champion, but he became some kind of icon with his six Hardcore Championships.
With Head, he created some of the most memorable segments of the Attitude Era, including his famous hardcore match against himself.
19. Hulk Hogan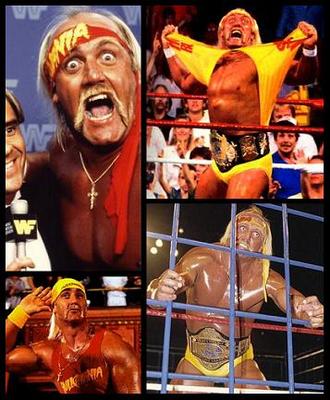 "Whatcha gonna do when Hulkamania runs wild on you?" or "Hulkamania is running wild!"
Those Hulk Hogan's catchphrases could explain why he can be considered as one of the wildest wrestlers to have stepped in a WWE ring.
But, beyond what he could say, Hogan was over-excited in all of his interviews and he always backed up his words with intensity when the time to talk was over.
His "Hulking Up" became legendary.
18. Batista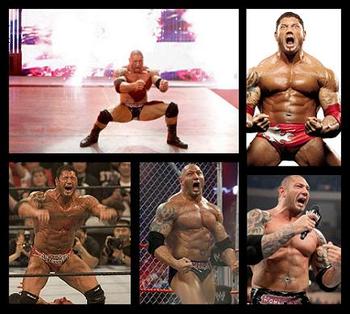 It's no wonder why he was called "The Animal."
He was an intense powerhouse who always seemed to be on a rampage, and it should surprise no one to know he was trained by Wild Samoan Afa.
In seven years with the WWE, he became one of the top faces with his intimidating mountain of muscles.
17. Mick Foley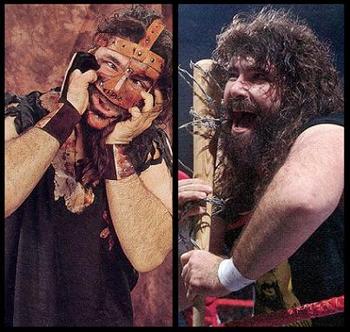 When he was not Mankind, that deranged squealing individual who pulled out his own hair, Mick Foley was Cactus Jack, a wild brawler; or Dude Love.
The Hardcore Legend endured pain like no other and he always had the adrenaline necessary to come back to his feet.
16. Roddy Piper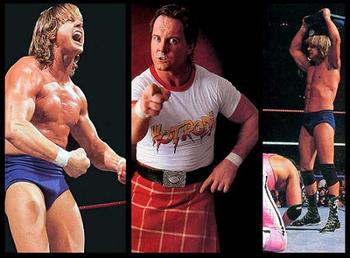 He's called "Rowdy" Roddy Piper for a good reason. He is probably the most hyperactive wrestler in WWE history and one of the wildest.
His big mouth and his intensity in the ring built his unique legacy and contributed to earn him a spot on the current list.
15. Vader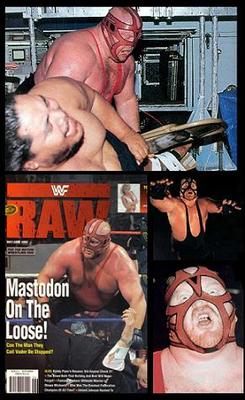 "It's Time! It's Vader Time! Time! Time!"

When those words went out of the speakers, you could be sure that someone would receive a savage beating, either Vader or his opponent.

Vader was a pure bully and surprisingly agile for a 450-pound man. His famous Moonsault from the top turnbuckle made him even wilder.
14. Umaga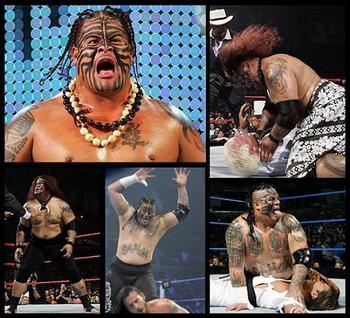 Umaga was a typical Samoan wildman, and he especially liked to scream unintelligible words.
In 2006, he was initially a destructive beast only manager Armando Alejandro Estrada could control, then he went by himself, always with his brutal behaviour, until 2009.
13. The Bushwackers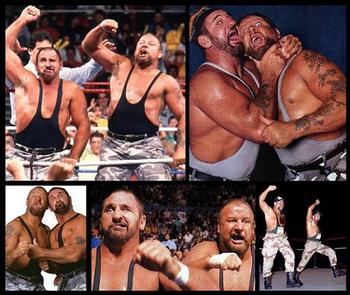 The weird duo roamed in the WWF with their unique walk from 1989 to 1996. Their language was not very elaborated and they enjoyed licking each other's heads.
Their fighting style was all but elegant. They were wild brawlers and their finishing maneuver, the Battering Ram, was one of the most ridiculous moves ever; but they had a bunch of loyal fans.
12. Sid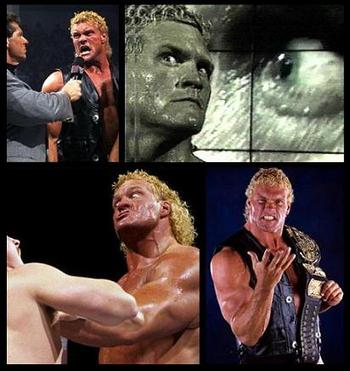 In Sid's case, we can talk about an explosive mix of wildness and psychosis.
The self-proclaimed Master And Ruler Of The World was one of the most intense wrestlers ever to have put the feet in a WWE ring.
11. L.O.D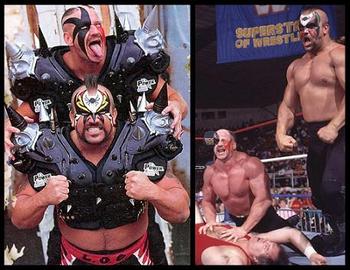 "Oooooooooooh, What A Ruuuuuuuuuush!"
Just those words could describe the wild tag team known as Legion Of Doom in their WWE days. The rush they were talking about was a rush of pure adrenaline.
They were intense, brutal, powerful and nearly unstoppable.
10. Ivan Koloff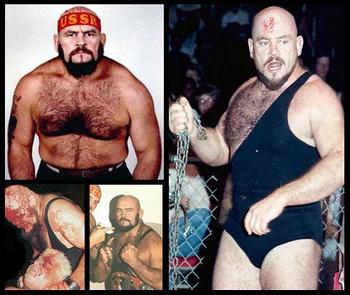 The Russian Bear was a real animal and he didn't steal his nickname. He will always be remembered as the one who ended the longest WWF Championship reign when he defeated Bruno Sammartino in 1971.
After he lost the belt, Koloff continued to feature on the top of the card as challenger against the greatest of '70s, including Pedro Morales, Bob Backlund and Billy Graham.
He was not with the WWF for very long, but it was enough to be considered for the list.
9. Sensational Sherri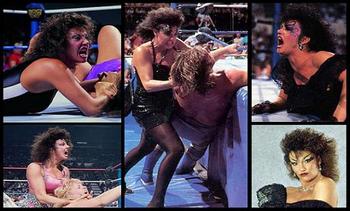 The first lady on the list didn't steal her so high ranking.
Sherri was vicious and savage in the ring during her wrestler's days and she added a touch of craziness when she became manager of the likes of Randy Savage, Ted DiBiase and Shawn Michaels.
8. Goldberg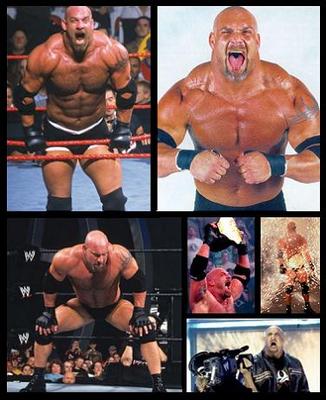 The word "intensity" could be enough to describe Goldberg. When he joined the WWE in 2003, his 173-match undefeated streak was in the history book, but his legacy followed him.
He was still that wrecking machine on a perpetual path of destruction. He was an insane powerhouse and a walking adrenaline reservoir.
7. Maurice "Mad Dog" Vachon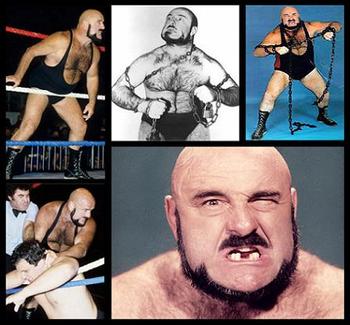 The Hall Of Famer was an hardcore pioneer, and his career spanned over four decades.
The Mad Dog was a master intimidator and he always carried his nickname with pride to the pleasure of his thousands of bloodthirsty fans.
He was so wild, with his use of foreign objects and of his teeth to hurt his opponents, that he was banned in three U.S. states.
He had multiple short stints with the various incarnations of what we now know as WWE.
He could not display his real nature as in the other smaller promotions, but he always had his crazy eyes and his animalistic attitude.
6. Kamala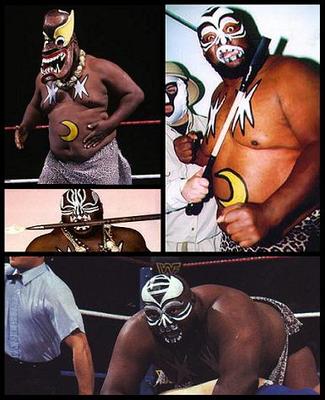 The Ugandan Giant was wild, but smooth at the same time. He was not intense as many others on the list, but he was a genuine savage.
His savage gimmick and attire are remembered even nowadays despite his short runs in WWE.
He had over 15 managers or handlers throughout his career, and one of his most infamous moment was when he ate a live chicken on a WWF televised segment in 1984.
5. Luna Vachon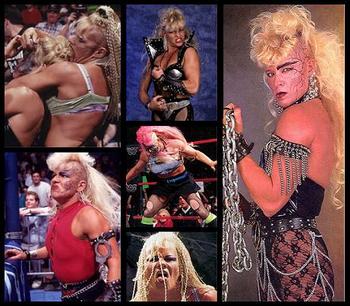 Luna Vachon was without a doubt the wildest woman in WWE and probably in pro wrestling history.
She started to wear her signature facepaint and mohawk haircut during her time in the Florida Championship Wrestling promotion.
She was then a part of Kevin Sullivan's Army Of Darkness and adopted her trademark continuous squealing.
She was with the WWE for two runs, in 1993-94 and from 1997 to 2000. She mostly battled against Sensational Sherri, Alundra Blayze and, later, Jacqueline.
She was also Shawn Michaels, Bam Bam Bigelow, Gangrel and The Human Oddities' manager, always with her savage style at ringside.
4. Killer Kowalski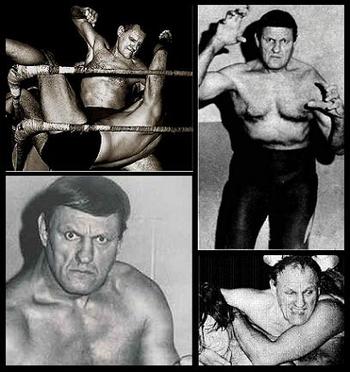 Killer Kowalski started to cement his reputation when he ripped off an opponent's ear in 1952. Then, exactly 20 years later, he became the first to score a pinfall against Andre The Giant in North America.
He didn't wrestle much in WWE, but long enough to win one Tag Team Championship along with Big John Studd, one of his students. There has been some wrestlers with the word "Killer" in their name, but the greatest one was Killer Kowalski.
3. The Ultimate Warrior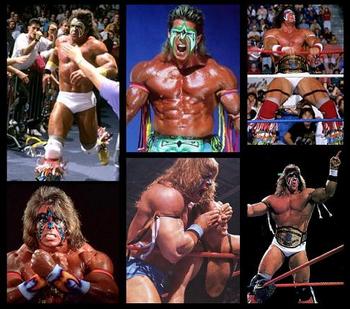 The wrestler with the wildest entrance ever in WWE, with his frenzy sprint, was hard to understand when he could be caught for an interview.
His demented way to shake the ropes inspired Batista and his intensity was so out of control that many wrestlers got hard time in the ring with him.
We could also talk about his nasty reputation backstage but it's not even necessary to understand how wild The Ultimate Warrior was.
2. The Wild Samoans
It should surprise no one to find The Wild Samoans so high on the list. They don't have the word "wild" in their name just for the fun of how it sounds.
Afa and Sika were the original and the authentic Samoan wildmen.
Along with Lou Albano, their hirsute manager, the trio formed the wildest group in WWE history.
1. George "The Animal" Steele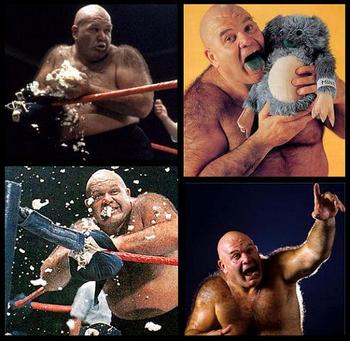 George "The Animal" Steele was the epitome and the definition of what wild really means.
He was hairy like no other, he enjoyed to bite his opponents and the turnbuckle. His green tongue and his hand puppet ("Mine!") also contributed to build his unique animalistic legacy.
He was also the best to cut promos with no actual words, and he pushed the style to a limit never matched.
Conclusion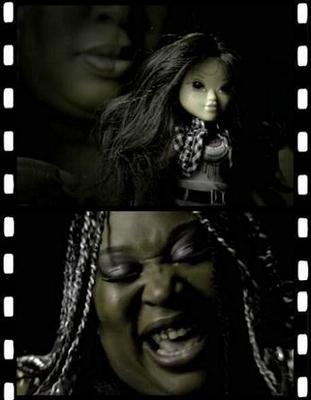 As you could see, wild wrestlers are most a part of history now. The last animal to have stepped in a WWE ring was Batista.
But there is hope for that kind of wrestler with the coming of Kharma, formerly known as Awesome Kong. She is a true beast, a wild mastodon. In few months, she will probably find her way on the current list.
Do you think I missed anyone on the list or is there a wrestler that doesn't belong there? The comment section is wide open for discussion.
Keep Reading