St. Louis Cardinals: Is Mitchell Boggs the Future Closer?
April 22, 2011
Dilip Vishwanat/Getty Images
Could new closer Mitchell Boggs be a saving grace for the Cardinals? 
I reserve the right to answer my own question in my own time. Maybe I will answer somewhere in this article.
He doesn't throw Hail Mary passes, wear religious articles of clothing or pretend to be as righteous as the pope, but he could be a savior for the Redbirds when they get in tight ninth innings.
Like two nights ago—looking at the way his pitches were darting in and out of the strike zone was both a moving and a striking experience. In replacing Ryan Franklin as the closer, I thought Boggs looked remarkably cool, calm and collected on the mound.
It was as if he'd been doing this forever, but it was his first time attempting to close out a Major League team for a save. 
With a 100 percent closer rating, he's off to a good start.
Opponents are batting a lowly .118 against him this season. Considering they're batting .274 against him for his career and his cumulative ERA is 4.46 in 92 games (15 starts), Boggs is perhaps best-suited as reliever—a closer.
He had a solid, almost stellar, 2010 season. His ERA was 3.61 in 61 appearances. In 67 innings pitched, he struck out 52 batters and posted a 1.29 WHIP appeal. Batters hit a pedestrian .243 against him. 
In every season, Boggs has improved in almost every pitching category over the previous one. And he's on track to make the biggest improvement of his career.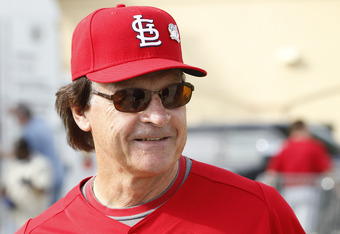 Joel Auerbach/Getty Images
So far this year, his first batter efficiency rating is 100 percent—highly important for a closer.  Getting the third out is obviously just as important as the first. Starting off with an out in the ninth inning in a close game bodes well for winning.
While the elite teams are rarely out of games until the third out is counted, the majority of teams in the Majors will go away quietly after the first batter makes an out in the last inning.   
In 10 innings of putting in work this season, Boggs has seven appearances and posted a 1.80 ERA. While posting 13 strikeouts, he's only walked three and given up four base knocks. 
Did I mention his WHIP appeal is 0.70—outright stingy? I just did.
On Wednesday night in the 5-3 victory over the Washington Nationals, he earned his first save ever in the Majors. 
He recently turned 27-years-old—about the same age as Redbirds Adam Wainwright and Kyle McClellan.  Born in Dalton, Georgia, Boggs debuted on June 6, 2008 with the Cardinals. 
He won his first Major League start with help from Ryan Ludwick, Albert Pujols and Rick Ankiel in Cincinnati against the Reds. Ankiel is the new Nationals center fielder. 
Boggs' fastball has been clocking 96 mile per hour and he throws his slider in the high 90s.  Usually, a slider at around 89 is considered power-packing. Boggs had little trouble in dispatching the Nationals in the ninth inning—a terrific sign for a closer's first outing.
Joe Nathan had similar success, though, and ended up taking himself out of the role.  Coming off surgery and missing the 2010 season, Nathan's decision was mutual.  
Before hurting his arm, Nathan was considered in the same class with Mariano Rivera by some baseball insiders. Boggs isn't in their class, yet, but his coaches dig his work.
According to quotes in the MLB.com story hyperlinked above, La Russa has loved Boggs' production for the last three years. In 2008 after Boggs' first start in the Majors, La Russa called him "one of the most consistent starters in this organization the last couple years." 
Big praise from a guru.
The Cardinals promoted him from the Memphis Redbirds, where he was the rock of the rotation at 5-1 with a 3.28 ERA. Before starting the game in Cincinnati, he'd pitched two inning of relief in Houston against the Astros. H-town is known for NASA and space shuttles.
This year, Boggs was leading all National League relievers in shuttling batters back to the dugout after striking them out. He had 12 as of April 15.
La Russ also loves his potential and Boggs himself is becoming confident in his ability. His improved curve ball is a big reason:
"I feel like if I go out there and pitch the way I know I am capable. I can compete with anyone in this league in any situation," Boggs said in the second MLB.com article linked above.
"I feel like I am getting where I need to be."
He's gotten to be the potential savior of the bullpen in the ninth inning. He's not the savior of the world, though, and he'll probably have his roller coaster ride in his new role. I wouldn't be surprised if during the next month or so, he posts some of the best stats for a Major League closer.
The better he pitches in his new role, the closer the Cardinals get to winning the NL Central.
There are still a couple of leaking holes in the starting rotation for now, but they can probably be shored up enough to still win the division this season.
The seasoned Ryan Franklin could still get his chances, but I doubt it—especially if Boggs is pitching lights out baseball. Franklin blew four saves in five chances—three of them on the recent 10-game road trip. 
Franklin isn't an automatic choice any longer, if a choice at all, to end games. Miguel Batista is a candidate to secure the role in St. Louis, but he is around the same age as Franklin and has never been an elite closer. 
Jason Motte is another option, but Boggs got the first go and got it in good. Stay tuned to this same bat channel for updates on how good Boggs is doing. 
I believe he enjoys what he's doing and will be a big part of the graceful Cardinals' future savings.
Right now, I have other things I need to be doing. Until next time—good living, good loving and good closing.