Live Blog: Anaheim Ducks vs. Nashville Predators, Game 4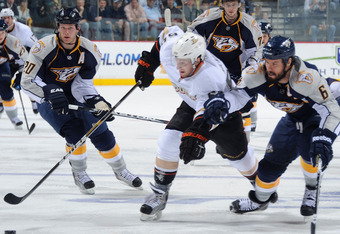 Frederick Breedon/Getty Images
Hello again, everyone! Bleacher Report Featured Columnist Kyle Nicolas here, giving you my live observations and analysis of an extremely important Game 4 between the Anaheim Ducks and Nashville Predators tonight.
The Ducks will be looking to rebound from a terrible performance in Game 3—one that saw them held to only 16 shots on goal in one of the most lopsided losses in Anaheim playoff history.
The 4-3 score didn't tell the full story, as the Ducks twice rallied back to tie (including two goals in the dying moments of the second period to even the game at 2-2), but ultimately the Predators' pressure was too strong.
On the other hand, Nashville will be looking to continue their dominance of Anaheim tonight. They've won five out of the seven meetings between these two so far this year (including the regular season) and every game played in Nashville.
Look for the Preds to come out strong; they know that with a win tonight they can go back to Anaheim for Game 5 with the Ducks' backs to the wall.
So keep it here for my thoughts and analysis as the game is played.
Additionally, if you like my live blog you can follow me on Twitter for continued updates, thoughts and links to my new articles when I publish them.
End of Game: This contest comes to an end with the Ducks coming out victorious 6-3 on the heels of a brilliant third period.
The trends of the series so far have continued: there still have been no lead changes in the series, whoever scores first has also scored second and gone on to win the game, and both teams have come back strong from losses.
This series is headed back to Anaheim and the Ducks have reclaimed home-ice advantage for game five this Friday.
Third Period Shots: Ducks: 13 (total: 38), Predators: 3 (total: 22)
That's all for this live blog. Once again just a reminder if you liked this blog you can follow me on Twitter for more updates, news, and links to my articles as they come out.
Later tonight I'll be publishing a post-game analysis piece so stay tuned to Bleacher Report for that.
Thanks for following along everyone and I look forward to blogging again for game four!
A good chance for Anaheim is denied by a sharp blocker from Anders Lindback in the dying seconds of the game. He has stopped all nine shots he faced in relief for Rinne.
Jordin Tootoo has just been ejected from the game with both a minor penalty and a game misconduct for unsportsmanlike conduct. The crowd doesn't like it as chants of "we disagree" come raining down (and yes, that's a VERY loose translation of what they were actually saying).
It's getting a little chippy as Blake Geffrion takes a run at Matt Beleskey, showing the frustration from Nashville. Beleskey doesn't give in though, and they skate away.
Nashville Penalty: Jordin Tootoo goes off for a roughing after clipping the head of Toni Lydman with his hands as he skates by. It looks like he was trying to avoid him, but Anaheim is going back on another power play.
Still not much urgency on the attack from either team, however the Preds are seeing far more time in their offensive zone in the third period than the Ducks to this point.
The stunning start to the third period has really caused the energy in the building to deflate as neither team can really get anything going. Both teams simply playing to keep the puck out of their own net.
NHL Update: The Washington Capitals have just taken game four in New York on a serious defensive error from Marian Gaborik, who takes the puck away from a diving Henrik Lundqvist, bounces it off a crashing Jason Chimera and into the net. Caps win 4-3 and now head back to Washington with a chance to seal the series in five games.
NHL Update: The Pittsburgh Penguins just got the double overtime winner from James Neil, and the Pens are up 3-1 in their series. That now heads back to Pittsburgh with the Lightning's backs to the wall, and Pittsburgh very rarely loses at home in the playoffs.
Anaheim Goal: The incredible start to the third period continues as Brandon MacMillan gets a tally of his own. He gets a pass from Todd Marchant, dances through the middle of the ice, past a flat-footed defense, and buries it. Incredibly, it's 6-3 Ducks after a second period that was almost entirely in Nashville's favor.
it's the end of the night for Pekka Rinne as he's pulled from the Nashville cage and replaced with Anders Lindback.

Anaheim Goal: On a delayed penalty, Ryan Getzlaf skates away from defensive cover and walks to the top of the left circle where he picks his spot and hits the top corner with blistering accuracy. It's an absolutely beautiful goal and the Ducks are now up 5-3 early in the third period.

A bit uncharacteristic of both teams in the early moments of the third period as both teams are turning the puck over in the neutral zone and can't seem to get the handle. I think there's some nerves on both benches at the moment.
Stat: Mike Fisher is 71% in the faceoff circle tonight.
Anaheim Goal: Corey Perry feeds on a screen from Brandon MacMillan and drills a backhander into the top corner shorthanded after dangling two Nashville defensemen. What a wild start to the third period and it's 4-3 Ducks.
Here we go in the third period. Anaheim still short handed with Nick Bonino in the box for Delay of Game.
Breaking news: Martin Erat will not return tonight after that huge hit from Jarkko Ruutu.
And another reminder that you can still follow me on Twitter for news, updates, and links as I publish articles!
NHL Updates:
The New York Rangers and Washington Capitals are now into the first multi-overtime game of this playoffs, still tied at 3-3.
Buffalo had evened their series with Philadelphia at 2-2 with their second 1-0 win of the series.
The Tampa Bay Lightning managed to tie their game at 2-2 with the Pittsburgh Penguins on a goal by Sean Bergenheim late in the third period. They've played one overtime and are now on their way to the second overtime period as well.
End of Second: A roller coaster second period finally comes to an end with the Predators tying the game up and they'll go into the locker room at 3-3.
Interestingly enough there still hasn't been a lead-change in this series yet, however we're down to, as John Ahlers says it, a "20-minute hockey game."
Second Period Shots: Anaheim: 9 (total: 25), Nashville: 7 (total: 19)
Anaheim Penalty: The Ducks failure to clear the puck when they were given the chance comes back to bite them as Nick Bonino accidentally throws the puck over the glass. It's a mistake due to fatigue and now the Preds have a huge chance on the Power Play late in the period.
The tides have turned completely as now Shea Weber hits the post behind Ray Emery. However the Ducks survive the penalty kill.
Anaheim Penalty: Ryan Getzlaf gets unlucky as he attempts to stick-lift Joel Ward and accidentally gets him in the hands. He's off for two minutes.
So far really nobody's been able to get a leg up on their opponent for more than just a couple minutes. Nahville's forecheck has given Anaheim absolutely all they can handle however to this point in the game, and they look like they'll be in good shape if they keep it up.
Nashville Goal: After forcing a turnover at his own blue line Matt Halischuck carries the mail, delivers a pass, and then gets it back wide open two feet in front of an empty Anaheim net. Just like that it's 3-3.
Anaheim Goal: Teemu Selanne finally breaks through for the Anaheim Power play as a Getzlaf shot-pass bounces off the stick blade of Selanne and past Pekka Rinne. It's Selanne's fifth of the playoffs (and fourth on the power play) and the Ducks are back in front 3-2.

A second straight post as Lubomir Visnovsky hits the crossbar behind Rinne.
Cam Fowler blasts a shot that blows by Pekka Rinne and rings the post.
The first minute-plus of the power play is extremely ineffective for Anaheim, causing Randy Carlyle to use his timeout. This could be interesting down the stretch as neither team has their timeout for the rest of the game.
This article is
What is the duplicate article?
Why is this article offensive?
Where is this article plagiarized from?
Why is this article poorly edited?

Nashville Predators: Like this team?