Messi Versus Ronaldo: Cruyff Tips the Debate of Best Futbol Player to Lionel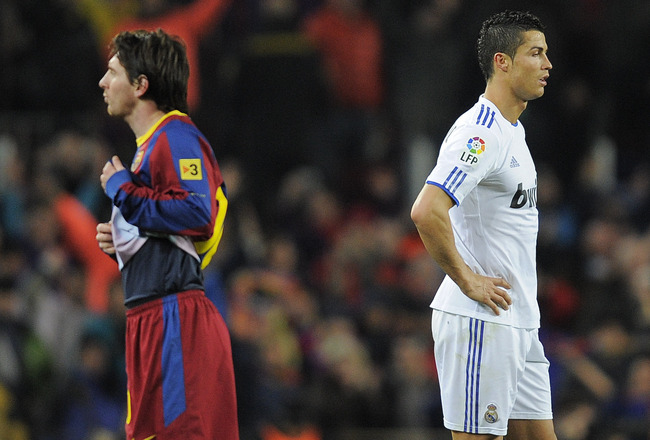 The beautiful game's greatest players - headed in different directions?
David Ramos/Getty Images
Messi. Ronaldo. The names alone give nightmares to opposing managers who must create matchups as best they can come game day. The names alone conjure dreams to youth futbol fans around the world who dream of becoming the best in the world. The names alone also spark a debate as to who is the most dominant futbol player in today's game. While we know them as Lionel Messi and Cristiano Ronaldo, there is no need for their first names when discussing this generation's best player, similar to when debating the all-time greatest in Pele and Maradona.
While it's easy to predict the winning team of a futbol match, it's hardly the case when ranking individual talent. For all the possession, defending, and tactical situations that come into play on the pitch, the beautiful game is still one whose goal is to put more balls into the back of the net than one allows. But when it comes to the game's most dominant player, the task is a more daunting one based on subjective opinions. Still, while there are players who peak to lead their club or country at different times, the overall bodies of work by these two talents put them above the rest. And leave us to the great subjective debate.
So, if you were creating your Starting 11, who would you choose with your first pick, knowing that your opposing coach would snatch up the other–Messi or Ronaldo? Ironically, in last weekend's Clasico, Messi opened the scoring from the penalty spot. Ronaldo ended his scoring drought against Barcelona since joining Mourinho's lineup, and he did it in the same fashion. The even exchange of penalty kicks ended the game a 1-1 draw, and further displayed the comparisons we may make of these two lethal scorers. But it was a game that Barcelona was more than happy to trade points with, preventing Real Madrid from closing distance from their rearview mirror. And, once again, it was Messi who opened the scoring for Barcelona. Though Ronaldo tied it late, Madrid never led; and Messi never trailed.
If you could build your team around one player, who would it be?
In the past four years, these two been among the three finalists for the Ballon d'Or, European Futbol Player of the Year, seven times combined. But while Ronaldo's won it once and finished twice on two occasions, Messi's carried the trophy home twice, finished twice once, and placed third, holding a place in each contest the last four seasons. He's also shifted momentum, having won the honor the past two seasons in a row. Although Ronaldo placed second two years ago, he was replaced on the list this year by Messi's Barca teammates, Xavi & Iniesta.
The debate will not be won or lost on any column you'll read, website you'll view, or announcer you'll hear. Fans and players alike will continue to marvel at the accomplishments of both. Ronaldo's Barclay's Golden Boot, scoring 31 goals in 34 matches; his career total for Manchester United, finding the net 117 times in 289 appearances. Messi has 49 of his own this season; 95 goals in the last 99 matches. Their Ballon d'Or history is also interesting. When Ronaldo hoisted the trophy for Manchester United, he was the club's first player to be labeled the best since, well, George Best. When Messi repeated as Europe's Best Footballer this year, he was the first player to win the award twice since, well, Ronaldo...Luís Nazário de Lima of Brasil, that is.
Netherlands legend Johan Cryuff recently mentioned that "Ronaldo is more of a physical player", while "(Messi has) got qualities similar to Maradona...pure technique." England's boss Fabio Capello also chimed in that, "Ronaldo knows English and (Messi) knows football." Capello was responding to a question as to which great he'd nationalize to put on his roster. Then again, Cryuff announced that he felt Xavi would win the Ballon d'Or this season, as he was a better leader for Spain than Messi was for Argentina in South Africa. And Capello, well, he's still one of the greats, but he was questioned as England exited rather early from the same competition. So, I leave it to you, the fans, the reason why the game is the world's beautiful one. If you could nationalize one, who would it be? Then again, if you had either, could you go wrong?
This article is
What is the duplicate article?
Why is this article offensive?
Where is this article plagiarized from?
Why is this article poorly edited?

FC Barcelona: Like this team?