UCLA Football Loses Another Top Offensive Lineman for the 2011 Season
June 25, 2011
UCLA has problems this season that may impact the head coach and some of it comes from players who flip-flop on their commitment and show the same kind of dedication towards academics.
2009 offensive lineman Stan Hasiak, a four-star recruit, is no longer on the UCLA football team.
He was ruled academically ineligible for this year like he was last year. Hasiak, who only played three games as a freshman for the Bruins, will enroll in a junior college.
Stan was one of the top offensive linemen in the nation when recruited during coach Rick Neuheisel's first season at UCLA.
Hasiak flip-flopped on his commitment to different schools during his recruitment.
Hasiak's recruitment leaned towards USC, then Hawaii, committed to UCLA, flipped to Cal and then back to the Bruins. 
Stan wasn't sure where he should start and three out of the five top recruits from the 2009 class, who were flippers, are no longer at UCLA.
In 2009, the 6-5, 301 pound Hasiak was off the team to deal with issues. In 2010, he was ruled academically ineligible for the season. There were even rumors that Hasiak would transfer, perhaps to Hawaii.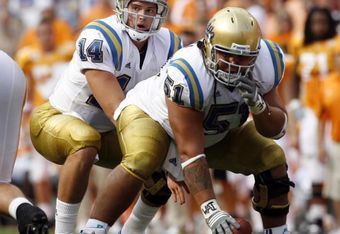 This development seriously impacts UCLA's upcoming 2011 season because the offensive line was already thin in depth as well as suffering a number of injuries to the starters. The starting line was set for Jeff Baca, Sean Sheller, Kai Maiava, Chris Ward and Mike Harris.
This spring Kia Maiava, who was out for the season last year with a fractured ankle, reinjured the joint on April 7 and if this reoccurs, the lineup may change to Jeff Baca, Sean Sheller, Greg Capella (a backup), Chris Ward and Mike Harris.
Shortly thereafter, Sean Sheller broke his hand April 9, which would modify the starting line to Jeff Baca, Stan Hasiak (a backup), Greg Capella (a backup), Chris Ward and Mike Harris.
Then Jeff Baca broke his ankle April 26. Once again, this changes the starting lineup to Connor Bradford (a backup), Stan Hasiak (a backup), Greg Capella (a backup), Chris Ward and Mike Harris. So Stan getting booted off the team is a serious situation for the Bruins.
Sheller may be back sometime in the fall; however, if he moves to Baca's position (LOT), and another backup, Wade Yandall, fills Sheller's old spot (LOG), and if Maiava returns from his repeated ankle injuries (C), the Bruins still will be thin on the offensive line.
There won't be much quality depth and those who recover soon enough to play will be susceptible to more injuries. So Hasiak's lack of dedication to academics has really put the UCLA season in jeopardy. That includes Rick Neuheisel's job.
Basically, UCLA is starting this year off with offensive line problems, like last year.