Corey Hill and the 15 Most Gruesome Injuries in MMA History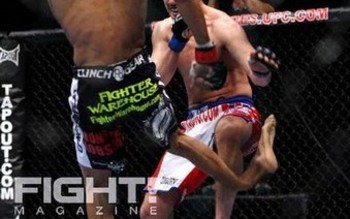 Thank you Fight! Magazine
Geez, just the main photo is enough to make my stomach churn.
But wait, it gets better, or worse. It all depends on how sadistic you are.
Injuries are bound to happen in MMA. While most aren't severe enough to keep a fighter from fighting on, there have been some that are just downright painful to see.
After throwing up, I somehow managed to put together some of the nastiest injuries that have ever been seen in MMA.
Warning: I wasn't kidding when I said I threw up putting this slideshow together. If you have a weak stomach, you have been warned.
15. Vitor Belfort Takes an Axe to Marvin Eastman's Head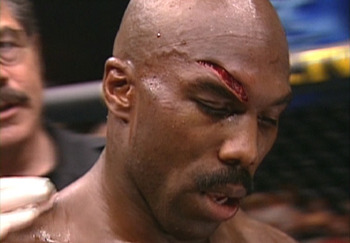 OK, Belfort didn't really take an axe to Eastman's head. But you could easily be fooled just looking at the photo.
Here is what happened—Belfort rushed in, got the plum on Eastman, landed a couple of knees, Eastman fell to the floor, Belfort landed a few punches, then the referee stopped the fight. It was one of those knees that caused that hideous gash on Eastman's dome.
Man, that cut is so deep that if you look close enough, you can actually see what Eastman is thinking.
14. Ken Shamrock Makes Leon Dijk's Foot Do a 180

Thank you Sherdog.com for this one

Back in the old school Pancrase days, leg locks led to many victories. At the time, Ken Shamrock was arguably the best submission artist in the promotion.
In the clip above, Dijk discovered the hard way just how good Shamrock's ground game was.
Shamrock locked in a heel hook and literally turned Dijk's foot the opposite direction it's naturally supposed to be.
Shortly thereafter, heel hooks were banned in Pancrase because of the plague of injuries caused by the hold.
13. Frank Mir Snaps Tim Sylvia's Arm in Half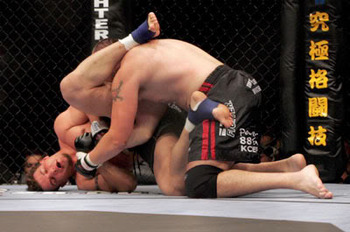 When Herb Dean jumped in to stop the fight before Sylvia tapped out, the crowd, and people watching on pay-per-view, didn't understand why the fight was stopped so suddenly. But once the replay was shown to the crowd and everyone at home, there was a collective "OHHHHHHH!" from just about everyone in attendance.
Herb Dean either saw Sylvia's forearm snap, or heard the "pop" that came from his arm. When they showed the replay to the people watching from the comfort of their home, they were also able to hear the sound of Sylvia's arm getting snapped like a twig.
The injury ended up causing Sylvia having steel rods put in his arm to hold it together. He claimed that it helped him punch harder.
Sure Tim, whatever you say.
12. Shinya Aoki Proves That He Has a Mean Streak
Aoki is famous for crying more than an infant baby. Win or lose, it was a safe bet that he would start crying while addressing the crowd following a match.
This time around, Aoki proved that big girls—I mean big boys—don't cry.
Half way through the first round, Aoki slapped a kimura on Hirota. Hirota refused to tap, so Aoki did what any caring person would do: He broke Hirota's elbow.
To add insult to injury, the man wearing a pair of tights he stole from my sister back in the 80's ran around the ring, flipping off Hirota and his cornermen.
Just for the record, one display of your mean side doesn't take away the fact that Aoki cries more than a theater full of women watching whatever tear-jerker is in the theaters now.
11. She Really Should Have Tapped out
Despite her loss against Zoila Frausto in the finals of Bellator's first women's tournament, many people still consider Megumi Fugii to be the best female fighter in the world.
Her ground skills are second to none. She put those skills on display against a fighter whose name I could not find.
In retrospect, when Fugii locked in this foot lock, she should have really considered tapping out.
10. Amateur Fighters Are Mean Too
Tuff-N-Uff is Las Vegas' biggest amateur promotion. They regularly put on solid shows and showcase some of the hottest up-and-coming fighters.
Now I have no clue who either of these guys are, but the guy on top is just mean.
Is it just me, or should the referee have stopped the bout before the guy's arm went kaplowee? They are just amateurs after all.
9. Corey Hill Redux
Ouch! I don't know what else to say.
Actually, I can think of things to say, but I'm going to keep this rated PG.
8. What a Way to Win a Championship
This video is from Rio Heros VII. This promotion was the last known pure Vale Tudo promotion.
In this fight to determine the winner of the one-night, eight-man tournament, the guy who won put an exclamation point on his victory.
I'm not going to ruin the surprise this time. You'll just have to watch it to see just how his arm broke.
7. Did His Neck Actually Break?
At first glance, it seems that the guy with the gi on just got knocked out. But then again, I'm not a doctor.
Check it out and form your own opinion.
6. It's a Mystery
Honestly, have you been watching all the videos?
If you haven't already, you're going to have to watch this one to see what happened. If I had to watch all these nasty injuries while putting everything together, you're going to at least watch one video gosh darn it!
5-1. Bones Shouldn't Break Like This!
To finish off this marvelous work of literary genius, I found this video which contains five cases of people who need to add more calcium to their diets.
Remember everybody, milk does a body good.
Keep Reading