NHL: What Each Team's Fans Will Need to Make It Through the Playoffs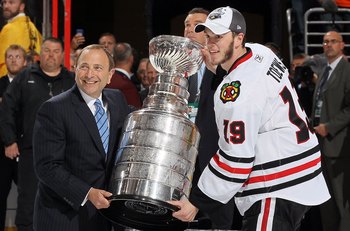 Jim McIsaac/Getty Images
The NHL Playoffs can be an intense experience—especially if your beloved team is in the mix. The playoffs provide euphoric highs and devastating lows. A moment of rage can quickly be followed by a moment of bliss, and a grown man can be turned into a sobbing child with a single hit.
This roller coaster of emotions can often be too much to handle for fans who are not prepared. I felt it would be useful to let fans of the 16 playoff teams know what they will need most to make it through the next number of weeks without being committed to a mental institution.
What Capitals Fans Need: Pie
The Capitals actually won this game, Justin Bieber just happened to be walking by.
Len Redkoles/Getty Images
Humble pie, to be precise.
It's important to not get too arrogant, because should your team lose in the first round to the eighth-seeded team, it makes the loss that much harder. So, stay humble. Cheer on your team, but don't get cocky. Anything can happen in the postseason.
What Rangers Fans Need: Confetti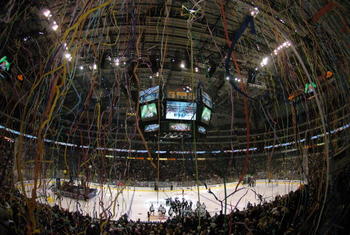 "Why did I drop out of business college?" wondered the lonely janitor.
A. Messerschmidt/Getty Images
Rangers fans, your team got in by the skin of their teeth. Not to say that upsets don't happen, but you should be treating this as your big victory. So go celebrate like it's 1994.
What Sabres Fans Need: Boxing Gloves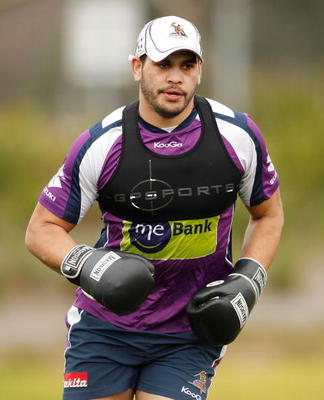 Although not very fashionable or masculine, the sports bra came free with the boxing gloves. Everyone loves a deal!
Scott Barbour/Getty Images
Playing the Flyers can be a very frustrating experience. It's almost certain that, at some point during the series, every Sabres fan will have punched a table, a wall, a loved one or a fish while screaming "Damn you, Pronger!"
Boxing gloves will protect your hands from the all-but-certain abuse you will inflict on them.
What Flyers Fans Need: A Shower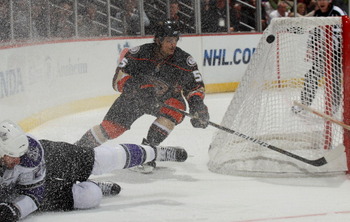 If you're wondering why I chose this picture, I searched for "hockey showers," then quickly realized what I had done, and chose the first picture without looking. Phew.
Stephen Dunn/Getty Images
What Bruins Fans Need: A Michael Bolton CD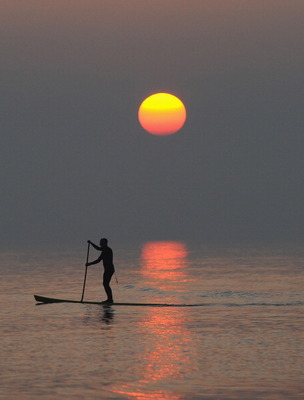 Start chanting, "Ohm. The Canadiens are nothing to fear. Ohm." Repeat.
Mike Hewitt/Getty Images
For Bruins fans, playing the Canadiens in the playoffs can bring back some painful memories. That's why it's important to relax and not get too stressed about it just yet. Throw on some Michael Bolton, light some candles and have a calm, relaxing moment before each game.
What Canadiens Fans Need: Security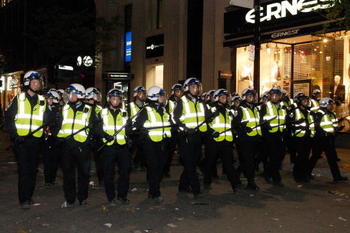 "I'm so glad we coordinated our outfits. We look SO GOOD!"
Richard Wolowicz/Getty Images
This isn't just for Habs fan; this is for anyone near them. Canadiens fans are infamous for their rioting abilities. They lose, they riot. They win, they riot. They finally find that sweater they lost weeks ago, they riot.
Get the tear gas ready. The Habs are looking for another run at the Cup.
What Penguins and Lightning Fans Need: Cough Drops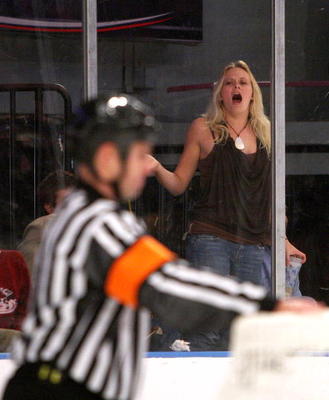 "I'M IN A GLASS CASE OF EMOTION!"
Bruce Bennett/Getty Images
This is likely to be a very exciting series featuring two very talented teams. So, whether you're at the games or watching on TV, it's likely that you'll be doing quite a bit of yelling. Better take care of your throat, because this series could be a long one.
What Blackhawks Fans Need: Beer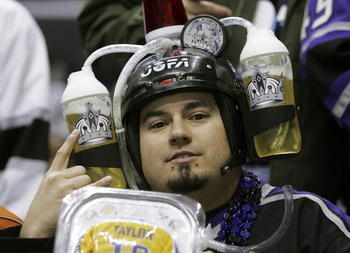 "My mom would be so proud of me if she wasn't passed out in the next aisle."
Bruce Bennett/Getty Images
You've had to trade a lot of your good players away, and you barely sneaked into the post-season. But you've got your cup. Have some beer, sit back and enjoy.
What Canucks Fans Need: Ritalin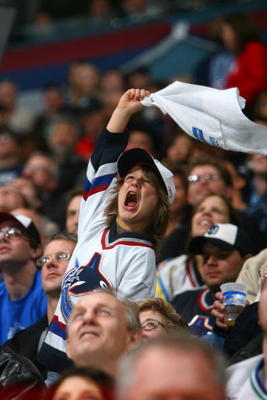 He just found out that his parents had to empty his college savings to buy him a ticket to that game.
Jeff Vinnick/Getty Images
Calm down. Everyone, just calm down.
Okay, we've got the number one team in the league, great depth, individual award winners and our best prospects to win a Cup in years.
But chill.
Yes, we've never won a Cup, and we're starting to get a little antsy, but chill. Deep breaths. If we expect the Canucks to play into June, we can't be losing our minds and screaming every day. Save it for game day.
What Sharks Fans Need: A Sense of Humour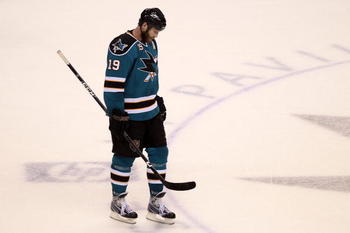 Will this be the year that people stop asking "Will this be the year that San Jose finally gets that monkey off their back?"
Ezra Shaw/Getty Images
Great teams, bad results seems to be San Jose's claim to playoff fame. Sharks fans, maybe the hockey gods just don't want you to win. So try to not be too serious about it.
What Kings Fans Need: Voodoo Dolls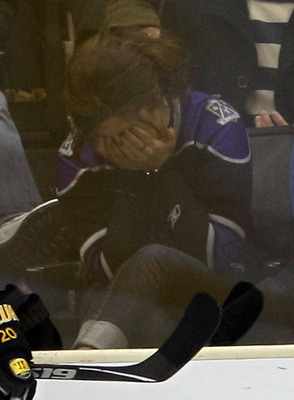 She just realized that Gretzky no longer plays hockey anymore, let alone for LA.
Bruce Bennett/Getty Images
With some key injuries up front, the Kings are facing an uphill battle. Fans better get out their voodoo dolls in hope of leveling out the playing field.
What Red Wings Fans Need: Nothing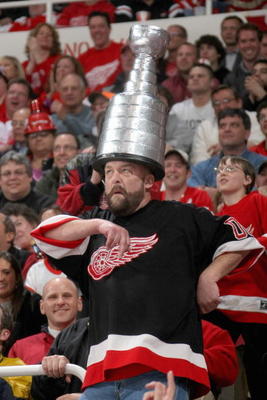 The result of a horrifying welding accident has become a fan favourite each spring.
Dave Sandford/Getty Images
You've been down this road before. Playoffs and the Red Wings go together like golfing and the Maple Leafs, or complete apathy and the Thrashers. Enjoy the playoffs. You can handle this.
What Coyotes Fans Need: Tickets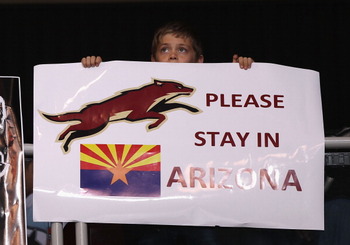 Aww, how cute. He actually thinks NHL owners care about their fans!
Christian Petersen/Getty Images
Your team may be leaving soon, so you might as well go see them while you still can. Although, if you had been doing that all along, they probably wouldn't be leaving...
What Ducks Fans Need: The Mighty Ducks Trilogy on DVD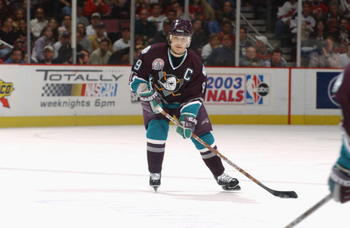 Who would have thought that Emilio Estevez would have had such a huge impact on this sport?
Dave Sandford/Getty Images
This is actually a must for all hockey fans. I'm really hoping that a "Flying V" chant starts at least once during the playoffs.
What Predators Fans Need: Barbecues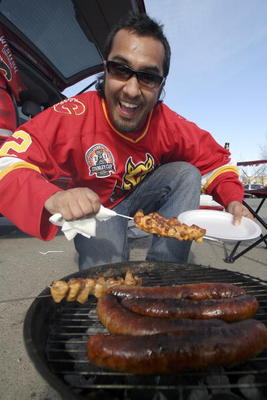 Borrow his, he won't be needing it for this year's playoffs.
Tim Smith/Getty Images
You're in tailgating country, might as well take advantage of it! Cook up some steaks and hot dogs so you can thoroughly enjoy your team not making it near the Stanley Cup!
Keep Reading