Nebraska Football: Reviewing the 2010 Nebraska Spring Game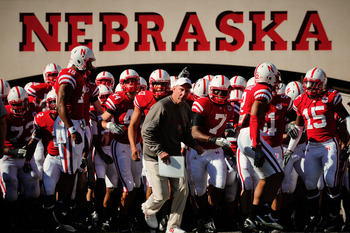 Eric Francis/Getty Images
Hey Nebraska fans, or just regular college football fans, I decided to start writing again after taking two months off. I know you were all emotional devastated right? Right? Oh well...
Anyway this week is the final week of Spring practice for our beloved Nebraska Cornhuskers. In honor of this week, which is the last we have any football action until the fall, I decided to look back upon the 2010 Spring Game.
The 2010 Spring Game had a lot of hype, as the Nebraska offense in 2009 was the worst it had been decades. The only reason that Nebraska had a good season was that it's famous Blackshirts defense kept them in games, and the offense was able to do enough to win. Oh and they also had the most accurate kicker in NCAA history which definitely helped.
So with that quick recap, let's review the previous Spring Game.
Quarterbacks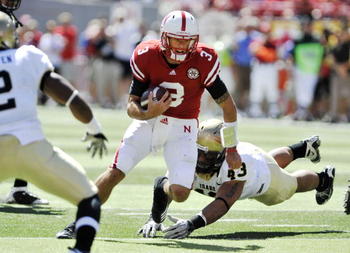 Eric Francis/Getty Images
Taylor Martinez (Red)
The 2010 Spring Game is where Husker Nation first caught a glimpse of what would be known, at least for a short while, as "T-Magic". While he did not break out any huge touchdown runs like he did against Western Kentucky, he did gain 60 yards on 9 carries, with a long of 13. Martinez passing, was what we saw during the year, moments of brilliance and others of not so much. Taylor went 5-9 for 72 yards with two touchdowns and one interception. Half of these yards came on a pass to Brandon Kinnie, who caught it and then dragged himself and other defenders into the end zone for a 36 yard pass.
Cody Green (White)
Cody Green entered the Spring Game as the favorite to win the starting job, as the previous starter Zac Lee was out for the summer. Green was definitely not as good as Martinez on the ground, with five carries and only gaining 12 yards. Passing, Green went 7-15 for 155 yards with one touchdown. Most of these yards came off a good play to Will Henry who took it 72 yards to the house.
Other Quarterbacks: LaTravis Washington was the ledaing rusher for the White squad, gaining 38 yards on six carries. Kody Spano was 7-8 for 66 yards and a touchdown for the Red squad. Ron Kellogg was 2-2 for 26 yards and added another 16 yards on the ground for the Red Squad.
What to take away:
Martinez showed he was a dual threat quarterback, but with more of a running element, and he inserted himself into the QB race and ended up with the starting job. Can someone supplant Martinez this year? Maybe Brion Carnes?
Running Backs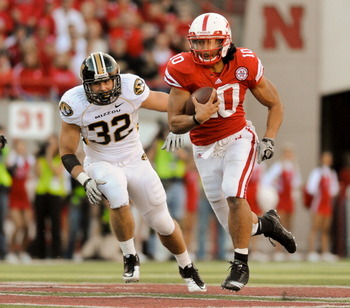 Eric Francis/Getty Images
Quick fact for the 2010 Spring Game, neither team scored a touchdown on the ground.
The two workhorses for Nebraska last season were not used that often during the Spring game. For good reason, Burkhead and Helu were irreplaceable last season and an injury would have been really bad, but this is also a time for others to shine.
On the Red Squad Rex Burkhead had 36 yards on six carries, followed by Austin Jones with 27 yards on 13 carries, and Lester Ward with 16 yards on four carries.
The White Squad had Collins Okafor who led the running backs with 25 yards on seven carries, followed by C.J. Zimmerer with 21 yards on three carries and Roy Helu Jr. with 21 yards on five carries, finally Dontrayveous Robinson had four yards on one carry.
What to take away:
Here are the stats for Running backs not named Helu or Burkhead. Robinson, 67 yards on 24 carries, Jones, 58 yards on 14 carries and one touchdown, Ward and Okafor had one carry each and two yards a piece. Helu, now the 4th all time rusher in school history is gone, and so is Robinson. Nebraska has three new backs coming in, put none will be a part of the Spring Game. It's the last chance for some of these backs, and they to show the coaches what they can do and earn playing time.
Wide Recievers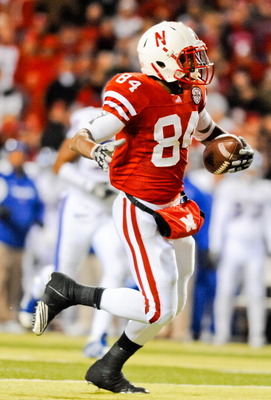 Eric Francis/Getty Images
The Red Squad was much different than the White Squad in receivers. The White Squad was highlighted by Niles Paul, who had a 100 yard game on five catches, Will Henry came in next with 79 yards on two catches and KC Hyland with 57 yards on three catches. The top receivers on the White squad were that, receivers.
The Red Squad had Kyler Reed who had 47 yards on four catches, Brandon Kinnie had one catch for 36 yards, Austin Jones had 28 yards on two catches and Robert Barry had two catches for 26 yards. The Red had much more diversity amongst its receivers, with one wide receiver, a running back and two tight ends as the top pass catchers.
What to take away:
The Spring Game saw the emergence of two of the top receivers in the 2010 season, Kyler Reed and Brandon Kinnie. Kinnie tied for the most touchdown catches in a game against Oklahoma State with three. Kyler Reed provided a mismatch for linebackers and set a record with eight touchdown catches for tight ends.
The other top performers in the Spring Game barely saw action in the 2010 season, besides Nile Paul. Hyland did not accumulate any stats, Henry had 32 yards, Jones had no catches, and Barry did not play. So performing well, does not necessarily mean that you will have playing time, but performances by Reed and Kinnies definitely helped them gain starting spots.
Defense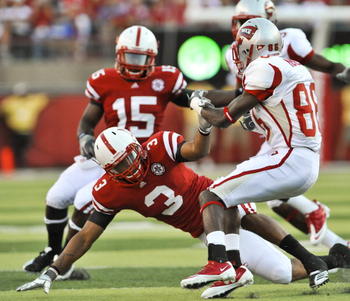 Eric Francis/Getty Images
The White squad had a total of 12 tackles for a loss, accumulating 32 yards against the Red squad. The big playmaker on the defense for the day was Ricky Thenarse on the White Squad, who recorded an interception and forced a fumble. Dejon Gomes and Austin Cassidy both recorded a pass break up.
The Red squad had a total of five tackles for a loss, accumulating 10 yards against the White Squad. The Red Squad had no turnovers, Seth Jameson and Will Compton each had a pass breakup.
What to take away:
The would be starters for the 2010 Blackshirts did not make that a big of an impact in the Spring Game. While Thenarse would make some big plays during the game, he was eventually replaced and benched mid-season for Austin Cassidy. What to watch in the Spring game are the individual performances of the players, but not to put too much stock in it. Crick, Meredith, Meredith, Amukamara, and Dennard did not make any plays put they ended up as some of the most important players and well known players.
Kicking
Eric Francis/Getty Images
Adi Kunalic and Alex Henry were the kicking stars of 2010. Henry did not attempt any field goals, and Kunalic connected on three of five.
For punting Henry split time with Tyler Dakke. Henry had two punts with an average of 23 yards, while Dakke had one for 46 yards. On the White Squad, Brett Maher had two punts for an average of 37 yards.
What to take away:
Alex was automatic on field goals and extra points, while Adi was awesome at kickoffs. Henry also handled punts and was great at that as well. Now that they are both gone someone needs to step up as the kicking specialists.
Wrap-Up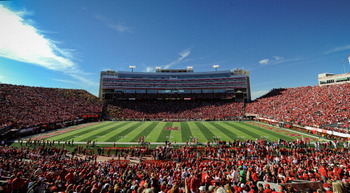 Eric Francis/Getty Images
The Spring Game saw the emergence of several playmakers. Martinez emerged as a contender in the Quarterback competition. Kyler Reed showed some great speed at Tight end. Brandon Kinnie also showed that he was a good wide receiver.
The upcoming game will no doubt lead to the emergence of new playmakers for Nebraska, that will become household names next fall. We will also have some questions answered to the new offensive scheme that Tim Beck will be running, but not all of it. As Pelini has said he does not want to give up any offensive secrets to any of the upcoming teams on the 2011 schedule.
There you go, hope all you Husker fans enjoyed my article.
Keep Reading

Nebraska Huskers Football: Like this team?