UFC in 2011: Power and Prowess, Top 15 Striking Displays so Far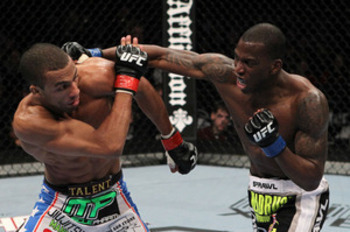 2011 is shaping up to be the UFC's best year yet. Every year that the sport grows, so does the breadth of fighters and depth of skill.
The fighters in the UFC have been putting on a show this year.
There are some fighters that you would expect to see on a list like this, but there might also be a few surprises.
Let me know who you feel I may have overlooked.
These are the top 15 striking displays in the UFC so far.
Honorable Mention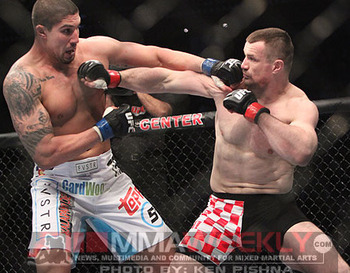 Luiz Cane over Eliot Marshall
Ross Pearson vs Spencer Fisher
Brendan Schaub vs Mirko Filipovic
Jeremy Stephens' 3rd round over Marcus Davis
Pat Barry over Joey Beltran
15. Johny Hendricks over TJ Waldburger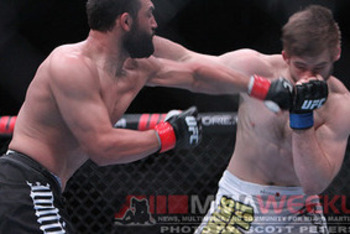 Underestimate Johny Hendricks's striking at your own peril.
Hendricks threw a nasty shot right on Waldburger's chin, and it dropped him like a sack of potatoes.
14. Dennis Siver over George Sotiropoulos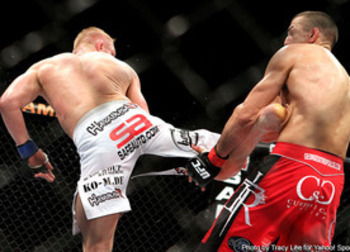 Siver was a major underdog to the rising star of George Sotiropoulos, but stuck to his plan and surprised almost everybody.
Most knew that Siver was a dangerous striker, but what was impressive was his ability to make Sotiropoulos play his game.
In the stand-up department, Siver was essentially serving a clinic as he controlled almost all of the stand-up action and took a unanimous decision victory.
13. Matt Mitrione over Tim Hague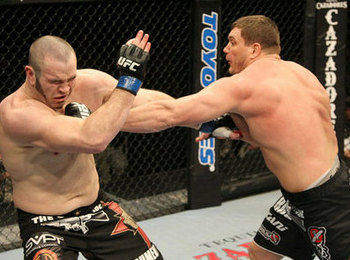 In his post-fight interview, Mitrione said he wanted to be the heavyweight version of bantamweight champion Dominick Cruz.
I have to admit, I think he did a really good job of achieving that.
Mitrione bounced around and threw hard fast punches that made dangerous veteran fighter Tim Hague look quite a bit overmatched.
This former NFL player might be one of the best heavyweight strikers in the division.
12. Martin Kampmann vs Diego Sanchez
I am in the camp of people that believe Kampmann should have taken the decision over Diego Sanchez.
Kampmann used great technical boxing to solidly drop Sanchez in the first round and thoroughly batter him for the rest of the fight.
Although not as technical, Sanchez was still effective with aggressive striking and was able to land some big shots on Kampmann.
An amazing fight where technical skill and aggression collided for a bloody good fight.
11. Brian Stann over Chris Leben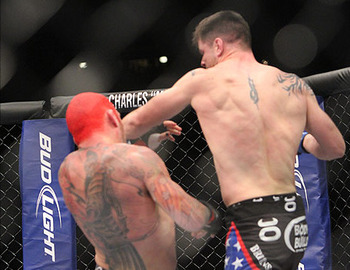 Chris Leben is notorious for being able to walk through strikes winging unconventional punches.
It is an amazing style, but does not work so well when your opponent throws straight punches and has the power of Brian Stann.
Regardless that Leben was also battling through illness, Stann put on one of the most impressive and emphatic striking showcases of the year.
10. Erik Koch over Raphael Assuncao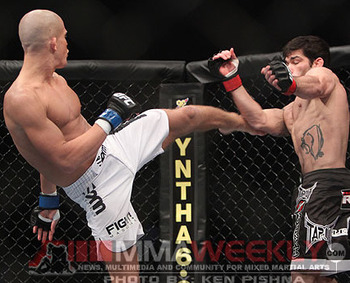 Lessons that should be learned from the Chuck Liddell era:
If you are a grappler, do not chase a talented striker around the ring.
Raphael Assuncao did that, and he got knocked unconscious for the first time in his career.
9. Mark Hunt over Chris Tuscherer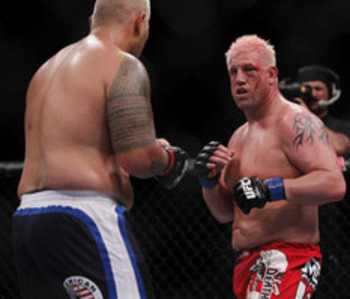 Most people had written good old Mark Hunt off as a has-been, but the former K-1 champion and kickboxing veteran showed he still has the goods to put people to sleep.
Tuscherer just could not compete with Hunt on his feet and was battered for the first round.
In the second round, Hunt finished the job with a devastating upper-cut that left poor Tuscherer looking for directions back to planet earth.
8. Cyrille Diabate over Steve Cantwell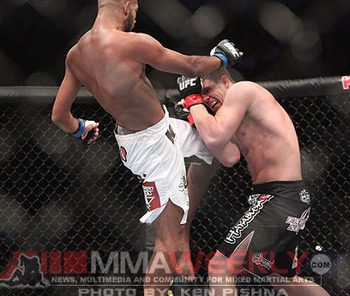 Steve Cantwell is a respected kickboxer in his own right, but by Diabate's right, Cantwell looked mediocre.
Diabate simply outclassed Cantwell in a kickboxing clinic.
Cyrille Diabate is 6'6'' and a long time veteran of the kickboxing circuits. There just aren't many fighters who can hang with him in standing exchanges.
7. Gray Maynard's First Round over Frankie Edgar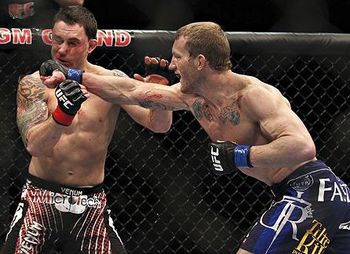 In the first round of their lightweight title fight, Maynard lit Edgar up in a way that no one had ever seen or even thought was possible.
The powerful lightweight bashed the champion from pillar to post with all manner of power punches.
Although Edgar would recover and battle back in the subsequent rounds, Maynard's first round was one of the worst striking beatdowns in recent memory.
6. Mark Hominick over George Roop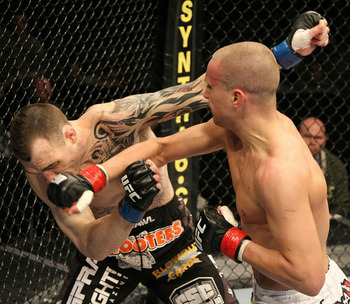 A passionate student of the striking arts, Mark Hominick crushed George Roop with aggressive and accurate strikes earlier this year.
Roop had never been KO'd, but Hominick knocked him silly and left him wobbling around the cage after the fight was stopped.
The impressive striking display earned Hominick a title shot. Two of the divisions best strikers will clash when he meets Jose Aldo for the featherweight title.
5. Dustin Poirier over Josh Grispi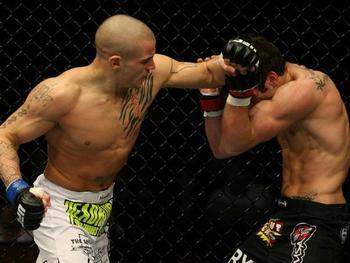 Grispi was a considerable favorite over the relatively unheralded Dustin Poirier making his featherweight debut.
Not only did Poirier give Grispi problems, he beat him up for three straight rounds.
Although Grispi has had some success striking in the past, he could not find an answer for Poirier's striking arsenal.
Just as Grispi would start to recover from devastating blow, Poirier would land another, and another.
Grispi proved to be a resilient fighter surviving the onslaught, and Poirier proved to be a major threat to the featherweight division.
4. Melvin Guillard over Evan Dunham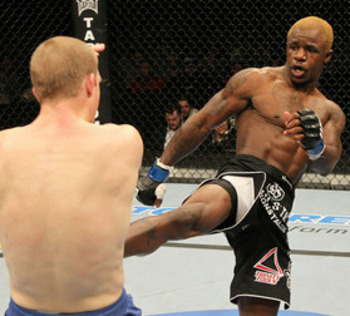 Another underdog who overwhelmed the favorite with strikes.
Long regarded as one the lightweight division's best knockout strikers, Guillard is getting much better at managing the fine line between patience and aggression.
Guillard punished Dunham for his mistakes, and then stayed on him, refusing to let him off the hook.
Instead of rushing in and over-committing, Guillard found more openings and put Evan Dunham down and out for the first time in his career.
3. Edson Barboza vs Anthony Njokuani
What do you get when you put two of the lightweight division's best kickboxers in the cage together? You get one of the best striking displays of the year.
Exchanging punches and kicks for three rounds, these two warriors each took and gave a beating.
They fought up until the very last second as Barboza mostly connected with a back spinning wheel kick right before the bell.
Barboza earned the decision, but both fighters should be treated as winners.
2. Jon Jones over Mauricio Rua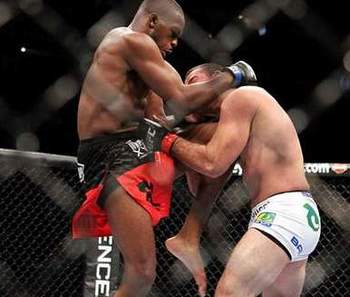 Young Jon Jones challenged one of the best strikers in the history of the sport and overwhelmed him by way of his own strikes.
Although he mostly controlled the second round with wrestling, Jones' striking was especially brilliant in the first and third rounds.
From Jones' knee at the opening bell, Champion Rua could not seem to get anything going throughout the fight.
Jones' power and creative striking was one of the best displays of striking in MMA history. Many would put this display against Rua as No. 1, but there's only one man who could top him.
1. Anderson Silva over Vitor Belfort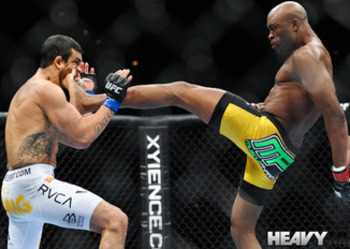 Anderson Silva and Vitor Belfort are two of the most devastating strikers in the history of the sport, and the two most devastating strikers currently fighting at middleweight.
When they met for Anderson's coveted middleweight championship, somebody was going down.
At first they patiently circled to feel each other out. Then a raucous flurry and scramble.
As they reset, Anderson found his opening that only a mastermind like him could exploit.
A devastating front kick to Belfort's jaw separated him from consciousness, and some obligatory punches on the ground sealed the deal.
It was destructive and violent, but it was beautiful and poetic.
Keep Reading