Kobe Bryant to Retire from NBA Basketball in 2011?
April 6, 2011

"Tryin to get that Kobe No. 1 over Jordan."
This line dropped by Kanye West in hit rap song describes perfectly why Kobe, with or without his sixth NBA championship ring, won't be retiring at the end of the 2011 season.
Currently, there have been several rumors floating around that Bryant very well could follow Phil Jackson into retirement, as long as Kobe wins his sixth Championship. Regardless of whether or not Kobe captures his sixth championship, he will not retire. It's that simple. Let me explain why:
Kobe Bryant is chasing Michael Jordan's legacy. Everyone knows that. It shouldn't even be a question. But it is not just catching Jordan's legacy that Bryant wants.
"I don't want to be the next Michael Jordan, I only want to be Kobe Bryant."
Kobe said it himself. He wants more. He wants to be better than Jordan. He wants to be remembered as the greatest player of all time. Essentially, he wants to beat Jordan.
Now, I am not here to discuss the opinions of whether or not beating Jordan is possible, but I can tell you that Kobe won't stop until he thinks he has passed Jordan. Again, like Kanye said:
"Tryin to get that Kobe No. 1 over Jordan"
Not buying it yet? Let's brainstorm.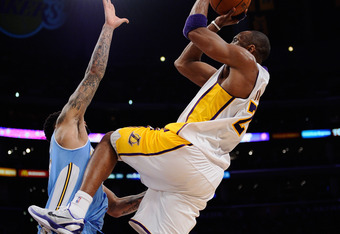 Kevork Djansezian/Getty Images
Michael Jordan's jersey number was the famous 23. Kobe Bryant chose the number 24...the number that is one higher than Jordan's. See where I am going? In the Olympics, Jordan had the number 9 as his jersey number. Bryant chose 10. Yet again, the number that is one greater than Jordan's.
I think it's safe to say that in this situation, "mere coincidence" of the numbers is not a valid conclusion. Kobe is doing Lakers" href="http://bleacherreport.com/articles/419011-kobes-lakers-perhaps-the-best-team-in-the-past-decade">everything he can to prove that he is better than Jordan. But merely making sure your jersey number is always a number higher than Jordan's won't do the trick. He will have to play better than Jordan. He will have to win more than Jordan. And Kobe knows this. He himself said:
"I wanna be the best. I wanna be the best simple and plain. And to be the best you have to win, and that's what drives me"
But Kobe has to do a lot more than just win. In order to surpass Michael Jordan, Kobe would need to win seven NBA titles. Currently, Bryant has managed to get five championships under his belt...one less than Jordan.
And that's the thing. Because even with a possible sixth NBA title this year, Kobe would still only have tied Jordan. That isn't enough for Kobe. I think we can all agree on that.
Kobe Bryant is one of the most competitive athletes to ever live. Merely matching Jordan would not satisfy his hunger. It is simply unfathomable to think that he would stop now. As the people who have watched him play can attest, he never stops. Never. I think Kobe himself put it best:
Dilip Vishwanat/Getty Images
"What I'm doing right now, I'm chasing perfection".
We all know that MJ wasn't perfect. He made mistakes and he missed shots. And for Kobe to come out with a comment like that clearly states that he won't stop until he is the best. Not just the best one playing, but the best of all time.
Of course, plenty of fans would argue that with Phil Jackson leaving, (which is very likely) would just be another reason for Bryant to retire at the end of the season. When I hear things like that, I have to smile and laugh. The logic makes no sense. Let me explain:
Take away Phil Jackson and neither Kobe Bryant or Michael Jordan have any NBA Championships. None. Neither Jordan or Bryant has ever won a NBA title without Phil Jackson. If Phil retires, this would be Kobe's one huge chance to show the world that he can do something that Jordan never did. He could win without Phil. He could get his seventh ring (one more than Jordan), doing it without the greatest coach in NBA history.
So, I think it would be safe to conclude that the idea of Kobe retiring after this season is pretty much not worth thinking about. If he wins the championship, he will set his eyes on getting the ring that would top Jordan. If he doesn't win the championship, he will set his sights on winning the next year, because there is no way that Kobe would EVER let Jordan remain above him.
Now, whether or not Kobe will ever be considered to be a better player than Michael Jordan is a discussion for another time. However, I think it is safe to say that there is nobody currently better than Kobe Bryant. And it will be a blast to watch him try and reach his goal. I have turn to a comment from President Barack Obama. Although he states my exact thoughts, his words will have more of an impact than mine ever could:
"Kobe Bryant is the best player in the world and is basically unstoppable when his game is on" 
Kobe Bryant is a phenominal player and there is no doubt about it. He has made basketball fun to watch year after year. His motivation and tenacity are unrivaled. Whether you like him or not, you can't help but respect the guy. As Gil Meriken said:
"There are no 'Kobe Lovers,' just people who are right."
Kobe isn't done. Stay tuned as his legacy continues this year and into the future.