Arsenal FC: 8 Things Arsene Wenger Must Do This Summer to End Trophy Drought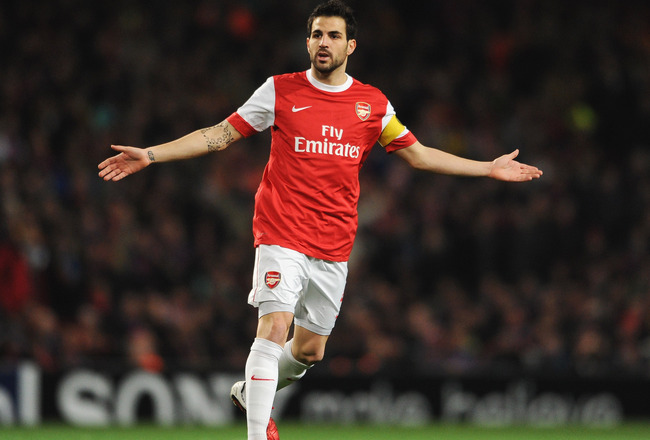 Jasper Juinen/Getty Images
While many supporters undoubtedly contend the main thing Arsene Wenger needs to do this summer to end Arsenal's perpetual lack of silverware is toss himself in the Thames, for the sake of this discussion, we will be operating on the premise that the club's longest-tenured boss will indeed return for at least another season.
There has been nothing to indicate otherwise, save for a few cryptically vague comments following the latest debacle, a 0-0 draw with Blackburn.
That being said, clearly there are holes in the squad one could drive a Cadillac through. Now that it seems only divine intervention can produce any new additions to the trophy case at the Emirates this season, the clamor for change to the squad is rapidly reaching a deafening crescendo.
There are questions looming at nearly every position and clearly deficiencies that need to be addressed. So what's to be done? We already know that a massive spending spree is out of the question, unless some high-value players are sold, and that option will be very much on the table this summer.
Another common criticism is Wenger's maddening loyalty to certain players who have shown time and time again that they aren't quite up to the task of playing for a top-class club like Arsenal. Think Denilson. Think Denilson, and cringe.
Abou Diaby also comes to mind. Although at least he can be relied on for a serviceable performance or two per campaign. Whether it's between the sticks, at center back or up front, there are a number of steps that can potentially be taken.
Here's what I think needs to go down at the Emirates this summer.
Wenger Must Clarify the Situation in Goal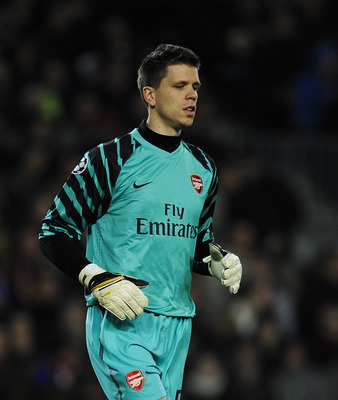 fabregas
David Ramos/Getty Images
The shaky play of Arsenal's net minders has arguably cost the Gunners the Carling Cup already and is a major reason why they have fallen out of the driver's seat in the race for the Premier League title.
While certainly not wholly to blame, the play of Manuel Almunia and Wojciech Szczesny has been somewhat less than inspiring between the sticks and conspicuously riddled with costly errors. To be fair, the young Pole displayed quite a bit of promise before suffering a dislocated finger in the second leg of Arsenal's Champions League tie with Barcelona.
Although, he does bear some of the blame for Obafemi Martins' late winner for Birmingham in the Carling Cup final.
With speculation that Almunia may leave the club this summer running rampant and Arsene Wenger's signing of 41-year-old Jens Lehmann only serving to further muddy the waters, whether you believe the erratic Almunia is still the answer and the Gunners need nothing at this position, or you're of the mind that Szczesny presents a better option, it is hard to argue that it wouldn't be in everyone's best interests to clarify the situation in goal sooner rather than later.
It can only serve as another distraction to a group of players who were always going to have the weight of the world on their shoulders.
Whatever avenue the Frenchman elects to traverse, my feeling is that he should act swiftly and decisively as soon as the season is over. If he wants to continue with Szczesny and perhaps add another young keeper to challenge both his Polish backstops (Lukasz Fabianski of course being the other), then he shouldn't tarry too long at the well of hesitation. Nothing good comes from all the uncertainty.
If he wants to bring in a new No. 1, fine. Again, decisive action is the best course to pursue. The same holds true if Wenger still believes Almunia is the guy. Decisive action. Issue a statement to that effect. Say you have no intention of getting rid of the Spaniard until his contract is up, which is pretty soon anyway.
This all may be a moot point as far as Almunia is concerned, as club legend Bob Wilson revealed in March that Wenger lodged a sizable bid for Liverpool keeper and Spain international Pepe Reina last summer, indicating that, despite his public posturing, he is far from content with the status quo.
Whatever course Arsenal's boss elects to take, the Gunners need to enter next season with some semblance of stability between the posts.
A Dominant Presence Should Be Brought in to Bolster the Back Line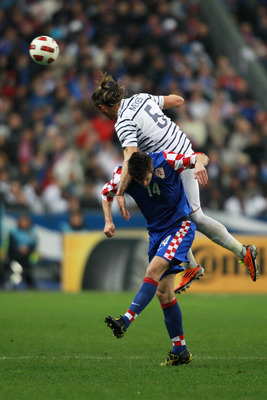 fabregas
Dean Mouhtaropoulos/Getty Images
Here is an area where there is little disagreement. I have yet to encounter many fans who can honestly say they have much faith in the current corps of center backs at the Emirates being solid enough for the club to achieve its goals. The current campaign bears this out, as the normally rock-solid Arsenal defense has become a real area of concern.
The club added Laurent Koscielny and Sebastien Squillaci during the offseason to help fill holes vacated by Mikael Silvestre and William Gallas, both of whom left at the end of 2009/10. With Johann Djourou and Thomas Vermaelen both being lost for large parts of the season, Koscielny and Squillaci have been left to shoulder much of the defensive load and have looked unsteady at times and downright dreadful in others.
Although logistically, picking up a top-flight center back will be tricky since Wenger has stated his reluctance to pay the wages of five at the position, not including Alex Song.
The style that of play that he favors screams out for a dominant defender in the middle, however, as the forward pressing full backs have a tendency to leave the CB's exposed, and Squillaci and Koscielny have been hard pressed to respond to the pressure.
For my money, I think an investment in another defender would be a sound one. Even if it means jettisoning one of the ones already on the roster. Say, Raul Albiol isn't playing much at Madrid these days is he? Didn't I hear rumblings that Wayne Heitinga may leave Everton?
The question must be asked: Can Arsenal win with the CB's they have now? I say no. I'm confident that Wenger will see it the same way.
Here's hoping he does, as the importance of this area can't be stressed enough.
Dump Denilson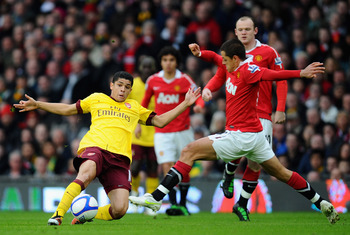 Clive Mason/Getty Images
Again, I'm not expecting a lot of dissent on this point. Denilson is ostensibly a holding midfielder, though he struggles mightily to hold the ball when he is on the pitch. He makes boneheaded passes, and has been an unqualified washout at the Emirates. I have no doubt that some club will find his lethargic approach to the midfield appealing, but in a Gunners jersey he is absolutely useless.
Wenger's record with young players is so good that it scarcely needs defending, but as far as Denilson is concerned, its time for the manager to cut his losses and call a spade a spade. Denilson's continued presence in the first team is a liability. Even Abou Diaby I'm willing to wait a bit longer on, simply because he's shown me more than has the Brazilian.
Its time to cut ties with the deadwood that is slowing the team down. This is especially apparent at this advanced stage of the season, when injuries often thrust backups into starting roles. I struggle to think of a single moment this season when Denilson ever looked an Arsenal player. Five seasons is enough. The guy is a stiff. Besides, with Jack Wilshire enjoying a breakout season, Denilson looks very expendable from where I'm sitting.
Dump him off for as much as can be had and invest in an actual holding midfielder who can provide solid cover to the first team.
In my opinion, getting rid of the players who aren't up to par is of paramount importance. Denilson isn't up to par. There have been reports of interest in the player from other clubs, so show the man the door. Instead of trying to force him into a role that he clearly can't fill, get someone who can.
Add Another Striker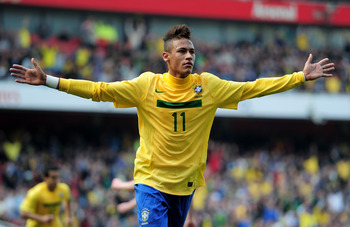 Jamie McDonald/Getty Images
This is admittedly not the area of highest concern by any stretch, seeing as Arsenal have scored more goals than any other club in the Premier League save for table-toppers Manchester United. That doesn't mean that the Gunners wouldn't be well served to explore bringing in another striker.
Nicklas Bendtner has been puzzling at times, and I'm not convinced he can be relied on should the infinitely thinkable happen and Robin van Persie be forced to the sideline with another injury. Over his seven seasons at the Emirates, van Persie has made just 147 appearances. That's an average of just over 20 per season. Over the past four years, the Dutch striker has appeared in more than 16 games in a season only once.
I feel the way to go is dump Bendtner and bring someone new in.
As you may have noticed, man in the picture is none other than fleet footed Brazilian starlet Neymar, he of the spurned Chelsea offer last summer. As we all know, when he makes what I feel is his inevitable jump to England, it will be for a large sum of money, as much as £30 million.
While that fact alone may seem to preclude the Gunners from the discussion and most pundits figuring the promising teenager for a Stamford Bridge switch, it's not entirely beyond the pale that Wenger finds himself in a position this summer where he might consider hijacking Chelsea and Man. U's pursuit of the deft forward.
If Arsenal lose either Samir Nasri or Cesc Fabregas during the offseason, rest assured it will be for a substantial sum. If they are unable to bring in players of equal ability in the midfield, a player like Neymar would present an interesting option in conjunction with replacement midfielders perhaps a rung below Nasri and Fabregas on the quality scale.
Napoli's Edinson Cavani, FC Lorient's Kevin Gameiro and Southampton's young prospect Alex Oxlade-Chamberlain are just a few of the other players who could potentially come into Wenger's crosshairs during the summer.
Re-Sign Samir Nasri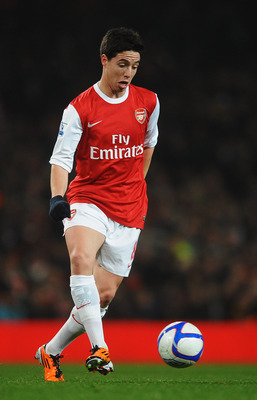 Laurence Griffiths/Getty Images
This should be one of Wenger's top priorities. Nasri has emerged as possibly one of the best attacking midfielders in the world. The France international's dazzling footwork and pace have exposed many a defender this season.
Although slowed down a bit from his torrid pace of early on, Nasri looks like he's just about to light the world on fire. He can play both in a central role, or cutting in from the left, and can be absolutely spellbinding to watch.
His contract runs until 2012, but his future has come into speculation over the last several months, as it was erroneously reported on several occasions that Nasri had put pen to paper on a new contract that would keep him in North London for the foreseeable future, but the player has still yet to sign a new deal, and both Wenger and Nasri now maintain that no further discussions will take place before the end of the term.
I can't stress enough how important this is. With the possibility of losing Fabregas a very real one, Nasri would be a crucial component—even more so than he already is—if the thrall of Barcelona proved too much to resist for the Catalan captain.
I don't care what it costs. This guy is a brilliant player, and he needs to be retained. While it's certain that there will be other suitors lining up to try and secure his services, I believe he will stay with Arsenal if they are willing to pay him what he is worth, which is significantly more than what he currently earns.
With a player like that on the pitch, no opposing defender can afford to relax. When he is on the ball he attracts a lot of attention, and this alone is a valuable attribute.
Sign him.
Focus on Adding Veterans and Depth in the Transfer Window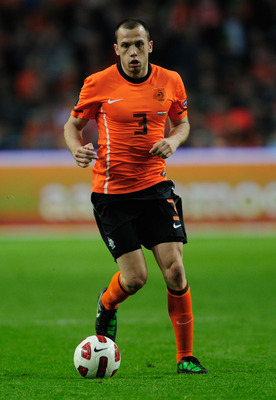 Jamie McDonald/Getty Images
As you may have noticed, many of the steps I have called for are decidedly un-Wenger like. This is another one. The team needs solid veterans who can come off the bench or start, depending on the situation, and they need guys who won't botch the job when it comes down to it.
I know these aren't the kinds of players he typically goes after, but hopefully the startling disparity between the starters and some of the backups can be narrowed a bit.
Arsenal needs a couple guys who have a track record of grinding it out over the course of the year; who know how to play with intelligence and skill and won't pick up red cards or give away penalties in tensely contested affairs. I would like to see Wenger strengthen the midfield and defense, and I'd like to see him opt for veterans.
More cover at full back, especially on the left side, as Gael Clichy, who is out of contract at the end of next season and has refused to discuss a new deal, is being pursued by several clubs at present. Obviously, my first choice would be to keep the French full back, but if that proves impossible, then there will be a glaring hole to fill.
Arsenal's longest-serving player, and before Jens Lehmann came back into the fold, last remaining member of The Invincibles, is pretty good at what he does. If he goes, filling his position will be of paramount importance.
With the promising Kieran Gibbs waiting in the wings but still probably at least another season away from cracking the first team, if Clichy chooses not to sign a new deal and end his Arsenal career, another starting left back should be acquired.
Nigerian Taye Taiwo is set to leave Marseille on a free transfer this summer, and it has been rumored that Arsenal are looking at the 25-year-old as a potential replacement should Clichy leave.
Sell Tomas Rosicky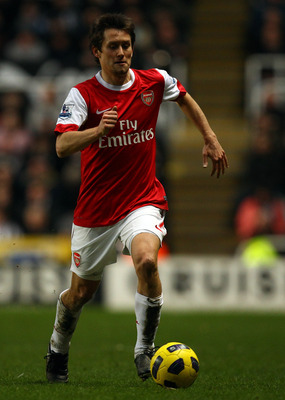 Richard Heathcote/Getty Images
This one is a no-brainer. Since suffering a hamstring injury that sidelined him for 18 months in 2008, the Czech midfielder has been a ghost of his former self.
He has had his hands full just to crack the starting XI this year and has looked off pace and erratic the majority of the times he has played. To be fair, clearly he still has some ability, but his skills have eroded just enough to preclude him from a major role next season with Arsenal.
While he would certainly be a valuable backup and just the kind of veteran player I have been harping on throughout these slides, he is nowhere near the player he was when he was brought in to replace the irreplaceable Robert Pires in 2006.
With the midfield already being a position choked with bodies, in my opinion, offloading the 30-year-old midfielder is the course of action the makes the most sense.
Get rid of him and use the money to bring in players who are still at the heights of their ability. Rosicky is still a quality player, and there will be teams interested in his services without question.
Sell.
Sell or Sign Cesc Fabregas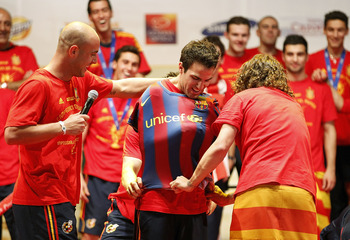 Angel Martinez/Getty Images
Look, I hate this as much as you do. I think Cesc Fabregas is one of the world's great talents, but there are several reasons why a parting of ways wouldn't signal the end of the world. Most notably the fact that it seems the player sees his own future away from the Emirates, with a move to Barcelona this summer looming as an all too real possibility.
Again and again, Wenger has expressed his desire to keep Fabregas, and the club said before the season that it wouldn't accept anything less than £50 million for the dynamic central midfielder, a figure the Blaugrana bosses balked at.
Nonetheless, there are really only two options as far as I can see. Arsenal's captain either completes a move for Barcelona, or he signs a long-term deal to stay in London. I can't see him going anywhere else.
Again, it truly pains me to say this, but his future must be decided this offseason, and my take on it is that the smart move is to sell him.
Combined with some, or all, of the other suggestions I have made regarding the dumping of certain players, the large sum that the sale of Fabregas would return will give Wenger quite a bit of flexibility in the transfer market, opening up the possibility of making a run at players like Neymar, Eden Hazard, Marek Hamsik or Yoann Gourcuff.
While I cringe at the prospect of Fabregas leaving, he's only averaged 23 EPL appearances per over the past three seasons, and while the Gunners are far and away a better side when he's on the pitch, the fact of the matter is that he isn't on the pitch enough.
The money that he will bring in will go a long way towards ending Arsenal's trophy drought, a lot further, I contend, than 23 league games a year from Fabregas will. He's a tremendous talent, and I wouldn't be at all conflicted about keeping him, but if there's one thing I know about Arsenal fans, it's that they don't want anybody who doesn't want them.
Strap on your helmets and get ready for the post Cesc era.
In Conclusion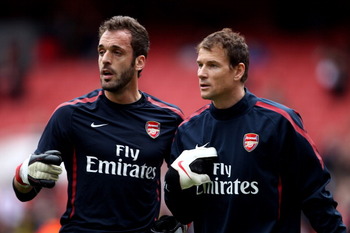 Julian Finney/Getty Images
While I fully realize that Arsene Wenger doing all of these things is about as likely as me wiping the potato chip crumbs off my beer-gorged gut and suiting up for the Gunners this weekend, I believe that any combination of the aforementioned points would be beneficial, unless, of course, all he does is sell. T
hat's not going to happen. Wenger would be publicly executed if, say, Nasri, Fabregas and Clichy bolted and only Leighton Baines or Taye Taiwo were brought in.
It's clear what the problems with the squad are, and I'm confident that Wenger will address them. I would like to see Raul Albiol, Eden Hazard and Kevin Gameiro brought on board. Nasri should re-sign and play in the attacking midfielder role.
Another area that could use improvement is the coaching staff. There are far too many nagging muscle injuries and things of that ilk. The medical staff must be strengthened or overhauled. That is obvious.
Not by any stretch does this mean that I have abandoned hope for the current term, not by any stretch. Mathematically alive is mathematically alive; it is a far superior position to be in then, say, mathematically eliminated. But even if a miracle occurred, and the Gunners somehow stole the Premier League from Manchester United, the issues in the team have been exposed this season.
For Arsenal to become the team the it looks so maddeningly close to becoming, these deficiencies will need to be addressed.
Keep Reading

Arsenal: Like this team?