2011 Masters Favorites: Ranking the Top 12 Golfers Most Likely to Win at Augusta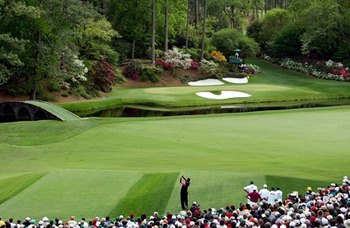 The premier golf sporting spectacle begins this Thursday at Augusta National golf course.
The Masters may not be representative of our new modern age, it may not endorse product placement or pesky rebellious youngsters wearing their baseball caps backwards, but it always serves as an illustration of the direction of the game and a measuring stick for an individual player's pretensions of a legacy.
It embraced the iconic dominance of Woods and Mickelson—and Nicklaus before them. Announcing and then punctuating their place among golf leviathans.
This year, however, it will just as quickly usher in a new dawn of parity, offering up a new pretender.
Finding that man, however, is an unenviable task, such is the depth in this year's field. Sifting through the deluge of contenders in the hope of finding a prospective 2011 Masters champion is like finding a standout candidate from a list of job hopefuls, all with no previous work experience.
It seems we can add the golfing gods to sports books' arsenal of impediments aimed at thwarting the cunning gambler.
Despite this there remains one indispensable weapon at our disposal allowing us to reduce some of the considerable leverage sports books possess. In an attempt to rank contenders and nominate a winner from the 2011 Masters field, only statistics allow us to find our way past any sight-based prejudice.
This should be the basis for any objective analysis. As Sherlock Holmes once said, "It is a capital mistake to theorise before one has data. One begins to twist facts to suit theories, instead of theories to suit facts."
So in order to reduce the starting field to a small pool of contenders we must assess the performance variables that are imperative in conquering Augusta National.
First and foremost, the last time a debutant won at Augusta was 32 years ago. Also, since 1980, all Masters winners have finished in the top 10 already that season. In fact, only Zach Johnson and Trevor Immelman had not achieved a top-five finish prior to winning in '07 and '08, respectively.
These two statistics allow us to eliminate 44 of the 99 competitors. Another extremely important variable is GIR's. The importance of hitting greens in regulation around Masters is emphasised by the fact that since 2000 only three winners have not ranked in the top two for GIR percentage at the tournaments conclusion.
Finally, two other indicators of success lie in mastering Augusta's greens and par fives.
Where low scoring is rare, maximising opportunities on Augusta's relatively short par fives can prove pivotal. The lush, slick greens have been well-documented and if a player cannot display touch putting off his car bonnet, he is unlikely to excel at the Masters this weekend.
So, march on as we attempt to breakdown the top 12 contenders to leave Augusta, Georgia, wearing a sparkly new green blazer.
12. Dustin Johnson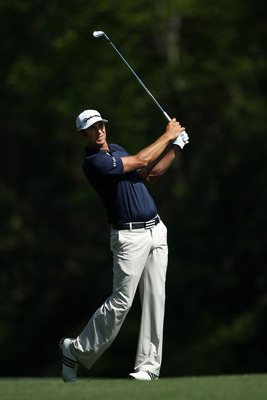 Andrew Redington/Getty Images
Age: 26
Best Finish at Masters: 30th (2009)
2011 Form: C-2-C-55-29-3-9
'11 GIR's: 70.14 ( No. 20 on PGA Tour)
'11 Par 5 Scoring Average: 4.64 (No. 67 on PGA Tour)
'11 Putting Average: 1.746 (No. 35 on PGA Tour)
One of the biggest hitters on tour with a wonderfully subtle touch around the greens. His on-course game is undeniably suitable for the challenge Augusta offers. One cannot be so sure about whether Johnson possesses the requisite mindset.
He has failed twice when on the brink of Major triumph.
One can point to his—and every watching fan's—inability to read the guidelines on what constituted a bunker at Whistling Straits as being the only reason he doesn't have a US Open trophy sat on the mantelpiece. That merely excuses the fact that had Johnson not capitulated on the final day, he would indeed be a major winner already.
Still, Mickelson's heartache at Majors was legendary and where did he eventually break his duck?
You guessed it.
11. Hunter Mahan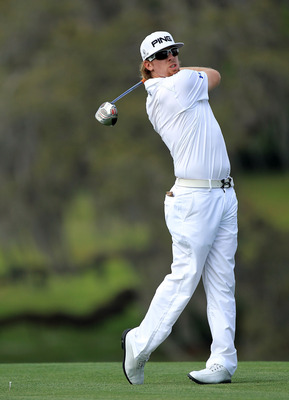 David Cannon/Getty Images
Age: 28
Best Finish at Masters: 8th (2010)
2011 Form: 8-38-9-55-2-29-6-25
'11 GIR's: 69.79 (No. 27 on PGA Tour)
'11 Par 5 Scoring Average: 4.53 (No. 9 on PGA Tour)
'11 Putting Average: 1.741 (No. 30 on PGA Tour)
Golf aficionados are more than familiar with Mahan's game. To the casual fan, Mahan is the man who chunked a pitch 20 feet from the hole, and then proceeded to hand Europe the Ryder Cup.
He says "it was a great learning experience." That philosophy is admirable, and if put in a similar situation on Sunday, he will not carry the burden of 11 teammates or an entire nation on his shoulders.
With four top-10s to his name in the past three months, the residue left over from Ryder Cup heartache appears to be fast evaporating, allowing us to focus on his extremely competent all-around game.
10. Alvaro Quiros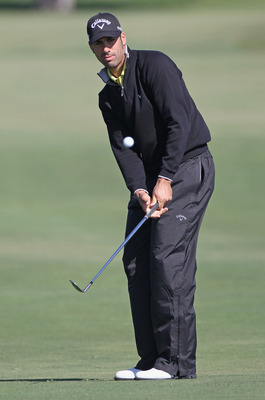 Sam Greenwood/Getty Images
Age: 32
Best Finish at Masters: Cut (2009, 2010)
2011 Form: 51-64-1-2-8-23
'11 GIR's: 72.5 (No. 36 on European Tour)
'11 Par 5 Scoring Average: N/A
'11 Putting Average: 1.736 (No. 18 on European Tour)
Quiros is a sight to behold from the tee peg, its almost as if he hits balls into different stratospheres. As his stats suggest, he has a deft touch, not only on the putting surface, but also from its margins
Unfortunately, as the glaring statistic suggests, Quiros has yet to make the weekend in three attempts at Augusta. Ankle niggles are also an intangible.
The form Quiros carries with him this year does negate that fact somewhat. With three top-10 finishes and his standout length, Quiros has the potential to compete regardless of any forecast inclement weather.
He has been one of the standout players on the European Tour this year and if he can transfer that form onto the major stage, who knows?
9. Rory McIlroy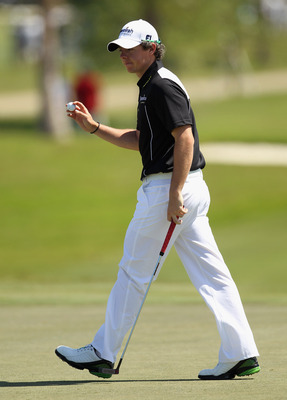 Mike Ehrmann/Getty Images
Age: 21
Best Finish at Masters: 20th (2009)
2011 Form: 10-10-2
'11 GIR's: 77.1 (No. 6 on European Tour)
'11 Par 5 Scoring Average: N/A
'11 Putting Average: 1.739 (No. 24 on European Tour)
McIlroy's appearances on the professional scene so far this year have been fleeting, perhaps allowing him to fly under the radar when experts make their picks.
Rory may be only 21, but his innate ability, confidence and drive have been evident for a number of years now. His coming out party, however, has remained on hold for just as long.
Sure, significant structures are not built in a day, but fans and golf yearn for a hurry-up in the construction process.
Is this week the climax of "Educating Rory" and thus the graduation from pupil to scholar?
8. Nick Watney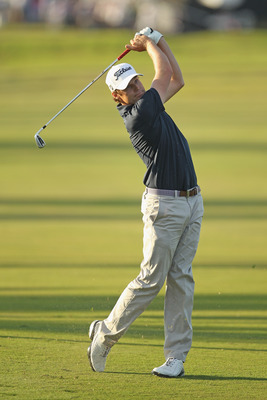 Mike Ehrmann/Getty Images
Age: 29
Best Finish at Masters: 7th (2010)
2011 Form: 13-1-6-5-6
'11 GIR's: 69.17 (No. 35 on PGA Tour)
'11 Par 5 Scoring Average: 4.57 (No. 25 on PGA Tour)
'11 Putting Average: 1.687 (No. 2 on PGA Tour)
One doesn't need to look too hard to find evidence of Nick Watney's justifiable status as contender at this year's Masters. In the 2010 edition he shot the lowest round of 65 at Augusta National.
Big-hitting iron players often thrive at Augusta and Watney combines this with the second-best putting average on the tour.
If ever there was a perfect Masters player constructed with a combination of the conquering traits of winners past, his game may look something similar to that of Watney's.
Add to that his win at the Cadillac WGC last month, which provides us with concrete evidence of his ability to finish a big event, and we have a genuine outside shot to take it all this week.
7. Justin Rose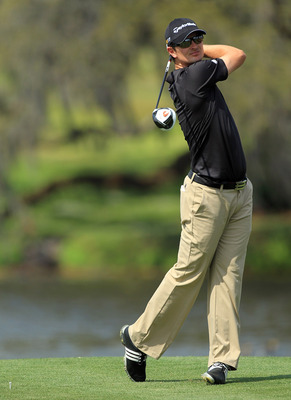 David Cannon/Getty Images
Age: 30
Best Finish at Masters: 5th (2007)
2011 Form: 3-5-42-9-25-13-12
'11 GIR's: 72.82 (No. 3 on PGA Tour)
'11 Par 5 Scoring Average: 4.49 (No. 5 on PGA Tour)
'11 Putting Average: 1.766 (No. 64 on PGA Tour)
His awe-inspring back nine at Bay Hill was somewhat overshadowed by his eyes-closed putting approach.
One hopes his success there doesn't inspire him to adopt an "If-I-don't-watch-it-might-go-in" mantra this week, because when he does open his eyes, the ball may have vanished out of sight, pitched cosily at the bottom of the drink.
Only once this year in nine participated tournaments has he finished outside of the top 25.
Consistent form in recent months elevates him to contender status. Especially considering the fact that he has competed for major honors before, whilst enduring irritatingly inconsistent bouts of success in the run-up.
Given Augusta's established premium on hitting greens in regulation, Rose's rise in the GIR rankings offers him opportunities. However, his putting stroke has let him down before when in contention—if it holds up he has a chance.
6. Steve Stricker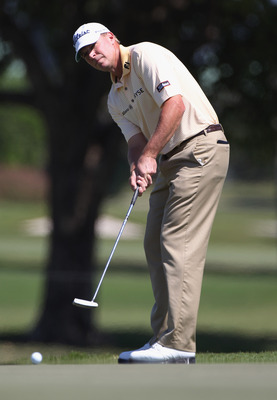 Sam Greenwood/Getty Images
Age: 44
Best Finish at Masters: 6th (2009)
2011 Form: 4-18-29-9-4
'11 GIR's: 69.72 (No. 30 on PGA Tour)
'11 Par 5 Scoring Average: 4.53 (No. 9 on PGA Tour)
'11 Putting Average: 1.717 (No. 6 on PGA Tour)
Stricker is normally long odds with the sports books. One can only attribute this to his advancing years, and the conventional wisdom that "if he was going to win a major, he would have done so already."
Maybe. It's hard to compose a credible dispute against that line and it will remain the only drawback when assessing Stricker's chances in major competition, until he gets over the hump.
He is putting like a man possessed at the moment, perhaps in part to his newly-acquired putting grip. Consistently placed in the top drivers in terms of length and accuracy and a steely disposition will all serve him well.
Stricker comes into this year's tournament off the back of a prolonged spell of great form. A top five place seems destined.
5. David Toms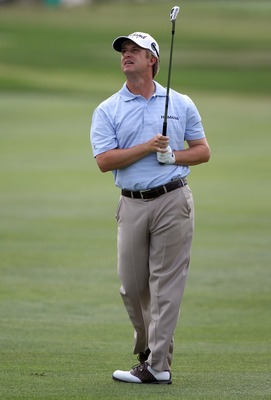 Sam Greenwood/Getty Images
Age: 44
Best Finish at Masters:6th (1998)
2011 Form: 3-37-5-C-33
'11 GIR's: 70.37 (No. 18 on PGA Tour)
'11 Par 5 Scoring Average:4.58 (No. 30 on PGA Tour)
'11 Putting Average: 1.728 (No. 14 on PGA Tour)
Often overlooked because of his lethargic distance off of the tee. But weren't Zach Johnson, Trevor Immelman and Mike Weir similarly compromised?
Toms has always been a consummate professional, he possesses a major trophy in the form of a USPGA title. He has also finished in the top 10, three times in his 11 attempts at cracking the Augusta code.
His form this year has been frustratingly inconsistent, but when he has excelled, he is competing for titles. Remaining in contention for titles into your 45th year and having done this every year since becoming a pro, is testament to Toms' determination and astute grasp of golfing fundamentals.
Rule out Toms at your peril.
4. Phil Mickelson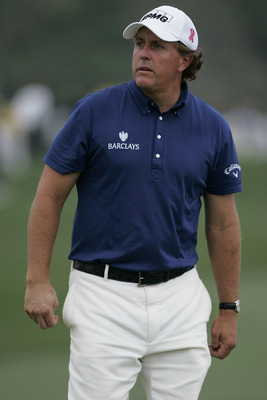 Michael Cohen/Getty Images
Age: 40
Best Finish at Masters: 3x Winner ('04, '06, '10)
2011 Form: 1-24-55-35-9-29-2
'11 GIR's: 66.07 (No. 82 on PGA Tour)
'11 Par 5 Scoring Average: 4.48 (No. 3 on PGA Tour)
'11 Putting Average: 1.733 (No. 20 on PGA Tour)
Some may gasp that "Lefty" is not higher. This writer begrudges Mickelson such a lofty placement, however.
He is sports books' consensus favorite on past accomplishments alone. His apologists highlight his victory last week at the Shell Open as evidence of Phil's continuing prominence. That is ill-fated.
A Mickelson showing even the stingiest morsel of form can never be wholly ruled out, but if one removes his triumph at the Houston Shell from the conscience what are we left with?
He hacked his way around Florida in March, a microcosm of the mediocrity that has beset his season so far. Injury niggles remain, and although he was suffering from poor form in the run up to his 2010 Masters victory, he could draw on his exquisite ball-striking.
This year, however, the reserves are not so plentiful. Mickelson's only inspiration and solace in his pursuit repeat lies in past deeds, a year ago and more.
3. Francesco Molinari
David Cannon/Getty Images
Age: 28
Best Finish at Masters: 30th (2010)
2011 Form: 3-20-8
'11 GIR's: 80.6 (No. 1 on European Tour)
'11 Par 5 Scoring Average: N/A
'11 Putting Average: 1.741 (No. 25 on European Tour)
Last time most American viewers saw Francesco Molinari, he was accompanied by his equally gregarious brother, Eduardo, stomping around Celtic Manor riling up the baying crowd after every chip, putt and err…drive.
Still, Molinari has been the standout player on the European Tour and what the Ryder Cup did, demonstrated his ability to embrace the grandest stage.
Tee-to-green, he is one of the best in the world right now. Hitting over 80 percent of greens in regulation is phenomenal on any tour, and emphasises Molinari's accurate approach play.
If recent form is an indicator, such wondrous iron play would allow him to avoid the horrors that await players who are off-line when approaching Augusta's greens.
2. Matt Kuchar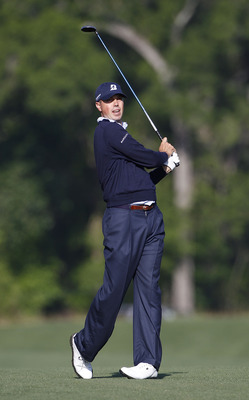 Michael Cohen/Getty Images
Age: 32
Best Finish at Masters: 25th (2010)
2011 Form: 8-5-17-35-7-5-6
'11 GIR's: 70.11 (No. 22on PGA Tour)
'11 Par 5 Scoring Average: 4.48 (No. 3 on PGA Tour)
'11 Putting Average: 1.713 (No. 4 on PGA Tour)
Those teasing, dreaded snake-like five footers at Augusta have poisoned many a contender's challenge at Augusta.
Kuchar may well be the best on the PGA Tour when it comes to putts inside five feet. His steadfast and composed approach to putting bodes well for success here.
An excellent all-round game, he sits at the top of par five scoring averages and has shown signs of his ability in recent months.
However, his greatest ally has the potential to prove his undoing. Kuchar is not a brash golfer. He plays within himself, refusing to allow focus to deteriorate into reverie.
But Woods, Mickelson and Nicklaus didn't win multiple majors by playing conventional, attuned golf. They played the courageous shots, procuring its rewards in the process.
1. Bubba Watson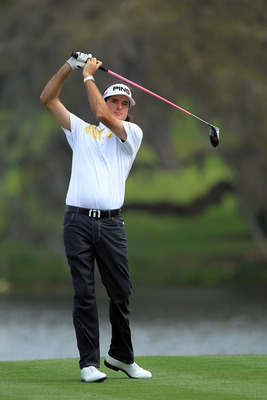 David Cannon/Getty Images
Age: 32
Best Finish at Masters: 20th (2008)
2011 Form:24-28-29-1-C-25
'11 GIR's: 73.33 (No. 2 on PGA Tour)
'11 Par 5 Scoring Average: 4.45 (No. 1 on PGA Tour)
'11 Putting Average: 1.767 (No. 65 on PGA Tour)
Statistically, Bubba Watson has no equal this year. Examine them more closely and one becomes acutely aware of his monstrous hitting ability and contrastingly silky smooth putting touch.
He has the game and major honours to his name.
Phil Mickelson, the original "big lefty," found that his high-shaping drives were well-attuned to Masters golf and low and behold, Mr. Watson seems to have been educated at the same school of thought.
With the greats of recent memory beginning to show the first signs of decline, this could prove to be Watson's coronation as their successor.
His popularity and joie de vivre with which he plays the game would make him a credible and suitable proponent of a more athletic, powerful and flamboyant game in the post-Tiger Woods era.
Keep Reading