Jon Jones: Can Rashad Evans, Loyoto Machida or Any Light Heavyweight Beat Him?
April 5, 2011
When Jon Jones easily stripped legendary Mauricio Shogun Rua of his title, it left the MMA world baffled.  Now, the cadre of light heavyweight challengers need to work collectively to exploit any potential weaknesses of Jones.  
Jones, having fought and succeeded against fighters from various stylistic backgrounds, presents a nightmare for any camp charged with game planning for the champion.  He outstruck Rua, Bonnar and Vera.  He outwrestled Bader, Hamill and Matyushenko.    
The most surprising performance came when he outclassed Rua on the feet.  Typically opponents have to leap in to attempt strikes on Jones, which allows him to counter efficiently. 

Jones' domination of a high-level striker like Rua suggests that the key to exploiting Jones may not be in the standup.  Fighters like Machida, Jackson and even Silva would likely struggle with their own trade against the 23-year-old phenomenon. 
Although Bader, Hamill, and Matyushenko are good wrestlers, we have yet to see Jones face a legend who possesses high level MMA wrestling.  Not discounting the former champion, but Evans does seem to be the underdog.  Nonetheless, he could potentially reveal a weakness in Jones' game.  
Evans changes levels well.  He uses his punches to set up takedowns and is skilled in both boxing and wrestling.  Evans may be the first fighter to take Jones down. If so, fans will finally get to see Jones respond to adversity.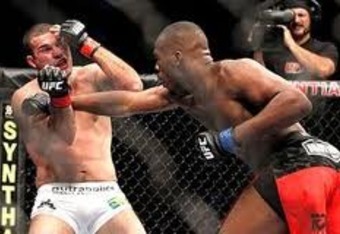 Matchups make fights.  Jon Jones seems to possess the most difficult style to match up against. That is why he holds the belt.
Even if putting Jones on his back is the most effective plan of action, it could prove too difficult a task.  Anything you can do Jones can do better.  
Phil Davis is perhaps the most decorated wrestler in the division, and yet Jones' wrestling has been more impressive.  Davis was a four-time All-American, winning Nationals his senior year at Penn State.  In his recent fight against Nogueira he struggled to secure takedowns. In light of this performance, his skills seem suspect when compared to Jones, who has easily taken down great wrestlers.  
Just as the process began with fighters like Lesnar and Machida it shall also begin with Jones.  Lesnar and Machida were dominant enough at first that we only saw their game.  At this point in Jones' career he has always dictated the fight.  If he does have a weakness the athletes in the UFC light heavyweight division should eventually find it.  If not, Jones may find the heavyweight division a more exciting prospect.