Costliest Rulings in Recent Golf History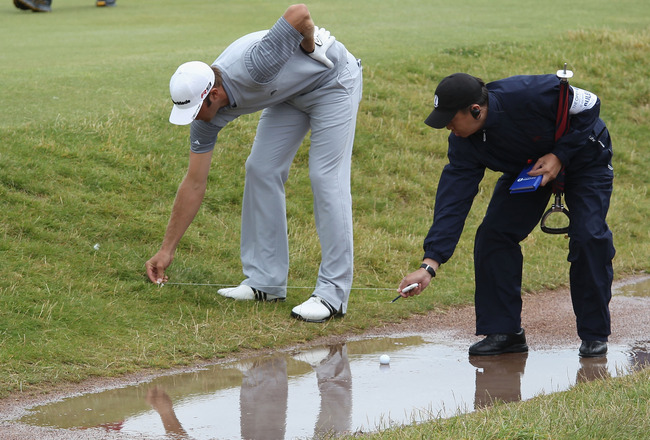 Ross Kinnaird/Getty Images
Kathy Bissell
No one is alive who remembers rulings that happened in the 1920s or 1930s. But there are many that live in our collective consciousness thanks to television. Soon it will be thanks to YouTube.
Some are notorious. Some are just embarrassing or seemingly obscure. Some cost players a tournament. Those are the biggest, most expensive ones.
Roberto De Vicenzo:1968 Masters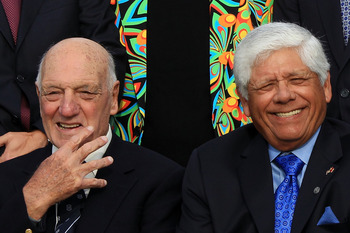 Roberto DeVicenzo ( L) with Lee Trevino (R)
David Cannon/Getty Images
Nearly everyone has heard this story. Argentinean Roberto De Vicenzo, the reigning British Open champ, finished the final round of the 1968 Masters with what seemed to be a 65 to tie for the lead and the promise of a playoff.
Tommy Aaron, who kept De Vicenzo's score, mistakenly put down a four for the 17th hole instead of a three, which was De Vicenzo's actual score.
De Vicenzo signed it, and when he did that, he signed for a 66 instead of a 65, handing the 1968 Masters to Bob Goalby. De Vicenzo then uttered what has become one of the most famous phrases in golf, "What a stupid I am!"
What is the Rule?
Rule 6-6d: The competitor is responsible for the correctness of the score recorded for each hole on his score card. If he returns a score for any hole lower than actually taken, he is disqualified. If he returns a score for any hole higher than actually taken, the score as returned stands.
Ian Poulter: 2010 Dubai World Championship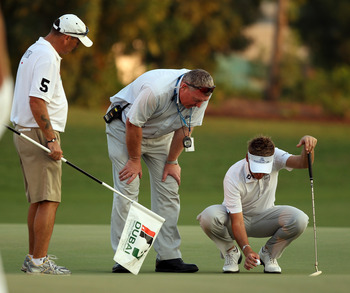 Ross Kinnaird/Getty Images
At the Dubai World Championship tournament in 2010, Ian Poulter finished the tournament tied with Robert Karlsson. The playoff began on the 18th hole, which they tied, and headed back to the 18th tee to play it for the second time.
When they reached the green, Poulter was about 30 feet away from the hole for birdie. Karlsson was three feet. Certainly it looked like Poulter was about to lose, but he had been making miracle putts that day.
Poulter had marked his ball, lined it up and was getting ready to replace it on the green when he got a case of the dropsies. He dropped his golf ball on his ball marker, moving it, which unfortunately was a one-stroke penalty. He handed the tournament to Karlsson.
What is the Rule?
Rule 20-1/15: Any accidental movement of the ball marker which occurs before or after the specific act of marking, including as a result of dropping the ball, regardless of the height from which it was dropped ... results in the player incurring a one-stroke penalty,
Brian Davis: Verizon Heritage in 2010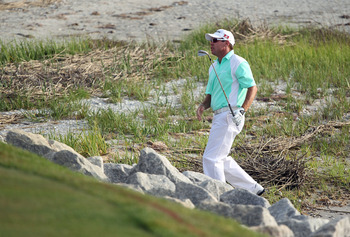 Scott Halleran/Getty Images
In a playoff with Jim Furyk, Brian Davis' ball hit near the 18th green, rolled down a slope and into a hazard adjacent to the putting surface. The hazard had twigs, grass and other debris in it.
During his backswing, Davis believed that he had touched blades of grass or reeds that were growing in the hazard and called a penalty on himself, forfeiting the victory.
Davis was the only one who saw the violation, and slo-mo replays were used to determine if he was correct before the penalty was assessed. It was assessed and he lost.
What is the Rule?
Rule 13-4. Ball in Hazard; Prohibited Actions
Except as provided in the Rules, before making a stroke at a ball that is in a hazard (whether a bunker or a water hazard) or that, having been lifted from a hazard, may be dropped or placed in the hazard, the player must not: a. Test the condition of the hazard or any similar hazard; b. Touch the ground in the hazard or water in the water hazard with his hand or a club; or c. Touch or move a loose impediment lying in or touching the hazard.
Dustin Johnson: 2010 PGA Championship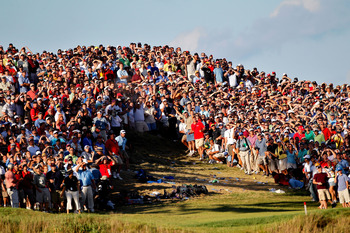 Sam Greenwood/Getty Images
Coming to the 18th hole in the 2010 PGA Championship at Whistling Straits, which had more than 1,000 waste bunkers, some of which were indistinguishable from trampled down, sandy turf by Sunday afternoon, Dustin Johnson hit his drive into what was apparently a waste bunker.

Prior to the start of the tournament, a local rule was posted in the locker rooms, making all bunkers—waste or otherwise—play like bunkers. In short, he could not ground his club in one without penalty.
Mysteriously, or because he was caught up in the moment, or because he hadn't read the rule change—which is what he said later—Johnson grounded his club in the "bunker" on the 18th hole.
Should the rules official accompanying the group have said something when the trampled earth with soda cans and food wrappers was where his ball came to rest? Probably. Did the rules official say anything? No. Should Johnson have asked for a ruling? Yes.
None of that happened. What did happen is Johnson grounded his club, hit his second shot, and when he finished, he thought he had tied for the lead and that he would be in a playoff.
It was THEN that the rules officials spoke up and told him what he had done. At least they told him before he signed his scorecard.
What is the Rule?
Rule 13-4. Ball in Hazard; Prohibited Actions
Except as provided in the Rules, before making a stroke at a ball that is in a hazard (whether a bunker or a water hazard) or that, having been lifted from a hazard, may be dropped or placed in the hazard, the player must not: a. Test the condition of the hazard or any similar hazard; b. Touch the ground in the hazard or water in the water hazard with his hand or a club; or c. Touch or move a loose impediment lying in or touching the hazard.
Ian Woosnam: 2001 British Open Championship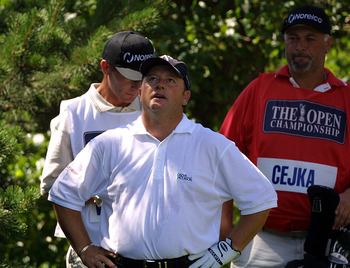 Andrew Redington/Getty Images
Before teeing off in the final round, Ian Woosnam tried out two different drivers on the range. He and his caddie both neglected to take the extra club out of the bag.
The penalty for having more than 14 clubs is two strokes per hole, and the caddie noticed it on the third tee. Woosnam had been in contention, but the four-stroke penalty ruined his chances. He shot a 71 with the penalty strokes
What is the Rule?
Rule 4-4. Maximum of 14 Clubs
a. Selection and Addition of Clubs
The player must not start a stipulated round with more than 14 clubs. He is limited to the clubs thus selected for that round, except that if he started with fewer than 14 clubs, he may add any number, provided his total number does not exceed 14. The addition of a club or clubs must not unduly delay play (Rule 6-7) and the player must not add or borrow any club selected for play by any other person playing on the course.
b. Partners May Share Clubs
Partners may share clubs, provided that the total number of clubs carried by the partners so sharing does not exceed 14.
PENALTY FOR BREACH OF RULE 4-4a Or B, REGARDLESS OF NUMBER OF EXCESS CLUBS CARRIED:
Match play — At the conclusion of the hole at which the breach is discovered, the state of the match is adjusted by deducting one hole for each hole at which a breach occurred; maximum deduction per round: Two holes.
Stroke play — Two strokes for each hole at which any breach occurred; maximum penalty per round: Four strokes.
Tiger Woods: 1999 Phoenix Open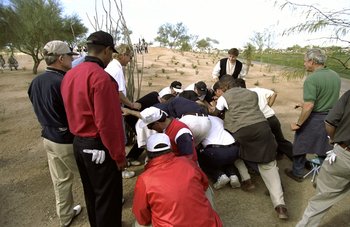 Craig Jones/Getty Images
During the final round of the event on the par-five, 13th hole, Woods hit his tee shot left of the fairway, in the desert. His ball landed near a boulder...probably three to four feet in diameter. It looked like he would not have a swing.
Woods conferred with a rules official about the situation, asking if it was considered a loose impediment. The rock, which may have weighed a ton, was in fact just that. A giant loose impediment.

Woods asked the gallery if they would help him move it. What seemed to have been a dozen men went at the rock with force and finally rolled it out of the way.
Woods made a birdie, but lost the tournament to Rocco Mediate by three shots.
Woods' boulder was a large, natural stone. It was not embedded in the soil. Had it eaten one of Alice in Wonderland's mushrooms, it might have shrunk to the size of a pebble. This is one time when size does not matter.
Woods was allowed relief. Relief allows a loose impediment to be moved or removed without penalty unless the player's ball and the loose impediment are in or touching the same hazard. Since neither the ball nor the boulder was in a hazard, Woods could move it. Actually, his fans could move it, as there is no rule on that either.
What is the Rule?
23-1. Relief
Except when both the loose impediment and the ball lie in or touch the same hazard, any loose impediment may be removed
Craig Stadler and the Tree: 1987 Andy Williams San Diego Open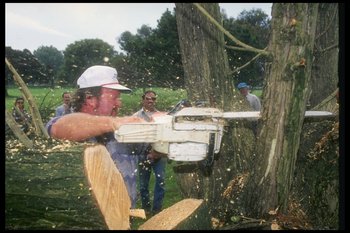 Stephen Dunn/Getty Images
Talk about late corrections. Craig Stadler was playing the 14th hole, and his ball landed under the branches of a tree. In an attempt to complete the round without having mud stains on his pants, Stadler placed a towel on the ground, got on his knees and hit the ball. Recollection says it was a decent shot.
Stadler finished the round, came back the next day, played, and after the final round, he was told that he had violated a rule regarding taking a stance.
He was told that use of the towel was considered "building" a stance, which is a rules violation. Because he had signed a scorecard for less than the correct score on Saturday, he was disqualified from the tournament.
Years later it was determined that the Stadler Tree, as it came to be known, needed to be removed. Stadler was asked if he wanted to do the honors, and he gladly accepted. Chainsaw Craig was born.
What is the Rule?
13-2. Improving Lie, Area of Intended Stance or Swing, or Line of Play
A player must not improve or allow to be improved: the position or lie of his ball, the area of his intended stance or swing, his line of play or a reasonable extension of that line beyond the hole, or the area in which he is to drop or place a ball, by any of the following actions: pressing a club on the ground, moving, bending or breaking anything growing or fixed (including immovable obstructions and objects defining out of bounds), creating or eliminating irregularities of surface, removing or pressing down sand, loose soil, replaced divots or other cut turf placed in position, or removing dew, frost or water.
Paul Azinger, 1991 Doral Ryder Open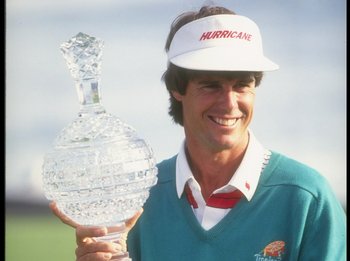 Stephen Dunn/Getty Images
After the second round of the tournament, a 65 put Paul Azinger one stroke behind leader Kenny Perry. It was then that a rules official told Azinger that a television viewer from Colorado had called in saying Azinger had committed a rules violation the day before.
Azinger had hit a shot from the edges of a water hazard. He had actually stepped into the hazard with his shoes on to hit the shot. Upon replay, it was clear that just before Azinger hit a shot from the edge of the water hazard, he had, as golfers do, moved his right foot and flicked some rocks from the bottom of the pond so he would not slip while swinging the club.
To say it seemed obscure is understatement. The PGA Tour Rules Staff didn't see it. No one but the viewer in Colorado was paying that close attention. It took slo-mo replay to show it. While it would usually be a two-stroke penalty, Azinger had signed a scorecard of 69—without the two-stroke penalty—instead of 71. He was disqualified.

What is the Obscure Rule?
13-4. Ball in Hazard; Prohibited Actions
Except as provided in the Rules, before making a stroke at a ball that is in a hazard (whether a bunker or a water hazard) or that, having been lifted from a hazard, may be dropped or placed in the hazard, the player must not: a. Test the condition of the hazard or any similar hazard; b. Touch the ground in the hazard or water in the water hazard with his hand or a club; or c. Touch or move a loose impediment lying in or touching the hazard.
Michelle Wie: Rules Magnet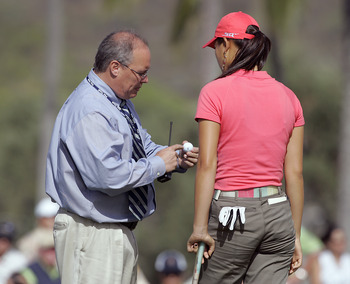 Marco Garcia/Getty Images
No one has the rules run-ins of Michelle Wie. The Stanford student apparently is studying calculus and not the Rules of Golf.
--Playing in the second-to-last group in the final round of the Kia Classic this year, Wie was assessed a two-stroke penalty after grounding her club inside a hazard on the par-5 11th hole.
-- At the LPGA State Farm Classic in 2008, Wie was disqualified for not signing her scorecard after the second round. It wasn't noticed until after she started the third round.
-- Women's British Open, 2006, Wie got a two-stroke penalty after the second round concluded because officials decided that she hit moss in a bunker during her backswing.
-- 2005 Samsung World Championship, her first pro event, she was DQed for an improper drop which was reported the next day by a Sports Illustrated reporter.
LPGA rules officials reviewed videotape before Wie finished the final round, went back to the hole with Wie and her caddie, measured and determined that she had in fact dropped closer to the hole. She was disqualified for signing an incorrect scorecard.
Just plain too many rules to name.
Juli Inkster: 2010 Safeway Classic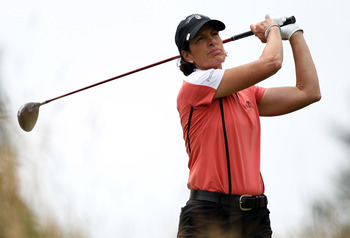 Jonathan Ferrey/Getty Images
During an incomprehensibly long delay of play, Juli Inkster, who is 50, wanted to stay loose for her next tee shot on the 10th hole. She swung a club with a weighted "donut.'' This prompted a Couch Ruling.
Inkster had used a practice device during play, which is not allowed. Penalty was disqualification.
What is the Rule?
Rule 14-3
Except as provided in the Rules, during a stipulated round the player must not use any artificial device or unusual equipment, or use any equipment in an unusual manner: a. That might assist him in making a stroke or in his play; or b. For the purpose of gauging or measuring distance or conditions that might affect his play; or c. That might assist him in gripping the club, except that: (i) plain gloves may be worn; (ii) resin, powder and drying or moisturizing agents may be used; and (iii) a towel or handkerchief may be wrapped around the grip.
Jim Furyk: DQed at 2010 Barclays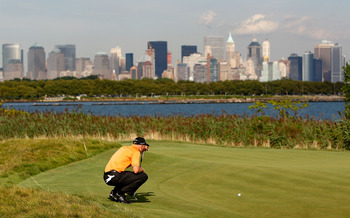 Kevin C. Cox/Getty Images
Oh, for a working alarm clock or phone alarm. Jim Furyk overslept and missed a pro-am tee time at The Barclays, the first week of the FedEx Cup Playoffs.
Best Revenge: He won the $10 million in Atlanta at the Tour Championship anyway and was named Player of the Year.
This was not a part of the Rules of Golf. It is a PGA Tour rule.
Best Favorable Drop Ever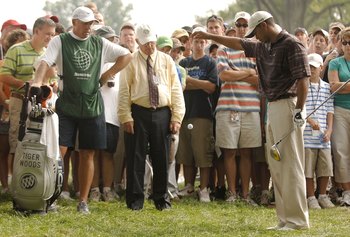 Montana Pritchard/Getty Images
Tiger Woods, 2006 WGC-Bridgestone Invitational
Ninth hole, second round, Woods hit a 9-iron onto or over the clubhouse roof.
The clubhouse was not deemed to be out of bounds, and officials learned the ball had been picked up and removed by a clubhouse worker. (Hey! I got Tiger's golf ball!)
Woods was therefore given a drop on the line the ball had traveled. He made bogey, posted 64. He won the tournament in a playoff two days later.
Best Favorable Rulings in a Major Ever
Andrew Redington/Getty Images
Ernie Els and The Forklift – 1994 US Open
In the final round, Els pulled his tee shot on the first hole. The ball landed behind a forklift truck with a TV camera on it. Els was given a free lift without penalty from USGA rules chairman Trey Holland
Holland said Els was entitled to relief because the crane was a temporary immovable obstruction. The ruling was not correct, but Els was not penalized for that. He did make bogey on the hole. But he won next day in a playoff.
Ernie Els and The Loose Impediment Tree – 11th hole at Augusta National 2004
Ernie Els' drive at No. 11 landed somewhere in a pile of trees and dead branches, left of the hole. Trash from a winter storm, it was speculated.
Els, saying he had seen situations like that at golf courses, where debris had been stacked for removal later, asked for a free drop.
A PGA Tour rules official would not allow it. Els asked for a second opinion from Augusta National rules chairman Will Nicholson,. who overturned the PGA Tour ruling and gave Els a drop. It did not get him a coat, however. Yet.
Keep Reading