ASU Football: By Ground or Air, the Sun Devil O-Line Will Be Key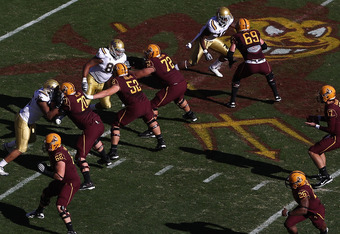 Christian Petersen/Getty Images
Expectations carry a heavy burden. Recently, success has been hard to come by between the buttes, but preseason optimism is skyrocketing. Preseason top-25 polls for 2011 feature Arizona State routinely, and even some pundits have picked a few Sun Devils as dark horse Heisman Trophy candidates.
However, none of the perceived success will come without a stable and consistent offensive line.
Sure, the big-arm quarterbacks and hard-hitting defenders typically receive all the notoriety, but without the road grader mentality, nothing on offense can be executed.
Think back to all the times countless Sun Devil quarterbacks were being scraped off the turf after a sack, a late hit, or even something as simple as hurrying the passer; none of that was pretty to see, for anybody.
Honestly, it is difficult to recall that last group of "hogs" that protected Sun Devil passers with sustained vigor.
Even during ASU's short-lived Pacific-10 Championship season, Rudy Carpenter was sacked 54 times in 2007. Throughout his entire career, Carpenter was helped up after sacks 146 times.
Needless to say, Brock Osweiler will want no part of those hits. Although Osweiler showed his toughness and physical attributes in the Territorial Cup, none of the ASU supporters will be pleased if Osweiler turns into a "sitting duck" in the pocket.
Moreover, none of the maroon and gold fans will want to see unrelenting pressure on Osweiler, because the experience behind the Montana native is nonexistent.
Both backups, redshirt freshman Taylor Kelly and freshman Michael Bercovici, are fighting for the No. 2 job, while still grasping the offensive schemes. Although Bercovici and Taylor have shown promise, albeit only during practice, the linemen in front of Sun Devil quarterbacks will have to be firm.
As you look through the Sun Devils' depth chart on the offensive line, nothing but a smile should come across your face. No longer do walk-ons or former walk-ons fill the second and third units. Scholarship linemen with game experience are in abundance.
That alone should be considered a major step forward for Dennis Erickson's ASU football program.
Three seniors, one junior and one sophomore, make up the front line with all five starting last fall. Senior center, Garth Gerhart, will continue to anchor an offensive line that will not settle for mediocrity.
Gerhart, along with line-mates Dan Knapp, Andrew Sampson, Mike Marcisz, and Evan Finkenburg, have all experienced the trials and tribulations of building a stable football program. Over the last three seasons, growing to this launching point has been difficult to bear, both for the players and fans.
Jonathan Daniel/Getty Images
In past years, the offensive line has received the brunt of the blame for their inefficiencies. Last fall, progress was made, but the productivity never seemed consistent, much like ASU's record of 6-6.
When the running game was flourishing, the quarterbacks were hurried and harried. On the flip side, when ASU quarterbacks were picking apart the opposing teams' secondary, the rushing attack hit a brick wall.
By the time ASU came together as an offensive unit, the Sun Devils' season, too, hit a brick wall with no bowl invitation in sight.
Reaching a bowl game was the goal last season. Unfortunately, that never came to fruition, but the momentum ASU built by winning their final two games will have to carry the Sun Devils' spirits through to the fall.
If nothing else, the effectiveness of the running game under Offensive Coordinator Noel Mazzone should breed even further optimism for a breakout season in 2011.
In the first season of the no-huddle spread offense that Mazzone installed, both Cameron Marshall and Deantre Lewis rushed for over 5.2 yards per carry.
Sure, many of ASU's running backs broke off long runs to the end zone last fall while enhancing their stats, but those plays should be far more frequent as the offense becomes second nature.
Christian Petersen/Getty Images
Honestly, dissecting the Sun Devils' offensive prospectus, it is difficult to find any flaws or holes at all, and that is including the offensive line.
For the first time in at least three years, ASU's offense will be intimidating. The offensive line boasts four, 300 pound mammoths and an athletic 6'5" 277 pound tackle with a vengeful mean streak can only help the cause.
Behind the big hogs, all of the highlight reel players and game-changers for Erickson will have the freedom to make plays and light up the scoreboard early and often.
But the ASU offensive line will have to pave the path to fulfilling and surpassing heightened expectations in the Pacific 12 Conference. After all, the key to any successful football team is at the foundation: the offensive line.
This article is
What is the duplicate article?
Why is this article offensive?
Where is this article plagiarized from?
Why is this article poorly edited?

Arizona State Football: Like this team?