Jon Jones and Muhammad Ali: Setting the Record Straight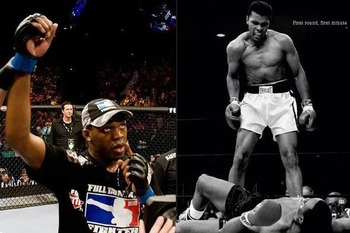 Not many voices in combat sports come any bigger--literally--than that of Bruce Buffer.
About two months ago, the UFC ring announcer took it upon himself to make waves with a little freelance announcement: light heavyweight Jon Jones "in the next six years not only will become a champion, he will become the Muhammad Ali of our organization."
And this was before Jones broke down Shogun Rua at UFC 128 to capture the light heavyweight title.
Bruce was just having fun when he made the statement (when is he not?). But given Jones' mind-bending run to the championship, Buffer is far from the only one broaching the subject. Now that Jones has the belt, the debate is growing ever louder.
Is Jon Jones the Muhammad Ali of mixed martial arts? Is he destined to be the greatest of all time? Is it fair to compare him to Ali?
Depending on when and where these questions come up, they can cause a lot of different reactions. Eyes roll. Mouths turn up. Forehead veins twitch. Stomachs churn. Jones is too young, comes the response. He hasn't fought anyone. He's "just an athlete." People claim sacrilege when Ali's name is even mentioned in a comparison scenario.
But given the way Jones mows people down, it's clear the question isn't going away. So let's cut the wheat from the chaff, shall we? It's time to take an objective look at the facts as they exist right now when comparing young Bones Jones against The Greatest of All Time.
I've broken it into 10 categories. Please enjoy.
10. Tale of the Tape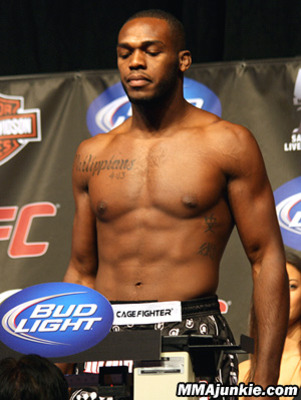 Might as well start at the beginning. Let's see how they stack up:
Jon Jones:
Height: 6'4"
Weight: 205 pounds
Reach: 84.5 inches

Muhammad Ali:
Height: 6'3"
Weight: about 214 pounds
Reach: 80 inches

Jones has what people nowadays call a prototype build. He is rangy, but not lanky. He has incredible reach and length, but not at the expense of strength. He is, unquestionably, a physical freak.
But Ali was no slouch himself. He was sturdier than Jones, but still had a very long reach--seven inches more than rival Joe Frazier. And let's not forget the incredible quickness coiled within that brawler's physique.
Which build you prefer is probably a matter of personal preference. It basically comes down to length with deceptive strength versus size with deceptive speed. With a gun to my head, I'd probably go with Jones.
9. The Age-Old Question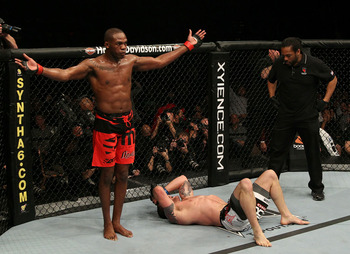 It is popular to claim that Jones is too young to even make this comparison. I beg to differ.
When Jones finished Rua on March 19, by my count he was 23 years and 242 days old. That made him the youngest fighter in UFC history to win a championship belt.
When Ali (nee Cassius Clay) first defeated Sonny Liston, he was 22 years and 39 days old. That made him the youngest boxer in history to win a championship belt from a title holder.
Symmetry much?
Ali was more than a year younger when he took the heavyweight championship than was Jones when he stepped in the cage on March 19. Plus, when Ali beat Liston a second time, he was 23 years and 128 days old--still younger than Jones was at UFC 128.
Of course, Ali's legacy is not entirely predicated on those earlier fights; the Frazier fights didn't happen until he was 29. But the truth of the matter is that the legend of Clay/Ali began to grow in earnest even earlier than that of Jones, so to dismiss Jones' accomplishments out of hand simply because of his age is to turn a blind eye toward some of Ali's most illustrious moments.
8. Fighting Styles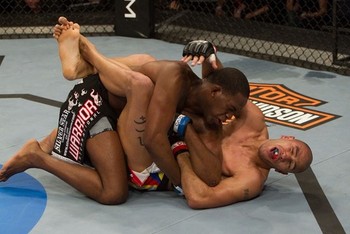 In the prime of his career, Ali was known for being an "outside fighter," which entails keeping your distance and using speed and reach to score damage while staying clear of harm's way. Though Ali was able to knock people out using that style, the finish was secondary. The first order of business for Ali was, and I'm paraphrasing here, to be what the eye couldn't see.
Though, as you know, comparing boxing and MMA has, and will always have, an apples-and-oranges feel to it, I think it's pretty safe to say Jones is not an outside fighter. He is certainly aware of his record-setting reach, and uses it effectively, but more often than not, he uses his wrestling base to put opponents on the ground and pummel them from close range with his elbows and fists, often from "inside" the opponent's guard.
Part of the difference lies in the differences between the sports themselves. But not entirely. The truth is that these two men carry different intentions into their fights.
7. Defense
This one's no contest.
Ali is most well known in this arena for floating like a butterfly, and so on, but he also proved to have both a strong chin and sense of strategy in fights like the Rumble in the Jungle against George Foreman, when he employed the "rope-a-dope" strategy, which involved basically letting Foreman exhaust himself from punching, then attacking Foreman in that weakened state. (These days, it's known as the Carwin defense.)
The final proof is in the pudding. Ali was never knocked out in his entire career; the only stoppage anyone ever scored against him came when he was 38, and his corner prevented him from continuing after 10 rounds with Larry Holmes.
On the flip side, Jones, for his part, doesn't seem to get hit very often, either. But that could be a matter of the best defense being a great offense.
6. Offense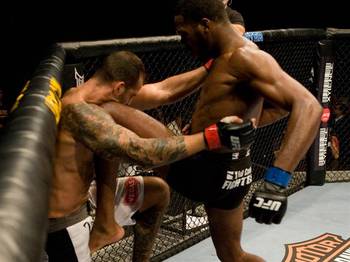 Photo credit: MMAValor
Of Ali's 56 victories, 36 of them (or 64 percent) came by way of knockout or technical knockout.

Of Jones' 13 MMA wins, 11, or 84 percent, were finished. If you take out submissions, that number drops to eight, or 61 percent.
So, somewhat surprisingly, even though Ali is known in lore for his speed and elusiveness, he garnered a higher proportion of knockouts in his long career than Jones has in his shorter career. And that's despite having fewer weapons available with which to (legally) knock people out.
Still, though, when you add in the submissions, Jones has the better percentage. There is also the fact that elite boxers tend to see a lot of tomato cans before ever seeing a fellow contender. And I haven't mentioned the spinning elbows or flying knees, which many people feel are the keys to making Jones a household name in the XBox era.
Taking all of this into account, ultimately I would probably have to give this one to Jones, even though it's a lot closer than I thought it would be.
5. Charisma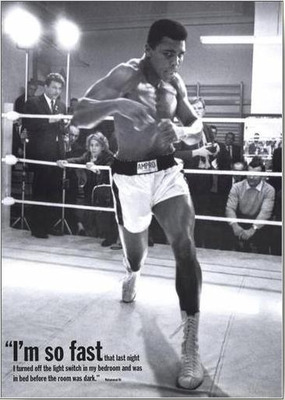 Jon Jones had an Ali-esque moment when he started signing autographs with "champion" before his fight with Rua. His even bigger Ali-esque moment, however, came when he backed up his smack and took Shogun apart like he thought the belt was hidden somewhere inside Rua's skull.
Ali-esque moments to be sure, but that's all they are: moments. No athlete before, during or since has had the pure gift for trash that Ali had. Furthermore, with the possible exception of Michael Jordan, no athlete had the pure athletic charisma of Ali. Footwork that light on a frame that sturdy was almost incongruous to watch.
Jones certainly commands attention as he plies his craft, and he has shown the special brand of confidence that only top champions seem to have. But in some ways, he lacks the self-possession outside the Octagon that came so naturally to Ali.
Ali was a star, a man of the people, right out of the gate. When Jones adds 50 Cent to his fight-night entourage and enters the cage to "Empire State of Mind," it feels like the kid from the suburbs of Binghamton, N.Y., is trying to sell an image even he's not sure he's buying.
Ali, of course, could sell water to a well. But that's because he never needed to waste time selling himself. Lucky him. Ali was born with once-in-a-generation magnetism, and though it's a cliche, it remains true: You just can't teach that.
4. Away from the Ring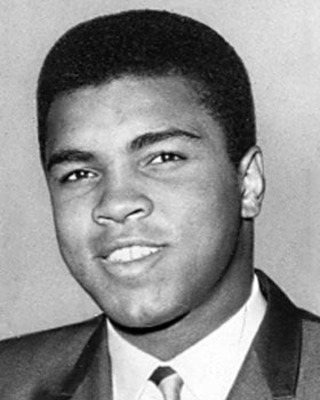 Photo credit: Los Angeles Times
As anyone who saw the movie knows, Ali was an outspoken Vietnam War critic and a proponent of civil rights. I won't spend a lot of time on this fairly sensitive and well-trodden territory, but suffice it to say that he was a controversial and beloved figure who refused to back down from a position he cared about, even if it meant sacrifice.
On the other side, Jon Jones is in a position to bring the hip-hop generation to the forefront of a sport typically dominated by other races and ethnicity's. He is also, by many accounts, a relatively grounded and humble guy. He even foiled a robbery on the day of UFC 128.
Neither man is without his warts. But without taking a position on the substance of the positions, I would say that Ali was a far more influential figure for his willingness to talk the talk and, in typical Ali form, walk the walk, regardless of the odds against him.
3. Record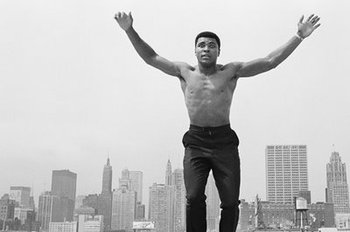 Ali finished with a record of 56-5-0, for a win percentage of 92.
Jones currently has a record of 13-1. The one loss came on a controversial DQ, but even with it, his win percentage is 93.
Given that Ali has, oh, 47 more fights than Jones, and still sports a winning percentage of only 1 point less, I'd say this one goes to The Greatest.
2. Dominance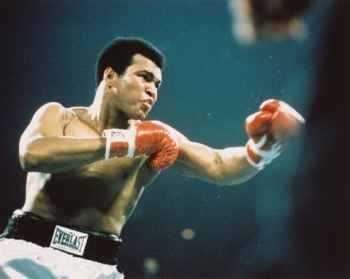 Kind of hard to quantify this, particularly when comparing the two sports, but I'll try anyway just for laughs.
By calculating the round in which every victory ended as a percentage of the total number of rounds in every fight, you get a rough estimate of how "dominant" each fighter was. (I used 100 for fights that went the distance.) For Muhammad Ali, that percentage was 40.4 percent, meaning that the average fight Ali won did not reach the halfway point. For Jones, that percentage was 58.4 percent.
Again, I know it's imperfect, given the number of fights, differences in number of rounds, etc. And that's why I'm not suggesting you use this metric in your doctoral dissertation. But it does give a crude estimate. And, as in previous categories, I find myself surprised that Ali performed this well.
1. Final Verdict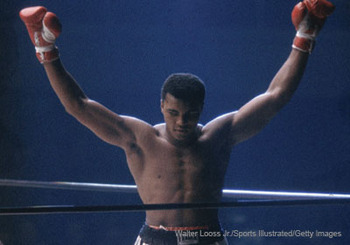 Looks like he was The Greatest for a reason.
After running through this, it does, indeed, look like Jones would need to do a lot of work before entering into a true comparison with Ali.
Does that delegitimize the question? No. Is Jones too young for such discussions? Heck no. Does it mean the debate is over? Not by a long shot. Can Jones still be the greatest of all time in mixed martial arts? Doggone right. (And for whatever it's worth, I still think he will be.)
After all, none of this information puts a ceiling on Jon Jones. He could one day wind up as The Greatest of All Time in MMA and still not reach Ali in many key areas because of the impossibility of a true cross-sport benchmarking.
The bottom line, though, is that Ali's face is carved on the Mount Rushmore of sports for good reason. I don't see them taking a jackhammer to that any time soon.
Keep Reading