NASCAR: Tony Stewart & Dale Earnhardt Jr. and the Top 10 Driver Partnerships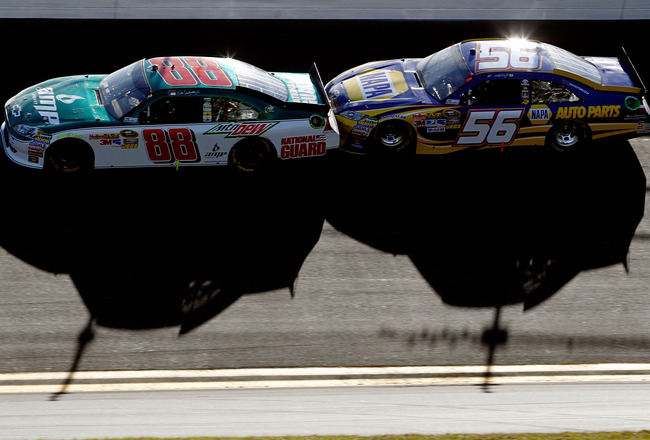 Tom Pennington/Getty Images
Although NASCAR may seem like an every-man-for-himself type of sport, it is in fact a team sport. The most successful drivers all work for multi-car organizations, and crew chiefs and drivers regularly share information with others teams within the organization.
Even on the track, teamwork can play a role. Whether two drivers work together in the draft at a restrictor-plate track or slow up to let a teammate lead a lap, it is commonplace to see two drivers working together and helping each other out.
Granted, friendships tend to go out the window in the closing laps, but that doesn't mean drivers don't play favorites.
Robby Gordon & P.J. Jones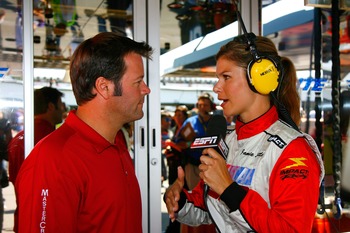 Rusty Jarrett/Getty Images
The two road racing experts have teamed together many times in the Cup Series with Robby Gordon Motorsports.
Gordon knows as well as anyone how tough it can be to get respect in NASCAR when you have a background in road racing, and he gives Jones a shot at running some oval tracks a few times each year.
The results aren't the best, but success doesn't come easy for small teams these days. It could be worse. At least Gordon isn't facing a lawsuit from Jones like his other former driver Kevin Conway.
Ryan Newman & Tony Stewart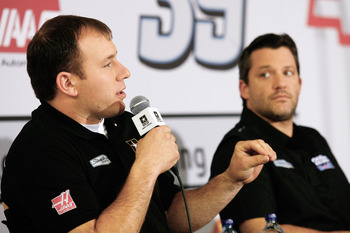 Jason Smith/Getty Images
When Stewart decided to leave Joe Gibbs Racing to become an owner/driver, he was taking a big risk. When Newman decided to become the first driver to join Stewart-Haas Racing, he was going out on a limb as well.
The partnership has turned out to be beneficial for both parties. Newman revived his floundering career, winning a race and making the Chase in his first two years with his new organization. Meanwhile, Stewart has gained credibility as an owner because of his ability to field two competitive cars.
Stewart needed Newman, and Newman needed Stewart. The two are now set up for plenty of success in the coming years.
Mark Martin & Joey Logano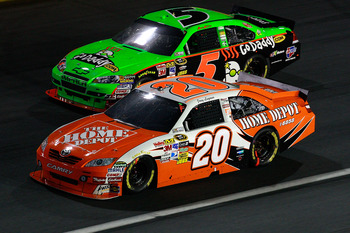 Sam Greenwood/Getty Images
Before Logano was winning races and being groomed to be NASCAR's next superstar, Martin was describing the unproven youngster as "the real deal" and "magic" among other things.
Ironically, Logano grew up idolizing Martin. A relationship between the two drivers developed, and Logano now claims Martin as his mentor.
While the similarities between the two could be seen early in Logano's career, he has been shedding the nice guy persona that Martin remains famous for. Beginning with his post-race comments about Kevin Harvick's wife wearing the fire suit in the family, Logano has been standing up to the drivers that had been taking advantage of his passive driving style.
Just because Martin is Logano's mentor doesn't mean he has to be a Martin clone. No offense to Martin and all he has accomplished in his decorated career, but his nice guy persona has yet to yield a Cup Series title.
Michael Waltrip & David Reutimann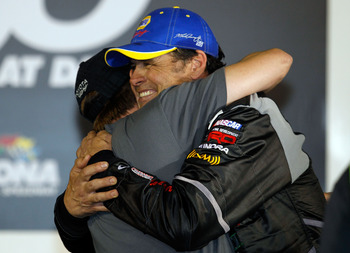 Todd Warshaw/Getty Images
Despite getting his start at an old age by today's standards, Waltrip gave Reutimann a chance. Reutimann has rewarded his owner's gamble by working his way up the ranks at Michael Waltrip Racing.
He scored the organization's first career Cup Series win in the Coca-Cola 600, and he has gone on to add a win at Chicagoland. His ability to get to Victory Lane played a major role in MWR landing free-agent Martin Truex Jr.
Waltrip has helped Reutimann advance his career, and Reutimann has done the same for Waltrip's race team. Reutimann was even dubbed "The Franchise" by his team owner.
Perhaps the true testament to their friendship is that the fact that Reutimann is willing to subject himself to those terrible commercials with Waltrip. The love must truly run deep.
Kasey Kahne & Kyle Busch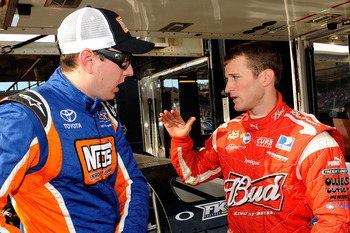 John Harrelson/Getty Images
Kahne and Busch have one thing in common—they love winning.
Busch's venture into Truck Series ownership has been the start of a successful partnership between the two drivers with Kahne running some races for Kyle Busch Motorsports.
In two starts with KBM, Kahne has two trips to Victory Lane, including a win during Busch's championship-winning 2010 season.
Kurt Busch & Kyle Busch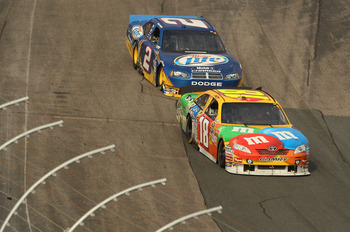 Elsa/Getty Images
There has certainly been plenty of sibling rivalry on the track between the Busch brothers, but when it counts, they always stick up for one another.
When Kurt was charged with reckless driving and suspended by Roush Fenway Racing, Kyle defended him in every interview possible. When Kyle was catching heat from the fans for wrecking Dale Earnhardt Jr. at Richmond, Kurt was quick to point out how much better Kyle had been than Junior on the track.
The bottom line is that all the old sayings are true. Blood is thicker than water, and nobody beats up on someone's brother but him. They may race each other hard on the track, but they have one another's back when it counts.
Jeff Gordon & Jimmie Johnson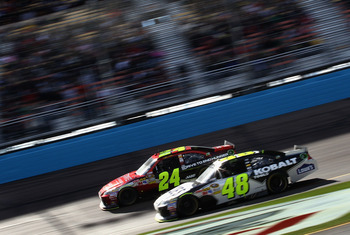 Christian Petersen/Getty Images
The relationship has certainly been tested in recent years. Johnson's overwhelming success and Gordon's winless drought have led to some tense moments on the track, but the two remain one of the most successful duos in the sport.
At the end of the day, Gordon is the main reason that Johnson has his ride in the Cup Series. The two still swap information during practice sessions, and last season, the two even swapped pit crews to make sure Johnson won a fifth consecutive title.
Deep down, Gordon is probably a little jealous of Johnson, but both drivers are going down in history as two of the all-time greats.
Kevin Harvick & Clint Bowyer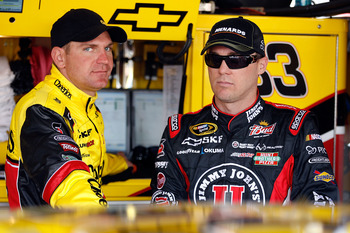 Chris Graythen/Getty Images
Harvick convinced Richard Childress to give Bowyer a shot in the Nationwide Series, and Bowyer's career has blossomed from there.
The two are always seen drafting together at plate tracks, and off the track, they are two of the best jokers in NASCAR.
Bowyer's nickname "Shify" was actually coined by Harvick. In typical Harvick fashion, the moniker is actually poking fun at Bowyer. While leading late in a Cup race, Bowyer missed a shift that cost him the win. Harvick has made sure the nickname has stuck. That's a true friend.
Dale Earnhardt Jr. & Tony Stewart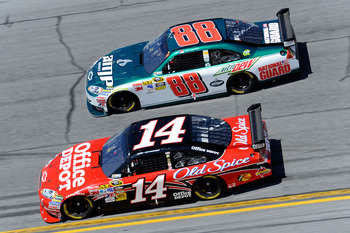 John Harrelson/Getty Images
Junior and "Smoke" may be the best restrictor-plate tandem in NASCAR today, and their friendship dates back to Junior's rookie season at the Cup level.
Stewart was never shy about his admiration for Dale Earnhardt Sr., and he studied the Earnhardt's restrictor-plate techniques. "The Intimidator" had respect for Stewart's speak-his-mind attitude as well, and he was the first person to greet Stewart after his attempt to win the Indianapolis 500 and Coca-Cola 600 in the same day.
When Dale Sr. died, Stewart became one of Junior's closest friends. They have teamed up to run the Rolex 24 Hours of Daytona as well as other races outside of the Cup Series. United by tragedy, the bond between Stewart and Junior runs deep.
Tony Stewart & Kevin Harvick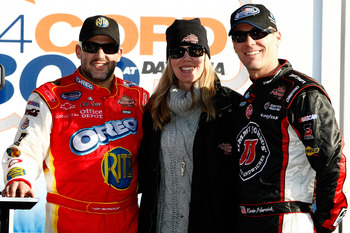 Jonathan Ferrey/Getty Images
This partnership nearly dissolved after a heated battle during the Brickyard 400, but cooler heads have prevailed, and Stewart and Harvick are once again friends.
Neither driver is afraid to tell it like it is or to get physical on and off the track. Harvick and Stewart just want to win, and if that means throwing some punches or banging some fenders along the way, so be it.
Stewart has won multiple races for Kevin Harvick Inc. in the Nationwide Series, and the two have even put out a t-shirt together. In an effort to get back at Jimmie Johnson for wrecking several cars at Daytona, the drivers released a shirt that included the phone number 1-800-BITE-ME-48.
Now, if only one of them could end his reign as champ.
Keep Reading