MMA: Diego Sanchez and the 30 Most Gruesome Post-Fight Photos on the Web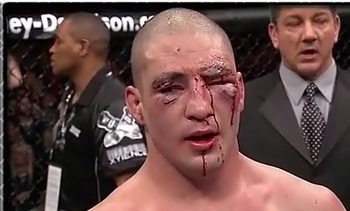 Recently, Diego Sanchez defeated Martin Kampmann at UFC on Versus 3. Although Kampmann lost in a decision, it was clear that Sanchez (pictured) paid a price for the victory.
This was not the first instance of major facial damage for Sanchez, who was taken to the hospital immediately after a loss in a title fight against B.J. Penn.
Bumps and bruises are an unfortunate side effect of all combat sports. Here are some examples of the worst cases of MMA-inflicted damage.
Note: If you are associated with the New York state government, please stop reading now.
Jon Fitch (vs. Georges St.-Pierre at UFC 87)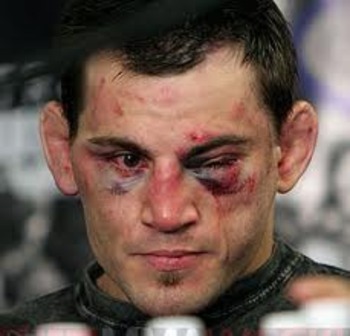 Fighting for the UFC Welterweight Championship at UFC 87, Jon Fitch fell victim to the relentless ground-and-pound of Georges St.-Pierre. By the end of the fight, Fitch's left eye was completely swollen shut.
Although Fitch was badly bruised and beaten, he wouldn't be the last American Kickboxing Academy fighter to endure this much punishment from St.-Pierre.
Josh Koscheck (vs. Georges St.-Pierre at UFC 124)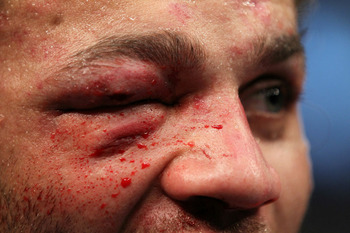 A friend and training partner of Jon Fitch, Josh Koscheck also came up short in a title fight against Georges St.-Pierre.
While Fitch's left eye absorbed a majority of the damage in his fight with St.-Pierre, it was the right eye of Koscheck that became the target of several St.-Pierre jabs.
After the fight, Koscheck had to undergo eye surgery to repair the damage. Koscheck is expected to remain out of action until late summer 2011.
Fedor Emelianenko (vs. Antonio Silva at Strikeforce: Fedor Vs. Silva)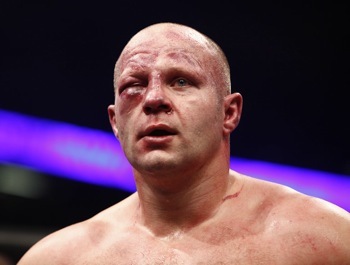 Sticking with the swollen eye theme, Antonio Silva's ground-and-pound forced an end to his fight with Fedor Emelianenko because of Emelianenko's impaired vision.
It was the first time that Emelianenko had been defeated in such a brutal fashion.
After the fight, Emelianenko contemplated retirement, but it is now believed that he will return to Strikeforce.
Marvin Eastman (vs. Vitor Belfort at UFC 43)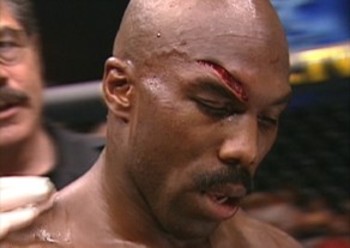 At UFC 43, Marvin Eastman was making his debut with the organization against Vitor Belfort. About a minute into the fight, Eastman ate a knee from Belfort that quickly led to the end of the fight.
In addition to the disappointment of defeat, Eastman exited the Octagon with one the worst looking cuts in MMA history.
Stefan Struve (vs. Denis Stojnic at UFC 99)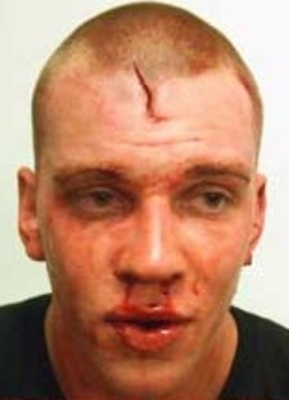 Stefan Struve has made a name for himself by battling back in fights that it appeared he was going to lose.
In his first example of this while with the UFC, Struve mounted an unlikely comeback against Denis Stojnic at UFC 99.
Although Struve won the fight by submission, he took a beating in the process. Most notably, Struve suffered a gash in the middle of his forehead that would make Harry Potter proud.
Kazushi Sakuraba (vs. Ricardo Arona at PRIDE Critical Countdown 2005)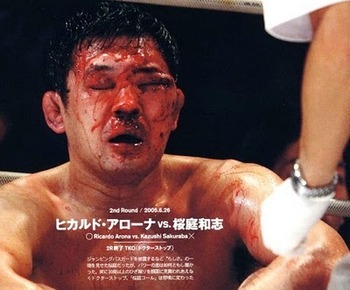 Fighting Ricardo Arona in the quarterfinals of the 2005 PRIDE Middleweight Grand Prix, Kazushi Sakuraba was on the receiving end of one of the most brutal beat downs in MMA history.
After taking repeated knees from Arona in the second round, Sakuraba's corner decided to put a stop to the fight.
Unfortunately, this would not be the final time that Sakuraba would lose a fight in a gruesome fashion.
Kazushi Sakuraba (vs. Marius Zaromskis at Dynamite!! 2010)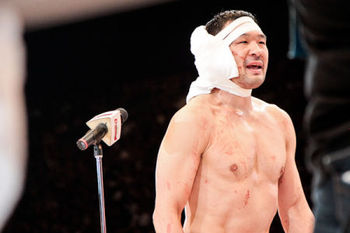 Recently, Kazushi Sakuraba fought Marius Zaromskis for the DREAM Middleweight Championship at Dynamite!! 2010.
Early in the fight, part of Sakuraba's ear was nearly detached by a Zaromskis punch. Upon examination from a ringside doctor, the fight was stopped.
James Thompson (vs. Kimbo Slice at EliteXC: Primetime)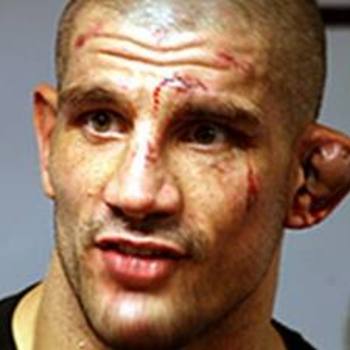 Speaking of detached ears, James Thompson's ear injury against Kimbo Slice in EliteXC was one of the more visually disturbing images in MMA.
Thompson's ear had been swollen by cauliflower ear heading into the fight and ruptured when it took a punch from Slice.
Joe Stevenson (vs. B.J. Penn at UFC 80)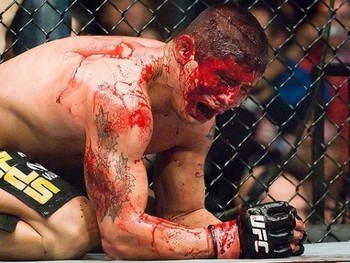 Heading into a fight against B.J. Penn for the vacant UFC Lightweight Championship, Joe Stevenson had won 13 of his last 14 fights.
Stevenson's success ended there, though, as Penn turned the fight into a bloodbath before submitting Stevenson late in the second round.
Diego Sanchez (vs. B.J. Penn at UFC 107)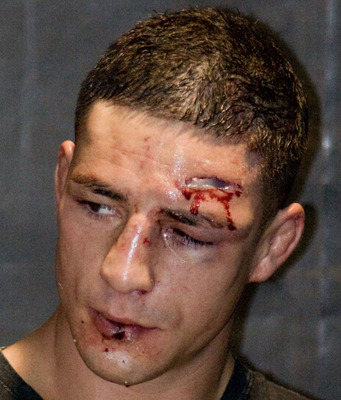 After beating Joe Stevenson, B.J. Penn continued his assault on the top contenders of the lightweight division. In his last successful title defense, Penn fought Diego Sanchez at UFC 107.
After out-striking Sanchez for four and a half rounds, the ringside doctor forced an end to the fight. Sanchez had suffered a cut on his forehead that was so deep that his skull was visible.
Caol Uno (vs. B.J. Penn at UFC 41)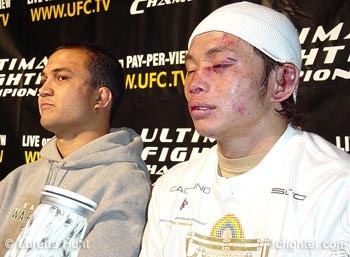 Long before his destruction of Joe Stevenson and Diego Sanchez, B.J. Penn fought Caol Uno for the vacant UFC Lightweight Championship. The fight was Penn's second against Uno after winning the first fight by knockout in 11 seconds.
This time, Penn and Uno fought to a draw and the title remained vacant. Despite the close decision, there was an obvious difference in which fighter took the most damage.
Charlie Lynch (vs. Clayton McKinney on The Ultimate Fighter: Season 11)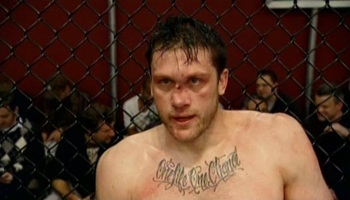 On The Ultimate Fighter: Season 11, Charlie Lynch fought Clayton McKinney for a spot in the house in the opening round of competition. In the first round of the fight, Lynch suffered a disturbing broken nose.
The sight was so unsettling that McKinney stopped fighting to point out the injury before finishing the fight with a technical knockout.
Rich Franklin (vs. Anderson Silva at UFC 64)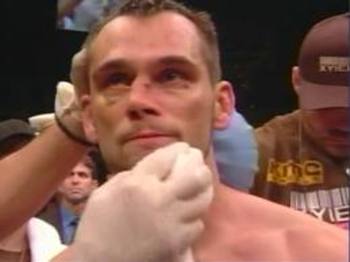 Although his break was not as gruesome as Charlie Lynch's, Rich Franklin is no stranger to broken noses.
Fighting for his third straight title defense against Anderson Silva at UFC 64, Franklin was knocked out by a brutal knee.
The impact left Franklin's nose badly broken. The long championship reign of Silva had begun.
Brandon Vera (vs. Thiago Silva at UFC 125)
Trying to avoid his third straight loss at UFC 125, Brandon Vera suffered one of the worst looking broken noses the UFC has ever seen.
Despite losing the fight and his uncertain future with the UFC, Vera was able to see the humor in the moment by showing off his rearranged face to the cameras as Bruce Buffer announced Thiago Silva as the winner.
John Howard (vs. Jake Ellenberger at UFC on Versus 2)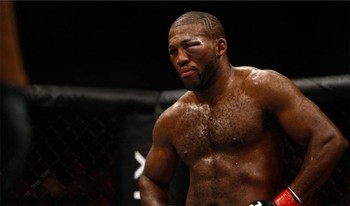 In August 2010, John Howard battled Jake Ellenberger for two and a half rounds before the ringside doctor determined that he should not be allowed to continue due to the massive swelling to his left eye.
Howard's swelling was so severe that it was visible even from camera angles behind his head during the fight.
Marcus Davis (vs. Nate Diaz at UFC 118)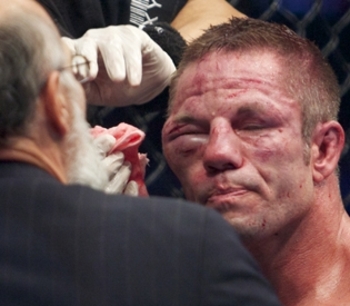 As bad as John Howard looked after his fight, Marcus Davis' swollen eye in a fight against Nate Diaz at UFC 118 was even worse.
Despite his complete lack of sight out of his right eye, Davis nearly managed to take the fight to a decision, but was submitted by Diaz with less than one minute remaining in the fight.
Urijah Faber (vs. Jose Aldo at WEC 48)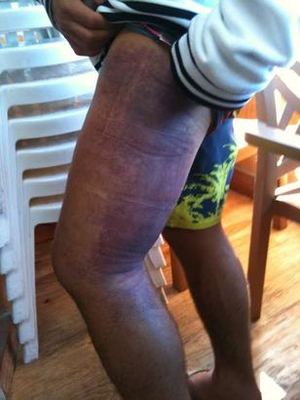 At WEC 48, Jose Aldo put on a clinic on how effective leg kicks can be in winning a fight.
Unfortunately for Urijah Faber, Aldo also showed how leg kicks can be used to render an opponent's leg completely useless for days.
Corey Hill (vs. Dale Hartt at UFC: Fight for the Troops)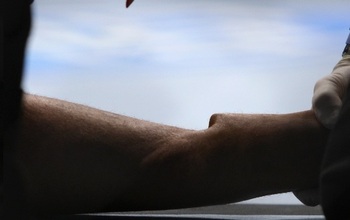 While Urijah Faber's situation was far from enviable, he would probably accept his injuries after the Jose Aldo fight 100 times out of 100 when presented with the alternative of what happened to Corey Hill.
When his attempted leg was checked by Dale Hartt, Hill's leg snapped on impact. Hill collapsed to the canvas in one of the most gruesome scenes in MMA history. Hill has not fought in the UFC ever since.
Rashad Evans (vs. Lyoto Machida at UFC 98)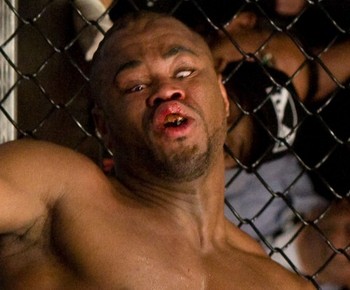 In his first attempted title defense as UFC Light Heavyweight Champion, Rashad Evans came out on the losing end against Lyoto Machida.
To add to the embarrassment of the knockout loss, this image of Evans was captured and been circulating throughout the Internet.
Lyoto Machida (vs. Mauricio Rua at UFC 113)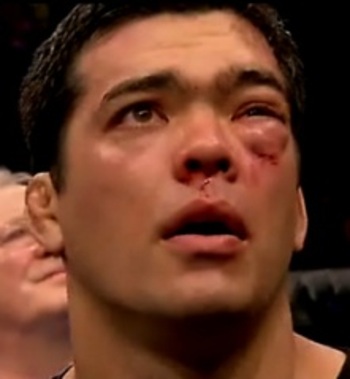 Just two fights after delivering the knockout that added Rashad Evans to this list, Lyoto Machida relinquished the light heavyweight belt to Mauricio Rua.
Following the knockout loss, Machida stood to reveal a badly swollen left eye.
Nate Quarry (vs. Tim Credeur at UFC Fight Night 19)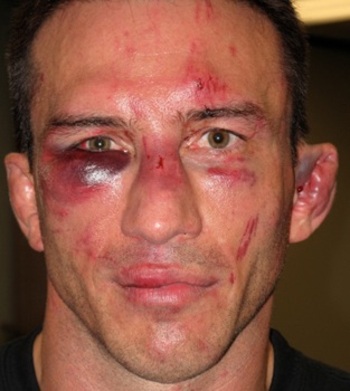 Although it may appear that Nate Quarry took a beating in this fight, he actually took a unanimous-decision victory against Tim Credeur at UFC Fight Night 19.
Quarry wouldn't be so fortunate in his next fight, though. After his face was badly damaged again in a technical knockout loss to Jorge Rivera, Quarry ended up getting facial reconstruction surgery.
Matt Hamill (vs. Tim Boetsch at UFC Fight Night 13)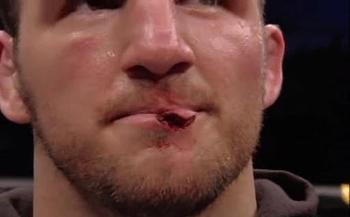 Matt Hamill won his fight at UFC Fight Night 13, but not before Tim Boetsch had the chance to inflict some major damage to Hamill's lower lip.
Before finishing Boetsch in the second round, Hamill took a knee to the face that caused this gruesome cut.
Brock Lesnar (vs. Cain Velasquez at UFC 121)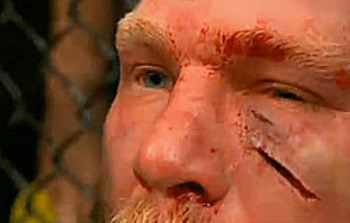 There was a time when people wondered whether or not Brock Lesnar was human.
If Lesnar's near-loss to Shane Carwin didn't prove his mortality, then the beatdown he suffered against Cain Velasquez certainly did.
In addition to losing his belt, Lesnar suffered a deep cut to his left cheek in the loss to Velasquez.
Miguel Torres (vs. Joseph Benavidez at WEC 47)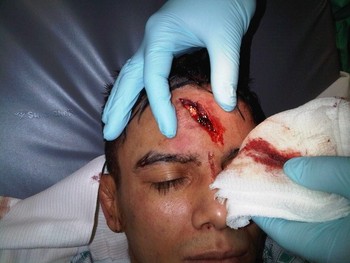 In his first fight after losing the WEC Bantamweight Championship, Miguel Torres fought Joseph Benavidez.
In losing to Benavidez by submission in the second round, Torres lost consecutive fights for the first time in his career.
In the process, Torres suffered a gruesome gash to the middle of his forehead. The cut was so deep that Torres' skull was visible.
Ross Pointon (vs. Marius Zaromskis at Cage Rage 24)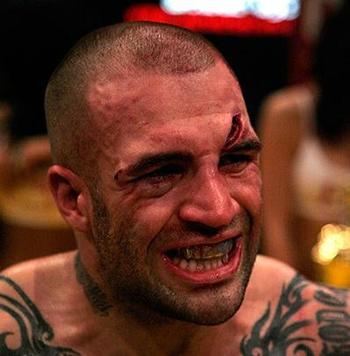 Marius Zaromskis' second victim on this list is Ross Pointon, who lost because of a doctor's stoppage due to this nasty cut over his left eye.
The fight between Zaromskis and Pointon took place at Cage Rage 24 in December 2007.
Nick Diaz (vs. Takanori Gomi at PRIDE 33: Second Coming)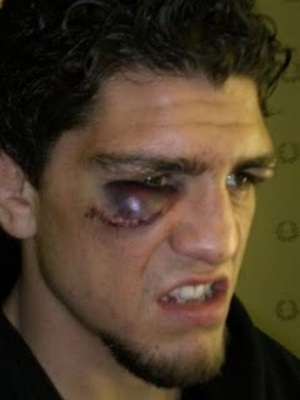 One of the most disliked fighters in the sport, many fans probably wished that this kind of thing happened more often to Nick Diaz. Although, Diaz finds a way to win even when he does absorb this kind of punishment.
In the fight that caused this swollen eye and several stitches, Diaz was able to submit Takanori Gomi with a gogoplata. The win was later overturned to a no-contest, though, when Diaz tested positive for marijuana.
Wanderlei Silva (vs. Artur Mariano at IVC 2)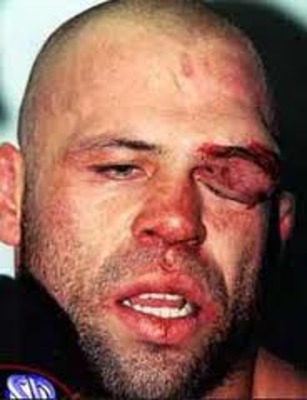 In his third fight of the day, Wanderlei Silva was defeated by Artur Mariano in the September 1997 fight that caused this damage to his left eye.
The loss was the first of Silva's career, but it was far from the last time that Silva's face would take a beating.
Heath Herring (vs. Brock Lesnar at UFC 87)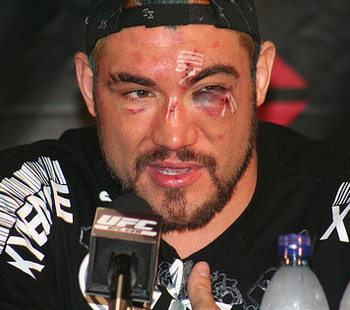 After losing to Frank Mir in his UFC debut, Brock Lesnar was in need of a win in his second UFC fight, which came against Heath Herring.
As you can see, things didn't go very well for Herring, who lost the fight by unanimous decision and has not fought since.
David Loiseau (vs. Rich Franklin at UFC 58)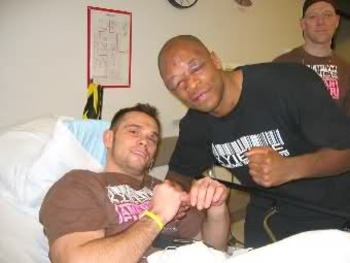 At UFC 58, David Loiseau fought Rich Franklin to a decision in a championship fight. Loiseau ended up losing the fight by unanimous decision, and his face showed the beating he took for five rounds.
Both of Loiseau's eyes were nearly swollen shut. Franklin was also injured in the fight and was forced to undergo surgery on his broken left hand.
Yoshihiro Takayama (vs. Don Frye at PRIDE 21: Demolition)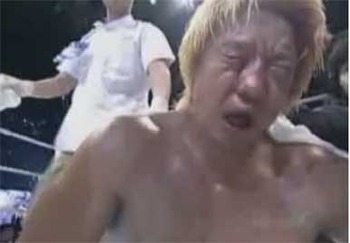 If you enjoy a fight where both fighters throw caution to the wind and slug it out, then Don Frye vs. Yoshihiro Takayama was the fight for you.
Explaining this brutal fight with words just wouldn't do it justice, so you can watch the fight for yourself here.
Keep Reading