2011 NCAA Tournament: Derrick Williams, Top 10 NBA Prospects in the Sweet 16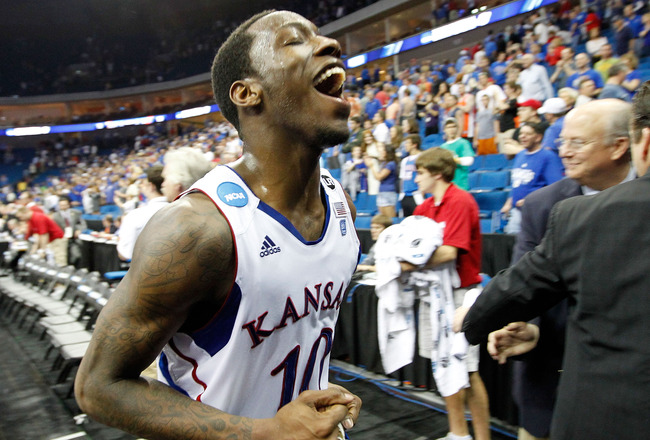 Tom Pennington/Getty Images
There's been a ton of hype in the NCAA this season on whether or not the top-tier talent is NBA-worthy. We're only two rounds into the tournament and the elite are already separating themselves from the rest of the pack.
Game-winning shots, game-saving defensive plays and playmakers finding ways to get their team to the next round.
With so much left unsettled, the last thing everyone is thinking about is where these superstars left in the tournament are going in the NBA Draft.
Or is it the first thing?
Here's a look at a power ranking of the top talent left in the Sweet 16.
10. Matt Howard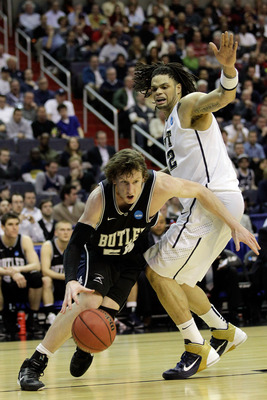 Rob Carr/Getty Images
Some guys are born talented, and some guys have to work extremely hard. Then there are the guys that are born with the necessary skills, and they still work extremely hard at their craft. That's Matt Howard.
Howard, who has been with the Butler Bulldogs since the 2007-2008 season, has put up extremely impressive numbers and proved through his play that he's worthy of a shot in the NBA.
Howard averaged 16.7 PPG this season and 7.7 RPG. He's 6'8," 230 pounds, and can knock down a shot from anywhere on the court.
Sure, you look at guys on paper first when figuring out if they're professionally a fit. With Howard, you have to look at some of the plays he's created due to an extremely high basketball IQ.
In just two games in his last run at a chance to win the NCAA tournament, Howard has put back a last- second game-winning shot against Old Dominion, and drawn a foul with less than a second left leading to his game-winning free throw against Pittsburgh.
Howard's one of those guys that creates energy. Metaphorically speaking, there's always room for a boost of Matt Howard in your NBA diet.
9. Kyle Singler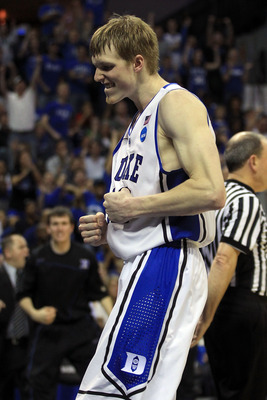 Streeter Lecka/Getty Images
Although Singler was a little bit of a different case than teammate Nolan Smith, he still turned into one of the elite NCAA players like his counterpart.
Singler averaged 16.9 PPG this season to go along with 6.8 RPG. He's seen big-time minutes his entire Duke career, and for good reason.
Singler's ability to make people around him better is a priceless quality that very few have to offer. Knowing where your teammates are, an internal clock that says it's time to make a move and a winner's mentality are all qualities Singler possesses.
Anyone in the NBA would be foolish to not consider adding Singler to their roster come June.
8. Brandon Knight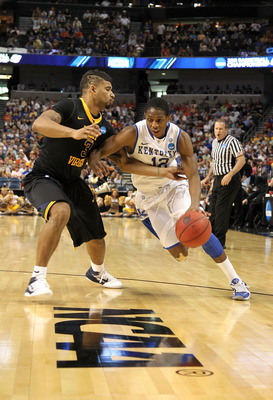 Mike Ehrmann/Getty Images
Brandon Knight came into Kentucky with a lot of hype surrounding him. After all, he was the guy that was taking over for the one-year phenomena John Wall at point guard. They were tough shoes to fill, and not everyone could have come in and done what Knight did given the circumstances.
Knight, in his freshmen year with the Wildcats, averaged 17.4 PPG to go along with 4.2 APG, and 3.9 RPG. At 6'3," he's shown that he can not only score consistently, but his ability to make plays in the passing and rebounding game makes him the complete point-guard package.
Knight has all the makings of a future Rajon Rondo-kind of player who has that ability for triple-doubles if he plays enough minutes. The Fort Lauderdale freshman has knocked down some big-time shots this season as well.
7. Kawhi Leonard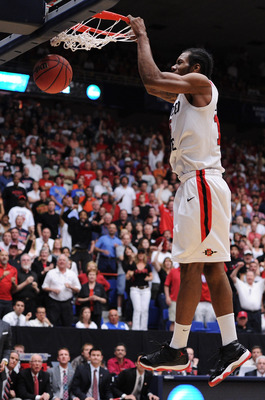 Harry How/Getty Images
There's not many guys in the NCAA who average a double-double by seasons end. When you do come across one of those athletes, you tend to want to break down his success.
Kawhi at 6'7" 225 pounds, is an extremely versatile small forward. He knocks down 15-foot jump shots just as much as he's in the paint banging bodies trying to put back a teammate's missed shot.
Leonard's only a sophomore, but certainly has the mindset of an elite playmaker. He's a guy that wants the ball when his team's in a big spot. That's the kind of guy you want playing for your basketball team.
NBA bound? I think so.
6. Kemba Walker
Rob Carr/Getty Images
Kemba Walker is one of the premiere guards in the NCAA. He's having an absolute breakout junior season and during the regular season averaged 23.5 PPG and 4.3 assists which was a team high.
After the regular season, we saw him really come into his own during the Big East tournament where he knocked down some big-time shots with the game on the line.
He's only 6'1," but the more he shows he can shoot and pass, the more his stock is going to rise come NBA draft time.
5. Nolan Smith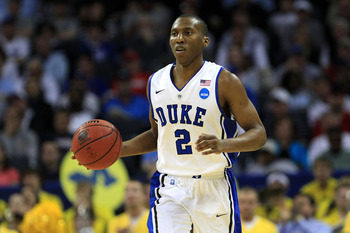 Streeter Lecka/Getty Images
Coach K preaches consistency. Smith came into Duke's program in the 2007-2008 season and only played 14 minutes a game, averaging 5.9 PPG.
Three years later and he's led the Blue Devils with 21.3 PPG and 4.6 APG.
Smith has matured into the type of basketball player I'm sure he always aspired to be: clutch, selfless and an elite scorer. He's already had an impressive NCAA tournament. The more games he plays in will only help his draft stock rise.
4. Jimmer Fredette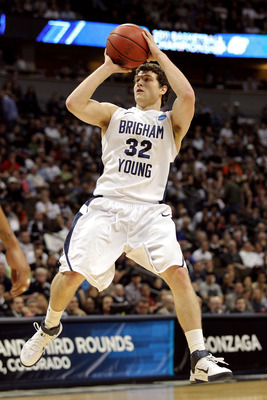 Justin Edmonds/Getty Images
Fredette was the nation's leading scorer averaging 28.5 PPG this season and knocked down 112 three-pointers this season and shot 45.6 percent from the field.
The Cougars went 30-4 this season and it's in large part due to what Fredette can do offensively. There's not one team in the NBA that wouldn't absolutely love his services at the next level.
3. The Morris Twins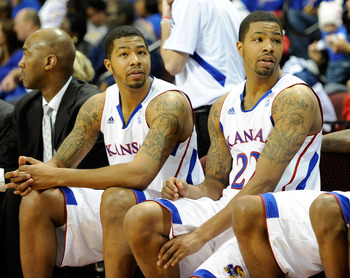 Ethan Miller/Getty Images
When you get a chance to see twins in general, it's a sight to see. When you get to see twins in an athletic setting and they both are monstrous at their craft, it's a once in a lifetime kind of experience.
Kansas forwards Marcus and Markieff Morris are just that.
For the Kansas Jayhawks this season, Marcus averaged 17.3 PPG and 7.4 RPG. His brother Markieff averaged 13.9 PPG and hauled in 8.3 RPG.
If you look closely, they may even have the same tattoos down to the very last one. They grew up together, they are identical and they are everything you look for in an NBA-type basketball player.
As Austin Powers would say, "Twins, Bazzle, twins!"
2. Jared Sullinger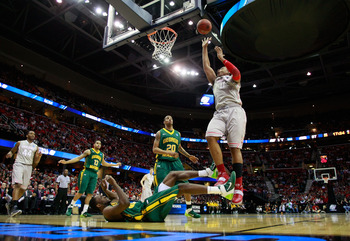 Gregory Shamus/Getty Images
He led the Ohio State Buckeyes with 17.2 PPG and 10.1 RPG. Sullinger shot 53 percent from the field, and had 43 assists, 32 steals and 19 blocks in 34 games this season. He's a big man that knows to operate down low in any kind of situation that arises. He's got the footwork down, the active hands and an X-factor mentality.
Should be no reason why J-Sull isn't on everybody's top list for big men entering the draft.
1. Derrick Williams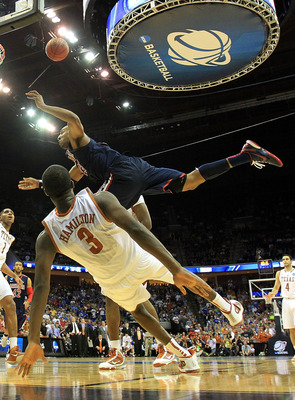 Ronald Martinez/Getty Images
Williams averaged 19.1 PPG, 8.1 RPG and had 24 blocks on the season. Arizona, in large part to Williams and his superstar year went 27-7 overall and 14-4 in the Pac-10.
Williams may look like he's all offense, but in the first round of the NCAA tournament he came up with a game-saving block against the Memphis Tigers.
When you have a guy like Williams at his size, who knows how to score at will and play defense, you've found yourself one of the top five candidates in the next draft.
Keep Reading