Milwaukee Brewers: Ryan Braun Should Win the 2011 NL MVP Award
August 24, 2011
Coming into the 2011 season, Ryan Braun had already established himself as one of the best players in the game. In fact, Braun was off to the kind of start to a career that will one day see him enshrined into the Baseball Hall of Fame.
Despite such a prodigious start to his career, many fans and media members questioned Braun's abilities to improve. His power numbers had been consistently dropping since his rookie year, and some felt that he had reached his maximum potential despite being just 27 years old. 
With his performance thus far in 2011, Braun has proven his doubters wrong as he is on pace to have a career year statistically while leading the Milwaukee Brewers to their first division title since 1982. Although he isn't even the only candidate on his own team, Braun is the player that should win the 2011 NL MVP Award.
Braun is hitting .328, second only to the Mets Jose Reyes. His 25 home runs are tied for ninth best in the league and his 85 RBI places him fifth in the league in that category. He's already stole 28 bases, which is a career high, and is tied for seventh in the league. He also leads the league in slugging (.586), OPS (.985), and runs scored (95).  
Others that should garner votes for the award include perennial MVP candidate Albert Pujols, Dodgers outfielder Matt Kemp, Diamondbacks outfielder Justin Upton and Braun's teammate, Prince Fielder,  
While each player is having a superb season, none match up to Braun when looking at the situation with a more critical eye.
Albert Pujols has rebounded quite well from a slow start and injury to his wrist earlier in the year. For any other player in the league 2011 would be considered a career year, however, despite leading the league in home runs, he is having an off year. Currently, he's hitting .289, over 20 points less than his career low of .312 last year.
Additionally, as crazy as it sounds, Pujols isn't as valuable to the Cardinals as one may think. The Cards remained quite competitive and atop the NL Central while he was out with the wrist injury but sit a full 10 games behind the Brewers as the teams enter play today. The first baseman is still a great player and will command an enormous contract this winter, but he isn't the MVP this season.
Matt Kemp is having an outstanding season for the Dodgers. Unlike Pujols, who is having a down year, Kemp is in the middle of a career year. He has an outside chance of joining the 40-40 club and should hit well over .300, but how valuable is he really on a team that currently sits in last place in the NL West with a 59-69 record? There's no denying his talents on the field, but he isn't the MVP of the league.
Justin Upton is a very interesting and surprising entrant into the MVP race. Almost every fan and prognosticator picked the Diamondbacks to finish last in their division in spring training, but it appears more and more every day that they'll win their division and be returning to the playoffs in October. Upton is the central figure in the team's success.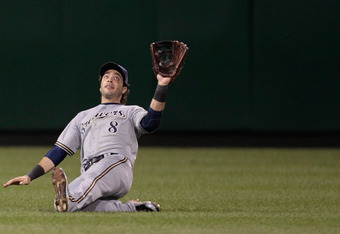 He's hitting .298 with 25 home runs and 77 RBI, while stealing 19 bases, and scoring 81 runs. He is fulfilling his vast potential and establishing himself as one of the best young talents in the game. Although his numbers are great, Braun bests him in every one of those categories and is on the superior team. Add in the fact that while the Brewers don't get much coverage nationally, they get more than the Diamondbacks do. Upton's best hope to win would be to continue putting up his great numbers and hope Braun and Fielder split votes among the voters.
Speaking of Fielder, he may be Braun's stiffest competition for the award. The duo has become the best one-two punch in baseball and along with a very good pitching staff have led the Brewers to a commanding lead in the NL Central.
Free agency is imminent for Fielder, and he has done his best to make himself very marketable for the offseason. He's hitting .300 with 28 home runs and became the first person in baseball this season to have 100 RBI. He also leads the league with 24 intentional walks.
Fielder is seen by some as the face of the franchise, but it is Braun whom the team has invested in long-term. While Fielder is an RBI machine, Braun is just as proficient at knocking in runs, while setting the table himself for Fielder to knock in so many runs. While each may suffer next year apart from one another, this year they are the most feared combo in the game.
Braun has expanded his game to become a great all-around player and may very well win a Gold Glove this year. His power numbers are back to the level of his rookie season and he has a legitimate shot at winning his first batting crown.
Earlier this season he became just the ninth player in major league history to hit 150 home runs and drive in 500-plus RBI in his first five seasons as a pro. He already has a Rookie of the Year trophy and four All-Star game appearances to his credit, but he is now poised to win his first MVP Award and be recognized among the game's elite players.
To read more by Jesse Motiff, click here.