WWE: 27 WrestleMania Dream Matches (Part 2)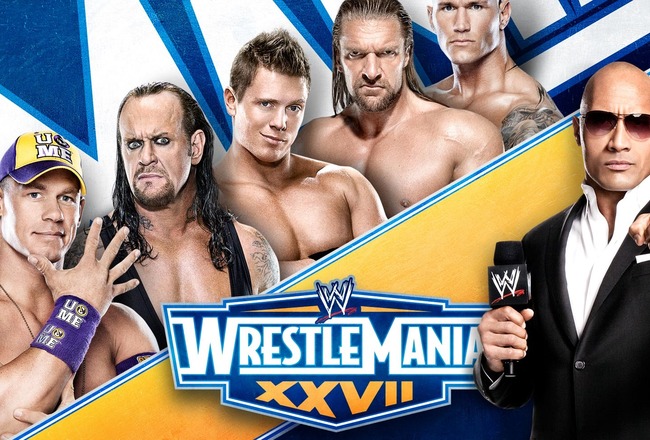 It is safe to say that it is officially WrestleMania season.
We are now less than three weeks away from WrestleMania XXVII and excitement is building at a steady pace. Wrestling fans across the globe are gripped by anticipation for the biggest event in professional wrestling.
WrestleMania is the "Showcase of the Immortals," an event where anything can happen.
Here lies the crux of this article.
WrestleMania is the platform where dream matches can, will and have taken place. Over the course of this three-part series, I will present 27 dream matches that I would love to see during the "Grandaddy of Them All."
Some of these matches may happen in the years to come, some have a faint possibility of coming to fruition and others are nothing more than a fantasy.
Please keep in mind that this is a list based on my own subjective tastes and preferences. This is in no way a definitive list, so please feel free to share ideas for your own WrestleMania dream matches.
In the first installment I presented such dream matches as The Rock vs. Shawn Michaels and John Cena vs. The Undertaker.
What will the second edition have in store?
Kurt Angle vs. Triple H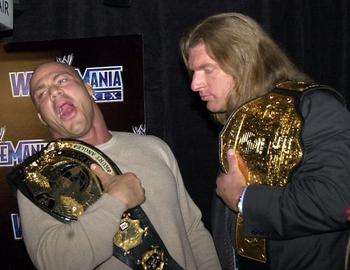 Kurt Angle and Triple H are two of the most decorated and legendary figures of their generation.
Furthermore, they never really had a significant feud.
So what better stage is there to showcase two of the best wrestling talents of the past 15 years than at WrestleMania?
These two have always been at the top of whatever show they were on or whatever company they were in.
Considering they have over 20 world championships reigns between them, it would be a battle that I would love to see at WrestleMania.
CM Punk vs. Jeff Hardy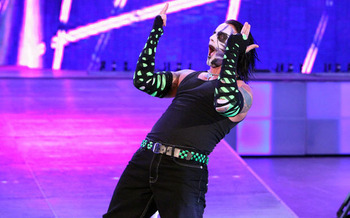 Was this the best feud of 2009?
Probably.
Not only was it the beginning of CM Punk's sublime-heel run, it elevated Jeff Hardy to new heights in terms of baby-face popularity.
This feud was never resolved, and if the dirt sheets are to be believed, there is genuine animosity between these two.
Forget the fact that Hardy is wrestling's Charlie Sheen.
Forget the fact that he has gone from one of the top names in the business to a perennial laughingstock.
This match could be spectacular. Hardy always delivered at WrestleMania and Punk is a master at crafting engaging stories.
Whilst it is unlikely Hardy will return to the WWE, I would love to see these two end their rivalry once and for all on the "Grandest Stage of Them All."
Hulk Hogan vs. The Undertaker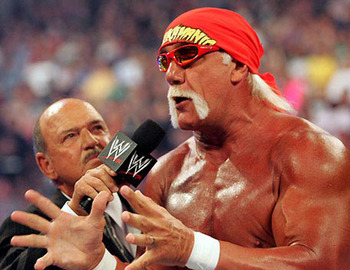 The intrigue in The Undertaker's match at WrestleMania every year relies on the fans believing that "The Streak" could be broken.
Hulk Hogan would instill that belief.
Throughout his illustrious career he was an unstoppable force and an immovable object. If this streak was around 20 years ago, I honestly believe Hogan would have been the one who beat it.
Whilst this would never have been a wrestling clinic, it would have been a spectacle to see these two icons clash on the biggest stage in sports entertainment.
The Rock vs. Randy Orton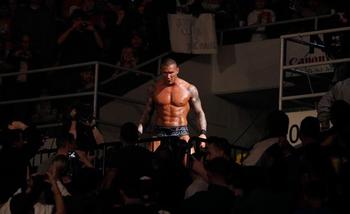 Granted, this match does not have the hype surrounding it that The Rock vs. John Cena does. However, these two could deliver a thoroughly engaging story with a great match at the end.
The Rock and Randy Orton are the two most successful third-generation Superstars in WWE history. To see the two of them clashing over which third-generation Superstar is superior could make for a great WrestleMania moment.
Furthermore, the feud would have the potential to become a classic if Orton turned heel and reintroduced his Legend Killer demeanour. This would allow the rivalry to be centered on Orton's pursuit of being recognised as the WWE's most dominant third-generation Superstar.
Also, it's not like The Rock doesn't have any members of his family in wrestling, so if Randy went after The Rock's legendary bloodline, the match could become highly personal.
If this does not form the basis of a WrestleMania Dream Match, I don't know what does.
Edge vs. Christian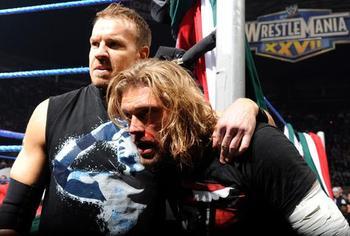 This potentially show-stealing rivalry needs to happen, and what better place for it to culminate than WrestleMania?
It would not surprise me if Christian is involved in the match at this year's WrestleMania one way or another. The possibility of a heel turn is quite likely, so we may even get to see this feud later this year.
However, it would be great to see these two battle it out at WrestleMania.
They have stolen the show before as a team. It would be fantastic to see them steal the show as opponents.
This is a match that so many people want to see it would be a disservice to Edge and Christian for it not to happen at WrestleMania.
Shawn Michaels vs. Daniel Bryan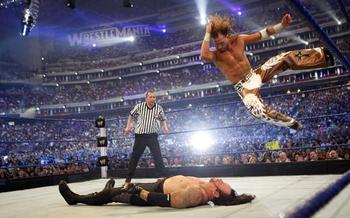 This would be an incredible wrestling match.
On one hand you would have Mr. WrestleMania.
On the other you would have the man many believe could fill the void left by Shawn Michaels, if he was allowed to.
Michaels is often credited as training Bryan on WWE programming (although his involvement in his training is dubious). A match based around the student trying to surpass the teacher would be simple but effective.
This would be the type of match that can rely on the amazing technical ability of the wrestlers and still be a classic. It would not have to rely upon overt gimmickry, bulletproof announce booths or an ostensibly mentally-challenged Grand Master Sexay dancing like an idiot.
Although this match will never happen, it is redundant to say that if it did, it would be a WrestleMania classic.
Chris Jericho vs. The Undertaker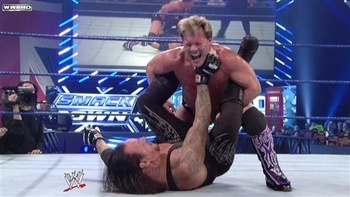 "The Streak" has been a central feature of WrestleMania for almost 20 years. It is one of those matches that has this intangible quality that makes it such an attraction.
Although The Undertaker is responsible for so much of "The Streak's" attraction, the quality of the opponent has the potential to elevate the match to another level.
If you were to believe Triple H, you would think that he is the only challenge The Undertaker has left. Well, in terms of being a thoroughly established, main-event caliber Superstar, he has a point. However, I think there are two more legitimate challenges if you were to follow Triple H's criteria. Firstly, there is John Cena, who is mentioned in the first part of this series.
The other remaining challenge to The Undertaker, I believe, is Chris Jericho.
Everything about this match could be on the same level as The Undertaker's past three WrestleMania matches. It is unnecessary to say how much potential this match has.
Unfortunately, this match is unlikely to take place. Logic dictates that next year will be The Undertaker's final WrestleMania outing, and if the WWE has any sense they will give one of their upcoming Superstars the ultimate push by allowing him to break the streak.
CM Punk vs. Daniel Bryan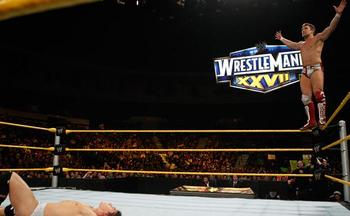 Daniel Bryan and CM Punk are two of the biggest success stories from the independent wrestling scene in recent memory.
Whilst this match does not have the aura that many of the other matches presented possess, it would certainly be a great wrestling contest.
They are arguably two of the greatest in-ring talents in the world today, and allowing them to face each other would be a fantastic way to showcase their talents.
It would be a potentially classic match that would be well-suited to the prestige of WrestleMania.
It would not be a surprise to see this match in the years to come.
Bret Hart vs. Kurt Angle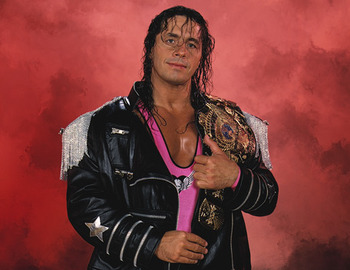 Two of the greatest wrestlers of all time, battling to prove who the best of all time really is.
Need I say more, other than that this match could redefine what exactly a classic match is.
A true WrestleMania Dream Match.
To Be Continued...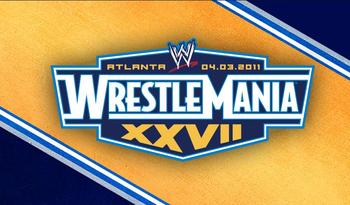 Thank you for reading the second installment in this series of three.
Part Three will be up by the end of the week.
Feel free to comment on the matches I have selected and suggest matches you would love to see at WrestleMania.
Keep Reading