UFC 128 Fight Card: Predictions for an Electric Night in Newark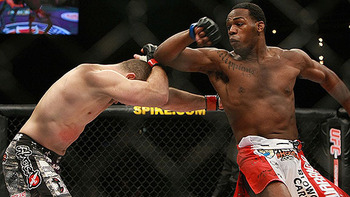 Jon "Bones" Jones has evolved into the fastest rising star in all of MMA. At just 23 years of age, Jones has aligned himself with a shot at the UFC Light Heavyweight Championship. If Jones can defeat newly crowned champion Mauricio "Shogun" Rua, he will show of a major changing of the guard that's currently happening in the UFC. Currently, there's only one champion that's over the age of 30. This means that there's a new wave of fighters entering into the UFC, and Jones is the clearest representation of this "new breed."
Rua is being greatly discounted in this fight. Although he's the champion and has many tricks up his sleeve, the sly Jones just might be one step ahead with his unorthodox striking. Keep in mind that Rua too is unorthodox and powerful, but Jones is very precise considering the difficulty of the strikes that he throws. Jones should be able to keep the champion off balance in this way.
In other action on Saturday night, Urijah Faber's UFC coming out party will be underway in the co-main event. Faber, now at 135 pounds, looks to earn another shot at Bantamweight Champion Dominick Cruz. Faber defeated Cruz four years ago in the WEC. Faber can't look ahead though as Eddie Wineland presents a tough challenge for him this weekend in New Jersey.
This card also includes both Miller brothers, Dan and Jim, in their native New Jersey.
TUF 10 runner-up Brendan Schaub looks to take down another UFC veteran when he meets Mirko Cro Cop. Schaub expects 2011 to be a big year where he solidifies his position at Heavyweight.
UFC 128 has major implications for the company in 2011 and beyond. Jones could provide that new class of champion that the UFC can market at 205. A lot of questions will be answered on Saturday night in Newark.
Heavyweight: Brendan Schaub Vs. Mirko Cro Cop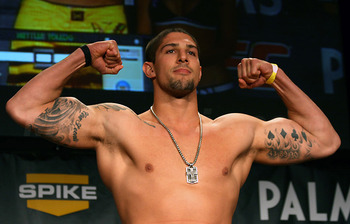 Brendan Schaub is one of the most impressive TUF competitors to come through in recent seasons and he didn't even win Season 10. Schaub is hastily heading to the top of the heavyweight division while Mirko Crop Cop is in free-fall and on the downswing of his illustrious career.
Many are thinking that this could be Cro Cop's "swan song" if he loses to Schaub. This is sure to be a solid fight to start things off in Newark. Cro Cop will need to use his "right kick hospital, left kick cemetery" combo in order to hold off the young, spry Schaub.
Here are two fighters headed in entirely different directions to say the least. In many ways, this fight could help transport Schaub to the next level at Heavyweight and make him a formidable contender.
Expect Schaub to fend off Cro Cop kicks and use them as motivation to finish the fight quickly by displaying knockout power of his own. A flurry of strikes from Schaub should end this fight around the midway mark.
Prediction: Schaub via TKO in 2nd Round.
Middleweight: Dan Miller Vs. Nate Marquardt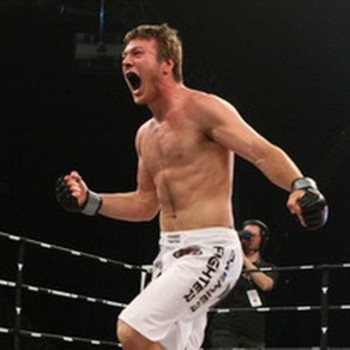 Nate "The Great" Marquardt, the "King of Pancrase," is looking to rebound from a boring loss to Yushin Okami in November. Marquardt, though a solid fighter, has yet to prove himself against top competition at 185. He lost two title eliminators inside of 10 months to Chael Sonnen and Okami.
Dan Miller has a major home-field advantage in this fight as he grew up in New Jersey. Miller has turned the corner and put together consecutive wins after losing three straight previously. Miller can return to the upper eschalon at 185 with a victory over Marquardt at home on Saturday night.
Both of these men boast Black Belts in Brazilian Jiu-Jitsu and will look to exploit them in hopes of winning and moving up the middleweight ranks. Marquadt however has international appeal. After all, he was the "King of Pancrase."
This could be a traditional Marquardt "snooze-fest." If he's smart, Marquardt won't leave this one in the hands of the judges.
Prediction: Marquardt via TKO in 3rd Round.
Lightweight: Kamal Shalorus Vs. Jim Miller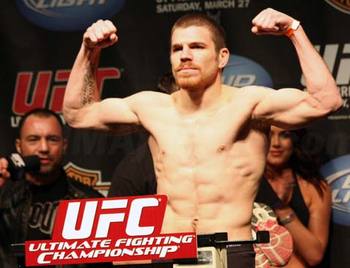 Jim Miller, brother of Dan, is also competing in his native New Jersey and has a distinct advantage against Iran's Kamal Shalorus. Miller, also a Black Belt in BJJ, is well on his way to a title shot at Lightweight as he's currently on a six-fight win streak.
Kamal Shalorus presents an interesting challenge for Miller. This will be his UFC debut as he transitions over from the WEC and is quickly looking to make a name for himself at 155. Like Miller, Shalorus fights at a frantic pace and makes his opponent use his speed to keep pace with him. This would be a huge debut upset for Shalorus as this fight is "custom-made" for MIller to succeed and inch closer to his rightful title shot.
Shalorus steps into the octagon as a major underdog in this fight. In his WEC career, he was 3-0-1 and remains undefeated overall. This is a true test for Shalorus and would say a lot for him moving forward if he could pull off this major upset against Miller in his own backyard.
Miller is one of the most underrated fighters at Lightweight and his time is coming so long as he continues to roll along with victories.
Prediction: Miller via Submission in 2nd Round.
Bantamweight: Urijah Faber Vs. Eddie Wineland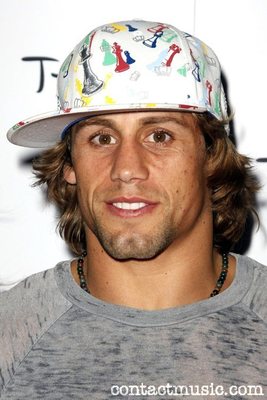 Eddie Wineland is probably even more of an underdog than Kamal Shalorus. In this fight particularly, the stage is set for Urijah Faber to make for an explosive UFC debut and rise up the bantamweight ranks. Wineland has known nothing but tough times and uses that as leverage in the cage. Don't discount Wineland though as he's currently won four straight.
Urijah Faber has been a phenom throughout his career and held several titles. He's already defeated Bantamweight Champion Dominick Cruz and now has his sights set on a rematch, this time for the 135-pound crown. Faber is a rare breed of fighter. He's very difficult to prepare for, fights at a very fast pace and is seldom ever outworked. After slipping off a bit, a rejuvenated and refocused Faber looks to reclaim gold, this time at bantamweight..
Wineland will look to stay on his feet and strike with Faber as this may be his only chance. In just about any other department, Faber would have a noticeable advantage over the younger Wineland.
For Faber, he will likely look to play into his advantages and finish this fight quickly. However, if the fight drags out, Faber could utilize his ground game and look to defeat Wineland there instead.
Prediction: Faber via Submission in 2nd Round
Light Heavyweight Championship: Jon "Bones" Jones Vs. Mauricio "Shogun" Rua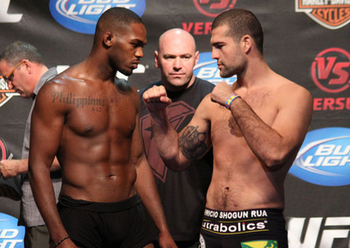 Jon "Bones" Jones is the newest, rarest breed possible of MMA fighter. He ignites the flame of the new mixed martial artist and is well on his way to the top of the light heavyweight division. With a victory tomorrow night, Jones will cement a legacy as the youngest UFC Champion in history at just 23 years old. The unique thing about Jones is his unorthodox style and pinpoint precision with his striking. In many ways, Jones is an enigma and already a king. A king that's in need of a crown.
Mauricio "Shogun" Rua can't be neglected by any means. Many are already saying that he's an under-appreciated champion as the underdog in this title matchup. But I ask, has he defended his coveted title yet? Better yet, has he ever dealt with or had to prepare for anyone quite like "Bones?" While Rua is a solid striker, Jones is in a class of his own in terms of his unique striking abilities. Rua is mismatched and outmatched in this fight. That's NOT a typo either.
Jones will look to keep Rua guessing and off-balance with his striking. In addition, he may be able to take this fight to the ground and really make Rua alter his game-plan mid-match. Jones perhaps lucked out to earn this title shot but comes in fresher than Rua. as he just fought about a month and a half ago.
Rua could be the first one to figure out the puzzle that is Jon "Bones" Jones. Jones has pretty much run through everyone that the UFC has put in front of him and now Rua presents his toughest challenge yet. Rua is a veteran and a professional that's well-suited for this fight. This still may not serve him and his fate too well.
Prediction: Jones via TKO in 3rd Round.
Keep Reading